Dreaming of living in an historic home? This home on Baymiller Street isn't just a piece of history on its own—it's part of the Dayton Street Historic District, a West End neighborhood that's finally getting the makeover it deserves.
Like these two renovated row houses recently on the market, Baymiller is a part of Millionaire's Row. Streets such as Baymiller and Dayton were once lined with luxe homes owned by prominent businessmen like John Hauck, heralded as the investor who saved the Cincinnati Zoo. The area was—and still is—accessible to downtown businesses and uptown destinations. However, over the years, as more neighboring towns were excavated, the area was largely abandoned and properties were turned into multi-family units.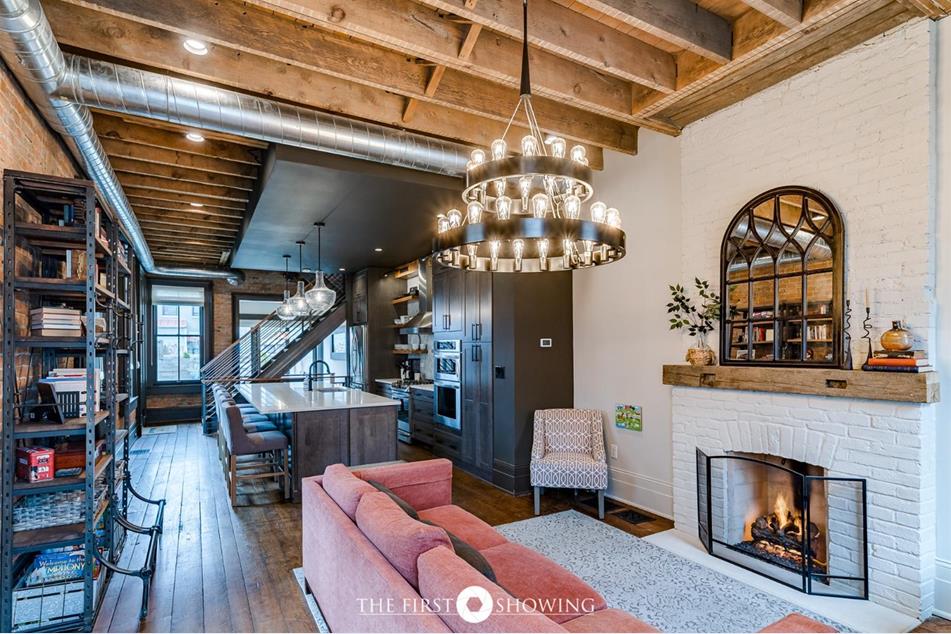 Fast forward to 2022, the West End neighborhood is bustling again thanks to fresh interest from the OTR revitalization and the brand-new FC Cincinnati stadium off Central. And this Baymiller property is an impressive gut renovation with all-new-everything.
With three bedrooms and three-and-a half baths, the home boasts modern amenities and historic charm. The turquoise facade and cantaloupe front door are pops of color that brighten up the street. Next to the main house, an attached two-car garage was added to the property.
Small patches of landscaping out front add to the whimsy of the home. But inside is where you'll find the most impressive details. Dark hardwood floors, open ceilings with raw beams, and exposed brick give this home a lived-in, historic feel. A large chandelier with dozens of lightbulbs is an eye-catching statement piece in the living room.
The kitchen is wide open with dark cabinets, a trio of glass pendant lights, a herringbone-pattern backsplash, and stainless appliances. There's room for at least five bar stools around the eat-in island—a perfect spot to enjoy breakfast every morning. On the other side of the staircase, an alcove dining space separates the kitchen from the backyard. A bathroom is located around the corner, along with a massive mudroom-slash-laundry room in the center behind the stairs.
Upstairs, the primary bedroom has a working fireplace and a glass-encased shower that's fully visible from the bedroom, plus a walk-in closet with built-ins.
The third floor is an entertainer's dream. It's a wide open space with plenty of room for a TV, couch and chairs, and the best part—a wet bar. Shelving, drawers, and drink fridge make the space the perfect area for guests. And it even opens up to the rooftop deck that overlooks the backyard.
Perhaps the best part of the home is the meticulous landscaping and outdoor amenities: A side yard with pavers and a garden, a patio out back, and a large grassy area for pets, kids, and everyone else to enjoy.
Facebook Comments