You might recognize this unusual condo building from two years ago when one of its five units hit the market in 2020, but we've learned each unit in the church-turned-condo building is unique. The Northern Kentucky property was once St. Anthony of Padua, the second Catholic parish in Bellevue. Today, despite inside-out renovations, many of the details that make this historic property special have stayed the same.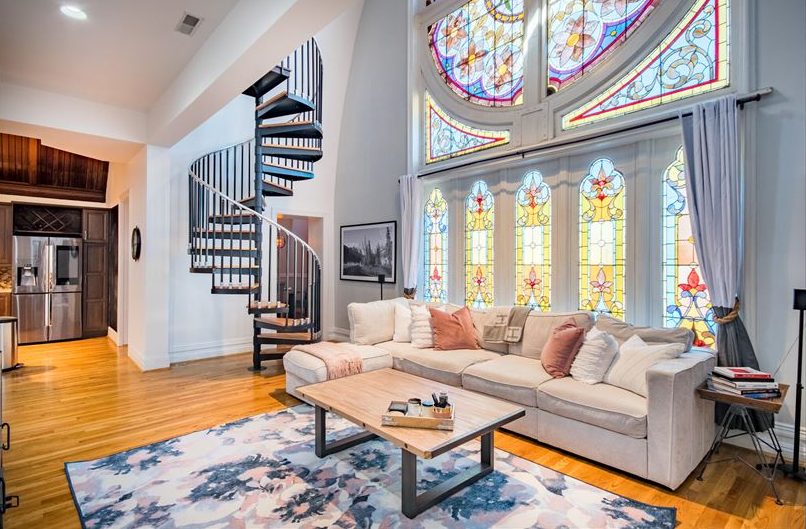 "The dining room is located in the bell tower and the original bell is suspended over the dining room table," says listing agent Peter Zimmer. "And it still works! You can announce to the City of Bellevue when dinner is ready."
The adorable entrance to the two-bedroom, two-bath condo features wooden double doors and cement planters that anchor the stairwell. When you walk in, your eye is immediately drawn to the two-story stained-glass window that floods the room with colorful natural light.
Next to the living room, the dining room includes dramatic elements like dark wood beams and dramatic pendant lighting that hovers over the dining room table, right below that original bell tower.
In the kitchen, the church's original vaulted ceiling is the star of the show. The dark wood cabinets were designed to blend with the original details without stealing from the historic elements and the light wood floors that complement the room. There's also an eat-in bar that seats four or five people, as well as stainless appliances and an original pendant light.
Upstairs, the original details from the living room and kitchen translate seamlessly. The current owner chose to use the loft immediately at the top of the spiral staircase as the main bedroom and we agree—the new owner should too. The stained-glass window and skylights would be a dream to wake up to every morning.
The best part about the home? It's located in the popular Bellevue town where coffee shops, restaurants, and gift shops are steps away. Plus, it's a short drive to Newport and downtown Cincinnati. For city dwellers that love a little history, this home is for you.
Facebook Comments