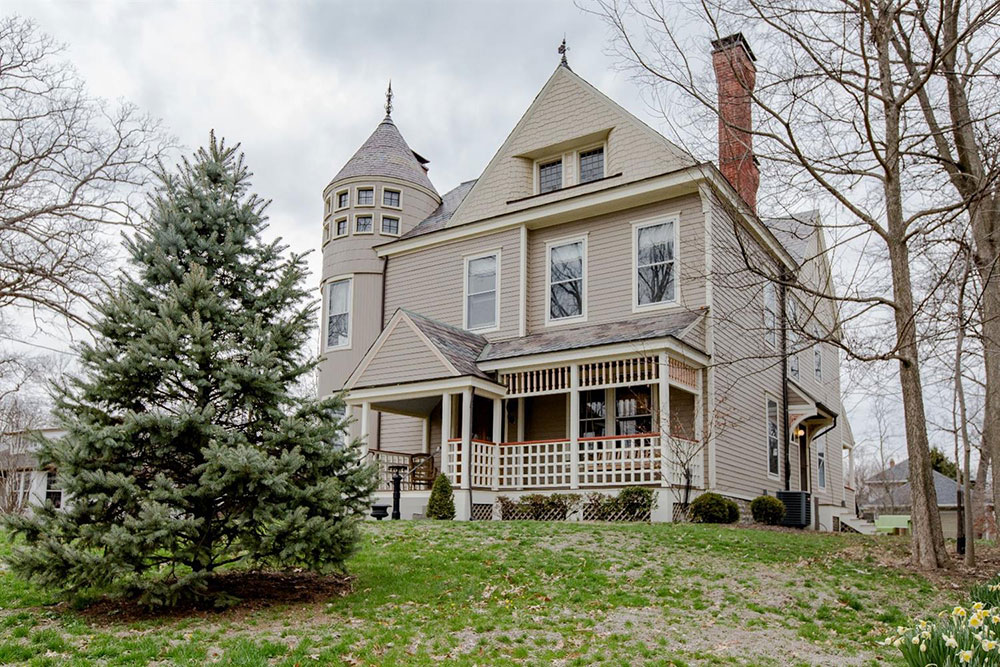 If you've ever played with a dollhouse, then you've surely wondered what it would be like to live in one. Take a walk through this elaborate home in Wyoming and you'll get a good idea. The four-bedroom home is picturesque inside and out, with a copper and slate roof, twin brick chimneys, and a three-story turret stacked with bay windows. Rapunzel herself would be comfortable on that top floor, with its roomy half-circle tower room, various nooks and alcoves, and more than a dozen square windows throughout.
The front porch mimics the grid motif in its railing and double front doors. Downstairs, count up the original details: yellow pine woodwork, three sets of pocket doors, fireplaces (six of them, retrofitted for gas), stained-glass windows, and a roomy kitchen pantry. And don't miss the other historic Easter eggs sprinkled throughout, like the inte­rior wooden shutters, a glass-inlaid door, and a few very Victorian light fixtures. The up­dated kitchen (with historically accurate coffered ceiling), backyard carport, and sprawl­ing master suite with walk-in closet keep it contemporary where it counts. The three-season porch allows for bug-free outdoor living. An old nursery—typical in homes of this era—is now an extra bathroom. The house was recently renovated, but many of the initial updates and additions happened in 1973, when Sibcy Cline listing agent Jenni McCauley lived in the house (she sold it in 1993 and is now brokering its sale for the current owners).
It looks like it was made for Wyoming, where the streets are lined with similar structures, but the neighborhood was actually only 12 years old when the home was built in 1886. In fact, the house next door belonged to 216's original builder, the Pfaff family, who decided to go all-out in 1886 and build a fancy home for their four daughters in the then-très vogue Queen Anne style, known for its rambling square footage, asymmetrical facades, cantilevered gables, and towers. The result was sorta Victorian, sorta Gothic, sorta Baroque, and all personality. This high-flying house certainly inspired the next 135 years of Wyoming homebuilding, helping it to become one of the city's most desirable neighborhoods.
Facebook Comments