3100 Fischer Rd., Morrow, $850,000
Ben Dombar may be best known for his work as an apprentice under Frank Lloyd Wright, but the Cincinnati architect charted his own path in the Queen City, designing homes that blended seamlessly into the often-tricky-to-work-with Ohio topography. His builds make heavy use of the surrounding nature—see, for instance, this Clifton home, which was on the market last year. This Mid-Century Modern masterpiece in Morrow is no major departure from the Wright formula, but its individuality shines through in the details.
"The house was fashioned after the famous Pope Leighey house, but Ben Dombar added two additional bedrooms and a basement," says listing agent Jean Raga. "The second owners added the two garages as Wright did not believe in storage. They also updated the kitchen to a gourmet kitchen [but] both improvements stayed with the architectural design."
Outside, the inconspicuous entry and carport are nearly camouflaged by the surrounding foliage. Inside, the narrow foyer features tomato red cement floors—another Wright staple—and light-stained wood detailing on the doorways and windows. The great room, anchored by a stone fireplace, is bathed in natural light from the windows, which feature a particularly playful design detail that took inspiration from the Pope Leighey house.
"The shapes that are carved in the windows are a turtle, a sloth, and a snail," says Raga. "The [window] carvings beside the fireplace are upside down so when the light shines through, the animals are right side up on the floor or walls." The carvings aren't the only design details that mimic the style of Dombar's teacher. The built-in sofa in the great room and clean-cut bookshelves lining the hallways are textbook Wright.
In the kitchen, Dombar kept things sleek and simple with darker-toned cabinets that match the cement flooring, granite countertops, and built-in shelving. Countertop-level cabinets make it convenient to hide away small appliances, and larger cabinets offer storage, too. Above the stainless range, sliding windows peer out to the porch. And if you look closely, more of those whimsical carvings line the windows near the ceiling.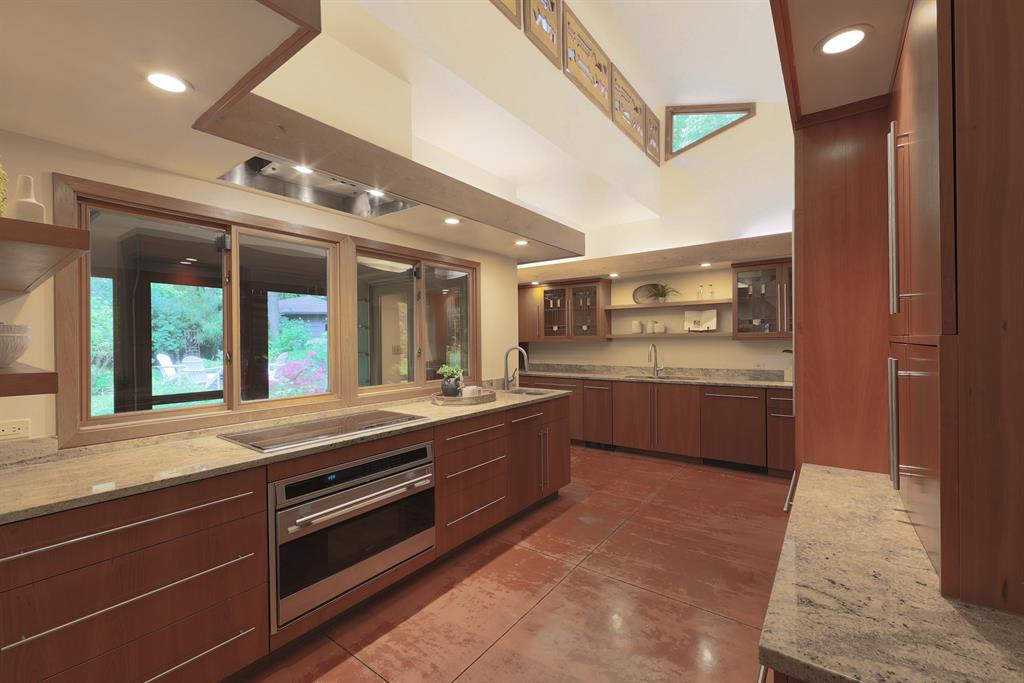 The first floor owner's suite matches the style of the living room with a gas fireplace, geometric windows, and plenty of open shelving. The adjoining owner's bath boasts an open, tiled shower stall and one large window above. "There are three beveled corner windows in the home. This is an architectural feature that Wright was the first to use," says Raga. "[And] the windows that line the walls near the ceilings are meant so the viewer can see the treetops."
While the interior design already makes you feel like you're one with nature, the backyard still feels special. The expansive back porch, perfect for entertaining, abuts the tree line, while the screened-in patio (complete with a hot tub) provides year-round access to the great outdoors. It's a peaceful getaway, right at home.
Click through our gallery to view more photos (courtesy Katy Nelson) of this home:
Facebook Comments