6127 Prentice St., Madisonville
With houses flying off the market in Oakley and Hyde Park faster than hungry homebuyers can snatch them up, outskirt neighborhoods are quickly becoming real estate destinations for Cincinnati's young families. Case in point: This four-bedroom, three-bath farmhouse gem in the heart of Madisonville.
"We've enjoyed working on this street for the last six months," says current owner and renovator Gretchen Kraus. "The neighbors are genuinely kind and supportive. And there is literally renovation on half a dozen properties that you can see from our house, so in a year or five years, the street will be much different."
Kraus was careful to preserve the charming character of the home (which was built in 1875) during the renovations, keeping historic features like the adorable front porch, which has just enough room for a bistro set. Inside, the kitchen meshes warm wood tones with clean white cabinets and gunmetal appliances and hardware. And behind a delicate glass-paneled door, you'll find a spacious, light-filled pantry.
In the living room, the floor-to-ceiling windows peer out into the shady front yard, and rustic details abound with an exposed brick pillar partition and a rolling ladder that runs the length of the open shelves.
The main bedroom features a pop of color with a trendy emerald green wall and brass lights that frame the bed. The mixed-style bathroom is swoon-worthy, contrasting the original brick and a claw-foot tub with sleek tile, a double vanity, curtain-less shower, and a teal-painted window.
Kraus shared a little bit more about the home, her favorite part of the project, and why she and her renovation partner, Doug, chose this Madisonville property.
Why did you choose this house?
We chose this house because we love Madisonville, and we are passionate about restoring old houses. We keep as many elements original as possible to tell the history of the home. We fell in love with original trim, doors, locks, and 100-plus-year-old hardwood floors, even though everything was in rough condition.
What are some features not evident in the photos?
When we bought it, it had been converted into a two family and [it] was in bad shape. All the character was hidden under decades of paint, wallpaper, faux wood paneling, and pink carpet. We painstakingly restored the wood windows in the front of the house and saved all the original doors and locks throughout the home.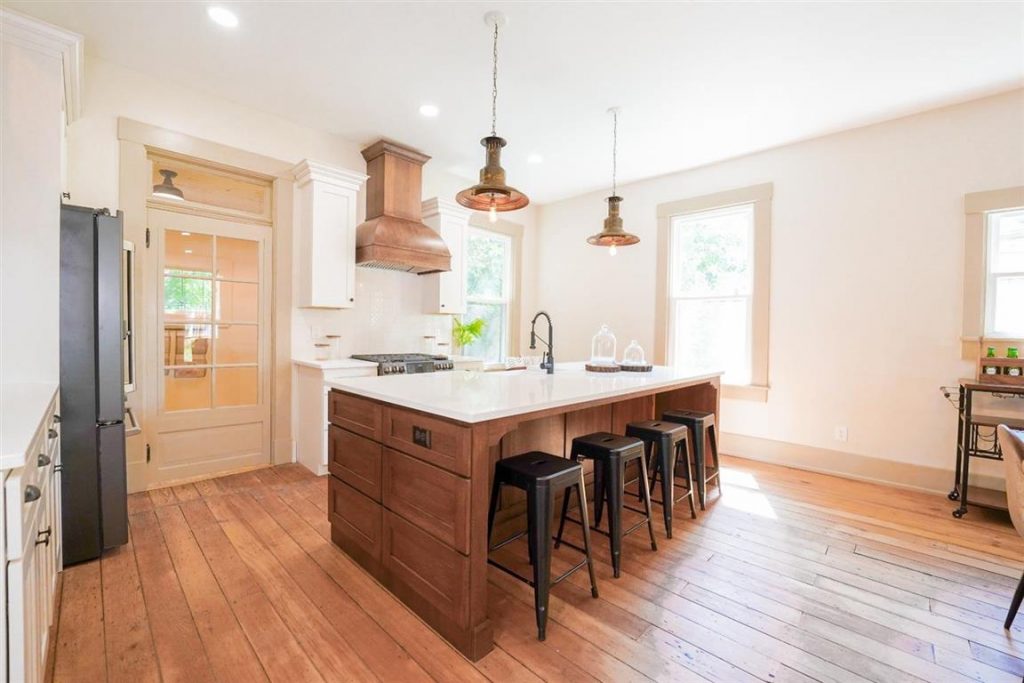 What's your favorite part of the home?
[My] favorite part of the home is the refinished pine floors on the first floor and the huge pantry that used to be the kitchen. Doug liked being able to use all the wood from a 1902 dresser and repurpose it into the mudroom bench and hanging storage, as well as turning an old ladder into a functioning library ladder.
Facebook Comments