Ontario native and Oakley resident Tim Brownlee has searched his adopted city high and low for standard issue poutine, and he has found us wanting. What is he looking for, exactly? Just the plain old pile of French fries, brown gravy, and fresh cheese curds available at any Canadian roadside chip wagon (consumed standing up, leaning over your shoes). His main beef? Cincinnati has poutine game, but many versions are bedazzled beyond recognition. As a service to his adopted city, the expat (who also happens to be this writer's husband) helped us round up his favorites.
Hear more on our Forkopolis Podcast: A Poutine Appreciation
---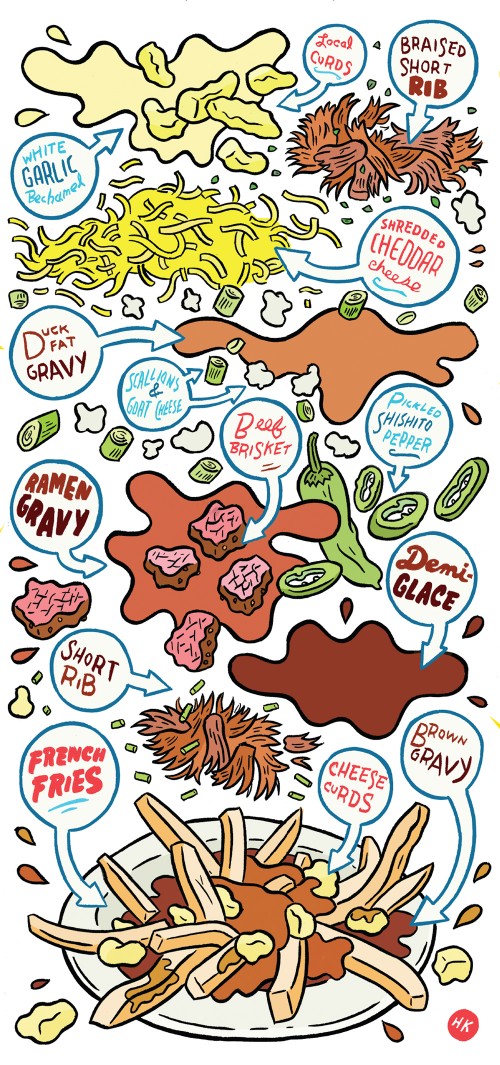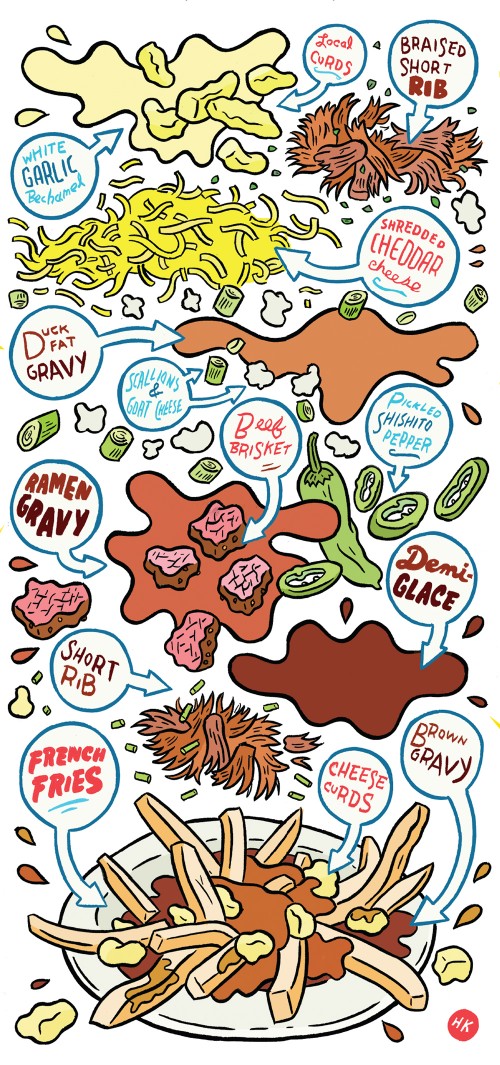 Northside Yacht Club
"The only thing missing is the Styrofoam cup and plastic fork," Brownlee declares. "You could serve it in Canada and no one would blink." Duck fat gravy and a sprinkle of scallions glams it up just so. $10, 4227 Spring Grove Ave., Northside, (513) 541-0528, northsideyachtclub.com
Kaze
With ramen gravy, goat cheese, beef brisket, and pickled shishito peppers, you're looking at the least authentic poutine. Possibly ever. But it's a damn tasty mess. Brunch only, $11, 1400 Vine St., Over-the-Rhine, (513) 898-7991, kazeotr.com
Senate
This Over-the-Rhine gastropub is the OG of Cincinnati poutine—Senate put the stuff on the local map and area eateries have been improvising it ever since. In this nontraditional melty version, the cheese curds eventually become one with the chicken gravy. $12, 1212 Vine St., OTR, (513) 421-2020, senatepub.com

Pleasant Ridge Chili
Thanks to the mild shredded cheddar cheese, this diner special (known as gravy cheese fries) is more a foil for a Cincinnati three-way than an homage to poutine. But it's a good bet on a cold winter's night. $5.50, 6032 Montgomery Rd., Pleasant Ridge, (513) 531-2365, pleasantridgechili.com
Incline Public House
Piled high with short ribs and plenty of demi-glace, this poutine is so meaty that it might have 'roid rage. But the curds and fries are spot-on Québécois. $12, 2601 West Eighth St., Price Hill, (513) 251-3000, inclinepublichouse.com
Illustration By Hawk Krall
This post has been updated and condensed.
Facebook Comments