Anyone with eyes and a stomach knows Cincinnati's restaurant scene has seriously stepped it up in recent years (and for that we are ever-thankful). But breakfast, sadly, has been largely left out so far. Enter the minds behind The Rookwood with their new downtown venture, Cheapside Café. This breakfast-and-lunch, craft-diner-coffee spot fills the niche in a well-curated way—and if the first day was any indication, it's firmly slated to become a top run-in spot for Cincinnati creative and food folk.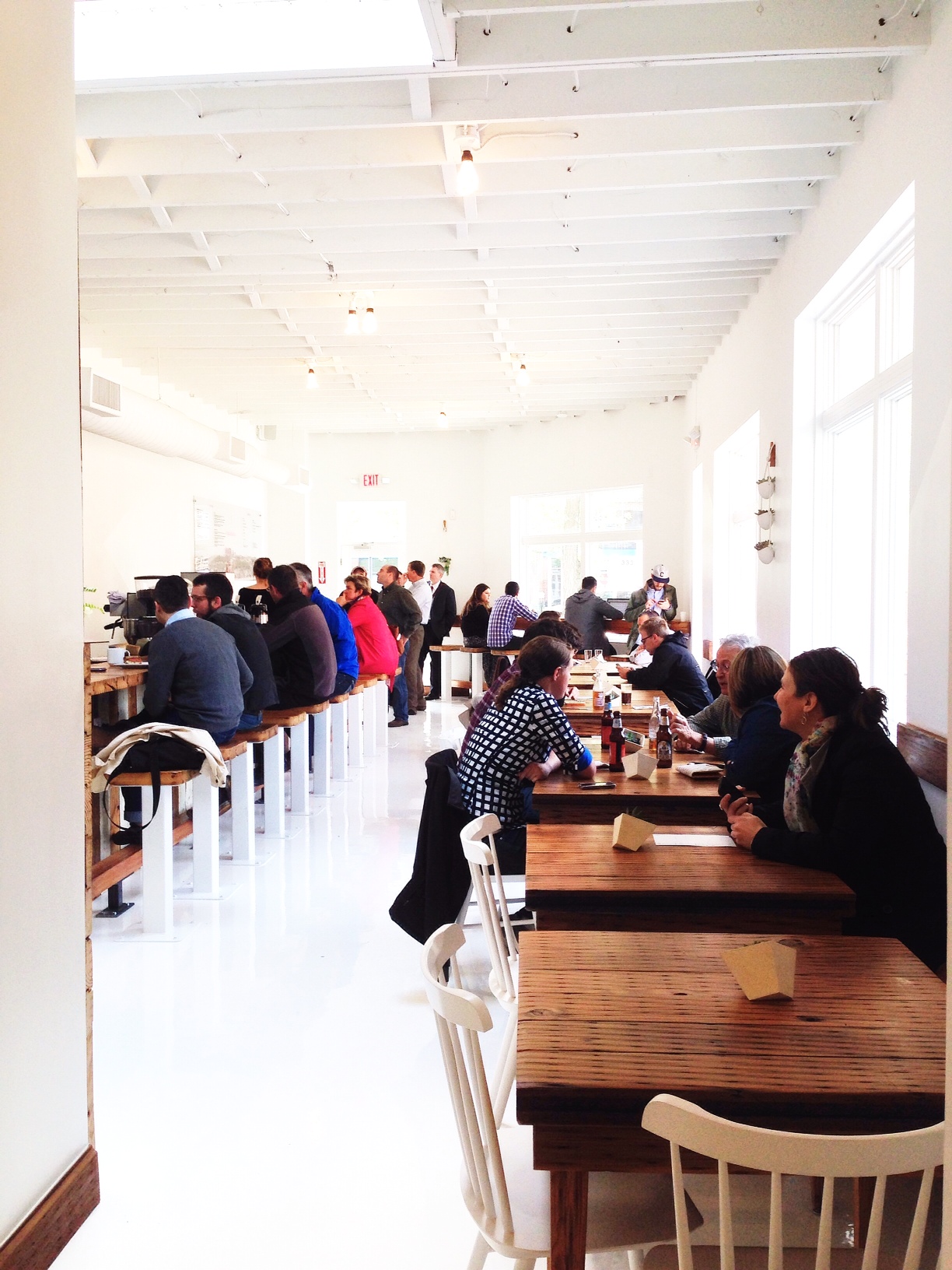 The small storefront near the intersection of Broadway and Eighth Streets has seen some serious upgrades while still keeping things simple; it went from vacant, outdated space to suitable for a spread in Kinfolk magazine. It's minimalist and rough-hewn, flooded with natural light that bounces off of white walls, a whitewashed exposed-joist ceiling, and white epoxy floor, with tables and counters made from repurposed wood salvaged from a Middletown paper mill. Succulents and freshly-growing herbs adorn the tables and walls, and there's a wooden teepee outside alongside the patio picnic tables because, well, you know.
The food and drinks are fittingly crafted and fresh. The smoked salmon nicoise salad ($9.50) was filling but still light, a pile of greens lightly tossed in a nutty lemon-tahini dressing atop a bed of smoked salmon, surrounded by olives, hardboiled eggs, and artichokes that tasted like they had never heard of a can. The oh-so-creamy curried chicken salad sandwich ($8.50) was a study in muted yellows and greens. The mellow flavors of chicken and avocado were well punctuated by the crisp, fresh apple—and an assertive bottle of Blenheim's Ginger Ale ($2.50). If you're looking for coffee, try the espresso chinotto ($3.50)—it's topped with soda and house-made tonic, which adds some botanical tartness while bringing out the creamy, caramel sweetness of the espresso.


The name comes from the alley next to the café, but for the quality of the food and the ambiance, your wallet will agree.
Monday–Saturday 7 a.m.–4 p.m., 326 E. Eighth St., downtown, (513) 345-6618, cheapsidecafe.com

Facebook Comments