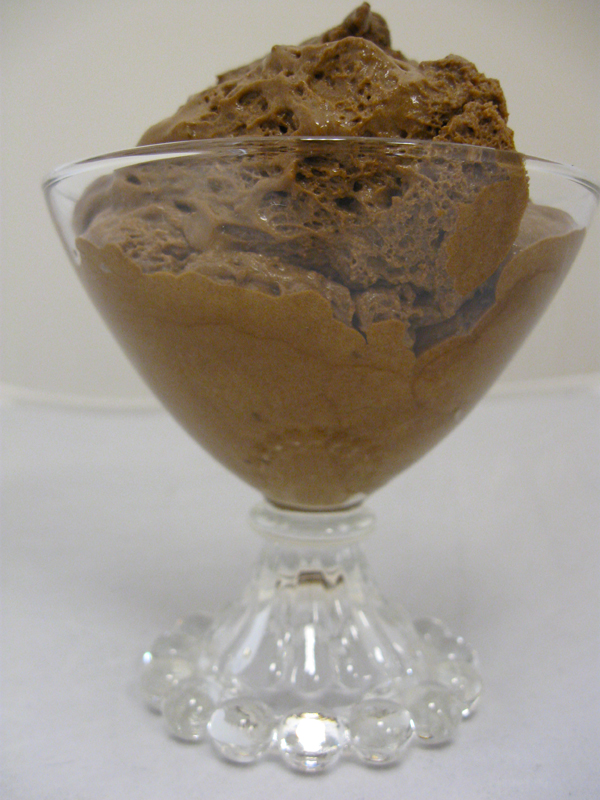 Photograph by Donna Covrett
This is the mousse I made at Mecklenburg Gardens in the late '70s. I am indebted to Master Chef Eugene Bernard, a Frenchman, disciple of Escoffier, renowned respected chef, and generous teacher. It is a classic preparation using hot sugar syrup and therefore requires attention and a gentle hand. Your patience will be rewarded—to this day I have never found a chocolate mousse I like better than his.
Yield: approximately 2 quarts or 8 servings
Ingredients
22 ounces cream (I am a huge fan of the Snowville brand)
1 ½ cups granulated sugar
3 tablespoons water
9 ½ ounces quality semi-sweet chocolate, chopped (see notes below)
10 large eggs, separated
1 tablespoon plus 1 teaspoon of Grand Marnier (see notes)
Equipment
Digital scale
Candy thermometer
Stand mixer
Large mixing bowl
Method
Whip cream until firm peaks. Refrigerate. Melt chocolate in double boiler or in a bowl set over simmering water. Set aside (it should remain lukewarm). Combine ¾ cup of the sugar plus the 3 tablespoons of water in a pot over a medium flame to dissolve. Increase heat and bring to 230 degrees on a candy thermometer. While the sugar is cooking, place yolks in the bowl of a stand mixer and whip at high speed until pale yellow. When sugar syrup has reached 230 degrees remove from heat and—with speed at lowest setting—add to whipped egg yolks. Increase speed to highest setting and whip for 15 minutes or until thick like butter. On low speed, add melted chocolate and mix until just blended. Transfer mousse base to large mixing bowl (at this point wash the stand bowl well until no traces of yolk remain). Fold in a quarter of the whipped cream into the mousse base to lighten it. Fold in the rest of the cream along with the Grand Marnier. Place the egg whites in the stand mixer with a pinch of salt. Whip at high speed, gradually adding the remaining ¾ cup of sugar. When the whites produce firm (not too stiff) peaks, fold ½ in to the chocolate base. Fold in the remaining until no streaks remain. Chill for two hours until set.
Tips
» The better the chocolate, the better the mousse. At least 70% cacao is recommended. I like to combine a little bittersweet with the semisweet.
» Use a scale to weigh the chocolate.
» Use Grade A large eggs, not extra large or jumbo.
» Grand Marnier produces a better flavor than Cointreau or other orange liqueurs. You can also omit the liqueur.
» The best time to whip the yolks is after you've just turned the heat up on the sugar, so that while they are whipping you can keep an eye on the thermometer.
» When adding hot syrup to yolks, it's important to have the speed at the very lowest setting, otherwise hot syrup could splash on skin or spin into threads on the side of the bowl.
» When folding in cream and whites, use a gentle over and under folding motion.If desired, you can spoon directly into serving bowls before chilling 2 hours.
» While the texture of this mousse is light, it is luxuriously rich. It doesn't need much to accompany it, if anything.
Click here to view the step-by-step photo gallery.
Facebook Comments