Photographs by Jeremy Kramer
Of the many things the Queen City is known for, chocolate is not typically one of them. But Maverick Chocolate Company at Findlay Market—Ohio's first bean-to-bar chocolate shop, which opened in July 2014—just might begin to change that.
The chocolate connoisseurs behind Maverick are the Picton family: Paul, wife Marlene, and sons Scott and Benjamin. Paul, who spent 30 years as an aviation engineer before venturing into chocolate making, either handmade or retrofitted nearly all of their equipment—from roasters to winnowers to grinders—with help from Scott, a welder. Marlene is the primary chocolate maker and recipe creator, and successfully so: Their spicy Fahrenheit 513 bar, 70-percent cacao dark chocolate peppered with chilies, was a winner at the 2015 Good Food Awards. And Benjamin directs marketing and sales.
"I'd travel for work all over the world, and each time, I'd pick up chocolate from somewhere new for Marlene," Paul says. "When that job ended in 2013, we quickly ran out of good chocolate. That's when we started experimenting and making our own."
Picton estimates there are only about 75 to 80 bean-to-bar chocolate makers in the entire U.S.—and only 10 or so have storefronts. "We're one of very few chocolate makers where you can actually see where the chocolate making happens," he says. "What we've sold in three months, most of the other [craft chocolate makers] haven't sold in three years. There's definitely a demand here for good chocolate."
The shop—housed in the former home of the Hong Kong Tea and Coffee Company from the 1800s—has a deliberately curated historical vibe. Scott built the Edwardian-inspired curio cabinet behind the shop's main counter, and the packaging of each bar features a different type of early 20th-century flying machine—a nod to Paul's aviation background. "We wanted to recall the old-fashioned heritage of chocolate," Paul says. "These guys with their crazy flying machines are examples of mavericks: They were pushing the envelope, trying a lot of new things, and that is how we approach making chocolate. When you taste it, you quickly realize you have something special."
Sortin' time
Raw beans are hand-sorted to separate the good ones (shapely, solid, uniform) from the bad ones (flat, shriveled, cracked, or stuck together).
Get roasted
Beans are roasted at 350 degrees for about an hour. To get a roaster suitable for their micro-batches, Scott and Paul modified a chicken rotisserie.
Breaking up
Roasted beans are cooled, then dumped into the cracker-winnower Paul made to separate the husks (pictured) from the nibs. Rivertown Brewery used their extra husks to make a brew called Captain Maverick's Flyer—and it sold out in three hours.
Daily grind
The cocoa nibs are added to the stone grinders, where they are ground continually for four days until they liquefy. Sugar or flavoring is added after the first day of grinding.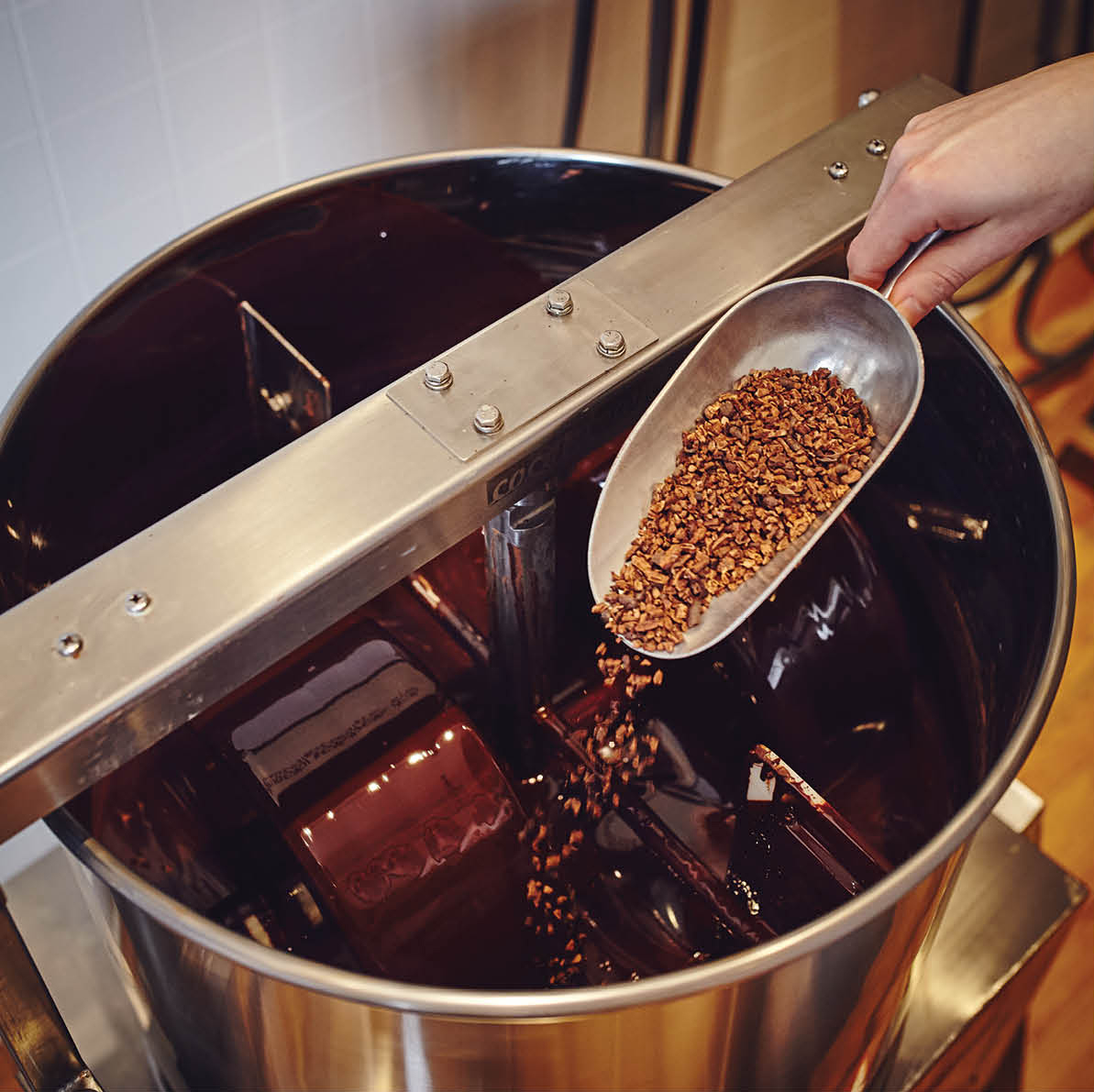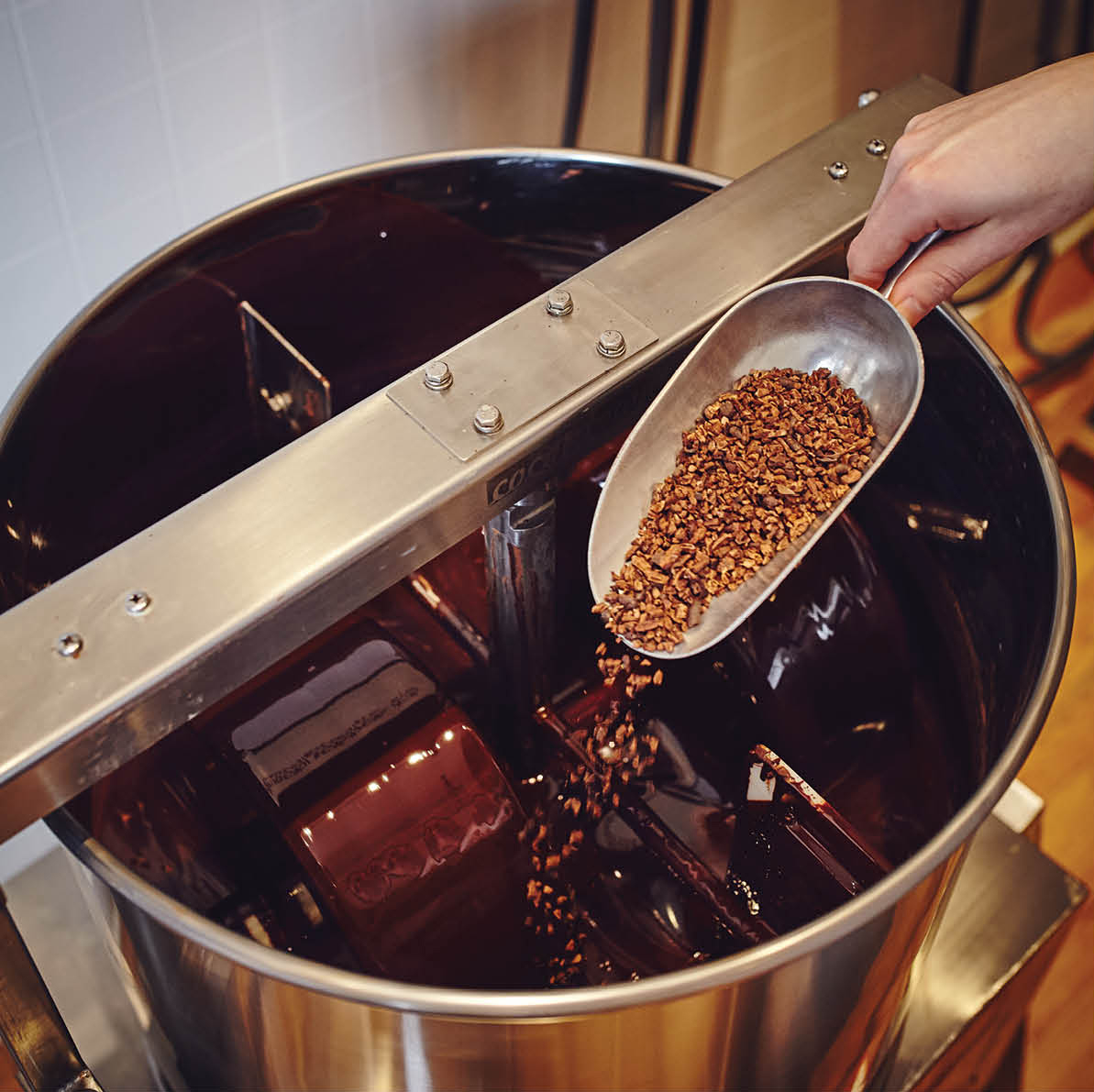 Pan-aging
The liquefied chocolate is poured into pans to cool and age for two weeks to a month. "It takes about 30 days for the flavors to balance, especially with single-origin chocolate. That continues for the next six months," says Paul. "They just get better with age."
Stabilizing force
The chocolate then goes into what's called a continuous temperer—a $20,000 Italian machine that Paul refers to as his "Ferrari of chocolate making"—which takes the chocolate through alternate heating and cooling cycles to make it stable at room temperature.
Fit the mold
From the temperer, the chocolate can be poured into the molds. Once there, the bars are kept in low humidity to set and then be packaged.
There will be bars
It takes about seven days to make a batch. Paul estimates that's around 400 bars. As for the total amount of chocolate going out their doors, Paul expects that Maverick will go through about eight tons of chocolate this year, with each ton producing roughly 15,000 bars. Now that's a chocolate fix.

Maverick Chocolate Co., 129 Elder St., Findlay Market, Over-The-Rhine, (513) 381-0561, maverickchocolate.com

Originally published in the February 2015 issue.
Photographs by Jeremy Kramer
Facebook Comments