Eighteen-year-old Mary Farley stepped off a bus in Fountain Square early one Monday morning in 1966 clutching a suitcase filled with almost everything she owned. It wasn't the first time the Newtown girl had traveled downtown—she'd been working there, first at Willis Music and then at Western & Southern, since high school graduation. But this time was different. This time she was making her way down Vine and across Fourth Street, toward the Anna Louise Inn.
She hadn't called to tell them she was coming. The Inn's director, Ruth Sedgewick, gave her a bowl of ice cream just the same, and asked why Mary was moving to the city; downtown job aside, she was looking to escape a shiftless, alcoholic father. As luck would have it, there was a room available; Mary left her suitcase on her new bed and went to work. She had no idea that day that she'd evolve from a shy girl who hardly spoke into the president of the residents' council. No idea that she'd grow into the friend and confidante of countless pajama-clad women who'd congregate in her room each night to get their hair or nails done or dish about their dates. No idea that the next time she'd pack her suitcase would be four years later, on the night before her wedding.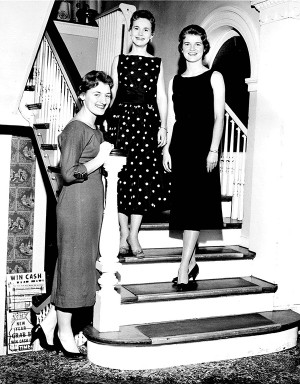 Since its opening in 1909, thousands of women like Mary have walked through the doors of the Inn—some apprehensive, some thrilled, but most unaware how a short stay at one simple place could change the course of their lives. Last month, after a multi-year legal battle with neighboring financial services and insurance giant Western & Southern Financial Group (which ultimately purchased the Lytle Street building for $4 million in 2013), the Anna Louise Inn relocated to a brand new 63,000-square-foot facility on Reading Road. And the old building? Western & Southern plans to convert it into a hotel.
As buildings go, the original Inn is a garbled blend of architectural styles—a large but unremarkable brick-and-white-stucco five-story structure wedged between Ft. Washington Way and Lytle Park. It's also in significant disrepair, as planned 2010 renovations were halted once the legal battles with Western & Southern began. As is so often the case, though, its aging walls have countless untold stories to share.
Stories like that of Charles Phelps Taft and his wife, Anna Sinton, who donated seed money and land just a stone's throw from their own home so the "Hotel for Working Girls" (later renamed the Anna Louise Inn, after their daughter) could be built. Stories of the young women at the start of the 1900s who began flocking to Cincinnati in droves from rural areas in search of retail, office, or factory work and in need of a place to live. Stories of single women who didn't make enough money to afford their own apartments, or women who could have lived on their own but liked the thought of single-sex living in a safe and structured place. And the more recent stories of the women who came to the Inn in need of everything from food to shelter to the kind of love and support that's hard to find when you are treated all your life as if you really didn't matter.
Some came for a day, some for a few months or years, and some, even, for a lifetime. But all walked away with something they didn't have before—things as simple as a new group of friends and as complex as a sense of purpose and meaning. No matter what they left with, or why they came, the stories all start the same way: One woman, looking for a safe place, walks through the front door of the Anna Louise Inn.
---
"It was just exactly what I and a lot of women, for different reasons, needed."
---
The Anna Louise Inn's parent organization is Cincinnati Union Bethel (CUB)—the "oldest social service agency in operation west of the Alleghenies," according to Reflections of the Inn: A History and Collection of Recipes compiled by the GE Elfun Society. CUB's origins extend all the way back to the early 1800s, when members attended to the religious needs of boatmen living and working on the Ohio River. By the early 1900s, CUB had turned its attention to housing the flocks of young women who were migrating from rural areas to Cincinnati in search of work; the organization rallied major supporters—like the Tafts—to help build a 120-room dormitory-style home. By May 1909, the Anna Louise Inn was open for business. "Build it and they will come," says Robin Stanley, the Inn's director today. That may never have been the official motto, but it aptly describes the flow of women who arrived—often filling the Inn to capacity, with a waiting list—over the building's first seven decades.
Jim Bruckmann, son of former resident Alice Purcell Bruckmann: My mother was the oldest of five children. She was born in 1897. [Her father] contracted pneumonia and died at the age of 39. Her mother went into a depression and never snapped out of it, so she really didn't raise them. Alice came to Cincinnati to live with a childless aunt and uncle. She went to East Night High School and graduated in 1915. There was not much chance of going to college but she had been trained in bookkeeping and was hired by the Wesche Electric Company—that was downtown at the time. From 1916 until 1918 she lived at the Anna Louise Inn.
Jeanne Van Pelt, granddaughter of former resident Amalie (Molly) Erdman: Amalie Erdman was my grandmother—my father's mother. She emigrated with her grandmother, uncle, aunt, and sister from Russia to Cincinnati. They arrived in Cincinnati on the B&O railroad on Christmas Eve of 1907; she was 14 at the time. Eventually she got a room at the Anna Louise Inn, which was pretty much brand new at that point. It couldn't have been before 1911 that she was there; she had to be at least 18 to get in, I think. Amalie lived on the top floor because it was the cheapest; she lived there until she married. She worked on Fourth Street for a seamstress who did fine embroidery and sewing. Her very best friend for most of her life was Alice Bruckmann; she met her at the Inn. My grandmother had a daughter and a son; she named her daughter Alice.
Jim Bruckmann: Molly Erdman and my mother lived near each other at the Anna Louise Inn. They would confide in each other and talk about their experiences and became very, very close. In fact they were so close that when my mother got engaged to my father, Molly made her wedding dress at the Inn. It was white, beautiful stitching on it—it really meant so much to my mother and she always treasured it. My mother had three boys—she never had any girls. She always felt honored that Molly had given her daughter the name of Alice.
Joe Prior, son of former resident Bernice Young Prior: My mother was born in 1902 and came to the Anna Louise Inn from Highland County, 60 miles east of Cincinnati, in 1930 [and lived there] through 1933. Her family were tenant farmers—they were dirt poor. Her father was an alcoholic, [and] she was a surrogate mother—her mother was having babies every 18 months. And mother for whatever reason said: "I cannot and do not want to be a farmer's wife. I want a life that has a more regular income, a life that is citified." She really matured at the experience of living at the Anna Louise Inn. My mother ultimately got a job selling lingerie. She saw the start of the building of the Carew Tower because she worked right across the street from it and of course she walked back and forth. She had a few dollars that she was able to send back to her family. She was a relatively good seamstress and even at the Inn she would make school dresses for her younger sisters. She made her own wedding gown [there].
Mary Greenberg*, former resident: I lived at the Inn straight out of college, from 1958 through most of 1961—a great place for me, actually! It was a nice port in the storm. And of course, it thrilled my parents that this small-town girl was not in a lone apartment in the big, big city! They liked the safe, controlled atmosphere.
Sallie Mullinger, resident from 1969 to 1970: I grew up in Mt. Lookout/Hyde Park. I was 18 years old. I had graduated from high school. My dad died in 1964 [and] I had completely broken off with my mother, who was an alcoholic. I was debating about going to college. Somebody told me about the Inn. It was just exactly what I and a lot of women, for different reasons, needed. Living downtown, working downtown, being free for the first time in my life, escaping my mother—there were so many things that contributed to that being a really golden time of my life.
Mary Catherine Scheele, current resident: I got a job at Western & Southern. I worked there almost 40 years—I retired in '90. I knew some girls that lived at the Fontbonne—it was a residence for girls, too—so I got a place there. They sold the Fontbonne to P&G and we had to be out in May of '77, so I moved down here [to the Anna Louise Inn] [that] March. I got the second-last room; it was full.
---
"To have their very own room and their own bed? That was probably huge for them."
---
Wealthy families donated furniture, artwork, and rugs for the building's public spaces. There was laundry service, and in the building's basement, a dining room that served three meals daily, complete with waitresses and white tablecloths. Rent for all that, circa 1909? Between $2.75 and $4.25 per week (meals, housekeeping, and laundered bed linens included).
A decade into its existence, the Anna Louise Inn saw five other similar residences pop up throughout Cincinnati; CUB took this as its cue to expand. A 150-room addition (funded again by Charles and Anna Taft and designed by architects Garber & Woodward) was built in 1920, extending the building all the way east to Pike Street. Even in the coming years, as affluent families fled to suburbia and men later set off to fight in World War II, the Anna Louise Inn prospered, welcoming new generations of women—office and factory workers, and even students—through its doors.
Over time, the Inn began to change. The building was renovated in the 1940s and '50s; this included extending the lobby into a main hall that stretched the length of the building, and opening the dining room, which had morphed into a cafeteria, to the public. By the late 1960s, although the Inn's clientele varied in age, daily life for many residents was similar to what women would have experienced in an all-female college dorm. Residents did their own laundry on site in coin-operated machines and purchased meal tickets for use in the dining room.
Sleeping rooms were sparsely furnished and bathrooms were communal. But for many women the caliber of life at the Inn was either well above what they'd experienced at home or worth enduring for the relatively inexpensive rent and absolute peace of mind that living there afforded them. It was often a whole lot of fun, too.
Mary Farley White, resident from 1966 to 1970: When you walk in, here's this beautiful building. Between the carpeting and the vases and the lamps and the mirrors—if you hadn't been in this world to see this, you stood in awe of it. How can a place be this beautiful where I can live for $37 every four weeks?
Mary Greenberg: The parlor had oriental rugs—gorgeous! I just loved coming in and seeing it. I didn't use it a lot [but] some of the women who didn't date or go out, they would have card games in there.
My first room was slightly smaller [for] $7 a week. The second was a great big square room. It faced Lytle Park and it was $9 a week. In the room there was a simple dresser, a twin bed, a small desk. It was Spartan. I don't even remember a stuffed chair—surely to heaven there was a stuffed chair! We were allowed to put pictures on the wall. I think there was a generic bedspread supplied. We could put down throw rugs. We had plants. I had a radio.
Jeanne Van Pelt: The first thing you think of is: These rooms are no bigger than a closet. Then you realize these women, like my grandmother—to have their very own room and their own bed? That was probably huge for them.
Sallie Mullinger: Most people had jobs or were going to school, so most of us were in the bathrooms in the morning at the same time. There were four sinks per bathroom and four bathrooms per floor. My room was directly across from the bathroom, so I would get up and pad over, take my shower, brush my teeth, then put my makeup on and get dressed in the room. Some girls would just leave their doors open and we would talk back and forth or yell across rooms—that was fun. And then you went down for breakfast in the communal dining room and everybody would be off for their day.
Mary Greenberg: There was one phone on the floor and somebody would answer it who happened to be walking by and would say "494," and then 10 heads would stick out the door, 'cause if we had a radio on we couldn't hear. Once you went on that phone you had all the privacy of a fishbowl.
Mary Farley White: Those phones got cracked over and over because the girls would just let it fall to the floor—the cord was a mile long—it always got stretched out. The cord on that phone could go almost all the way around the building. And then the girls would get caught in it; they would be unwrapping their body, because the cord was all wrapped around their legs.
Upstairs, there was a place to iron and you put a nickel in and you had [only] so much time. I'd put my nickel in and the minute I did, sure enough, here comes somebody to talk. I lost more nickels up there! So I started buying clothes that were permanent press.
Mary Greenberg: There was a laundry room on the very top—we could actually walk out of the laundry room almost on the roof on warm summer nights—that was kind of the social hub. I made a lot of friends through the laundry room.
Mary Farley White: Girls liked to sunbathe on the roof. The different news helicopters would fly very low over the Inn, and I heard Mrs. Sedgewick [the Inn's director] called the news stations and told them the Anna Louise Inn was out of bounds: "Do not come over our roof!"
Sallie Mullinger:  I would often be on the top floor doing laundry. I remember that they were building Riverfront Stadium and we would go up there and ogle those guys because they were all out there working on the stadium. We'd wave and they'd wave! It was just good clean fun.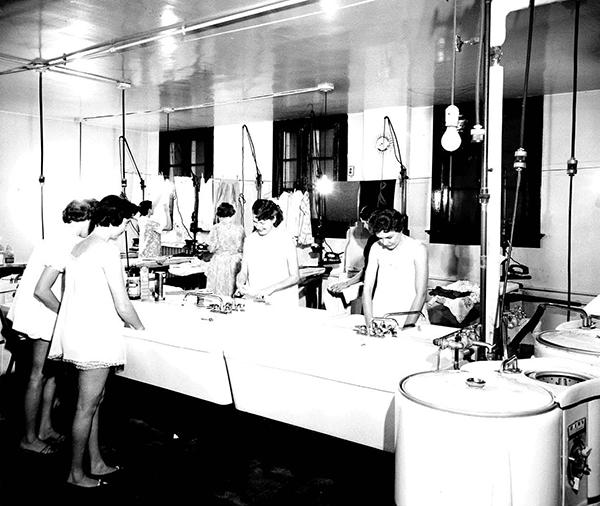 ---
"In many ways, the Inn was like a dorm."
---
In a house full of 200-some single women, many of whom were also quite young, parties were regular events. Early on, just about every major holiday seemed an occasion for a get-together, and often, a reason to invite in young men (one director has even been suspected of trying to match Inn residents with potential spouses). Many a party was hosted in the building's elegant main hall—a 1950s-era photo shows decorated Christmas trees flanking the room's white columns, pine boughs and "snow balls" hanging from the ceiling, and dozens of dancing couples dressed in semi-formal attire—but quite a few took place in a more surprising locale as well, especially during the warmer summer months. Perhaps the most entertaining stories of all, though, center on the age-old art of dating.
Mary Farley White: Mrs. Sedgewick decided: "Let's have a sock hop!" I had bought this beautiful Magnavox record player—I love music—and I had all these 45s. So we took it all up [on the roof]. It was a beautiful summer evening. We had a grill and hot dogs, we had lights, we had young and old alike. We stayed up there till almost 11. Nobody wanted to go home.
Jeanne Van Pelt: I've seen pictures of the ladies up there. It was probably a lot cooler on hot summer days. The men could be ushered up there without going into ladies' quarters, because—of course—no men were allowed past the first floor.
Sallie Mullinger: No men on the floors—that was a cardinal rule. There were some who tried it, and they were asked to leave.
Mary Greenberg: In many ways, the Inn was like a dorm. We could have one date a week later than 10:30. We had to sign in and out. I remember breaking that rule at some point, and I was called into the house mother's office—Miss Shepherd—the next day and was asked for an explanation. She approached it gingerly and asked me if my late coming-in time had been due to my work; I remember saying, "Oh no, Miss Shepherd, it was just pure pleasure." Her face got red, she cleared her throat and told me to see to it that this was never repeated!
Joe Prior: There was a curfew at the Anna Louise Inn. Sometimes my mother [Bernice Young] and dad would have dates. My dad operated his own gasoline station and he didn't close until late in the evenings so consequently they would be dating until after the curfew. Mother had made arrangements that if she would throw a rock or something to hit the window, her fellow resident would come and open the door and mother would be able to bypass the front entrance, which I guess gave demerits for coming in [late] without pre-authorization. Or my dad was also able somehow to pull down the fire escape and push my mother up. I can't imagine my mother breaking rules or sneaking back in, but I guess love does many things to you.
---
 "You pick yourself up, you dust yourself off, and keep going."
---
The Anna Louise Inn's occupancy rate began falling during the 1960s; when similar women's residences failed and closed, the CUB kept the Anna Louise afloat by welcoming physically and mentally disabled women to the Inn, as well as women on public assistance. By the 1980s, women's incomes had grown, the societal stigma of single females living alone had disappeared, and a substantial portion of Cincinnati's residential population had colonized the suburbs. Once again, the Inn filled the occupancy void by reaching out to disadvantaged groups of women. Even so, by the end of the 20th century, the Inn looked like it might be on its last leg.
"There were two people on the board when I got there who were adamant about shutting the Inn down," says Olivia Farr, director from 1991 to 1997. "It was falling apart, it was a third full, women who were living there were paying rent if they felt like it, and rent covered about 45 percent of operating expenses."
Wealthy donors like the Tafts were no longer around to funnel in large sums of money, so "we had to raise $200,000 a year," adds Kathy Rambo, current CUB board member and chair from 1994 to 2000. But with the help and support of tenacious board members like Rambo, Farr found creative ways to keep the Anna Louise Inn viable. "We hit every foundation in Cincinnati that was interested in women or in social service," says Farr. "We became good beggars."
In addition, portions of the then largely-unused building were rented out to other organizations: part of the main hall was repurposed into a P&G daycare, and later a charter school. At one point, part of the building's second floor was converted into a Family Living Center for homeless women and children—an experiment, say both Rambo and Farr, that ended in 2009. Today, the Inn houses another of CUB's key programs—Off The Streets (OTS). Run by Cincinnati Union Bethel Executive Vice President Mary Carol Melton and aimed at helping women out of the cycle of drug use and prostitution, OTS occupies part of the building's first floor.
Other things changed, too—the cafeteria closed for good, and directors like Farr found their time increasingly consumed with unpleasant tasks like evictions and suicide watches. Holiday parties—though mostly now for Inn residents and supporters—were still a highlight: "We would sit at table with them and enjoy a Christmas dinner and get to know [residents] in a way that you don't get to know them just by sitting in the boardroom," says Sister Rose Ann Fleming, who sat on the Inn's board for more than 23 years, until 2014. Anna's Closet opened, too—"our version of Dress for Success," says Lori LeNoir-White, a writer who lived at the Inn from October 2007 through April 2008 and helped organize clothing donations.
Through it all, the spirit of the Anna Louise Inn persevered, and the next generation of women who walked through its doors felt no less grateful for the support they received within. "We don't judge," says Robin Stanley, Inn director for the past eight years and manager of the new Inn facility. "We don't condemn. We accept. We're all women here—there's nothing to be embarrassed about. You pick yourself up, you dust yourself off, and keep going."
Sister Rose Ann Fleming, former board member:  [It is] kind of an ideal haven for a single woman; there is a group of women who prefer that kind of living. When you walked into the Inn, they always had an office occupied 24 hours a day right inside the door. And in an instant they had their own police there for any needs they might have. They had counselors who would take care of the emotional problems in a woman's life. They had health services come down there. A really good way of getting back into society after mistreatment is through an institution like the Anna Louise Inn. There are people there to care for them and love them and get them a job before they run out of resources again.
Lori LeNoir-White, former resident and author of Perspectives, a book of poetry and photographs about her life: I tried to live on my own but the only place I could afford at the time was in Price Hill, and I was living in an area where it was not safe for a single female. A friend told me about Anna Louise Inn. I am a survivor of domestic violence by my first husband. I am a survivor of rape. I had low self-esteem. When it was told to me that the Anna Louise Inn was all-women, I knew that that was a place that I needed to be.
Terri, current resident, Off the Streets: I know exactly the day [I came here]: December 18, 2014. Before I got here, I felt so low. They made me feel better about myself from day one. They handed me some keys to a room—to have a key somewhere! It felt so good to lay in a bed! Even though there were beds out there I could lay in, I had to do stuff I didn't want to to lay in the bed. They gave me the rules—I don't think I even read anything, I just signed. They gave me a hug, told me I was gonna be all right. They were so loving and caring—they were a power greater than me at that point.
Lori LeNoir-White: There are some organizations that will make you feel like a charity case. Anna Louise made you feel at home. I had a hard time for the first month or so—I barely came out of my room, but I always had someone come and knock on the door to see if I was OK. They wouldn't let you go too long without having interaction with you. If they didn't hear from you for a while or they hadn't seen you, they'd make sure that you had contact with someone—and that's what meant a lot to me.
Terri: Just having somewhere to live, food when you first get there, a shelter, to be safe and not have to worry—all of that they offer you. It's like home, it's like family. I've never been anywhere like that. The main thing they've taught me is how to love me. When new ladies come it's so fun to embrace them. It was freely given to me; to watch them grow from day one, it's like I'm watching myself.
---
"You might need that time period—that small space to just figure out where you came from and where you're going."
---
Not unlike Shel Silverstein's self-sacrificing Giving Tree, the Anna Louise Inn's Lytle Place home gave until it could almost give no more. Chunks of brick are missing from the building's exterior. The fire escape Bernice Young once climbed after curfew is rusting and in need of paint. Inside, it wasn't much better. "I've been using band-aids for the last six years in trying to keep this building together," says Stanley. "The women understand what we're trying to do; they're moving into the new building."
The Inn's new campus on the corner of Kinsey and Reading Roads (across from the United Way and adjacent to a new women's center operated by the Drop Inn Center) is a veritable palace compared to the aging Inn. It also marks a significant departure from the old way of life. Although Off the Streets still has its own area (dormitory-style living for 24 women), the rest of the building consists of 43 efficiency apartments and 32 one-bedrooms complete with private bathrooms and kitchenettes. "Brand new plumbing and electric!" says a gleeful Mary Catherine Scheele, whose move to the new facility corresponds with her 38th year living at the Inn. (Stanley points out that Scheele has donated "every dime she's ever owned to the Inn—almost $90,000 now.")
Passion for the cause—despite the Inn's evolution—does not wane among its most ardent supporters. The need for a place like the Anna Louise Inn may be changing, they all know, and change is sometimes bittersweet. But it will never fully disappear.
Sr. Rose Ann Fleming:  I think Steve MacConnell [Cincinnati Union Bethel President & CEO] and Mary Carol Melton [of CUB and Off the Streets] have preserved the mission and the vision of the Inn in a remarkable way. Where would those women go if it wasn't for the Anna Louise Inn? They'd have to go to a hotel or motel with a transient population—at the Inn they can stay a little longer than the requisite month or two. I don't see the need disappearing at all.
Robin Stanley, Inn director, 2007–present: It will continue to flourish—bloom, should I say. It can't move anywhere but up.
Kathy Rambo, CUB board member, chair of Anna Louise Inn Committee from 1994 to 2000: The Inn has been many things to many people. I think the beauty of CUB and the Anna Louise Inn is that they adapted to what was going on in society. The problems, where they saw things that needed to be fixed—they helped to fix them or lend a hand.
Sallie Mullinger: It's a good evolution but it's a sad one in a way too because I think a lot of young girls, especially if you haven't had perfect parents, perfect childhood, perfect upbringing, if you're one of those people like me—you might need that time period, that small space to just figure out where you came from and where you're going.
Lori LeNoir-White: Even though the Anna Louise Inn is a safe place, it's not a safe place to stay forever in my opinion—it's a safe place to get started. There are some women at the Inn who are grateful for the roof they have over their heads but they're there in the moment, they're not looking at their future. I hope that the new facility isn't abused. I hope the women who are there take hold of it, get what they can from it, and move on.
---
"I felt for the first time in my life that I actually mattered."
---
As the final group of residents passes through the Inn's doors one last time, they'll unwittingly carry with them the experience and memories of thousands of women who've left before them. Some left to get married, some to rent an apartment or move back in with family, some to leave the city altogether. But all left with something more than what they brought; hopefully, says LeNoir-White, that something includes "reverence" for a place that changed so many lives for the better. "It's not a church—I understand that," says LeNoir-White. "But how you live is a testimony to it. What you strive for is a testimony to it."
Mary Farley White: When Mrs. Sedgewick found out that Jack and I were going to get married, she said: "Would you mind being married in the chapel?" I felt very humbled and honored. We were married on December 5, 1970. I was in the back and I said: "Who's all out there?" They kept saying: "You'll see, Mary. You'll see." My goodness! It was just a sea of people. All the ladies came down that afternoon. It was touching. This was my home and these were my very good friends. Before I met Jack, I was always there if they wanted to talk, if they needed something. After the wedding, I just couldn't quit saying goodbye to everybody. Finally Mrs. Sedgewick came up. She took me by the shoulders and she escorted me out. She said: "Mary! Your husband is out here waiting for you!"
Sallie Mullinger:  I remember vividly moving out—it was sad that day. We were all hugging—a lot of crying. I was excited to be moving on—I had actually met another girl at the Inn; we had a cute little one bedroom apartment. [But] I was sad to say goodbye to this great place. It was the exact stepping stone I needed between where I had been to where I was going. Those months at Anna Louise Inn, I learned not only self-sufficiency and responsibility, but I learned about myself. It was important for me to take good care of me. I felt for the first time in my life that I actually mattered.
Lori LeNoir-White: Even though I was there for less than a year, Anna Louise has a lot to do with who I am now. There wasn't any major event that happened at the Inn—it was the fact that there were no major events that were happening at the Inn. When I met my husband I made a rash decision to leave, and I was scared because the Anna Louise Inn had been the safest home I had had in a long time. It gave me time to think—to accept my decisions, my choices, my actions—and not everything I reflected on came back in a pretty picture. Whether you were there for a day, six months, a year and a half—it did not matter. They did not judge you. There are other great organizations in Cincinnati, and I don't want to take away from that, but there's only one Anna Louise Inn.
Olivia Farr, Inn director from 1991 to 1997: Knowing that these women had a safe home, that they could be proud to say they lived there, that we involved them in what we were doing—I think that it enriched their lives. We got to watch them soften, we got to watch them try a little harder to stay on their meds, we got to watch them seek help when they knew they were going down a dark road. It was just such a gift.
As I look back over my life, the best years of my career without question were those years and the relationships. You know that saying "Some friendships are for a season, some are for a reason, and some are for a lifetime"? The ladies at the Inn were our friends, and it was for a season, but—oh my goodness—were they our friends.
---
* Name has been changed.
Facebook Comments