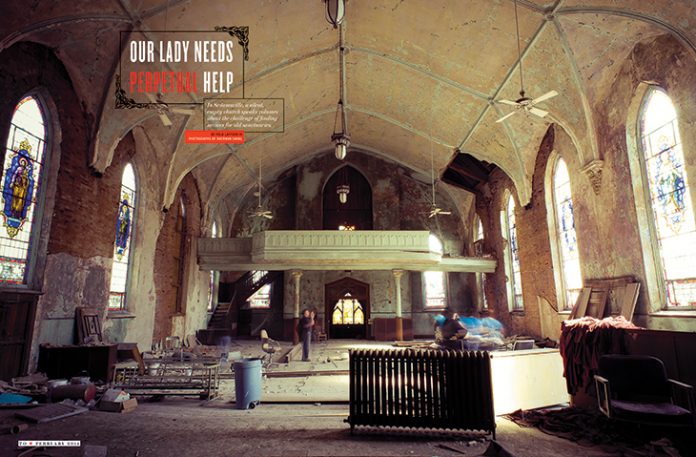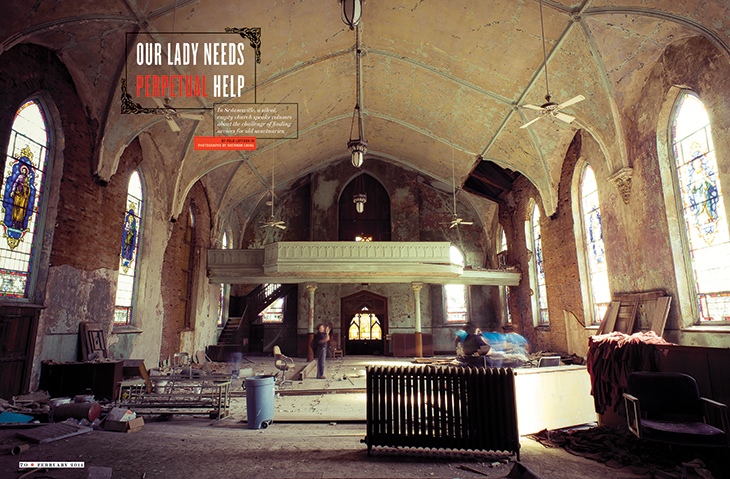 Photograph by Sherman Cahal
I had forgotten about Sedamsville. Its cramped streets and time-warped houses, clinging stubbornly to the hills below Mt. Echo Park, call no attention to themselves. Its only businesses—a T-shirt shop, a nursery, and a plumber—do not invite casual shopping. Its landmarks, the long-deserted Benjamin Harrison School and Our Lady of Perpetual Help Church, are prominently sited, but lifeless and deserted, their original uses long since set aside.
Nearly 40 years ago, as a reporter for The Cincinnati Post, I was assigned a series of stories on Cincinnati's neighborhoods, and in the course of that project had come to know many of them well. Sayler Park, west of Sedamsville on River Road, was notable for its steamboat architecture and genial prosperity. Price Hill, looming just above Sedamsville, boasted solid working class homes and generational stability. But Sedamsville, tiny and unobtrusive, was easy to overlook.
Now, in the closing weeks of 2013, I was back. I had come to take a look at Our Lady of Perpetual Help, noteworthy for its Gothic Revival roots, its place in local mythology, and its recent elevation to cynosure status at the Cincinnati Preservation Association. Fresh on the heels of stabilizing it after more than two decades of neglect, CPA was searching for someone to take over the property and give it life once more.
"We have just come through a transformative period in which city government has come to look at historic resources in a new way," Paul Muller, the CPA's executive director, told me. "We used to have to make the case that preservation was a redevelopment tool. Now they understand that."
In 2010, with the church long dormant and more than a few Sedamsville inhabitants agreeing that it would best be torn down, the president of the community council in adjoining Riverside, Dave Zelman, came to CPA and pointed out that demolition would cost almost as much to demolish it as to stabilize it. The association was intrigued. Since 1889, when it was built as a parish church, Our Lady of Perpetual Help had been one of a handful of what Margo Warminski, CPA's preservation director, calls Cincinnati's "beacon churches"—that is, churches that sit conspicuously on hills and serve as landmarks. Not only imposing, the church is handsome in its old-Cincinnati, German-aesthetic way. Its several sharp gables and turrets, all accented white against the dominant (and painted) red brick, converge on a steeple that rises 170 feet from the ground to a cross on top. Riverboat captains moving upstream know that Cincinnati is close when they spot Our Lady of Perpetual Help.
It did not escape CPA's consideration that salvaging the church could be a crucial catalyst to salvaging Sedamsville. "It is amazing what's happened in the past couple of years," Muller said. "People are identifying the historical character of a community as a part of its future. This was not the case five years ago. Sedamsville is three miles from downtown. People want that access. There is a desire, particularly among young people, for authenticity, for greater density, and for diversity. In that sense, young people are 'urbanists.' They like the same thing as preservationists."
Secure in its philosophical armature, the CPA board agreed to approach city council to seek money from its Community Development Block Grant funds. These are funds set aside to either tear down or—as in this case—help stabilize dilapidated buildings. More than anything else, "stabilization" means waterproofing, so that weather cannot erode what man has made. Although the cost of achieving this (about $200,000 as it turned out) was higher than the cost to demolish, the board was able to persuade council of the importance of the project in part by categorizing the church as a "regional character establishing structure." In 2011 Council voted unanimously to approve.
Today, Our Lady of Perpetual Help's stained glass windows, said to be beautiful, are boarded with white wood planks. Its doors are locked, its sanctuary stripped. Its four tower bells, a gift of Pope Leo XIII when the church was commissioned, are silent. Outside, it looks neatly—but firmly—buttoned up. Neighborhood rehabber John Klosterman, the owner of the church, along with multiple properties in Sedamsville, has granted CPA an option to purchase. The agreement allows the preservation organization to market the church to potential buyers, and to transfer the option to someone with a capacity to undertake the needed renovations. While CPA does not specify any particular use, it seeks a reuse compatible with the building and with the neighborhood.
But who might that buyer be? That is the $64,000 question.
Actually, the costs of refurbishing a church can be significantly higher. Reconfiguring Our Lady of Perpetual Help for, say, a community center, could cost more than $1 million.
Here and there in our inner-city neighborhoods, some former churches have found new uses. In Clifton Heights, at the corner of Calhoun and Ohio, a church erected in 1927 has been an Urban Outfitters store for at least a decade. If it seems odd to see racks of sweaters and parkas occupying a sanctuary, that may be the price of preservation. Reconfiguring a sanctuary for anything cannot be easy. Downtown on Plum Street, smack across from City Hall, another former church now houses offices for a dentist and an architect. In that space, the subdividing obscures the sanctuary; only by scanning the modest, unsteepled facade from the street would you know it was once a church. On the east side, the former Oakley Baptist Church now holds Quince & Quinn, a high-end interiors and accessories boutique.
In Over-the-Rhine, at 15th and Race, a partnership that includes New York restaurateur David Kassling of Tri Tip Grill and former Listermann Brewing Company brewmaster Kevin Moreland has announced plans for a $7 to $8 million renovation of the 164-year-old St. Paul's Church. It will become Taft's Ale House, named after William Howard Taft. Favoring their ultimate success is the recent, and handsome, refurbishing of the row houses directly across the street, stretching two long blocks to Washington Park.
Others imaginatively repurposed include a centenarian church at the corner of Gilbert and William Howard Taft, in Walnut Hills. Now called The Monastery, it is a recording studio. In both Newport and Bellevue are churches that have morphed into condominiums.
Some churches, however, sit vacant with no obvious afterlife in sight. Old St. George, in Clifton Heights—the one whose two steeples burned a few years back—gathers dust next to a parking lot. Not far away, on Gilbert a block north of William Howard Taft, the former Church of the Assumption, a once beautiful stone structure, sits shuttered with, again, no discernible use. In West Price Hill, a former Sephardic synagogue—the only one in the city—faces an uncertain future. Other churches with dwindling congregations—we all know some—pepper the city and stand ready to join the ranks of the unemployed.
On a brisk day in December, I met with Gary Callahan, the president of the Sedamsville Civic Association. A retired diesel mechanic with a close-cropped beard and a cheerful demeanor, Callahan has lived in Sedamsville for most of his adult life and is unabashedly positive about its prospects. "It has a ton of potential," he tells me. "We're just trying to get some people interested. Hardly anyone knows it's here, yet it's eight minutes from Fountain Square. It's peaceful and quiet at night. We have a low crime rate. Even the police comment how peaceful it is.
"This was once a working class neighborhood, but the flood of '37 wiped out everything south of the highway [River Road], including the business district. Now, at our civic association meetings, we draw 15 to 20 residents every month." There are activities and events for kids, like last Halloween's tailgate trick-or-treating in the church parking lot. "My wife dressed up as a witch," he says.
But rebuilding a community is a complicated proposition. "One problem is that we have a lot of rentals," he says. "We need to get home ownership up. In the paper this morning, I saw an article about a lottery for buying houses in [Mason]. The starting price was $325,000. Here you can buy a house cheap and remodel it, and make it what you want."
It says something about Callahan, and about Sedamsville, that he would devote considerable portions of his retirement energy to improving the neighborhood. Living in one of its nicer enclaves, he has a keen sense of how good it can be—and how bad. The price of houses in Sedamsville, which stretches along River Road roughly from Lower Price Hill to Riverside, with many homes sandwiched between Steiner and Delhi Avenues, can be as low as $20,000 or $30,000. Quality varies. Some, especially the old brick German houses, appear as solid as they ever were, requiring only fresh paint and carpentry to be viable; others, many made of wood, sag miserably, and even the neighborhood's most enthusiastic promoters acknowledge that they must go. Yet housing is only part of the story.
According to the 2010 census, Sedamsville has 680 residents. Approximately 5 to 1 white, they represent a wide age spread, but a narrow range of incomes. The median household income in 2010 was $24,100. In the entire neighborhood, there are just 346 housing units, and of these more than 85 percent were built before 1939. None was built after 1959. The census reported that 222 are occupied; 124 are vacant.
In Callahan's view, Our Lady of Perpetual Help is one of the community's primary assets, and he is delighted that it fell into the hands of the CPA. "They fixed the gutters, the roofing, they repaired the steeple, it still has its stained glass windows. It could be perfect for an art group, or a business," he says. "They could have a totally unique setting if the right person wanted it."
Pat Day, the executive director of the community development corporation for Sedamsville, and Cindy Bastin, president of the same group, are both members of Callahan's civic association. They are equally bullish. "The church is the icon of the community. Its presence, and how it towers over the community is very important," Day says. "If we could start here and make something of the church, maybe it would spread."
Bastin adds, "We're so close to town. It would be nice for weddings, or as a banquet center. As we think about it, we're trying to get more people involved."
Crisply dressed and businesslike, Day lives in Indiana and is a real estate agent. But she grew up in Sedamsville and graduated from Our Lady of Perpetual Help School in 1962. When one of her former classmates called, two years ago, to ask her to become involved in resurrecting the neighborhood, she saw opportunity. "The weeds were high around the monument," she says, referring to the Sedamsville sign, visible from River Road. "We got busy, and the place started to change. We cleaned it up. We landscaped, we got pots from the city, we worked with urban forestry to plant more than 400 trees. We got Parks and Recreation and Keep Cincinnati Beautiful all involved."
Cindy Bastin, short and friendly, is from Mt. Healthy. But in 2005, she and her husband bought a house in Sedamsville to use as a rental. Then, two years ago, they moved into it, not least because it was a lot closer to both work and to others in their family. "One of the things people don't realize," Bastin says, "is that this is where Pete Rose learned to play baseball." The field she points to, now called Pete Rose Field, adjoins Boldface Park, just across Delhi Road.
Embshoff Woods is the backdrop for both, facing east to the hillsides of Mt. Echo Park. One of the area's advantages, locals say, is the amount of green space surrounding them. "Another thing they don't know," Bastin adds, "is that in 2012 Sedamsville was admitted to the National Historic Register."
Intent on establishing a permanent meeting place for the civic association and expanding the now limited options for children, Day and Bastin are also meeting with all city departments to discuss their plans to move Sedamsville forward. They are full of ideas, and Our Lady of Perpetual Help is an important beneficiary. "I would see it as a community center, with offices underneath," Day says. "We could offer free meals, and activities for children after school."
Bastin goes one further, citing the possibility of a winery. "All these hills were vineyards. It was the Napa Valley of its time. It would be something to bring people to the community and make those here be proud to be a part of it. "
I may have forgotten about Sedamsville, but clearly some others have not. Those who remember what it was—like Callahan and Day and Bastin—have a vision for what it could become again. And they have faith that their landmark church is a key to that future.
Says Pat Day, "We put our hands on the church, and we pray for a buyer to come along."
Originally published in the February 2014 issue.
Facebook Comments