Ken Tankersley scrolls through travel photos on his iPad, chuckling at each memory as if recalling a particularly jolly trip to the zoo.
Here's a brown boa constrictor wrapped around a tree branch in Trinidad, smothering the life out of a bird. "They're harmless," he scoffs, sipping his passion fruit tea.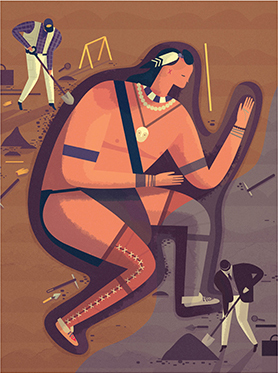 Here's a black funnel-web spider resting in a peaceful Australian fern grove. "It lifts its fangs up and drips venom," he says. "Getting bit by a tarantula is like a wasp bite. But these spiders will kill you."
On and on, this University of Cincinnati anthropologist shows me photos and tells stories that make me squirm, even in the quiet safety of Starbucks in Mariemont. Once, a puddle of vampire bat urine splashed into his mouth when he slipped in a Trinidad cave. On another trip, he eagerly ate a mouthful of Amazon termites, which tasted like the sweetest baby carrot. (Chew quickly, he warns me, or they will crawl out your nose.) Then there was the time he cracked his head open rock climbing…smashed a knuckle in a cave fall…was harassed by a knife-wielding drug dealer in the Amazon.
The elderly lady sitting at a table next to us has heard enough. "I just want to tell you to take care," she says, touching Tankersley's shoulder and shaking her worried head as she rises to leave.
Tankersley is frumpy in a wrinkled plaid shirt, faded pants, and "Native Pride" ball cap kind of way. Which is to say, he looks utterly ordinary. But that ordinary exterior camouflages the fighter within. At 59, Tankersley is a survivor of multiple cancers and cardiac surgery; he recently celebrated receiving tenure at UC by getting braces for his crooked front teeth. He is Painted Hawk, Keeper of My Ancestors' Secrets, to his Piqua Shawnee family and "Doc" to his students. To those who work with him in the field, Dr. Kenneth Barnett Tankersley, PhD, is a geologist, an anthropologist, an expert in ancient climate change, a local historian, and a world traveler. Some summers he spends his days digging for mammoth bones at Big Bone Lick. Other times, he might take a month-long "walkabout" in the Australian outback, his pack filled with heart medicine, key lime Lärabars, and a single change of underwear.
"Ken is a Renaissance man," says Lewis Owen, head of UC's geology department. "That young, inquisitive side of us that you tend to lose as you get older because it's not cool? Ken still has it. For Ken, it's always been cool."
When he's not throwing himself into some hair-raising adventure, Tankersley's at home in Highland Heights, writing. His academic research and publication focuses on climate change—specifically, investigating how ancient humans and animals either survived or died when the global climate got extreme. Last year, he was part of a team of researchers who published findings about a major cosmic event that sparked the climatic upheaval that killed the woolly mammoth. He also writes about Native American history; he may look Irish, but he's 10 percent Native American—Cherokee and Shawnee. And as an archaeological geologist, he uses science to understand the lives of his ancestors.
"Ken always says, 'When people forget their history, they make the same mistakes over again,'" says his second cousin, Joanna Basha, who wrote the introduction to Sitting Bull's Pipe—Tankersley's 2006 book about the loss and rediscovery of the 19th-century Sioux leader's ceremonial pipe. The book he's currently working on is only a slight departure in that it's about Dr. Charles Metz, a 19th-century Madisonville physician and amateur archaeologist who discovered a number of important sites around Cincinnati that revealed the societal sophistication of the Moundbuilders, the Native Americans who inhabited the Ohio River Valley before his own ancestors. No surprise, then, that Metz also happens to be Tankersley's lifelong hero. When not slogging through the Amazon or the Arctic, "I'm working on the exact same sites, in the same areas, that Metz did," he says. "And still trying to answer some of the same questions."
Curiosity has driven Tankersley to far-off places and harrowing expeditions. But no discoveries have meant as much to him as the ones in his own backyard.
Should you ever find yourself on a hike with Ken Tankersley, be warned: He's faster than he looks.
On a brisk day last November, I'm following him as he climbs up the slippery clay banks of Whiskey Run Creek, leveraging his 170-pound frame on a single hiking pole. By the time I slide down and struggle for traction, he's nearly out of sight. This is the way it always is if you're on Tankersley's trail. On campus, he takes the stairs two at a time on his way to teach his Ohio Valley Archaeology class. On weekends, he bikes from Newtown to Yellow Springs and back, 110 miles, wearing sports sandals. "I don't like shoes. I'm a hillbilly," he jokes.
But today he's wearing sensible shoes as he hikes through the woods at the south edge of Mariemont. He points out a small hill just behind the village swimming pool. This is a burial mound, perhaps 2,000 years old, he says. Then he shows me his much-touted research discovery of 2011: the eroding walls of what he believes is the world's longest serpent mound—a low embankment originally identified by Metz that snakes for hundreds of feet along Miami Bluff Drive. He stops and kneels down to examine a series of holes dotting a grassy slope bordering the pool's chain link fence. "These are looter holes," he says. "Do you see how the soil has been sifted?"
Collectors come here to dig, sifting dirt through wire screens, looking for pottery shards, arrowheads, medallions, or pipes. A township ordinance bans digging for ancient artifacts here, and it's against state and federal law. But these nighttime "grave robbers," as he calls them, are near impossible to catch.
Across the pool's parking lot, a large Ohio Historical Marker explains what we're looking at. To archaeologists, this is known as the Madisonville Site—the largest home of the Ft. Ancient Indians, ancestors of the Shawnee, Delaware, and Miami tribes, who inhabited the Ohio Valley from 1000 to roughly 1670 AD. But other native people have lived here, on and off, for 13,000 years. "That is one of the most famous archaeological sites in all of eastern North America," he says. "It's hard to imagine that we go there today and it's a parking lot near a swimming pool."
This is where Charles Metz, later joined by staff from Harvard University's Peabody Museum, uncovered more than 1,200 native graves in the late 19th and early 20th centuries. A Madisonville physician born in 1847, Metz became intrigued with the man-made, prehistoric mounds he saw while making house calls at local farms. When he heard stories about artifacts found in what is now Mariemont, he asked the owner of a farm for permission to undertake a scientific exploration there. In 1879, excavating in an area along a steep bluff above the Little Miami River, Metz discovered a burial site so massive it has yet to be fully studied.
Assisted by archaeologists from Harvard, Metz's work at the Madisonville Site and subsequent excavations in the region—including the Great Serpent Mound  in Adams County—unearthed artifacts that are now housed in museums around the world, artifacts that tell the story of the Ft. Ancient Indians. Metz took an exhibit of his discoveries to the World's Columbian Exposition in Chicago in 1893, which earned him a bronze medal. Harvard published some of Metz's findings, although Tankersley is convinced the university did not give him proper credit. He has always felt that Metz was overshadowed, so he's setting out to remedy that—and to solve some of the puzzles his predecessor left unanswered.
Consider the burial site. Tankersley has always wondered: If the cemetery was on high land, then where did the natives live? In late November 2012, he got his answer. His UC archaeology class uncovered the lost village in the floodplain below, in an area that is now a Mariemont park. The village was massive, Tankersley says, and extremely rare: he believes it was occupied from 1630 to 1670—before white settlers came to southwest Ohio. But the students' discoveries—Spanish-glazed pottery, European copper, and a colorful Venetian bead—suggest that the inhabitants lived there after Europeans had arrived in America.
This is the newest in a chain of ancient sites in the Little Miami River Valley, sites deemed historically significant ever since Metz and others began uncovering them more than a century ago.
"But if the roadway goes through, they'll just bury it all," Tankersley says.
"The roadway" is a controversial leg of the Eastern Corridor project that would reroute Ohio Route 32 directly through this dig. Ohio Department of Transportation (ODOT) officials have yet to make a final decision, and are considering an alternative route that would pass south of Mariemont at Horseshoe Bend, near Fairfax. But that, too, is not much of a solution: If it is put there, the roadway could destroy another Ft. Ancient village, known as the Hahn site, in Newtown.
In an effort to stop the highway relocation altogether, Tankersley is working to have the entire area recognized as a National Registered Archaeological District by the U.S. Department of the Interior. "People don't appreciate the archaeology right in their own backyard," he says. He likens the area to the Valley of the Kings in Egypt, because of its still mostly untapped historical wealth.
The issue has attracted national attention from the Sierra Club, which called the highway project one of the worst in the nation, and the National Trust for Historic Preservation, which named Mariemont among 11 most endangered sites in the United States. Hamilton County Commissioner Todd Portune says it is "a terrible idea" for ODOT to run a roadway through Mariemont, "and the likelihood of them ever getting it done is zero." Portune prefers the southern relocation alternative presented by a group of Newtown business owners for the roadway, but now worries that the controversy has dampened public support for the entire project, which includes light rail, bike paths, and road and interstate improvements across eastern Hamilton County. "The real tragedy would be if a single segment of the project ends up up-ending the entire program," he says.
The traffic problems in eastern Hamilton County are indisputable. Drivers headed downtown must either make a wide circle on I-275, or I-471, or clog the two-lane roads through Mariemont, Newtown, and Anderson Township during rush hour. Without a new highway, ODOT expects congestion, pollution, and traffic accidents to worsen. "These roads are congested or over capacity," says Andy Fluegemann, the project manager for ODOT. He cautions that Tankersley's new research on the serpent mound and the lost village of Wynema—the name given to the recently-discovered site in the Mariemont park—have not yet been approved by the office of state historic preservation. "If it becomes verified, then we will take it in consideration," Fluegemann says. Until then, "these are his hypotheses and theories."
Controversy has stalled this phase of the project since January 2013, and this year ODOT has taken the unusual step of asking federal mediators to help solve the issue. But Mariemont mayor Dan Policastro is not about to change his mind. "There is no way we will let ODOT come in and destroy this most important piece of history," he says. He's grateful for Tankersley's discoveries, and his opposition to the highway. So far the mayor has given Tankersley a key to the village and proclaimed a day in his honor. "I'm trying to figure out what to give him next," Policastro says. "He's a godsend."
Tankersley spent so much time outdoors as a child because he had to. He grew up in a cramped, shabby bungalow in Madisonville with his parents, two brothers, and a sister. He still remembers the exposed wiring and asbestos panels, and the green and yellow mold on basement walls, where he built his first laboratory next to the furnace. When his father was laid off or on strike from his union automotive job, the family lived off charity boxes of food and help from his grandparents, who paid his tuition at St. Margaret of Cortona School.
As a young boy, he discovered his first archeological site in the woods behind his house, where he found arrowheads, a hammerstone, and a stone pestle all shaped by ancient hands. Eventually he dated the items as 3,000 to 4,000 years old. As a soon-to-be graduate student in 1979, he registered the spot as the Tankersley Archaeological Site.
"It really struck me to be the first to touch something in 4,000 years," he recalls. "The last hand that touched it could have been my ancestor. And that was powerful. That engaged me."
It was at the Madisonville Library that he first encountered Charles Metz. Reading about Metz's big digs, he realized that the man had once sat at the very same table—it was a regular meeting spot for the Madisonville Literary and Scientific Society, like-minded men who helped with Metz's excavations. "I would imagine myself sitting there with all of those older archaeologists," he says. "I thought, This is so cool."
Despite his childhood fascination, school was difficult. He was a left-handed dyslexic who struggled to read and write, while trying to overcome the Appalachian twang inherited from his parents. Tankersley's brother Steve recalls that the nuns thought Ken had a very low IQ. "If one word dictates Ken, it would be perseverance," he says. Science kept him going. On weekends he took geology classes at the Natural History Museum, where he first met his wife.  "Her first words to me were, 'Shut up and go away,'" Tankersley says, chuckling.
Call it fate or destiny, but he kept running into her at science fair competitions. "I thought to myself, There's that know-it-all guy," Jenny Tankersley remembers. "I had a wonderful fossil collection. No matter how good it was, I knew I would never get a ribbon because I didn't have a hypothesis, like he did." She is now a geographic information specialist at an environmental engineering firm.
Tankersley did win ribbons. He took first place in the Regional Science Fair four years in a row; his seventh-grade topic was climate change and species extinction. But his work didn't impress everyone. "There was a consensus in my family that nothing good would ever come from archaeology and I would never be able to make a living," he says. "I can remember my mom insisting that I needed to get a good factory job so I could buy cigarettes and beer—even though I did not smoke and was too young to drink."
When Tankersley was in fifth grade, his parents lost their home and the family moved into one of St. Margaret's convent houses. At 13, he became the full-time janitor for the school and church. The work left him exhausted, but the money helped pay his tuition at Purcell Marian High School.
After graduation in 1973, he began studying geology at UC, where he rekindled his friendship with Jenny. They shared the same major—and the same textbooks, since he was too poor to buy his own. Their first date was to a cave in southeastern Kentucky, where they rappelled down a waterfall and crawled on their stomachs through a muddy stream before making camp. "I was trying to impress him," Jenny remembers. They married and he racked up the degrees: a bachelor's and a master's at UC, and a PhD in anthropology from Indiana University. Along the way he took teaching appointments at other colleges and traveled to far-flung places like Eastern Siberia and the Yukon to study the role humans and climate change played in the extinction of large animals. In 2002, he became the director of Native American Studies at Northern Kentucky University, then moved over to UC five years later.
At UC, Tankersley has done groundbreaking research on climate change. He has studied the remains of extinct animals, such as the giant beaver, and examined geological layers dating back 13,000 years inside Sheriden Cave in Wyandot County—research that shows that climate change and mass extinctions can occur within a single human lifetime. And he recently ventured to Guatemala to figure out how ancient Mayan lowland cities could support oversized populations despite generally poor soil and droughts. By analyzing the soil, Tankersley discovered that volcanic eruptions periodically rained down ash, creating a super soil that bolstered crops. But too much ash may have poisoned the Maya's water reservoirs during droughts.
"This is not a new condition, climate change. Although in the past it was not necessarily induced by humans, it did occur," says UC's Vernon Scarborough, who has done research with Tankersley. The two are looking for clues in pre-history that can be helpful in modern times. Such as: "Are there ways that past groups reacted to climate change that contributed to their end?"
Scarborough describes Tankersley as an enthusiastic scientist who has a photographic mind and the unique ability to categorize masses of information into great research. "If I come in with a problem, I know that more than half of the time, he has the answer. And those are very good odds in science," Scarborough says.
Tankersley's body has not always cooperated with his ambitions. He survived lymphoma and testicular cancer when he was in his 30s, and had multiple surgeries to correct a life-threatening heart fistula. Recently he was diagnosed with atrial fibrillation, cardiomyopathy, and congestive heart failure. He can't eat sugar, caffeine, fat, enriched white flour, or fried foods, and has to take heart medicine daily. Despite all this, he still maintains a busy travel and research schedule, and has set his sights on finishing his book on Metz, which he sees as a tribute to an unsung hero of archaeology and the mentor he never met.
Tankersley is coauthoring the book with civil rights attorney Bob Newman. Newman's wife, Mary Asbury, the executive director of Legal Aid Society of Greater Cincinnati, is Metz's great-great granddaughter. The couple has old notes and family letters that reveal an almost eerie similarity between the two men.
Both men grew up relatively poor in Madisonville; both were bright (Metz went directly to medical school after high school); and both discovered archaeological sites outside their back doors. Metz was digging a well behind his small house on Madison Road (where he later built a large Victorian house that still stands), when he found a Clovis point—a 13,000-year-old spear tip. These finger-shaped points were the first weapons of mass destruction, allowing early humans to kill large animals. The discovery of these rare Clovis points both at Metz's house, and later at the Madisonville Site, proves that Native Americans were here during the Ice Age.
And then there are the truly uncanny connections. For example, both men had the same nickname for their wives: "My own wifey dear." Tankersley discovered the strange coincidence reading Metz's old letters. "That's what I wrote on my Valentine's Day card to [Jenny] this year, and every year," he says. Tankersley believes that, like him, Metz was deeply curious about the people who built the mounds—a dramatically different attitude than that of many 19th century Americans. After all, it wasn't until 1879 that a U.S. District Court judge recognized American Indians as people under the law, and they were not granted citizenship until 1924.
"Here you have Metz, a second-generation European immigrant, who has a sincere interest in Native American culture," Tankersley says. "He wanted to know how they were living, how they survived. That's very unusual." Many archaeologists at that time believed that Ohio's magnificent earthworks and mounds were built by an ancient Caucasian civilization—not Native Americans, who were widely considered to be "savages." "Metz's work focused on demonstrating that this was not the case," he says.
The last remaining Shawnee Indians were scattered in Indian Hill, before being run off from the area in 1810. Through detailed excavations, recordings, and research, Metz theorized that the ancient mounds across the Little Miami River Valley were actually built by the Shawnee's ancestors. "He clearly uses the word Shawnee; that's what is particularly amazing," Tankersley says. "He took the direct historical approach. He knew the area was once occupied by the Shawnee, and he was going back in time."
Just like Metz, he sees each artifact or piece of rock as a clue to understanding the mystery of ancient people—what they ate, how they hunted and farmed, why they built canals, who they worshipped, and how they died. Tankersley's 21st century perspective pulls the camera back a little further, searching for clues to explain why some civilizations survived and others perished in the wake of natural crises—clues that he believes may help modern culture.
"When climate changes, the world's breadbaskets could cease to exist," he says. "The new breadbaskets of the world will be elsewhere. Think about the economic implications."
On a warm April morning, I catch up with Tankersley at the Cincinnati Museum Center's Geier Collections & Research building at the corner of Gest and West Fifth Streets. We're here to get a look at some of the artifacts that Metz found in Mariemont 135 years ago—items from the physician's private collection. "This is where the real collections are kept," Tankersley says, explaining that most of the museum center's precious, irreplaceable artifacts are housed here, behind locked metal doors, in carefully marked boxes and sliding drawers.
Unfortunately, archaeology curator Bob Genheimer is waiting for us with bad news. "I checked our database," he says. "I don't know of a single piece that we have from Charles Metz."
Tankersley is disappointed. "I think all of Metz's stuff went to the Peabody," he says. (Maybe he shouldn't be too surprised. When Penelope Drooker, curator of anthropology at the New York State Museum, studied the Madisonville Site for her 1977 dissertation, she too had difficulty finding items attributed to Metz, noting that while artifacts are supposedly housed in at least 20 museums around the world, some have been exchanged, discarded during "housecleaning," or have simply gone missing.)
Still, Genheimer assures us that our trip is not wasted. The museum has plenty of items originally collected by other members of the Madisonville Literary and Scientific Society. He leads us into a room where, spread out on a table, there are rows of undecorated clay pots with sturdy handles, carefully pieced back together. He opens cabinet drawers that hold other treasures: deer bones whittled into hide scrapers; awls made from the bones of birds, their points still sharp to the touch; and blackened kernels of corn taken from ancient trash pits. The rows of wooden pipes are magnificent, each carved differently—a flawless raven; a mystical phoenix; a rare purple martin; a headless frog; and a Carolina parakeet.
Then Genheimer picks up one of the most famous finds from the Madisonville Site: a brass Clarksdale bell—a trinket believed to have been used by Spanish explorers as a trade item—found buried with a child. He shakes it lightly, and it still rings.
Tankersley is very particular in what excites him. He focuses on two rather ordinary-looking pieces of rock (which turn out to be French gunflints), then examines a carved bone sewing needle. "They date from the late Colonial period to the War of 1812," he says. "They fit nicely with the last known Shawnee visitations in the area"—and with Metz's theories.
As Genheimer opens a cabinet of pottery shards and begins to give me a lesson on ancient design work, Tankersley's attention turns elsewhere. He thinks he has seen something that may belong to Metz. Sure enough, as if he has been led to it by a whisper, he finds three rather plain-looking shell gorgets—carved pendants—tucked into a small box. He reads the identification card: Were lent by Ferris Memorial Library through Dr. Metz.
He fingers them, notices dabs of hardened glue on the shells, and guesses they were once stuck to a display board. After all this time, to finally hold something once touched by Metz is truly exciting, he says. The two archaeologists talk about the mystery of Metz with intense curiosity. Why is so little written about him? Did Harvard take advantage of him? What happened to his collection?
Tankersley plans to come back to document these artifacts for his book. But he's also on the hunt for any images of his erstwhile mentor. Buried in an old scrapbook, amidst pictures of century-old excavations, are two photos of an older Metz from 1907; he's got a long beard and wears a proper suit. These are the only images of the physician as an older adult that Genheimer has been able to find. "Why aren't there more photos of him?" he wonders aloud.
"He's like me, always behind the camera," Tankersley says. "He's a humble guy."
Genheimer has his own hypothesis. "It's like he's a ghost.
Facebook Comments