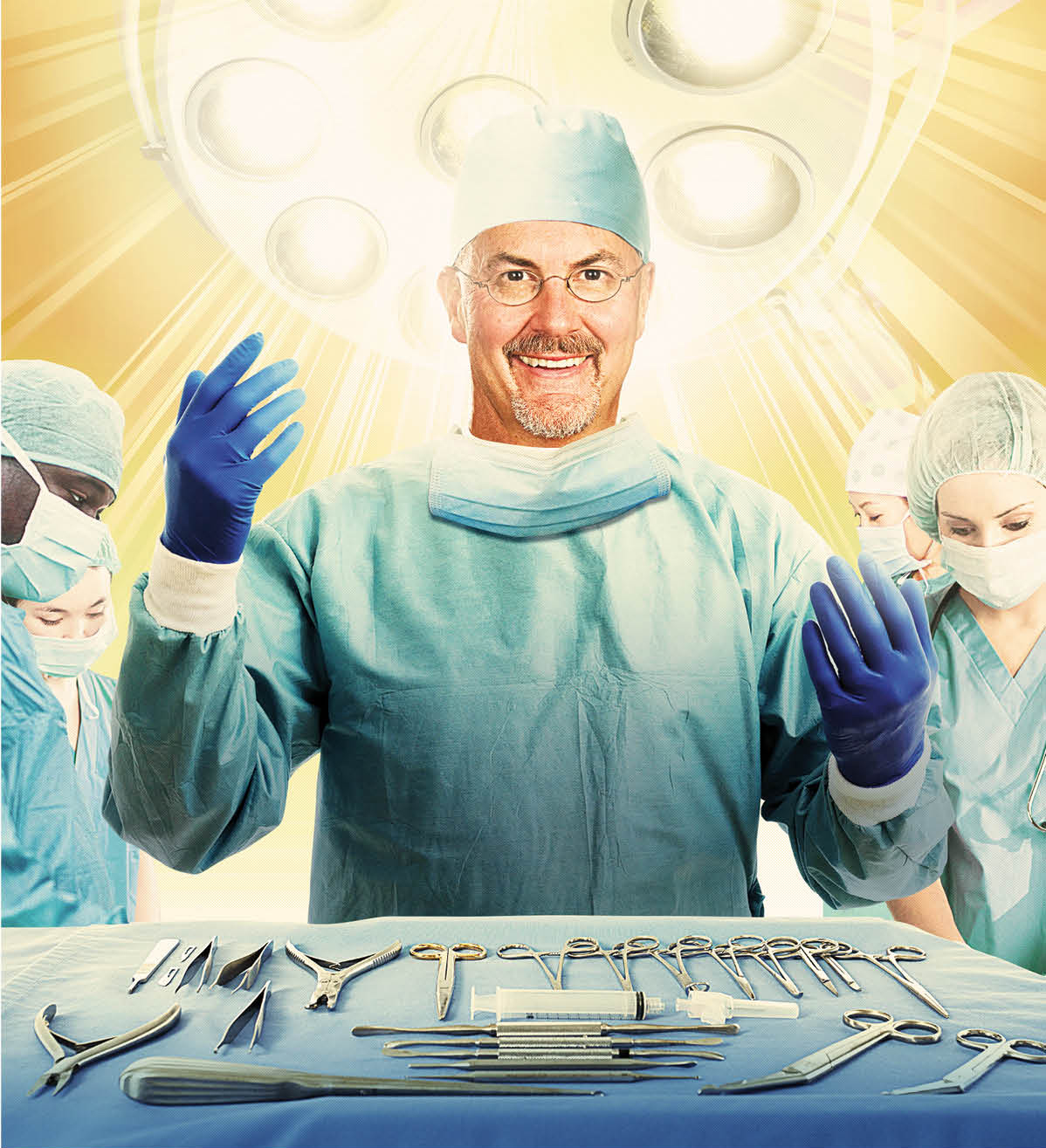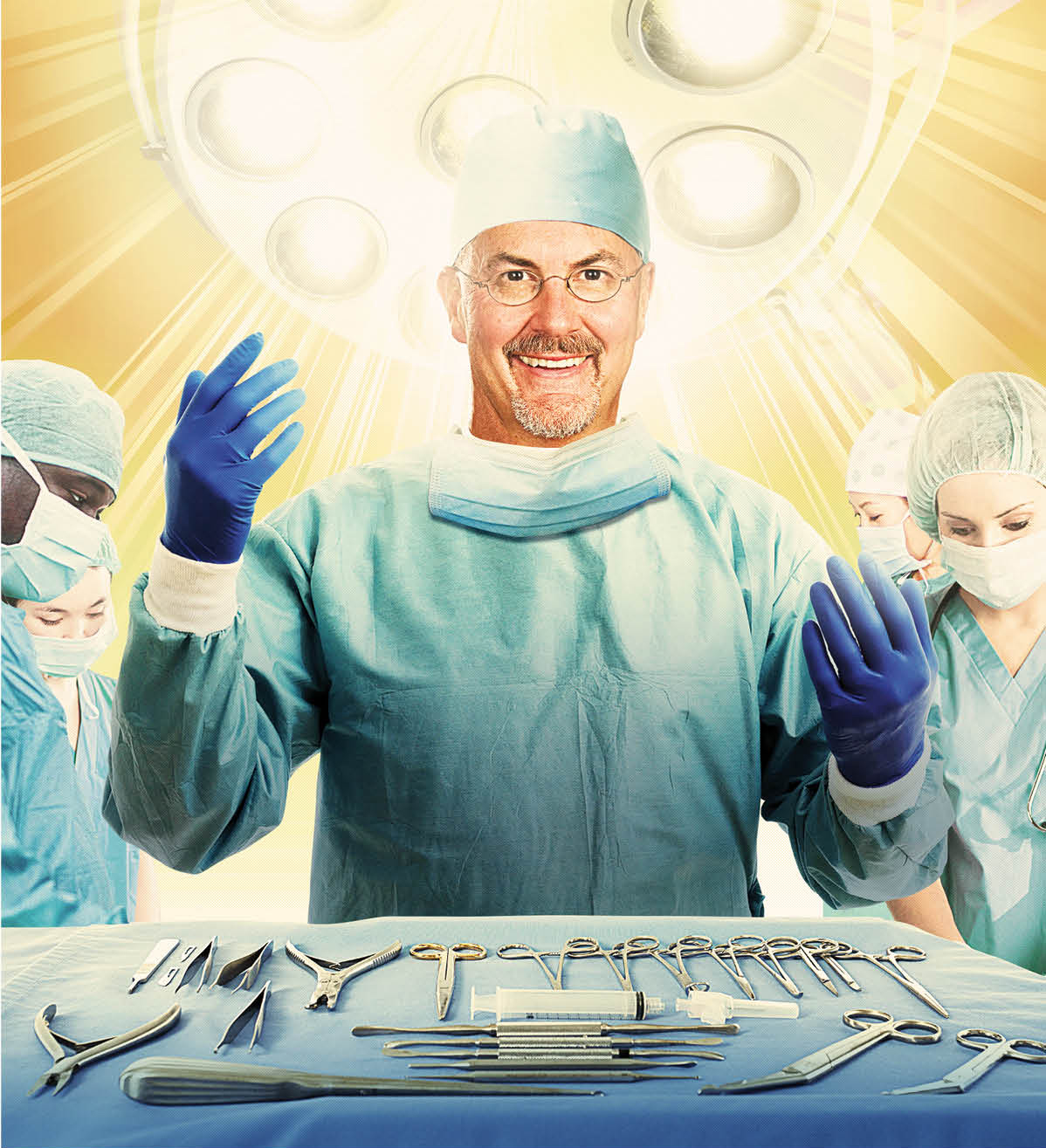 "I'm not harping on you to be a jackass. I'm harping on you to make you better." It's dark inside the operating room at the Beacon Orthopaedics & Sports Medicine Summit Woods office in Sharonville, the only light emanating from a bank of flatscreen monitors and an overhead lamp. Dr. Timothy Kremchek, M.D., commandeers the shoulder scope of a middle-aged woman, nudging aside a young doctor-in-training who is struggling with the surgery. Water and blood spill onto the floor as Kremchek controls a surgical camera in one hand and a suction-assisted cartilage shaver in the other—both submerged in the patient's shoulder—while staring straight ahead at a monitor. It's as if the doctor is playing a video game, moving the implements around without taking his eyes off the screen, the trainee staring on intently. The contents of the shoulder resemble pink, fluffy housing insulation, a layer of padding interrupted by frayed tears. The tears aren't supposed to be there, hence the scope, intended to clean up and repair any damaged cartilage.
Despite the nervous looks from a now uncertain novice and the eerie vibe given off by the dim lights and steady stream of blood, Kremchek is clearly in control. His somewhat intimidating appearance—a 6-foot-3 frame and broad shoulders topped by his bald head and dark, piercing eyes—is offset by a relaxed demeanor, calmly narrating his movements without pausing the operation.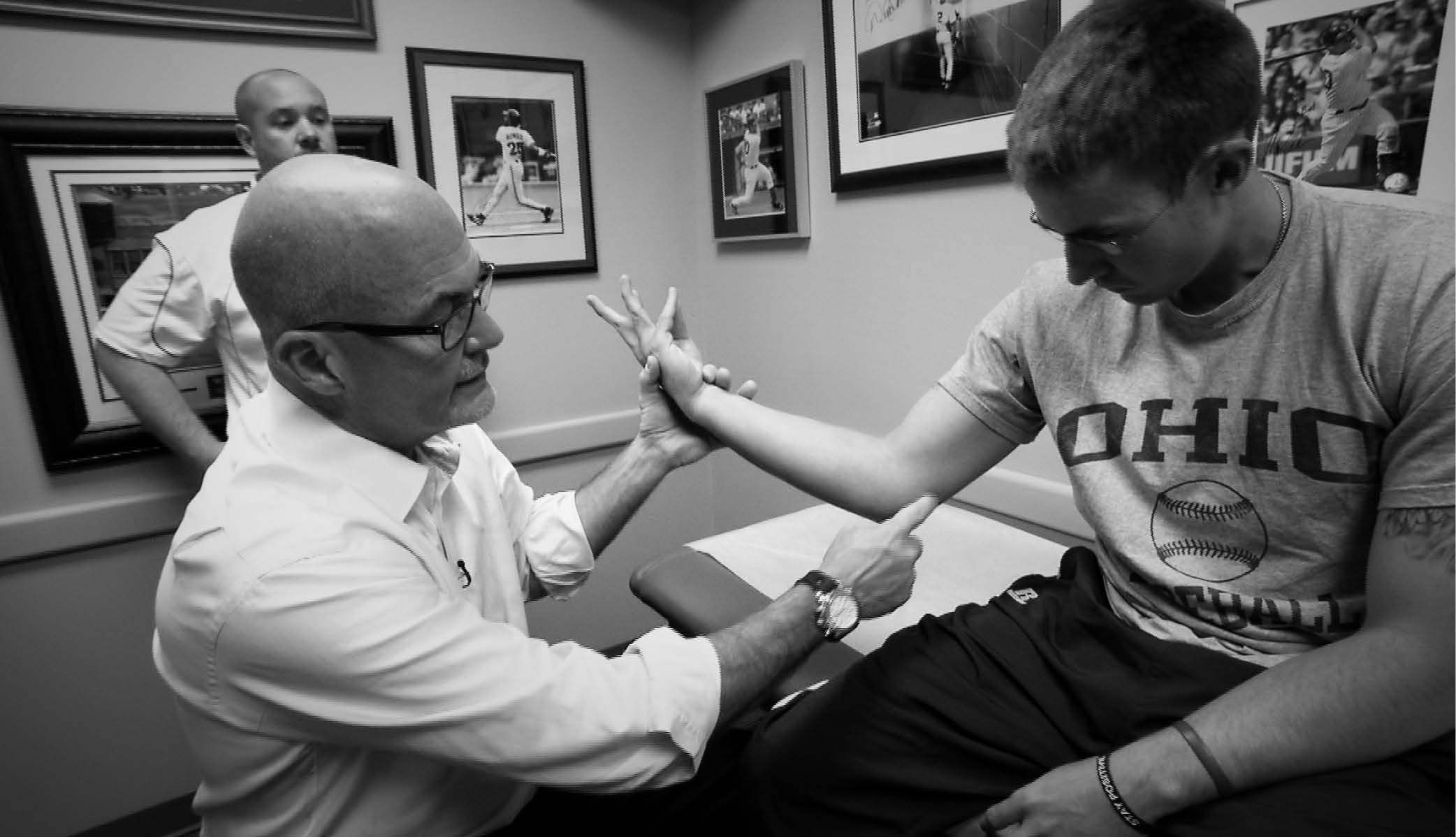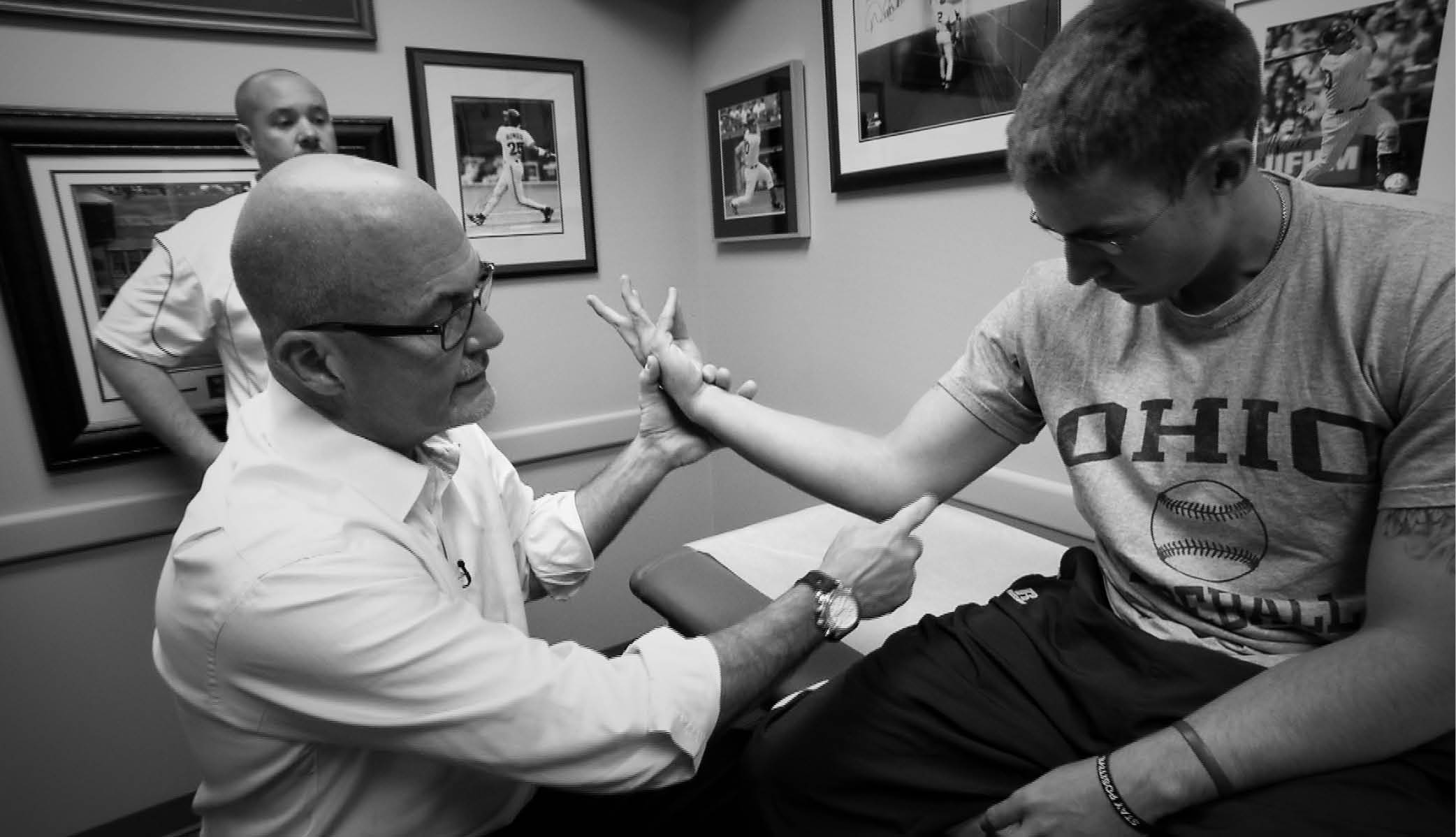 Next door, nearly a dozen staffers prep the doctor's next patient, a 62-year-old male in for a total right-knee replacement, currently drifting off to sleep under anesthesia. After that, the doctor will repair the torn labrum of a Winton Woods High School football player, performing the surgery pro bono at the request of the team's coach (the player's family can't afford the surgery, and the coach knows football may be the kid's best shot at a college scholarship). All told, Kremchek has 13 surgeries on the schedule, running from about 7 a.m. until mid-afternoon. He generally does up to 18 during a full shift. It's a slow day.
---
A day in the life of Dr. Kremchek is a month's worth of effort for the rest of us. He's into his Sharonville office by 5:30 a.m. to work out, six days a week; the 55-year-old orthopaedic surgeon will even ride his bike the five-plus miles from his home in Indian Hill if the weather is nice. After a quick shower, he's either in the operating room or seeing patients most of the day. During spring and summer, he heads from the office to Great American Ball Park in the afternoon to treat Cincinnati Reds players and watch the home games, usually from the owner's box alongside Bob Castellini. Come fall, he's checking in on various high schools and colleges at football practices, soccer games, and basketball tournaments, all this while juggling a wife and five kids, ages 16 to 27. "I like to take Sundays off if I can," he offers. It almost sounds sincere.
Kremchek is best known around Cincinnati and the sports medicine community as medical director for the Reds, a position he's held for the past 18 seasons. He's also the medical director for a number of regional college (Wittenberg University, Wilmington College, Morehead State University) and high school (Moeller, Indian Hill, Kings, Mt. Notre Dame, Princeton, Madeira) athletic programs. But Beacon Orthopaedics remains his empire. It started in 1996 when Kremchek—part of an independent practice specializing in sports medicine—joined forces with a few fellow orthopaedists to form Beacon. As personal fitness and youth sports cultures continued to grow, alongside Kremchek's own notoriety working with the Reds, Beacon's profile (and business model) grew as well. Today, the Summit Woods office in Sharonville—the House that Kremchek Built—is one of six regional Beacon locations, with a seventh on the way. The 70,000-square-foot complex was constructed in 2003 and features four operating rooms, more than 30 private exam rooms, on-site MRI and X-ray services, and a physical therapy center—where Kremchek can constantly be heard telling patients to "ice and elevate." It also includes the D1 sports training facility, replete with an indoor turf field and weight room. Every wall in the office is covered in flatscreens tuned to ESPN and framed autographed jerseys and photos of professional athletes—LeBron James, Ken Griffey Jr., Barry Larkin, the Big Red Machine—many of them addressed to "Doc" Kremchek, thanking him for "getting me back" and "fixing me up." He treats roughly 8,000 people a year and performs about 1,200 surgeries.
The doctor is making his usual rounds in the clinic, bouncing from room to room to meet with patients, each stop lasting only a few minutes. Some are post-ops in for a check-up; others are in to have him diagnose an injury. His staff members brief him on each situation in the mere seconds it takes him to walk from one room to the next, where he enters with a quick knock, immediately engaging with the patient. As deft as he is in the OR, this is where the doctor truly shines. In those three or four short minutes he spends examining each patient, he's simultaneously reading them, asking questions, and cracking jokes to help put their mind at ease. He genuinely seems to enjoy the process of fixing people and making them whole again.
"He has a great way of finding a specific connection with somebody and exploiting that," says Adam Miller, a foot and ankle specialist who started working with Beacon in August of last year. "He's able to just find that little niche that allows each person to feel comfortable with him."
It's an essential trait. While the vast majority of his patients lead an "active" lifestyle, they range in age anywhere from 15 to 65. In a single morning, he treats everyone from a 17-year-old high school tennis player with shoulder pain to a middle-age woman with an oblique injury that has curtailed her jogging. They can't all be major leaguers.
"It's about respecting what is important to them," says Kremchek. "I don't care if it's recreational soccer, jogging, golf, tennis—because I get it, that's very important. You've got to help them do the things they want to do."
By noon, the doctor's already seen close to 30 patients. He finds a few spare moments in his meticulously itemized schedule to scarf down lunch from Jimmy John's, and then he's off again to the next room, entering with a quick knock, putting the next patient at ease.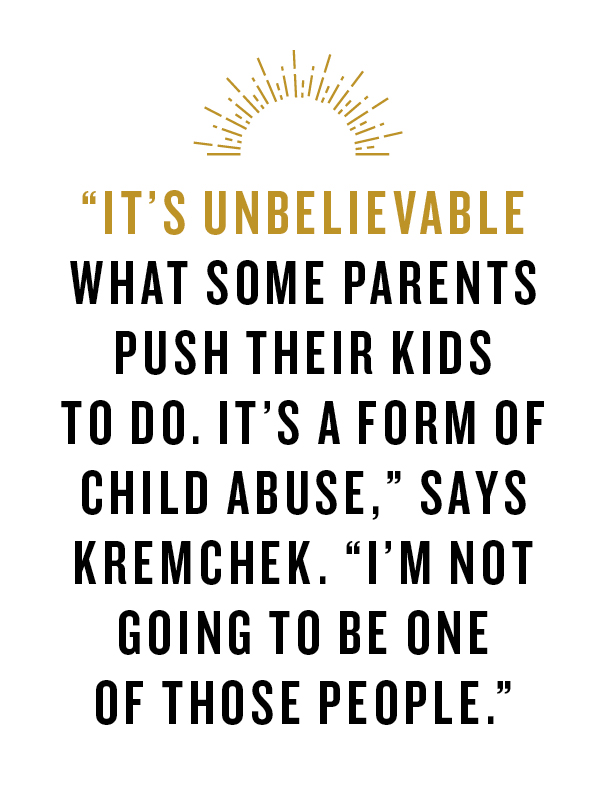 ---
Kremchek grew up in Indian Hill, the child of an orthopaedic surgeon and stay-at-home mom and oldest of four boys. He graduated from Indian Hill High School and attended Wittenberg to play baseball, putting little thought toward a future career. But after a winter break spent hanging around his father's practice, Kremchek became enthralled with the orthopaedic field. Four years at the University of Cincinnati College of Medicine and a six-year residency at Tufts University in Boston led to a year-long fellowship at the American Sports Medicine Institute in Birmingham, Alabama, under James Andrews, the preeminent name in orthopaedic sports medicine. Longtime doctor for Auburn University and University of Alabama athletics, as well as the Washington Redskins, he founded the Andrews Sports Medicine and Orthopaedic Center in Alabama and has operated on the likes of Michael Jordan, Albert Pujols, and Tom Brady.
"He was the most engaging personality I'd ever met in my life," says Kremchek. "How he took care of athletes, took care of teams and programs—I kept watching that and saying to myself, That's what I want. That's what I have to cultivate when I come back to Cincinnati."
When Kremchek returned to his hometown in 1993, sports medicine was a relatively small blip on the orthopaedic radar. Part of the reason Andrews reached such prominence is because there were so few doctors specializing in treating big-time athletes and teams for sports-specific injuries. Kremchek brought Andrews's ideals and informality (channeling an athletic trainer, leaving the white coat in the closet) to Cincinnati, working with Good Samaritan Hospital and serving as team doctor for the Cincinnati Cyclones hockey team. It wasn't long before he caught the attention of the Reds, who contacted Kremchek regarding their team doctor position following the '96 season, a job he had coveted since entering the medical field. He admits there was some initial trepidation on the club's behalf, considering he was a young doctor who was already busy with his own practice. Naturally, the doc dismissed the fears like those of a nervous patient. "I told them I could help. I'll go to every game, every spring training—I want this so bad, and I can make it work," remembers Kremchek. "I think I've probably missed five home games in 18 years."
By the early 2000s, his time studying under Andrews and success with the Reds organization led to other players and teams seeking out his medical acumen.
"The role of team doctors is extremely important, especially today with the amount of money invested in players," says Reds general manager Walt Jocketty, who allowed players to visit Kremchek for treatment back when Jocketty was GM for the St. Louis Cardinals. Nowadays, he talks to Kremchek at least five times a week, in addition to seeing him at spring training and home games. Kremchek even performed surgery on Jocketty's son. "That's a pretty good indication of how I feel about him," he says.
This national reputation was built in no small part on Kremchek's proficiency with Tommy John surgery. The procedure—named for the former Los Angeles Dodgers pitcher who first underwent the operation in 1974—is the result of an injury to the ulnar collateral ligament (UCL) in the throwing elbow, which is replaced by a tendon extracted from another part of the body, usually the forearm of the same arm. Prior to Dr. Frank Jobe repairing Tommy John's left UCL, an injury of that nature was career-ending for pitchers. The procedure has yielded strong results since then, but because it's largely a pitching-specific injury—damage is generally caused by torque from a repeated overhead arm motion—the pool of surgeons adept at the surgery is limited to those who work with baseball players on a consistent basis. Kremchek was determined to become one of them.
"I'm going to be good at this," he told himself early on. "I'm going to learn who needs it, how to do it, how to rehab it, and I'm going to stake a claim to it in this region." It took him almost four hours to complete his first Tommy John on a high school ballplayer in 1995. Since then, he's performed more than 1,500. He now does them in about 30 minutes.
"Tim was very talented. You could tell right up front that he was scheduled for stardom as a surgeon," says Andrews. "When I train fellows, my goal is to see them move up the ladder, become more successful and more prominent. Certainly, Tim is one of the individuals who has done that."
It's a prominence Kremchek has worked hard for, and also one he's well aware of. He's good at what he does, he knows it, and he's happy to tell you all about it. "I'm very proud of the fact that after 18 years, people don't understand how I can be so involved with the Reds, and my high school teams, and colleges, and work a busy practice, and teach fellows, and not be burned out," he says. "I love when people say to me, How do you do it? I love it. I just smile. People don't get it."
But even a man with this much pride has his limits.
---
"Oh yeah, I remember this like it was yesterday," says Kremchek, removing his metal-frame glasses and setting them on the table as he leans back in his seat. "I had a guy come in around '99, '00, and his son wasn't throwing very well. The kid was 15. The dad wanted him to throw harder, thought he could be a better pitcher, his breaking balls could move more. The kid had no pain, no problems, no nothing. But his dad said that if I do this for him, it will make him better."
The request was an elective Tommy John surgery. The potential patient had no UCL damage, but because the rehab can often help pitchers get stronger and throw faster once they return to form, the father decided surgery was the optimal route.
"I looked at him like he was stupid," says Kremchek. "There's no chance I would do that. NONE." He puts his glasses back on. "I don't know what happened to that kid. Maybe somebody did a Tommy John on him. I hope not."
Even with a modern success rate of nearly 90 percent—Tommy John himself went on to pitch for 14 more seasons following his maiden operation—the surgery has become almost an epidemic within the sport. A 2013 study found that nearly a third of all active major league pitchers had undergone the procedure at some point in their careers.
Kremchek figures he's been approached about elective Tommy John surgery roughly 10 times in the past 15 years, ranging from high schoolers to big leaguers. Each time he's firmly turned them away, but he's also gotten more and more desensitized. So he finally decided to do something about it.
"The problem with Tommy John is that there is an ignorance about it, and there are ways to prevent it," says Kremchek. "I'm not going to cure cancer, but one of the things that comes with my job is a little bit of notoriety, so it's my duty to go around our community and talk to coaches and parents and players and make them understand the things we can do to diminish these injuries."
Kremchek has made it a personal crusade to preach education and prevention in regard to UCL injuries—things like proper throwing mechanics, moderation, not throwing breaking balls until a kid is skeletally mature—in addition to choosing rest and rehabilitation over surgery whenever possible, particularly among his younger patients. In July of last year, both Kremchek and Andrews appeared in a Canadian documentary titled Too Many Miracles, warning against the dangers and injustices of elective Tommy John.
"It's unbelievable what some parents push their kids to do. It's a form of child abuse," says Kremchek. "Youth baseball has become very competitive, very cutthroat, but I'm not going to be one of those people. I love doing Tommy Johns when they're needed—I hate seeing it, but I love doing them—but I'm not going to do it like that. No chance that'll happen. Ever."
---
A baby-faced 15-year-old freshman from Lakota West High School is wheeled into the operating room just before 9 a.m. on an early-December morning.
"What kind of medicine did you give me?" the patient asks, slurring his speech.
"Just some pain killers," responds the assistant steering the hospital bed. "Good stuff, huh?"
The patient's eyebrows arch upward as he gently nods his head and slips into unconsciousness.
Kremchek's been rehabbing the kid's right elbow for nearly two years, trying to mend his injury through rest and improved throwing mechanics. He's a typical case—select baseball leagues, sports-focused family—and there was no convincing him to change positions or give up the sport, even once the injury progressed to the point where Tommy John surgery was the only option.
In spite of the high success rate, it's unquestionably a complicated procedure with plenty of room for error. Ideally, a healthy ulnar collateral ligament provides tension in the elbow, connecting the ulna (forearm) and humerus (upper arm) bones. But when pitching a baseball—even once—the force put on one's UCL by that motion is more stress than the ligament can tolerate. Bone anatomy and muscle help to offset some of this pressure, but over time, the UCL will inevitably break down. "The arm only has so many pitches in it," says Kremchek.
With the young patient now out cold on the operating table, Kremchek dons a smock, snaps on a pair of gloves, and slides a stool to the table as Steely Dan plays over the room's sound system. His first incision is in the boy's right forearm—just below the wrist—to retrieve the palmaris longus tendon, an otherwise pointless body part that will now serve as a UCL replacement. Measuring about 15 centimeters in length and the width of a linguine noodle, the tendon is handed off to an assistant who cleans, sterilizes, and stretches it as Kremchek moves down the arm and slices into the inside portion of the elbow, cutting an incision roughly the circumference of a tennis ball. He splits the flexor digitorum and flexor carpi ulnaris tendons, pushing aside clumps of scar tissue that look like strawberry jam, exposing the elbow joint and the ulnar nerve (often referred to as the "funny bone"). Navigating around this is the trickiest part of the procedure—damage to the nerve is the most common complication of Tommy John surgery.
Next, Kremchek drills two converging pea-size holes in the ulna bone and three more in the humerus. The assistant hands the palmaris tendon—stretched to 17 centimeters—back to Kremchek, who uses the holes as alleys through which to weave the tendon in a figure-eight pattern before sewing both ends into frayed pieces of the damaged UCL. This helps the body develop the tendon into a new ligament over time through a process called ligamentization. The complexity and precision required of the procedure in such a thronged and confined space is incredible: Completing the surgery in four hours seems like a far more reasonable expectation.
Kremchek is fully aware of the difficulty involved."It's not an easy process," he says. "If you don't do many of them, you probably shouldn't do them at all."
Once everything is in place, the doctor briefly tests range of motion of the new ligament, gently moving the forearm back and forth and stretching the tendon. After about 40 minutes—it took him a little longer than usual to retrieve the palmaris this time—the doctor pushes back from the operating table and removes his smock and gloves as the assistants sew up the incision.
He washes and steps out to chat with the patient's mother—a tiny, middle-aged woman wearing a red windbreaker—recapping the surgery broadly. "That whole ligament was scarred into the bone. That's what hurt," Kremchek explains. "It just wasn't right."
For the kid, the easy part's over. His rehab schedule—which is the same for all Tommy John patients—starts with physical therapy the very next day to work on getting back his full range of motion. If all goes as planned, he'll be out of a brace and working on strengthening exercises in four to six weeks. He can start throwing at four months, pitching off the mound at six months, and by the nine- to 12-month range, will be cleared for action and throwing full tilt.
The mother nods and smiles, ecstatic that all went as planned. Baseball is important to her son, she says, but it also keeps him hanging with the right crowd and invested in school. Regardless of whether he goes on to a career in the sport, a healthy pitching elbow will at least give him a piece of his life back for the next few years. "That's what it's all about," says Kremchek.
As the doctor stands to leave, the mother extends her arms and leans in for a hug, the top of her head barely reaching his shoulder. He exits the waiting area and immediately ducks back into another OR. He has 15 surgeries on the schedule today.
Seconds later, he's prepped and ready to go, scrubbing in to fix yet another patient, making them whole again.
Facebook Comments
---