The Cincinnati Strongman has a story to tell about a 200-year-old, 400-pound stone located outside a goat pen in rural Iceland, but first he has to finish lifting a gigantic tractor tire over his head.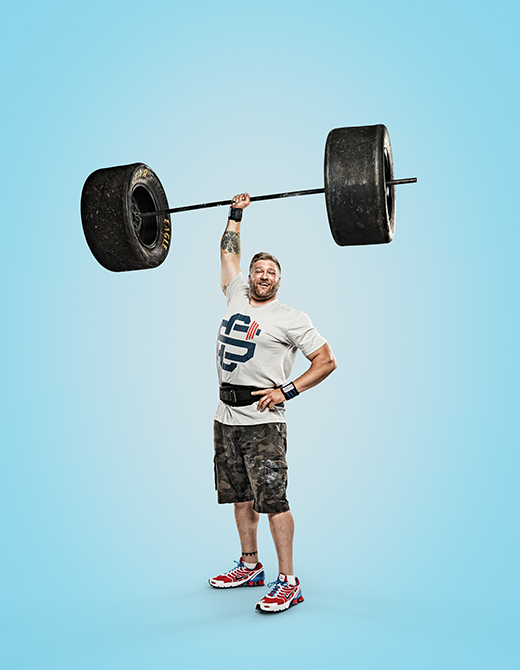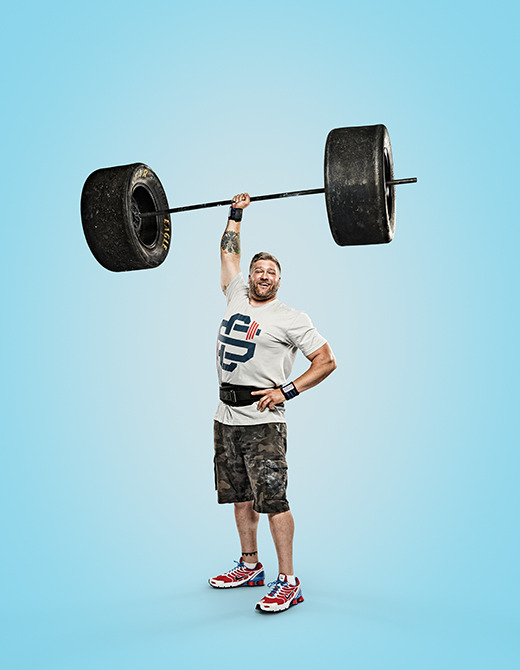 ---
It's a dreary mid-January morning at Paramount Fitness Center in Covedale, which compared to your standard Planet Fitness or YMCA looks like Rocky's Russian training montage in Rocky IV. No one comes here for a quick 15 on the elliptical. Still, Sean McCarthy stands out: 6-foot-4, 280 pounds, broad shoulders, barrel chest, slim waist, long arms, catcher's-mitt hands, square jaw, impeccable beard. A Greek god in Nikes and gym shorts. He's in a tiny open area of the gym covered in AstroTurf, bending forward, grabbing the tire, flipping all 200-plus pounds of it back behind his head, then turning around and doing it again. Over and over.
Those familiar with McCarthy's Cincinnati Strongman alter ego were likely among the 26,000 in attendance at Great American Ball Park on August 6, 2015, when—after the Reds lost 3–0 to the St. Louis Cardinals—McCarthy broke the world record for longest washing machine toss: 15 feet, 9 inches, beating the previous record held by Lithuanian Zydrunas Savickas by more than 2 feet. As esoteric as it might have seemed to a stadium full of baseball fans, that deed has local roots. Henry Holtgrewe, a German immigrant and saloon owner in Over-the-Rhine—who gained notoriety in 1896 for allegedly lifting the entire Reds roster on a single platform—was once rumored to have hurled a "washing apparatus" into a crowd to break up a fight outside his bar. Arguably the strongest man on earth in his day, he's immortalized as the original Cincinnati Strongman on a Vine Street mural in OTR.
McCarthy has since adopted that legacy—and moniker—and is working to revive it and carry it forward. Hence the washer chucking. His long-term ambition is to nab an invite to the World's Strongest Man competition—the tournament you've no doubt stumbled upon at 1 a.m. on ESPN2, with massive humans pulling airplanes and carrying refrigerators. It's the pinnacle of strongman athletics, one McCarthy still has a ways to work up to. In the meantime, he wants to break a few more world records.
In the tiny town of Húsafell, Iceland, there's a rock weighing just north of 400 pounds known as the Husafell Stone. Hard details are scarce, but legend has it that in the late 1700s, a farmer by the name of Snorri Björnsson used the stone to guard his goat pen from intruders. Eventually, the stone became a test of strength—those who managed to lift and carry it around the goat pen (50 meters) achieved fullsterker status, an Icelandic term meaning "full strength." The carry has evolved and replicated over the years in strongman tournaments, cresting at the 1992 World's Strongest Man in Reykjavík, Iceland, when Canadian Gregg Ernst straight-line carried the original Husafell Stone a record 70 meters.
McCarthy relays the whole history of this to me at Paramount Fitness in vivid, dramatic detail, sitting just a few yards from a seemingly immovable tractor tire. He has a few lifts and records lined up and on his radar, but this is the big one he wants to go after. Next to winning the World's Strongest Man, reaching fullsterker is the highest accomplishment in the strongman universe. Most modern-day attempts re-create the lift by fashioning a stone of proper weight and setting up a course to document the distance, but McCarthy thinks big: He intends to travel to Iceland this summer, to the original goat pen in Húsafell, to hoist the original stone. He still has to work out the details, but he's sure of one thing. "The world record is still 70 meters," he says, leaning forward in his chair. "I'm going to walk that 70 meters and break that world record."
---
The strongman life was one more of trial-and-error than destiny for McCarthy, but strength has long been his superpower of choice.
"I remember one day I came into the gym, and Sean was getting ready to lift," says Willie Carden, the recently retired Cincinnati Parks Director. The two met nearly a decade ago at the old Central Avenue YMCA. "He was taking the big 45-pound [weight] plates, flipping them in the air, and catching them with his hand. Flip 'em and catch 'em. I was like, Oh, OK."
McCarthy got serious about weightlifting after leaving the military in 2008. He grew up in Westwood before moving to Michigan in high school, where he joined the U.S. Army Reserves immediately after graduating in 1998. He bounced around a few different positions—construction equipment operator, nuclear/biological/chemical weapons specialist, well-drilling unit—and deployed all over the globe, including Honduras, Guatemala, Kuwait, Afghanistan, and Somalia. After he was discharged, he returned to Cincinnati and picked up odd jobs to supplement his retirement pay but craved the structure Army life had offered. "I wasn't getting yelled at anymore, wasn't under stress, didn't have a uniform. I had no direction," says McCarthy. "So I started going to the gym more."
He dabbled in Brazilian jujitsu and bodybuilding, but the goal-setting and self-competition of strongman and power-lifting exercises hooked him. "I like that," he says. "When you get a deployment date, every day you train and plan leads to that one specific date. That's the motivation and discipline I needed."
It helped that he had a natural talent for it. Scott Schaeffer, a power lifter and trainer, met McCarthy at a gym in Middletown about four years ago. Strongman and power lifting focuses on lower rep counts at higher weights, building up strength in the muscles as well as tension in the ligaments and tendons. Schaeffer remembers one of his earliest interactions with McCarthy, while training someone else on the bench press. "We had 405 pounds on the bar, and Sean asked if he could hop in and try it," recalls Schaeffer. "He did three reps. There was no warm-up, no technique whatsoever. He just brought it to his chest and brought it back up. It was like some guy who builds a rocket and it launches farther than any NASA scientist has ever been able to go."
McCarthy won a few national strongman competitions early on, but the travel was costly and took him away from his wife and kids. He prefers the independence and self-motivation required to break individual records, despite the fact that it demands a higher degree of difficulty when it comes to publicizing and monetizing those accomplishments. Strength sports are still a very niche subculture of the athletic world; there is money to be had from sponsorships, major tournaments, or opening a specialized gym, but those are generally reserved for top-echelon competitors. For someone like McCarthy, an unknown chipping away at a seemingly endless record book, it's a challenge. "People spend their whole lives shying away from lifting heavy, awkward objects," he says. "I'm trying to make a living doing it."
He got a break with the washing machine thanks to Carden, who became a regular workout partner and close friend after countless hours together in the gym. When McCarthy told him about the toss and the record, Carden put him in touch with Reds chief operating officer Phil Castellini, who made the event a reality. "Willie is always telling me to think bigger. He would say, 'I'll show you the doors, but you gotta kick them in,'" says McCarthy. "I was going to break that washing machine record in my backyard."
That record, and the way he did it, legitimized him and lit a fuse. He hooked up with Jason Snell and Brandon Hickle, owners of the design firm We Have Become Vikings, who helped him with some "Cincinnati Strongman" branding and apparel. (Snell also designed the Henry Holtgrewe mural.) Carden worked with him to land a proclamation for Sean McCarthy Day on February 12. McCarthy picked up some small sponsorships and added more public lifts, like the one last September at Oktoberfest, where he set his second world record: 1,290 pounds in the wagon wheel deadlift. The previous mark of 1,160 pounds, according to McCarthy, was held by Icelander Hafþór Júlíus Björnsson—better known as The Mountain from Game of Thrones. McCarthy broke a few toes and fingers and fractured two vertebrae on the final record-setting lift, dislocating his collarbone on the pull up before relocating it on the way down. He still hung around afterward to take pictures—your friendly neighborhood Strongman.
"He just always wants to test himself—I wonder what that would feel like. I wonder if I could do that," says Schaeffer. "And the thing is, he's able to do it. He defies gravity. He's a gravity defier."
---
The Cincinnati Strongman is preparing his standard eight pounds of food for the day, but first he wants me to drink this glass of egg whites.
I'm sitting on a stool in McCarthy's kitchen in Westwood, listening as he describes his daily egg intake: two to four full eggs (hence the chicken coop in his backyard), plus another 20 egg whites. He generally buys the cartons of liquid egg whites for those—there are about 10 per 16 ounces. If he has the time, he'll fry them for an omelette or sandwich. If he doesn't, he'll just pop the lid, throw it back, and empty the container in one gulp. "It's a lot easier," he says, breaking into a wide smile.
Noticing my slight grimace, he pulls a carton from the fridge, sloshes a glob into a glass, and hands it to me. "Here, that's about two egg whites," he says. "We'll do it together." We clink glass and carton and throw them back, him the senior fratboy at a weekend kegger, me the nerdy high schooler visiting campus. "That was an easy 10 grams of protein for you right there," he says. Yum.
McCarthy eats seven full meals every day; one every two hours, give or take. It's a lot of rice paired with protein—"Whatever's on sale that week"—with an occasional salad, sweet potato, or hard-boiled egg mixed in. Everything gets measured out in plastic containers, weighed, and stacked in the fridge.
"People spend their whole lives shying away from lifting heavy, awkward objects," says McCarthy. "I'm trying to make a living doing it."
It makes for a lot of time in the kitchen. When he's not Hulking out at the gym, McCarthy is a stay-at-home dad, up every morning making breakfast for his 4-year-old twins, Lincoln and Violet, while he drinks peanut butter oatmeal (again, time-saver). After he drops them off at preschool, he's back for meal prep and then hits the gym.
McCarthy met his wife Ashley at CVG airport in December 2006. He was working security for TSA; she was traveling to New York for Christmas. "He made me laugh," she remembers. She gave him her e-mail, and by the time she was back from the trip, she had a message with the subject line "Hello from the airport guy." They got married in 2010.
Ashley and the twins have had a soothing effect on McCarthy. They helped him settle down, fostered a better relationship with his four kids from a previous marriage, and gave him another goal to work toward. McCarthy has a somewhat strained relationship with his parents and siblings, and has dedicated himself to ensuring his own children avoid the same fate. "I just want to make sure my kids aren't assholes," he says.
Which makes for a unique duality: preschool chauffeuring and morning pancakes mixed with two-a-days at the gym and seven daily mealtimes. Punctuated by the occasional carton of egg whites.
"Every day, gotta grind through it," he says. "Sometimes it's 11:30 at night, Jimmy Fallon is on, and I'm sitting there slugging protein pudding."
---
A few weeks later, on an early Saturday morning in mid-April, McCarthy and I are huddled under the entrance to Ruth's Chris Steakhouse at The Banks, shielding ourselves from the rain. He's scheduled to perform a lift as part of the Reds second annual Kids Opening Day celebration, which has commandeered the stretch of East Freedom Way that runs from the ballpark to Walnut Street. Since the washing machine toss, McCarthy's relationship with the team has proven mutually beneficial. "We're always looking for something to entertain folks with," says Nick St. Pierre, the Reds events coordinator, who helps organize the lifts. "He's almost a real-life version of Captain America."
Today, McCarthy is hoping to set his third world record, this time performing the Steve Reeves Deadlift. Named for the late American bodybuilder and actor, it entails stacking weights on a standard bench-press bar, but instead of bending forward, grabbing the bar, and then lifting it to an upright standing position, McCarthy will extend his arms out and deadlift the bar by gripping the weight plates with his fingertips. The current world record is 365 pounds, held by "some German guy," McCarthy tells me. He's aiming for 455.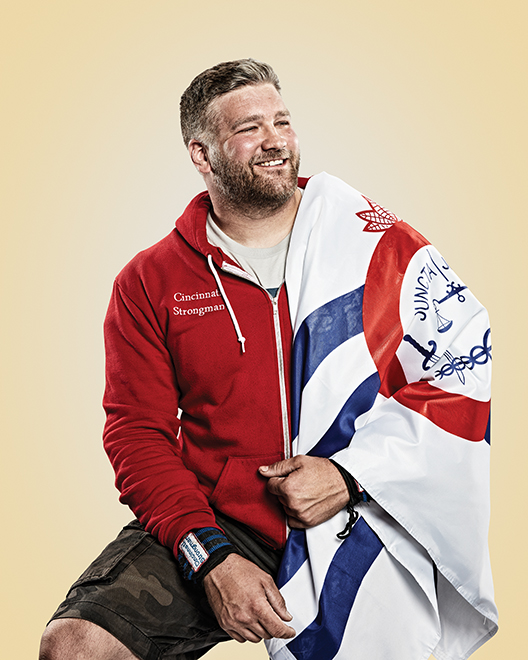 ---
While we wait out the weather, a steady stream of friends and family find their way to McCarthy's spot: Uncle Bob and Aunt Diane, who come to every one of his events. Schaeffer and a handful of other lifting buddies, including one guy in a bright red "Make America Lift Again" T-shirt. Willie Carden. Ashley and the twins. Phil Castellini and St. Pierre. All greet him with a hug. As the rain dissipates, a few of the lifters help McCarthy unload his maroon Ford Explorer with an "I'd Rather Be Waterboarding" decal on the back window. His makeshift platform consists of wooden skids stacked and drilled together with a piece of plywood on top and sandbags holding everything in place.
As his buddies start throwing weights on the bar, an emcee gets on the mic to rally the crowd. McCarthy slips into his personalized No. 54 Reds jersey, removes his shoes—"Less distance I have to lift the bar"—and chalks up his hands. There's a somewhat rapturous group gathered in front of the platform by this point, excitedly waiting to see a record broken in a lift they don't understand, named after a man they've never heard of.
McCarthy starts with 245 pounds, which comes up nice and easy. After 30 seconds of rest, he lifts 335. No sweat. McCarthy grabs an American flag and drapes it around his shoulders while the crowd chants USA! USA! Next is the big one, 425 pounds. McCarthy grips the plates, strains his muscles, exhales into his cheeks, and rises, holding form at the top of his lift an extra beat for good measure. "And there it is folks, a New! World! Record!" Cheers ring out. He keeps going. At 455, the platform starts buckling under the weight of the bar. It still feels smooth, and he brought a few extra five-pounders with him, so they throw those on for one last lift. The final mark is 465 pounds. All with his doggone fingertips.
As parents and kids scurry about to the next activity, his friends linger to congratulate him. The devotion and affection these people have for McCarthy is palpable. Through misty eyes and lumped throats, they testify about his lack of selfishness, his thoughtfulness, how he always makes time to talk or show up or send a card. It's why they all gladly waited out the rain with him today. "He has my heart. Whatever I can do for him, I'll be there," says Carden. "There are certain people in your life you know you can count on. He's one of them."
Much of this admiration stems from McCarthy's experience in the military—the horrors he faced and still struggles with, and the way he recalibrates those dark moments into expressions of love, sympathy, and encouragement for those around him. He doesn't like to talk in specifics about his time in the service, but its impact comes out in a distinctly positive way. "People go to him when they are most vulnerable, because they know he's safe and nonjudgmental," says Ashley. "He doesn't have any expectations."
"He's seen the worst," says Schaeffer, "so it's not hard for him to look for the best in people."
The Cincinnati Strongman wants to tell me about the time he got a free flatscreen TV from the Cincinnati Reds' clubhouse, but first he has to lift this 180-pound circus dumbbell.
We're back in the weight room at Paramount Fitness, with a dumbbell that looks like two lampshades connected by a 2-liter bottle, if the lampshades were made of lead and the bottle were filled with concrete. McCarthy is clutching it in his right hand, pushing it from his shoulder up above his head, all while carrying on a conversation with me. As he sets it down, causing a minor disturbance on the Richter scale, he dismisses the awe plastered across my face. "You're stronger than I am," he says, somehow un-ironically. "Everyone goes through things in life that other people could never understand."
McCarthy would know. He wasn't always this upbeat, happy-go-lucky, gentle giant. The anger and resentment he absorbed from a dispiriting childhood followed him through the military, on top of which he added a healthy dose of post-traumatic stress disorder. A few years before he officially left the reserves, he started feeling the side effects: night sweats, nightmares, depression. His first marriage fell apart and he wasn't spending much time with his children. He was an angry person, and over time, he realized he didn't want to live that way. He still deals with PTSD—he doesn't think it will ever fully go away—but between strongman lifting and starting a new family, he changed his approach to life, acknowledging that he can't always control it but can choose how he acts. "I let go of all that [negative] stuff," he says. "I have so much positivity in my life now."
He mentions The Secret, a 2006 self-help book by Rhonda Byrne about the power of positive thinking, as having a significant influence on his new outlook. "It says, If you can see it in your mind, you can hold it in your hand," says McCarthy, paraphrasing a bit. "I used to think that was hokey, hippy bullshit. But it works."
Which brings us back to the Reds and that free TV. McCarthy is finishing his basement at home—he wants to turn it into a craft area for the kids, where they can draw, color, paint, and play. The whole time he's been working on it, he's had this vision of how he wants to lay everything out, including a giant TV on one of the walls. In the midst of working on this project, he stopped by the Reds' ballpark one day to sort out the details on an upcoming lift, and found himself near the players' clubhouse. As he was readying to leave, McCarthy watched as an assembly line of maintenance workers removed and replaced a slew of huge TVs from the clubhouse, all in seemingly perfect condition. McCarthy, in the right place at the right time and never short on charm, sweet-talked his way into taking one of the "old" ones home with him.
"It's hokey, hippie bullshit," McCarthy repeats to me again, prepping a machine for his next lift. "But I'm holding that TV in my hand."
---
McCarthy eating French toast is a work of art. We're having breakfast at Santorini Family Restaurant in Cheviot, one of the few guilty pleasures McCarthy will allow himself every now and then. He approaches the dish with surgical precision, cutting the French toast into perfectly symmetrical squares and stacking the fork five pieces high for each bite—a cartoonish image made normal in the colossal hands of this Saturday-morning superhero.
It's early May, a few weeks after his deadlift at Kids Opening Day, and he wants to tell me about his next idea for the Reds. Which is not surprising. McCarthy's entire life is structured around goal-setting. Some are definable, tangible. Setting world records. Keeping the house picked up. Getting an invite to the World's Strongest Man competition. Building a craft room. ("If my kids can graduate college? I'm good. You can kill me," he says.) Others are more nebulous. Be a good husband, a good friend. Raise the kids to be proud of themselves. Stay positive. Keep fighting those demons. Defy gravity. That's why the strongman stuff is so important to him. Once you get beyond all the tractor tires and egg whites and USA! chants, it's about the structure, the opportunity to form an endpoint in his mind and clear a path to get there.
The very first thing McCarthy mentioned to me the first time we met was his goal of traveling to Iceland to carry the Husafell Stone. In the months since then, his training for various lifts and the constant battle with nagging injuries has kept the trip up in the air—but now he has a plan. Stirring his iced tea with a straw, he tells me he has a meeting scheduled the next day at the ball park with Phil Castellini, where he will pitch his idea to become fullsterker in Great American Ball Park, following a Reds game. McCarthy would craft his own Husafell Stone and carry it around the basepaths, measured out so that he would break the world record as he crosses home plate. Iceland would be big. This would be bigger.
What the Cincinnati Strongman doesn't know as he's telling me all of this in a Cheviot diner is that come tomorrow, Castellini will love the idea, will fall prey once again to the magical "McCarthy charm," as Ashley describes it. He doesn't know that the Reds will put it on the schedule for July 14, three days before his 37th birthday, the epilogue to a Friday night matchup against the Washington Nationals.
All McCarthy knows right now is how cool it would be to carry a Husafell Stone across home plate, become fullsterker in a stadium full of screaming fans, and break another world record. He swings sideways in the booth as he describes it, leaning back, eyes closed, arms extended, as if he's holding the stone in his hands.
Facebook Comments