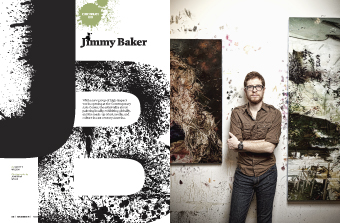 Like his artwork, painter Jimmy Baker requires closer consideration. At first blush, his intentional scruffiness casts him as yet another wiry Northside scenester in Prada frames. But the 30-year-old—an adjunct instructor in painting and drawing at the Art Academy—is really a conspiracy theory geek whose browser history includes government agencies and websites dedicated to images of war dead and dismembered. In the work he's preparing for an upcoming show at the Contemporary Arts Center, he mashes up body parts left on the battlefield with the paparazzi smiles of young throw-away celebs. Underneath it all, the base coat of each canvas holds digital source photos that are so heavily manipulated they beckon viewers closer to figure out where reality ends and manufactured realness begins.
Baker's art world star has been on a quick ascent. Two months after graduating with an MFA in painting from the University of Cincinnati's College of Design, Architecture, Art, and Planning in 2004, he landed a group show at Foxy Production art gallery in New York. One year later there were shows in Philadelphia and Chicago. The same year, Country Club gallery's Christian Strike took some of Baker's images with him to Los Angeles and soon the prestigious Roberts & Tilton Gallery came calling with an offer of a show and representation. Since then, his work has hung in museums and galleries in Paris, London, and Basel, Switzerland, and has been purchased for private collections internationally.
This month the Contemporary Arts Center mounts Baker's Remote Viewing, a 10-painting assembly of new works that chronicle his ravenous interest in government conspiracies, the permanence of painting, and his use of technology as a brush stroke. After a tour of the renovated Northside home he shares with his wife, Jil, it's off to his studio for a rambling discussion on being Jimmy Baker.
I was on your website before I came here and I made note of the stuff I like: "The Future Is Dirty" paintings—the detail in all those portraits is nearly photographic. Oblivion, the "March 2003" series, The Day Before Tomorrow, Detonator. I loved LG (Life's Good) and GE (Imagination at Work)…
That's my most direct, confrontational work.
Where do you get your titles?
They all come out of research. They come out of military discoveries or scientific discoveries that are almost paranormal. In the early '70s, there were two scientists testing subjects who felt like they had a psychic event. The CIA got involved and started their own psychic spying project and it lasted until 1995. The Iran hostage crisis was one of the things they were trying to [solve].
How do you get into this as an artist?
I grew up in Dover, Ohio. I started to get into punk music. The stuff I got interested in had a real political bent to it. That spawned a lot of research and was a jumping-off point to art. It's not protest art by any means. Nothing's black-and-white. The interest I have lies in the gray areas. Pretty much everything I've done is about communication and media, especially in this digital culture.
How do you feel about all your accomplishments at such a young age?
It's kind of a lot. I didn't take any time off between undergrad and grad school. I try not to look back and think about it. I try to keep looking forward. It's not until I update my website that I say, "Most of this junk is somewhere." Now I'm comfortable with everything I've made for [the last] three years. It's been interesting since the art market crashed in 2008. The crash has afforded a lot more breathing room in the workspace. It's also afforded a lot more time for anxiety. I had zero shows in 2009. Everyone just went away for 2009. All the critics, all the art writers just went away.
In other cities—national and international—do you ever have to defend your decision to live and work here?
Occasionally. All my artist friends get it because they understand the grit of living and trying to make art with the cost of living. I feel a little more self-conscious with my gallerists than anyone else, because [in New York] you have a studio, gallerists come through to see work, you have drinks and socialize and things happen. That's how a lot of things work in the art world. I try to keep artists' peer groups in a lot of these cities and I'm always surprised by the people who know me. It's just weird and random.
Now you're represented by several out-of-town galleries, as well as Country Club gallery here in Oakley.
I wouldn't have a lot of the things I have if it weren't for these galleries. It can be tough. Sometimes when you have more than one they can pull and tug at you. It's like having four wives.
How does teaching inform your own work?
It keeps me on top of art world criticism. Sending stuff to [students], getting their feedback—it keeps you centered. It's good to get out of the studio and talk to other people about art.
What Cincinnati artist do you admire or like? Whose work moves you? I'm not asking you to name check, but I am.
[Pauses, rubs his beard] [Publico Gallery cofounder] Paul Coors makes some interesting work. It's not always my scene but there's consistently interesting work at U-Turn in Brighton. [Mixed-media artist] Denise Burge. [Sculptor] Chris Vorhees. Mark Harris's work on China. He went to China and basically had people doing improvisational Chinese Mao folk songs, but like The Clash. Sarah Blyth-Stephens has done some interesting plastic sculptures. She did her master's at UC.
You said your wife, Jil, is an architect?
We bought this house in 2008. We did all the renovations in four and a half months, which is pretty insane to go from abandoned to what you see now.
I noticed a guitar in the living room. Do you play music?
I play drums and I build a lot of my own electronic stuff. Analog synthesizers. When I lived in Columbus we did a few U.S. tours and put out some records. I've got some wax to show for it.
What was the name of your band?
The Awakening. It sounds like some self-help book for middle-aged women. It was a punk-metal crossover. We just put out a discography two years ago of stuff that never got released.
If I understand your process for the CAC show, you paint a rendering of a digitized sketch, then print a digital image over the painting, then paint the digital print that's on top of the painting that is itself a version of the original digital image. What do you call that?
There's no official term. I call it synthesized content.
How far along are you?
[Pointing to five paintings hanging in various stages of completion] This new work is about the fluidity of how we view images now. That, and trying to figure out what the hell painting is supposed to be in this moment. Obviously, painting's not dead. It's not going anywhere. In these paintings there are images you can make out—a bloody arm—I'm starting to paint over.
A lot of these things I'm pulling from people's banal social media and mashing them up with Robert Pattinson [the actor in Twilight, the teen vampire film series], dead Iraqis. It's super-dark but there's some humor in there. I think when you come to these they look like paintings. You just have to sort of figure out what's happening.
Would you say your work is political? Because it is to me, now that I see what you're doing.
It is, but it's more about questioning systems and structures that have a relationship to power rather than questioning the actions of power itself. This is my weird, obtuse way of being critical of my nation and all the crazy things it's doing in other parts of the world. It's really interesting, our interface with the media. Why are things left out? Why does our news not look like Al Jazeera? We might not be in so many wars if it did. I'm tempering that against conventional forms of painting: portraits and landscapes….
I always make work that thinks highly of the viewer. It's sort of for everyone, but not in a bad way. When you look at one of these, you can see it has a level of density and craftsmanship.
You don't look like all that is going on inside your head. You are a clean-looking guy.
[Chuckles] Wasn't always that way.
Facebook Comments