---
May 17, 1973, was a noteworthy day for President Richard Nixon. On Day One of the televised Senate hearings on the Watergate scandal that would ultimately bring down his presidency, he spent the morning in the Oval Office conferring with his top advisers: Chief of Staff General Alexander Haig, Treasury Secretary George Shultz, Press Secretary Ronald Ziegler, and Special Counsel J. Fred Buzhardt Jr.
But what Nixon did that afternoon—during what his official White House diary shows were four minutes starting at 12:21 p.m.—was also a rather singular experience for the 37th President of the United States. He posed arm-in-arm with a bushy-bearded mountain man named Chester Cornett, accepting a gift from the unkempt craftsman: a five-foot-tall rocking chair Cornett made by hand at his ramshackle Victorian farmhouse on Lawrenceburg Road, 20 miles west of Cincinnati.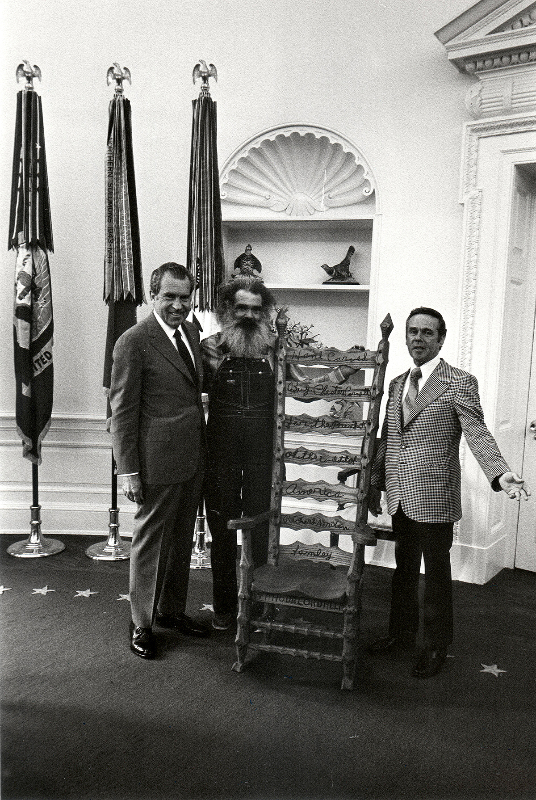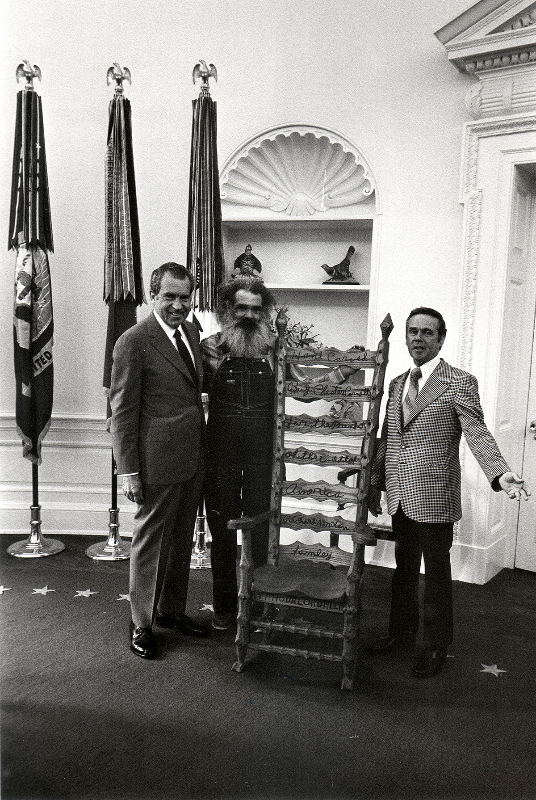 ---
An audio tape of the meeting (archived online by the Richard Nixon Library and Museum) relays how Nixon took charge of their meeting, telling a nervous Cornett—accompanied by Ohio Representative Donald Clancy—how to line up for the photographer. Confirming that Cornett had hand-carved the chair all by himself, Nixon complimented the "beautiful artwork and craftsmanship."
Clancy told Nixon how Cornett had locked the rocker, made from sassafras trees found near his home in Elizabethtown, Ohio, in a room for months. "It's taken me over a year for him to trust us to get it up here," said Clancy. He also expressed to Nixon how Cornett's admiration for the president inspired him to carve the chair, and that he'd like to share his feelings.
"I bet you are one of the best, the greatest presidents to ever been," Cornett said in his broken, Appalachian drawl. "You did actually do something no other president ever did…going to the moon…and by ending that war." Then came this zinger: "It took you a while to do it, but you shore done a good job."
Nixon, who two months earlier had pulled the last American combat troops out of South Vietnam, thanked Cornett and reminded him there was still a lot of work to be done regarding relations with China and Russia. After that, the recording stopped. The tape gave no indication whether Nixon read the crudely carved inscription on the rocker's seven bent and wavy back slats and along the face of the seat: Hand Carved / Buy Chester Cornett / for the President / of the Unidstat of / Americs / Richard M. Nixon / famley / WITHOURLORDHELP.
Presenting his chair to the president may well have been the pinnacle of the 59-year-old Cornett's life. It was actually his third try. He had previously spent roughly 500 hours fashioning a fantastical rocker, replete with right- and left-side storage baskets, intended for John F. Kennedy, but the November 1963 assassination of the young president preempted any potential gift giving; Cornett then ran out of money after completing a chair for Lyndon Johnson, instead selling it to pay for the meager supplies on which he, his wife, and seven children survived.
His moment of glory made the papers back home, The Cincinnati Post and Times-Star running a picture of Cornett carving a chair above a short page 13 story about his Oval Office visit. The Cincinnati Enquirer did the same on page 52, mentioning that he'd been nervous to meet the president and give him the chair he'd been working on since the previous November. Beyond the Enquirer's description of "Cincinnati's bearded craftsman from Appalachia," neither paper shed much light on him. Yet with that one short phrase, Cincinnati took ownership of Chester Cornett. The bedraggled chair maker born in the foothills of Kentucky was finally on the map.
---
The third child of Arthur and Loraine Cornett, Chester was born on September 4, 1913, in Letcher County, an impoverished southeastern Kentucky community of roughly 10,000 along the Virginia border. When he was about 8 years old and living in the region of Pine Mountain, Chester's parents divorced. Arthur fled with Chester's oldest siblings, brother Grant and sister Fancy, to Indiana, while Chester and his younger brother Kenton stayed with their mother. The three of them bounced around Kentucky's hills and hollows, often living with or near Loraine's family. Tormented by his brother and likely unloved by his mother, Cornett became a loner, attending school sporadically through his mid-teens and reaching only a fourth-grade education. He didn't learn to read or write, but his maternal grandfather, Cal Foutch, taught the boy to work with wood: how to analyze trees for their best use, chop them down, cut them up, strip their bark, and use primitive hand tools to turn them into utilitarian pieces they could sell for a couple dollars each. By the time Cornett was 16, he was making basic "settin' churs" from wood and hickory bark.
Little else about Cornett is documented until March 10, 1942, when he was drafted into the United States Army. Inducted at the processing post in Ft. Thomas, Kentucky, his draft papers read that he was to be enlisted for the duration of the war, plus six months at "the discretion of the President or otherwise according to law."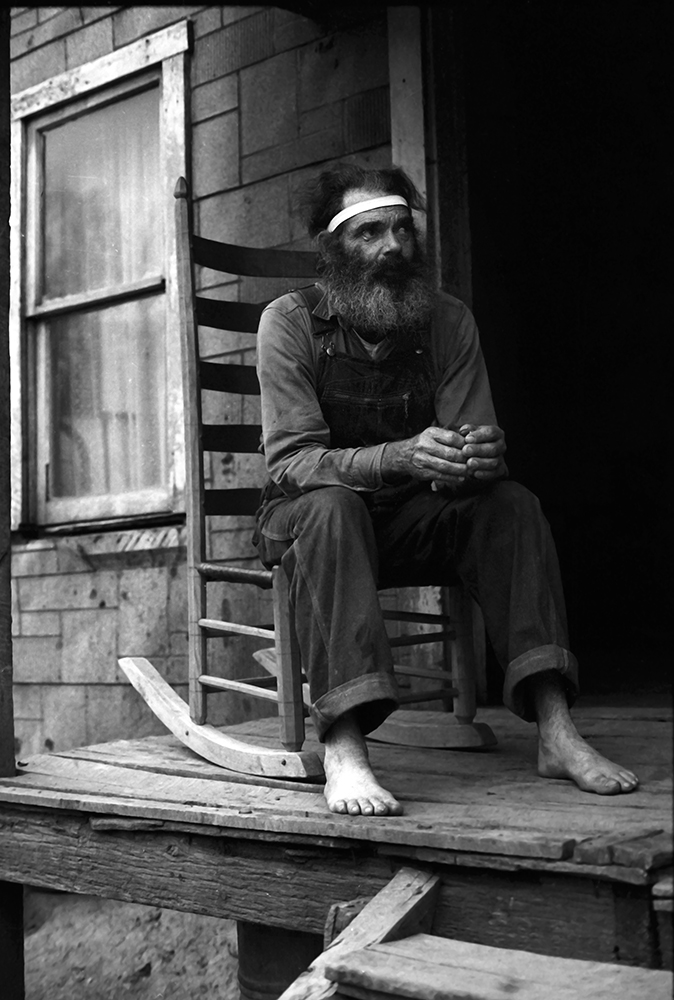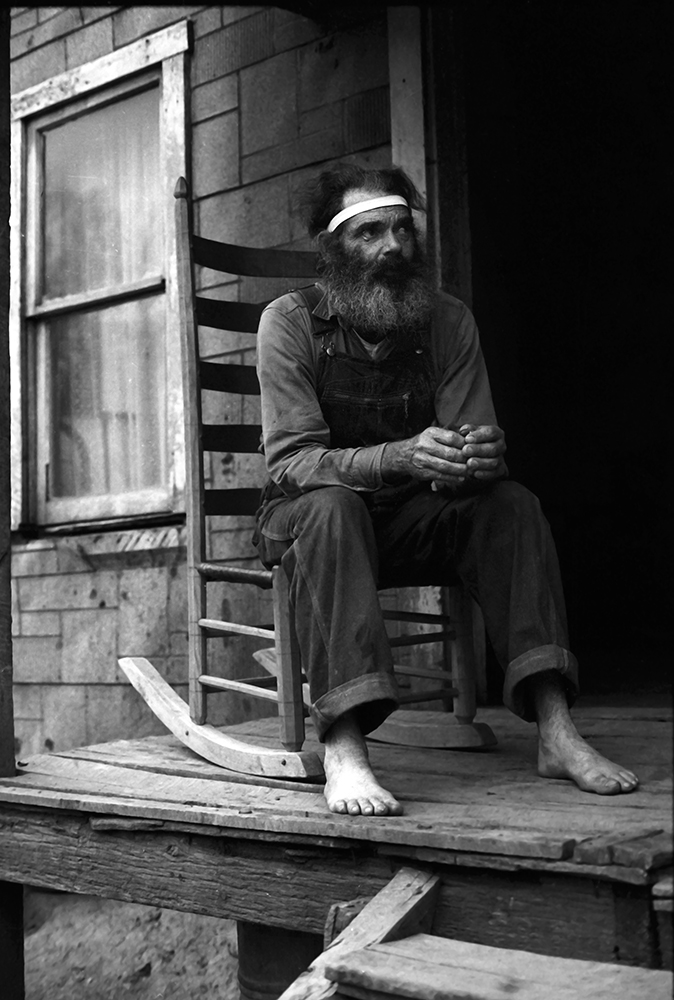 ---
Traveling 4,000 miles to help force Japanese troops out of the Aleutian Islands, fifth-class technician Corporal Chester Cornett struggled to endure his "two years, seven months, and 28 days" in the service. He and his fellow troops survived bitter weather while wearing inadequately insulated uniforms and going hungry due to lack of rations. They succeeded in their mission, but with little air or moral support from the Army. Cornett later described the conditions to folklorist author Michael Owen Jones, who documented the chair maker's life in the mid-1960s for his 1970 doctoral dissertation at Indiana University: "That last winter I was over there, buddy, it got down to 60-below zero…An' I believe my soul got frostbit or another an' it never will be right no more."
Cornett's time in the military proved to have a debilitating impact on his life, particularly his intellectual development. Jones would write in his 1989 book Craftsman of the Cumberlands: Tradition & Creativity that Cornett learned to read and write a little in the Army by copying letters he pulled from trash cans, but that overall, his mental state deteriorated. He spent several months in the Ft. George Wright "convalation" hospital, as he called it, in Spokane, Washington, where doctors administered shots to which Cornett claimed he was "elergict." The Army granted him a 30-percent mental discharge on October 27, 1944—suggesting any symptoms that would impair social functioning or require medication should be relatively mild—and sent him home to eastern Kentucky to live on a monthly pension of $50.
Cornett, who was 31 when he returned, told Jones he was "cravin' a woman," and set out to find one upon discovering that his wife, a 15-year-old named Sarah he had hastily married on furlough from the Aleutian Islands, had now backed out of the union. Despite his shy and awkward nature, Chester met and quickly wed a woman named Ruth in the fall of 1945. They raised seven children in the Appalachian hills north of Pine Mountain, and Cornett returned to what he knew best: making chairs. Most of them were light but sturdy, made from hickory, birch, sassafras, and occasionally oak trees he chopped down in the surrounding woods, using just an ax. The rest of his tools, a few of which he crafted himself, included a saw, hatchet, chisel, hammer, slat-press brace, cooking tub, and an all-important carving knife. Cornett used no nails or glue, and his hands served as his ruler: Two hands extended equaled a foot. One hand with a thumb extended was six inches, and the width of his thumb was an inch.
At one point, Cornett painted a bright orange sign on the side of the family's home, a dusty old coal company office situated along a busy highway in the town of Dwarf, Kentucky, promoting his goods: "hand MadE Funiture / maker of the / Cornett chaires / we make iney thin / arE hEit cant b mad." Similarly misspelled signage would be the only form of advertising Cornett ever used. "What Chester lacked in spelling knowledge he more than made up for in skill at chair making," Jones wrote in his book. "His business acumen was less well developed."
Limited education, cognitive disabilities, and primitive methodology did not hinder his masterful woodwork, but the deficiencies were glaring in regard to Cornett's lack of entrepreneurial skills. Income earned from chair sales was sparse, and the Cornetts lived in acute poverty and seclusion. They had no car or work animals. Ruth, who called her husband "Check," convinced him to move into Hazard for a time in the mid-1950s so she could be around people and he could get a job with regular pay. He toiled in a coal mine for a week, was a janitor at the local newspaper, loaded bottles and swept floors at a Pepsi-Cola plant, and packed heavy transformers into remote areas for the power company. But nothing seemed to satisfy. The $7 a day he earned from the power company wasn't enough to pay the rent, and Cornett missed making his chairs in solitude, so they eventually returned to the mountains.
"Only when he was working on a chair did he seem to be at ease," Jones wrote of Cornett. "Only when he held a drawing knife in his hand like a scepter was he in control of the situation." Cornett formed his chairs to feel like hugs, he said, and derived a sense of security and self-esteem from them, according to Jones. He even cultivated his old-timey appearance, hoping the down-home, throwback persona would draw in curious customers. Over time, his techniques advanced as well—particularly his pegging—and his chairs, including the woven-backed rocker intended for Kennedy, became more complex, larger, and more sophisticated. Cornett's rudimentary ledgers did show that some items were selling, but too often for far less money than he expected. The continuous poverty and Ruth's frustration with her husband prompted her to leave and take the kids away on occasion. She eventually removed his work from their house and purchased cheap commercial furniture instead.
---
Despite the struggles, at home and with work, Chester Cornett must have felt that 1965 was going to be a banner year. Gurney Norman, a Letcher County native and young reporter for the Hazard Herald who is now an English professor at the University of Kentucky and a recognized scholar of Appalachian culture, wrote an article about Cornett and his lonely vocation under the headline "Rare Hand-Made Furniture Produced by Bearded Chairmaker."
Norman likened Cornett to a great easel painter, and counted himself among the customers who "would not say a Cornett chair is a 'just a chair' anymore than they would say a great painting is 'just a picture.'… They buy them because they know there is no other chair in the world like theirs and they can last a hundred years or longer and grow more valuable all the time." Norman encouraged fellow Appalachian writers such as Harry Caudill and Wendell Berry to buy Cornett's furniture, and his article drew the eye of regional press and attracted new customers.
Berry featured Cornett in an essay published in The Nation titled "The Tyranny of Charity," which was followed by an article in The National Observer featuring poignant black-and-white images captured by Cincinnati photojournalist Gordon Baer, who had happened upon Chester two years earlier. Michael Owen Jones arrived on Chester and Ruth's doorstep in August 1965 for the first of many visits. Jones, a noted American folklore scholar and emeritus professor at the University of California Los Angeles, chronicled Cornett's life and work and would go on to dub him "king of the chair makers" in his 1989 book.
---
In a December 1965 letter to Jones, Chester remarked on the newfound attention: "Lettres Went to comin in from East South North West Wanting to no if they Culd Buy a Laddre Bak Rockker and they said they Engoid Redin About me in the natin Advzer news papre…. I try to ancer ever letter and tell thim that I dinton have iney."
Production did increase; he made chairs in the first half of 1966 for customers in Illinois, Michigan, Pennsylvania, New York, North Carolina, Colorado, and Oregon, planning to charge $89-$100 plus shipping for each. But, Jones wrote, Cornett often accepted $79. Indeed, his lack of business acumen haunted him. The author calculated Cornett's gross income for 1966 at a paltry $1,279 from chair making and $600 in pension money. That was better than the year before—when Cornett, who received nothing in the way of welfare, was reduced to selling "dipper gourds" for 50 cents each—but nowhere near enough to adequately provide for a family of nine.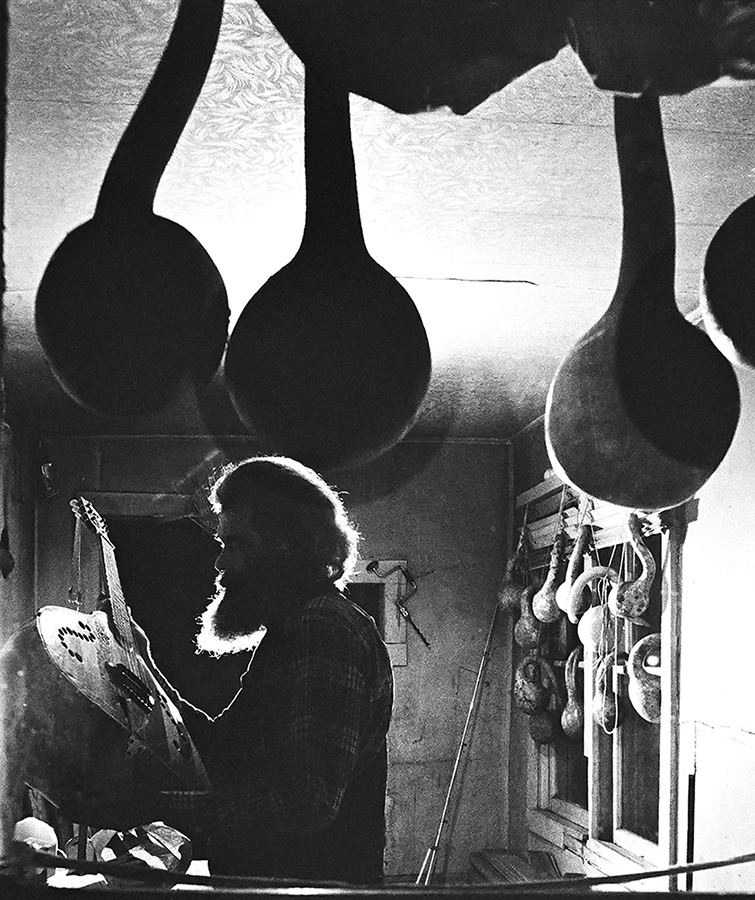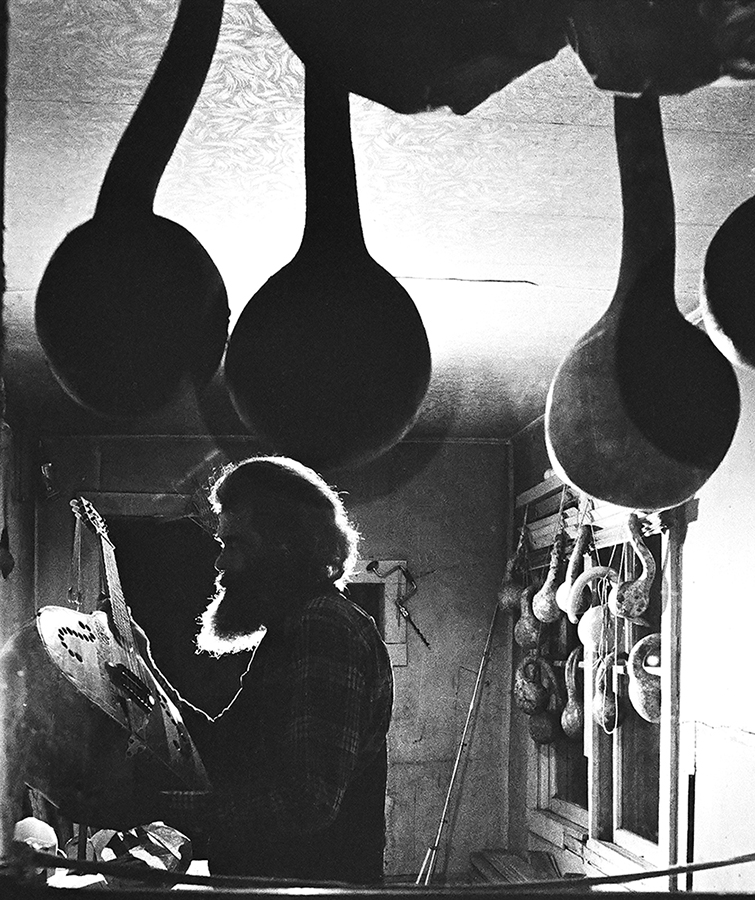 ---
There were times, Jones wrote, when Chester said he felt doomed. He described himself as a "man of constant sorrow" and wrote his own lyrics to the popular bluegrass song of the same name, describing himself as "a soldier boyee, a long, a long ways from my ole Kentucky mount'n home." He told Jones that his Army experience inspired the lyrics and was to blame for his poverty, marital discord, and the mental and physical illness that dogged him and three of his four sons.
By late 1969, Ruth had had enough. She took the children and moved away permanently, leaving Chester in a sorry state. An inveterate chainsmoker (he rolled his own cigarettes), he coughed relentlessly due to emphysema. He had a cataract in one eye, was hard of hearing, missing teeth, had an undiagnosed skin disorder and stiff hands, and was often nervous and depressed. He was only 56.
Cornett's situation began to resemble something out of the Book of Job. Not long after Ruth's exodus, a violent storm uprooted his tiny cabin next to Stinking Creek, blowing it into a large raft (or "ark," as some described it) that he had built out back, equipped with a sofa, stove, refrigerator, and tools in case he had to escape the Armageddon he felt sure was coming. Frightened and alone in the woods, Cornett panicked and telephoned his long-estranged family in Dearborn County, Indiana, to come and get him.
Two nephews loaded his tools and few belongings into a pickup truck and drove Cornett about 210 miles to Elizabethtown, Ohio, near the Indiana border. It displaced him from the sanctuary of his beloved mountains, but the move also brought him closer to the friendly people and tiny Cincinnati neighborhood that would prove to be a haven of its own.
---
Diane Greer Smart was one of the first Cincinnatians to meet Cornett through Gordon Baer, who introduced the career arts administrator to the mountain craftsman after his move. She and fellow Junior League member Sally Brush were drawn in by Cornett's troubled, gentle soul, having recently heard a talk about the plight of Appalachian culture by street social worker Ernie Mynatt.
"Chester was kind of living on the street and having a rough time," says Smart, who now splits her days between Washington, D.C., and Pompano Beach, Florida. "We would take food to him and saw his gorgeous chairs. He was asking only $65 for them." Smart and Brush's interest in Appalachian artists like Cornett led to the Junior League hosting the first Appalachian Festival in 1971 at Music Hall, offering unknown artists an expanded audience and clientele. Cornett set out to carve a single "settin' chur" during each of the annual three-day festivals he participated in.
"Chester was always a star. He was so charming, warm, and needy," says Smart, who still treasures the lone "Chester chair" she owns. "He was a magnet. He would tell so many stories, the chairs never really got made."
Steadily, more and more local art-appreciators discovered him and spread the word of his incredible handiwork. Business finally picked up as a result, as did Cornett's circle of friends, some of whom were members of a 4-H Club founded by Jim and Pam Benedict. The couple were house hunting in Cincinnati when they saw Cornett at that first Appalachian Festival in '71, stopping several times to watch his carving demonstration. It was the first of hundreds of hours they would spend together over the next few years. Jim, a chemist with Procter & Gamble, would drive the 4-H kids out to Cornett's place in Elizabethtown on weekends. "They'd work in his garden and just play around the house," says Jim. "It was good for him and wonderful for them to get out of the city and play in the outdoors."
In 1973, the Benedicts and 4-H kids helped Cornett move into the city, eventually settling into a second-floor apartment on Sidney Avenue in Camp Washington. It came with an adjacent two-level garage, perfect for his workshop and wood storage. "I think it was largely his idea," says Jim. "It was so he could have better access to customers." There were a number of times when the bearded man with the wild hair drew crowds of kids wanting to watch him work. "He loved the kids in the neighborhood and in 4-H," Pam says. "He was always making gifts for them: bows and arrows and chairs."
It was around this time Cornett's Nixon chair caught the attention of Congressman Clancy, who arranged the White House visit. Gordon and Kathy Salchow were two of the few people to lay eyes on it before Cornett presented it to the President. Gordon still has a color photograph he took of Cornett seated next to the chair, which now resides in the Nixon Library in Yorba Linda, California. The Salchows own two of Cornett's pieces, a pair of throne-like rocking chairs in their living room, which contrast sharply with the rest of their museum-quality mid-century furniture. Cornett carved the Salchows' saddle-seat rockers from one piece of Honduran mahogany he selected at a Queensgate lumber yard—15 feet long, 30 inches wide, and 5 inches thick. "Man it was heavy," says Gordon, who was appointed by the University of Cincinnati in 1968 to start and head a department in what became the Design, Architecture, Art, and Planning school, where he worked until retiring in 2010. He remembers Cornett working on the Nixon piece just before he was making their chairs; having seen the poor spelling on the Nixon slats, he asked Cornett not to engrave theirs. "In hindsight, I wish we hadn't done that," he says now.
The work and support (financial and otherwise) from the likes of the Salchows and Benedicts and many others helped sustain Cornett in a way he hadn't much experienced up to that point in his life. The kids in Camp Washington kept him company; the annual Appalachian Festival, which will celebrate its 48th year this May, gave him something to look forward to. Yet he continued to find it hard to cope with modern life. He couldn't always keep up with the increased order load, and his business skills never really improved. He still suffered from emphysema, hand pain, and waning eyesight, while paranoia, doomsday beliefs, and mental illness continued to afflict his mind. He was doing what he loved, surrounded by people who cared about him, but it wasn't home. He missed the quiet solitude of the Pine Mountain forest.
"He would talk about people spying on him," says Jim Benedict. "He always felt people were out to get him." Diane Greer Smart says Cornett bottled up much of his past and never spoke of being married or being a father. "He abandoned them, and they abandoned him," she says. "Emotionally, he didn't have any children, and I don't think he could sustain a relationship."
Several old friends say Cornett was likely broke over the last few years of his life. Failing health forced him to leave Camp Washington in 1978. "We would bring him milk and had to persuade him to drink it," recalls Smart. "His eating habits were horrible because he never had much money." He reportedly moved back in with his nephews, but eventually checked into the Veterans Administration Hospital in Ft. Thomas.
In the spring of 1981, Cornett fulfilled a longtime dream by being baptized. Smart flew in at Cornett's request. "I guess he knew his time was coming," she says. A few friends arranged for him to be wrapped in a white sheet and immersed by a pastor on the Kentucky side of the Ohio River. "He came up, and he was so happy," says Smart.
On June 10, 1981, Chester Cornett died in a bathtub at the VA facility, after having choked on his own vomit. The Benedicts attended the burial at Greendale Cemetery in Dearborn County, where, by happenstance, several long-lost Cornett relatives were also buried. The tombstone is a nondescript military marker engraved with his rank, an old "soldier boyee" laid to rest a long, long way from his Kentucky mountain home. It bears no mention of his chair making.
---
In 1981, Appalshop—a nonprofit cultural center in Letcher County, Kentucky—released Hand Carved, an 88-minute documentary on Cornett. It was filmed and produced by husband-and-wife directors Herb E. Smith and Elizabeth Barret, who followed the chair maker during 1977 and 1978 as he carved a double rocker with an octagonal seat, which he inscribed for Appalshop with Smith's name spelled "Heirb." Smith and Barret considered letting Cornett keep the chair at the time, but instead scraped together $800 to buy it off of him. It now resides at the cultural center in Whitesburg, Kentucky. "We think it's an important thing that it stays here in the county in which Chester grew up," says Smith. The directors were also able to screen the film for Cornett in the spring of 1981, before he died. Smith says that he was visibly thin but "really liked the film."
Thirty-five years after his death, Cornett's work and legacy live on, albeit largely among a small but ardent sliver of American folklore and art enthusiasts who have never set foot in Pine Mountain or Dwarf, Kentucky. Many of Cornett's surviving chairs are in private collections or on display in the homes of past and present Cincinnatians who befriended the bushy-bearded mountain man when he lived in town. The same goes for the scarce remaining guitars, banjos, tables, cradles, and toys he carved.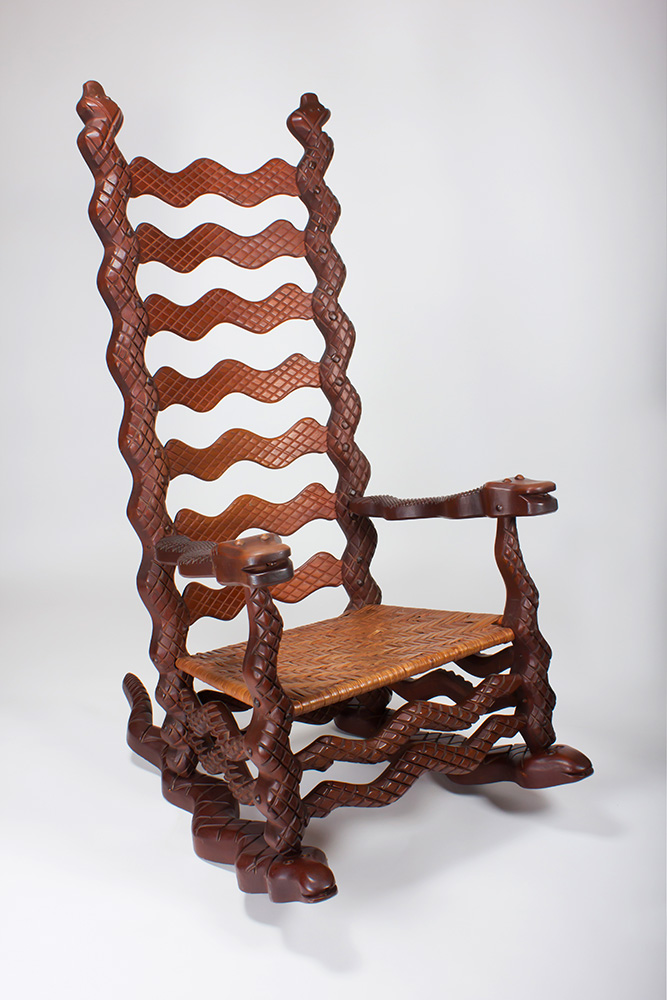 The work many consider to be Cornett's masterpiece, the Snake Chair, surfaced in a 1999 episode of PBS's Antiques Roadshow, which was taped in Columbus. It was a slithery, heavily carved piece with snake-skin-textured slats and dual snake heads at the end of each armrest. Appraiser Leslie Keno called the chair an important piece of American folk art and valued it at $3,000 to $5,000, an estimate that increased to $5,000 to $8,000 when the show re-evaluated Keno's appraisal in 2013. Gordon Salchow believes those numbers are still too low, and insures his Cornett chairs for far more. They are, according to Salchow, the crown jewels of his 20th-century designer furniture collection. Guests usually ask to sit in them first when visiting.
A few other Cornett pieces found their way into museums, including a fanciful guitar exhibited at the Cincinnati Art Museum. The Kentucky Museum of Folk Art at Morehead State University spearheaded a large exhibit of Chester's work in 2014 titled Chester Cornett: Beyond the Narrow Sky, which spawned an accompanying 46-page biography, both of which helped to keep Cornett's name on the map.
Diane Greer Smart has pushed for a similar exhibit at the Smithsonian American Art Museum in Washington, D.C. Lofty as that may sound, she believes it's a possibility if the museum obtained a signature chair to feature—though that also means someone would have to offer it. "We have only one chair, a humongous rocker, and I'm not going to give it up," says Smart. "I've talked with people I call my 'Chester Friends,' but no one will give up their chair. Before I die, this is something I'd love to do."
Cornett would likely be flattered to hear that all these years later, the heart and soul he put into his carving still resonates. He might even be tickled that he succeeded in introducing a slice of old-timey, mountain craftsmanship to Cincinnati, and that all those people he met hadn't forgotten about him—that his chairs, his name, were finally worth something. But none of that was ever particularly important to him, either. Several who knew him believe what Cornett really wanted to do before he died was return to his roots. Go back to the tranquil hills and hollows of southeastern Kentucky and scan the woods for the perfect trees to cut down. Work on his chairs in one of the only places he felt at peace.
Jim Benedict witnessed as much. In the late 1970s, as Cornett's health began to waver, Benedict and his wife, along with filmmakers Smith and Barret, took Cornett on a trip back to Pine Mountain. They spent the night in a cabin way back in a holler, about a mile up a stream. "Chester showed us some of the trees he played in as a child," remembers Benedict. "He sat on the porch, just listening to the whippoorwills, with this complete look on his face of being in heaven."
Facebook Comments