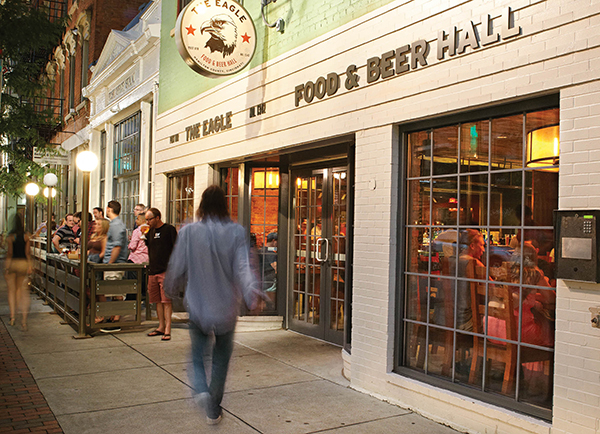 Photographs by Anna Jones
Front and center on the artfully faded menu, billed in enormous knockout type, The Eagle OTR's star attraction is undoubtedly her fried chicken. You'll certainly know this bird if you've tasted it. The crisp, peppery crust is anything but demure, and once you're hooked, it's not a taste you'll soon forget. The meat hits such a sweet spot—just firm enough, but still tender and yielding. And while the thighs and drums are certainly approachable, as you'd expect, the bone-in breasts are the ne plus ultra of fried fowl.
This Amish farm-sourced and carefully-considered chicken is the result of a two-step cooking method—an overnight brine (the contents of which are a guarded secret), followed by a pressure-fry to minimize moisture loss. The method, conjured up by Chef Chas Barracato, the creative force behind the menus at both The Eagle and Bakersfield, owes much to culinary ingenuity. And yet The Eagle itself is a somewhat stealthy yet hyper-formulaic concept of owners Joe and John Lanni. The brothers Lanni, owners of Bakersfield, the Currito chain, and SoHi, their new sandwich shop in Oxford, have a knack for serving up interesting, crowd-pleasing fare that caters to urban lumberjacks as well as weekend warriors who like to head downtown to play.
It's no great revelation that people like fried chicken, but elder brother Joe cites a highly restrained focus as the secret in turning everyone's favorite picnic food into the crown jewel of a downtown menu. Industry lifers—their father founded the Great Steak and Potato Company—the siblings sensed that fried chicken has too often been relegated to what Joe Lanni diplomatically calls "established" neighborhoods, and was long overdue for an urban update. The brothers also felt enormous pressure to follow up on Bakersfield's runaway success. The pair chose to stick with trusted associates: Alex Blust, a business partner at Bakersfield OTR, is a hospitality management veteran, while KP Designs, another close connection from previous Lanni operations, took on the task of transforming the decrepit neoclassical post office on 13th Street. Even Barracato was a known quantity; he and Blust studied at Le Cordon Bleu in Pittsburgh, and it was the strength of that friendship that brought him to Cincinnati.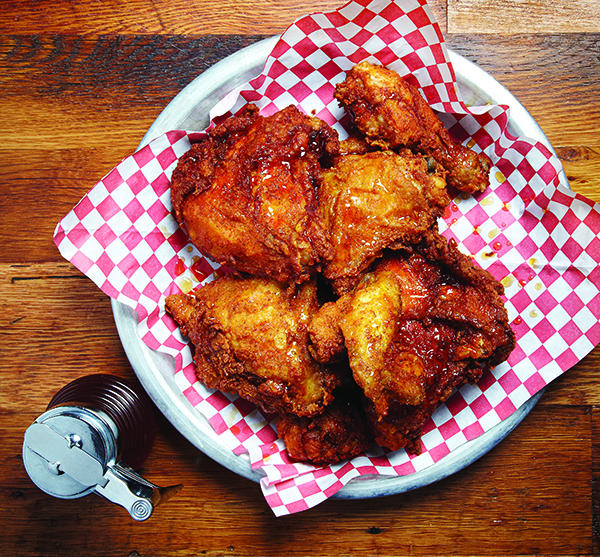 The craft beer is also definitely a draw. People on both sides of the bar are downright reverent about the suds, and conversations easily veer toward yeast strains and hop varieties. Beers are described by flavor, but also alcohol by volume and IBU—a rough scale of a beer's bitterness based on measuring certain hop resins. Bartenders pair and suggest beers with the intuition of seasoned sommeliers and evident hometown pride. MadTree, Rhinegeist, 50 West, Mt. Carmel, and Rivertown are all well-represented. With more than 100 bottles available and at least 16 beers on tap—and after sheepishly describing my mostly milquetoast flavor preferences—I was mercifully steered toward a hibiscus-and-orange–scented Revolution Rosa ale. My companion couldn't resist the Falls City Hipster Repellant, whose initial hit of grapefruit simmered down into a malicious tartness—the liquid equivalent of a Ramones album. Such, I learned, is the difference between 15 and 50 IBU.
Drink enough and you're going to need some snacks. The pickles (sweet cross-cut cukes that were long on vinegar and snap) or that addictively crunchy hominy (spiked with a hint of hot paprika before hitting the deep-fryer and served with lime wedges) engage the palate without being overwhelming. Meanwhile, the mahogany strips of candied bacon, baked and glazed with molasses and brown sugar, take on a toothy, almost jerky-like consistency that makes it virtually impossible to eat just one.
While the fried chicken may be top dog here, the sandwich selection is worth a glance, too. The French dip packs thin slices of medium-rare roast beef into a toasted Cubano roll, and is accompanied by a complex, beefy jus. The enormous fried chicken sandwich, a boneless breast that bursts forth from its submarine bun, needed only a hint of snappy coleslaw to add a layer of crunch. Smaller appetites won't feel left out either, as the salads have substance. Kale is studded with matchsticks of white cheddar and green apple, while syrupy-sweet, bourbon-soaked golden raisins and oh-so-genius cornbread croutons complete a salad that's hardly diet fare.
In the side dish department, Barracato's challenge is clear—add a little glamour. The small plates are not simply modernized, but intensified. The spoonbread, served in a small cast-iron skillet, hits the cornbread trifecta of sweet, rich, and airy. The hand-cut russet potato fries verge on mandatory, laced with plenty of salt and just enough tender leaves of thyme to evoke a Sunday supper. The dense, cheesy grits are an edgier choice, their richness tamed by a generous mince of pickled jalapeño. The succotash, hardly classic in its recipe, is chock full of corn, green beans, and cannellini beans and gets an infusion of savory mystery from bacon and caramelized onions. Diners could easily assemble a meal out of a few sides, but be careful: spice levels can compound quickly.
Only a few years ago, a place like this might have simply coasted along as a value-added bonus for an emerging neighborhood. But with a doughnut shop next door and a new Graeter's location across the street, the clientele varies wildly. A mix of young professionals and OTR old-timers know value when they see it, and it's tailored to a neighborhood that's slowly figuring out how to cater to both. Yes, it's still frenetic on a Saturday afternoon and often the cuisine bites back. But stop in on a deafening weekend night and it's obvious that The Eagle's already a culinary destination. Because this chicken's got legs.
The Eagle OTR, 1342 Vine St., Over-the-Rhine, (513) 802-5007, facebook.com/TheEagleOTR
Photographs by Anna Jones

Originally published in the August 2014 issue

Facebook Comments