Everyone was smiling at Tela Bar + Kitchen. Young couples, flush with the optimism of youth, tucked into deep fried delights as low-hanging Edison bulbs flickered against the reclaimed wood walls. Up front, elder suburbanites sipped gingerly at white wine while dishing neighborhood dirt (They spent how much on that addition?) around a cluster of vintage powder-blue couches. Eventually a business casual conclave rose from the communal table in a stirring, if slightly tipsy, rendition of "Happy Birthday." No one seemed to mind.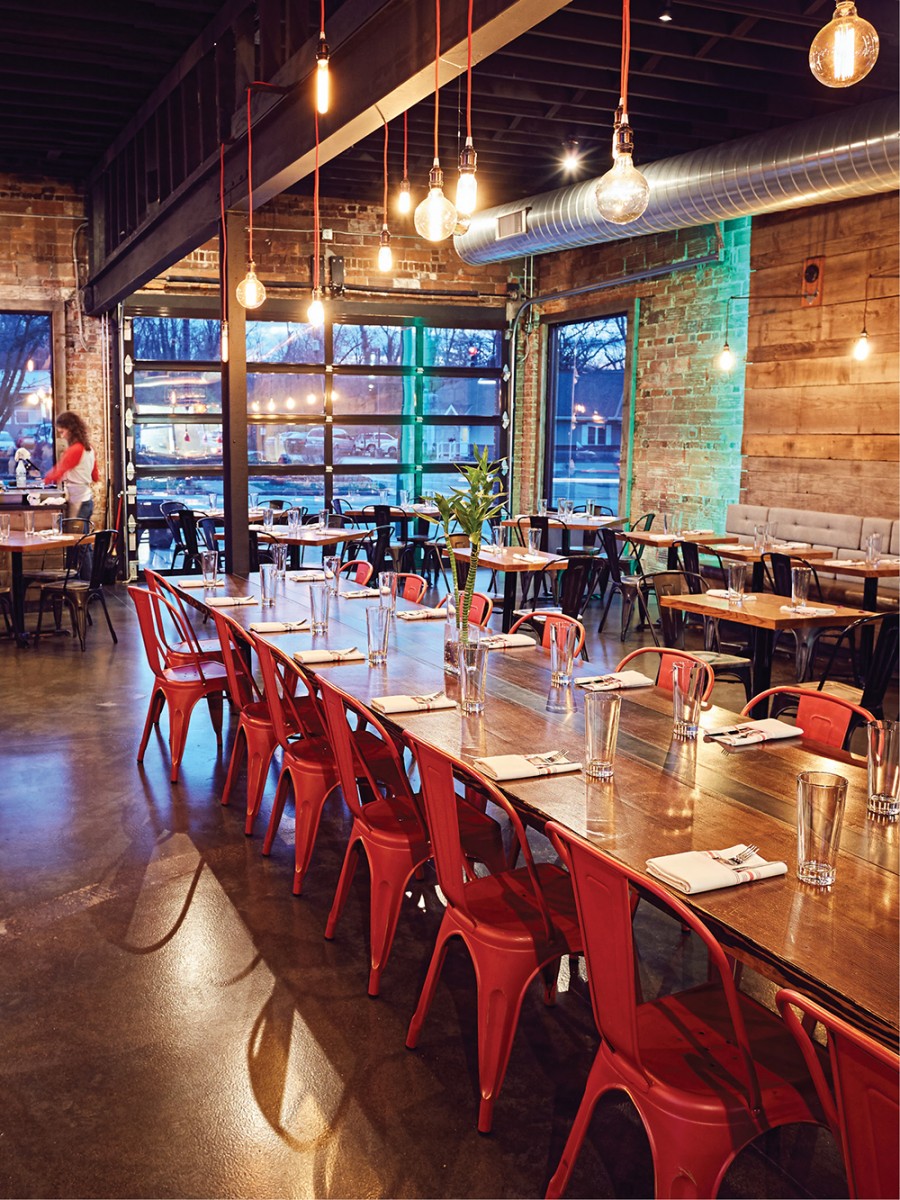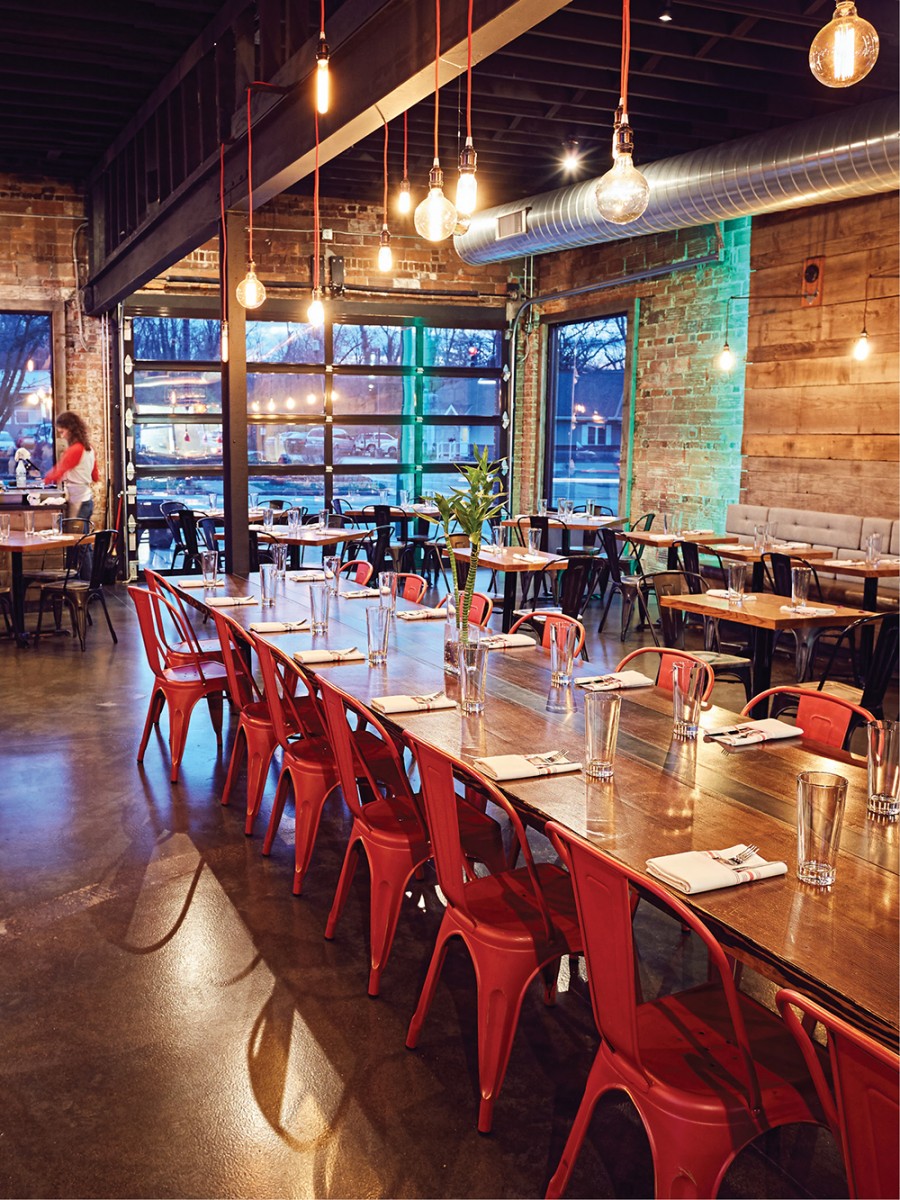 Tela is the brainchild of L.R. Hunley and Doug Nawrocki, two hospitality lifers who met 25 years ago while serving at a TGI Friday's. Nawrocki would go on to join Glazer's Distributors as a wine consultant in 2002. Hunley served as GM of Teller's in Hyde Park before easing into the wine industry as well, eventually managing the Piccolo Wine Room on Glendale Square. The two friends spent years spitballing a project that would allow them to work together. Then last year they found their ideal spot in Wyoming—one that could deliver the reliable, upbeat friendliness of a fast-casual chain restaurant (like Friday's) and the breezy conviviality of a wine bar.
Fortunately, they also had a culinary ringer in mutual friend and former roommate Jerry Rush. The Cincinnati native had toiled for years in Cleveland, studying under Jonathon Sawyer at both Greenhouse Tavern and Noodle Cat. That it took only a phone call to send Rush screaming back down I-71 speaks to the strength of their friendship, one built on weeks-long road trips following Vermont rockers Phish and—long ago—the Grateful Dead. The restaurant's name itself references a Phish song, as do many menu items, and framed memorabilia is everywhere. While Rush insists Tela's menu is streamlined to open the restaurant, I have a hunch his culinary inspiration draws heavily from the munchies.
Musical proclivities and chemical vices aside, meats, cheeses, and fried food are always welcome guests at my table. Tela's mini-Monte Cristo sandwiches are a genius indulgence, with tangy house-made pimento cheese stuffed into sourdough bread and fried crisp; each bite registered seismically. Wings also arrived at the table with a notable snap, and the Burned BBQ sauce added a bittersweet grittiness reminiscent of charred corn. The pretzel "nugs" are yeasty, double bites of soft pretzel served with a garlic caramel that gets my early nod for condiment of the year. However, Rush's refinement really shows up in the poutine, where he keeps his sawmill-style gravy so light that it simply enriches, not overwhelms, a plate of crispy fries and cheddar curds. Throw in a pint of Strongbow Cider and you're in business.
Lighter palates will enjoy the Wedge Salad—humble iceberg hits back with a kick of blue cheese and flecks of crispy bacon lardon—but the buttermilk fennel salad was a puzzling nightmare of poor construction. Slivers of fennel were shaved dime-thin, soaked in buttermilk, and arrived underneath an impenetrable toupee of under-seasoned microgreens. Entrées favor the hangry—think a formidable portion of mac and cheese topped with a Mr. Pibb–braised short rib, and steak frites gently soaking up a red-wine demi-glace. I hope the timing issues my companions and I experienced—our entrées came out literally seconds after our appetizers arrived—were the result of a one-off miscommunication because they virtually ruined our meal. On future visits I made it a point not to order entrées until we were ready to proceed. This proved a smart bet, as the pork two-fer—a rich slice of loin, redolent with garlic and wrapped in speck, along with thick-cut slices of sous vide pork belly—came to the table not a second too soon.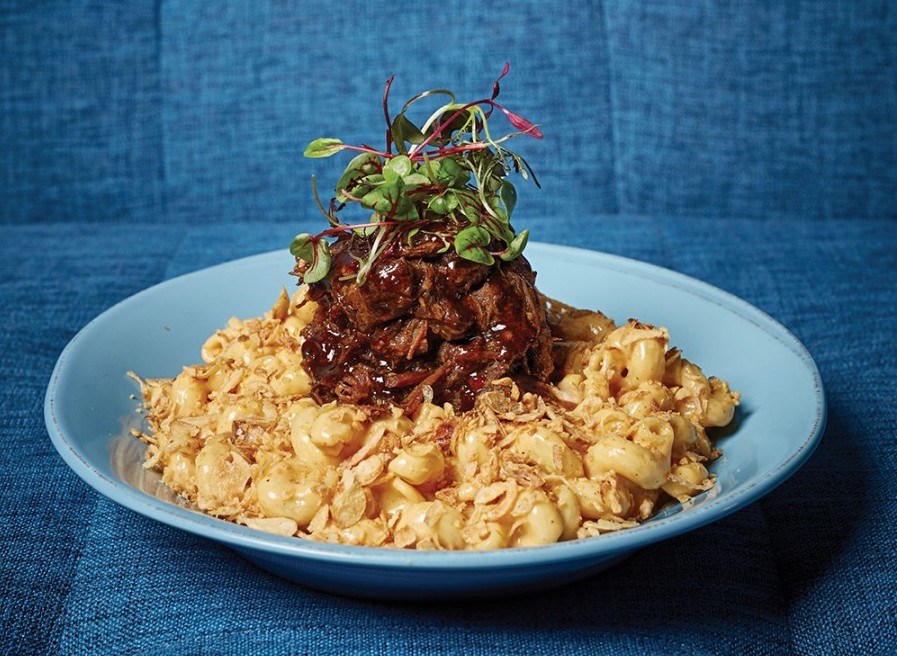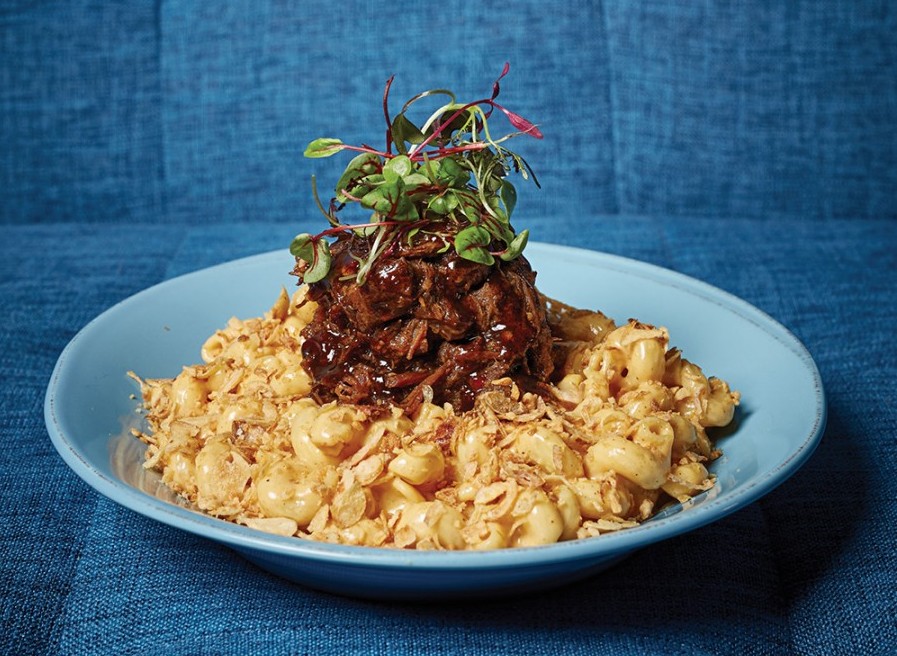 Pulp Fiction's Vincent Vega might find the sandwiches, "the same…but a little different." Tela's strong house burger, the "Royale with Cheese," a reference to Vega's slick monologue, was deftly seasoned and remarkably juicy, even at well done. The taste carried a strong endnote of razor-sharp cheddar cheese, and two crisscrossed slices of Nueske's bacon (a brand prized by chefs and baconnoisseurs alike) amplified both the saltiness and the sizzle. I liked the chivito, too. This elevated deli sandwich features 72-hour brisket piled onto a large, floury ciabatta roll, alongside ham, bacon jam, and perfectly sliced fresh mozzarella. Like the burger, it's simple—but better.
Rush seems to have a free hand to experiment with dessert; you'll see ingredients that range from Sriracha hot sauce to Fruity Pebbles. But amidst the jam-band improvisations, there are a few stunners. On one visit we finished with a slice of a strikingly soft apple cake, studded with thick slices of sweet roasted apple and topped with a bourbon caramel that made me all but shudder from the boozy sugar rush. And his éclair cake reminded me of a good Boston cream pie—fudgey chocolate holding together layers of vanilla pudding and graham cracker.
Tela's menu carries a bit of insular fun, but with so many nods to French classics, it's clear that Rush isn't just going for pub grub. There are good choices, and the civilized price point is clearly an incentive. But for Tela to take off, there needs to be an enforcer to hone the final details. It's frustrating to see a talented chef plan what ought to be a dazzling salad, yet have it arrive literally thrown together, or servers so genuinely warm that smiley faces bid you farewell on the bill, yet who struggle to pace a meal. It made me wonder: Who's driving this microbus? Still, Tela is an impeccably friendly place, with comforts that mostly overshadow these shortcomings. I don't always know why everyone is smiling here, but I have to admit, it grows on you.
fyi
Tela Bar + Kitchen, 1212 Springfield Pk., Wyoming, (513) 821-8352, telabarandkitchen.com
Prices: $6 (wedge salad)–$24 (braised pork shank)
Hours: Lunch and dinner Mon–Thurs 11–11 and Fri & Sat 11–midnight
Credit Cards: All Major
The Takeaway
Classically conceived but casually executed comfort food. Servers are slightly scattered, yet enthusiastic and friendly, with a good grasp of the beverage program.
Facebook Comments