I have a bad habit of eavesdropping at restaurants. This is particularly easy to do at Please, with its 30-person capacity. After two dinners, I began to notice a pattern. A dish would be placed at the table; the waiter would run through the litany of techniques and ingredients involved, and the diners would pass around the offering for inspection. Then, instead of simply "Yum," or "Try this," they would begin analyzing the dish. (Overheard at one nearby table: "The enoki mushrooms had a rich and surprising flavor, but they felt weird and squishy in my mouth.") Everything that is impressive about the restaurant, and some of what makes it annoying, was on display in this ritual.
---
I saw a dozen ingredients and techniques I had never come across before, including nasturtium micro-greens, popped amaranth, and fermented daikon slices used as a wrap. For such a high-wire act of invention, much of it works. On the other hand, most people eat at nice restaurants not to worship and dissect the food, but to spend time with each other. To my mind, the meal should not dominate conversation for an entire evening—even a stream of dazzling preparations can become tiresome. Finding the balance between those two poles is the challenge Please faces.
Please began as a series of pop-up dinners created by chef-owner Ryan Santos. The physical restaurant was funded partially through Kickstarter; cocktails are named after donors, and the Tim Patterson—a Suze bitters, gin, and citrus concoction—is a particular standout. This is a restaurant that already had a following when it opened. Initially, Please's menu contained three prix fixe options: an omnivore, a pescatarian, or a vegetarian menu. Wisely, they now let diners order à la carte, but the menu is still divided into four courses: cold appetizers, hot appetizers, main courses, and dessert. Many diners opt for the $55 four-course tasting, which comes with a bonus course.
Much of Please's inventiveness rises from its focus on local ingredients. I ate there in late winter, a singularly unsexy time to be working with Ohio produce, but there they were, lovingly manipulating the roots and tubers available from local farms into creations of great beauty. There is a painterly sense in the composition of their dishes that rivals any restaurant in the city. And like all dyed-in-the-wool creatives, Santos and crew are constantly innovating and updating. Virtually none of the items I had during my first visit were available at the second.
---
My favorite was a plate of de Puy lentils with beets and white asparagus. To Santos's credit, there are a wealth of vegetarian options at Please, and they are never, ever afterthoughts. The beet was sliced into thin sheets and rolled into tubes with the lentils inside. Each roll could be eaten in a single elegant bite, the dark, earthy lentils surrounded by the sweetness of the beets. Notes of celery and pepper came from the lovage and nasturtium leaves tossed over the dish. The white asparagus (a neglected vegetable outside of Europe) was given a simple but delicious char. The dry, sparkling verdicchio the sommelier recommended served to lighten the heavy lentils and balance the smokiness of the asparagus. (Note to oenophiles: the wine list is extremely limited but tailored specifically to the menu choices.)
---
As with all the dishes at Please, there was ingenuity in the presentation, the ingredients were fresh, and the construction was impeccable—not a single beet roll threatened to come undone. The flavor was solid and winning: familiar in some ways, but complex and satisfying in others, as much rising out of the ingredients as the cook's intrinsic magic.
---
Sometimes, though, the ingenuity ratchets into overdrive and the train goes off the rails. During my first dinner, we enjoyed a perfect piece of cod, covered with a layer of sliced turnips and a sprinkling of bright red radish powder, surrounded with popped amaranth and flecks of kale. It was more an assemblage than a dish—beautiful to behold, almost too beautiful to eat. When I tried, the turnips couldn't be cut with a fork, so I had to remove that layer entirely before eating the fish. The radish powder, it turned out, had no kick. And the slightly charred popcorn flavor of the amaranth didn't harmonize with the other flavors in the dish. There were far too many elements to process, and the overall effect was highly cerebral, easier to respect than to love. The dish also had no consonance with the other flavors on the tasting menu, which lurched from subtle takes on Japanese broth to forceful Italian sauces.
---
The desserts were just as confusing. It would never have occurred to me to put eucalyptus into frozen yogurt. The heavy menthol aroma, mixed with salted meringue and caramelized lime didn't help matters. "Innovative," I wrote in my notes, "but somehow un-delicious." Dishes like the eucalyptus frozen yogurt made me want to have a heart-to-heart with the chef. Bold risks are great, but not everything needs to reach for the stratosphere. Relax a little and let me enjoy my dinner.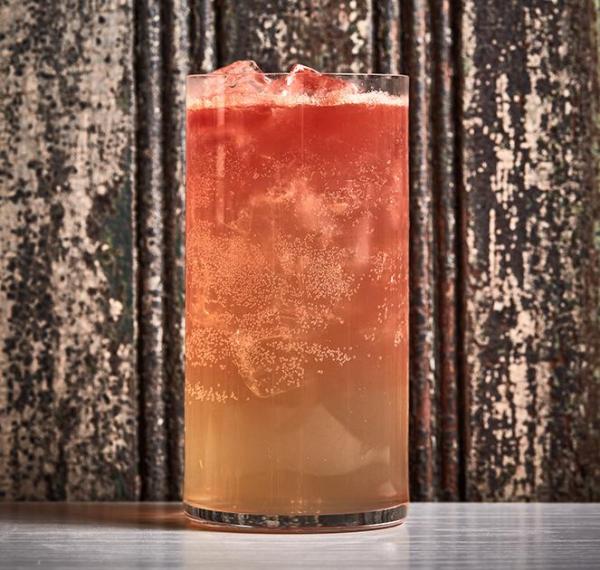 ---
A bonus course that I ate on both occasions shows how a little ease might go a long way in grounding the dining experience. It was three humble fritters with gooey apple filling, topped with shaved Gjetost, a sweet-and-salty Norwegian cheese (another only-at-Please discovery) served in a pool of caramel. "YUM," I finally declared to my friend as we wiped the cheese and caramel up with our fingers. Please is a font of invention and originality, but a solid dash of soulful simplicity could make it exceptional.
---
FYI
Please, 1405 Clay St., Over-the-Rhine, (513) 405-8859, pleasecincinnati.com
Hours: Dinner Wed–Sat, 5:30–10 pm
Prices: $8 (Savory Sweet Potato Tart)–$24 (Berkshire pork with potato, pear, and soubise); four-course tasting menu, $55
Credit Cards: All major
---
The Takeaway
Fresh ingredients, exquisite presentation, and extraordinary ingenuity (sometimes to a fault).
Facebook Comments