Editor's note: This restaurant is closed.
Never underestimate the significance, not to mention the longevity, of the neighborhood watering hole. Back in the early 1940s, Jean-Paul Sartre wrote Being and Nothingness in a window seat at the ever-bustling Café de Flore in Paris. Publication of the ontological study launched the recent prisoner of war into the philosophical stratosphere. But the everyday phenomenon least associated with Sartre's phenomenology is the fact that he was able to write such heavy stuff as waiters whirled about delivering drinks, cappuccino machines hissed, and loquacious ladies lunched.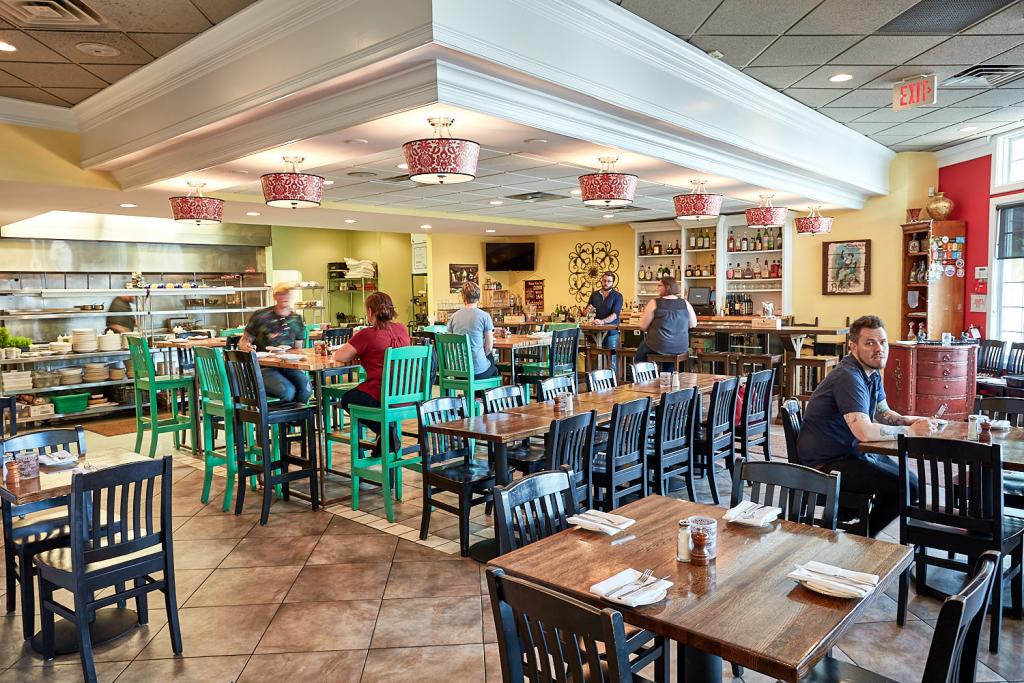 While Maribelle's Eat + Drink is far from that City of Light café, it succeeds because it is entirely indicative of place. Maribelle's is the kind of neighborhood joint where—fortified by local craft beer and heritage breed pork rinds tossed with housemade hot sauce (yum!)—one could sit and write a novel. Or maybe launch the next philosophical revolution.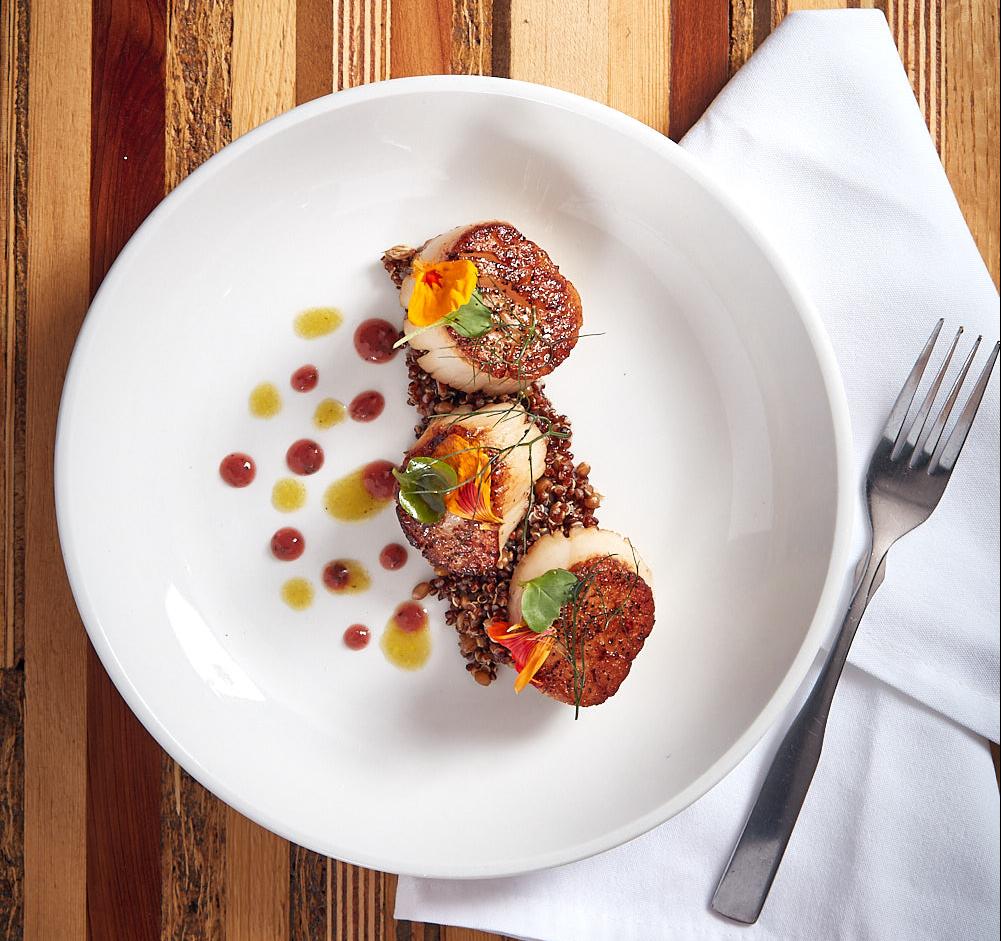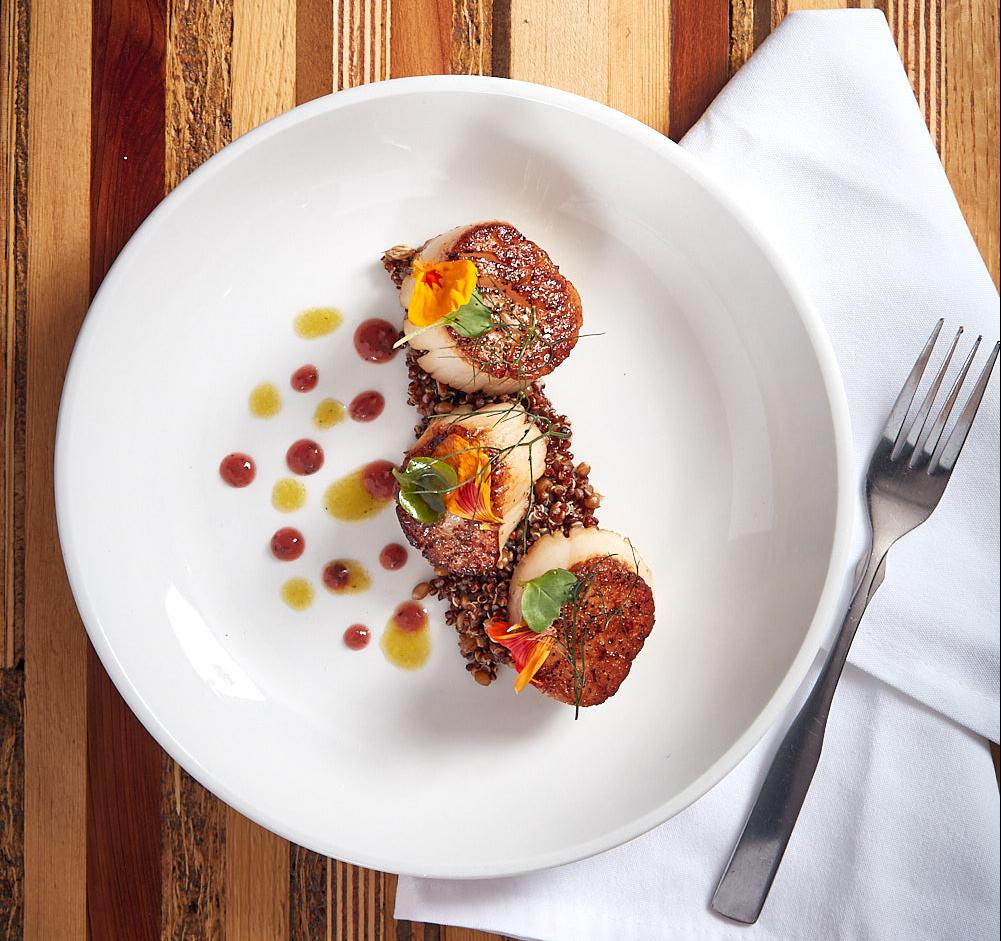 ---
Opened originally as a tavern on Eastern Avenue by Leigh Enderle (with chef Mike Florea at the stove) in 2006, Maribelle's morphed into a significant locavore dining destination when it moved to more spacious digs in Oakley in 2011. Florea and Enderle have continued to push the farm-to-table envelope, launching their own Hamilton-based pork production enterprise, Queen City Livestock, with friend Jason Jones in 2016, taking their pork game up a notch. While the pork rinds are enough to tempt even the strictest vegetarian—and would most definitely be my snack of choice should I attempt to tackle the next great American novel at Maribelle's—I'd be remiss not to mention the pork chop entrée. It showed up on the weekly special sheet on both of my visits. Lightly brined both for flavor and tenderness, the double-cut, bone-in Duroc chop was cooked to a textbook medium and served with a seasonal medley of purple fingerling potatoes, oyster mushrooms, and snow peas.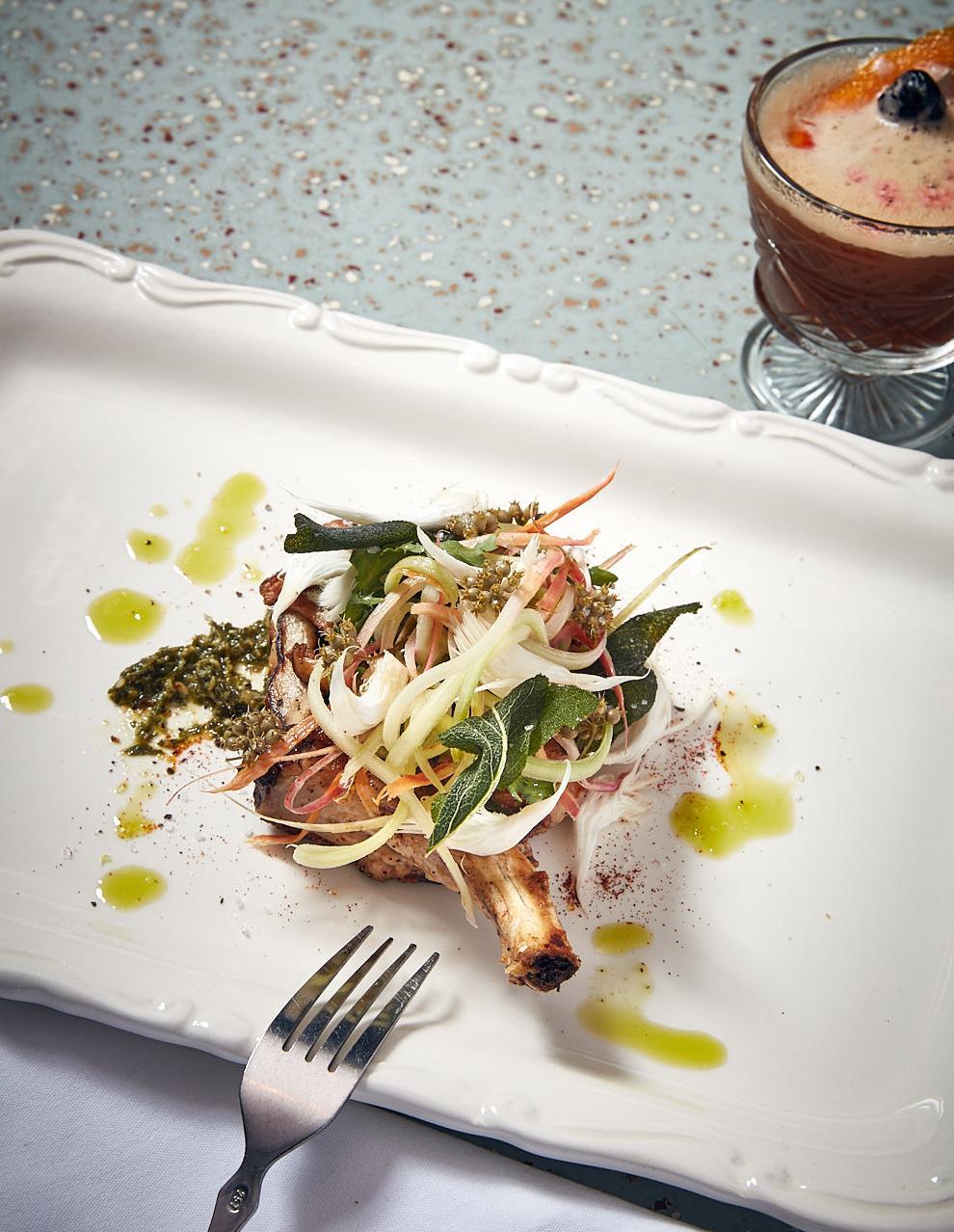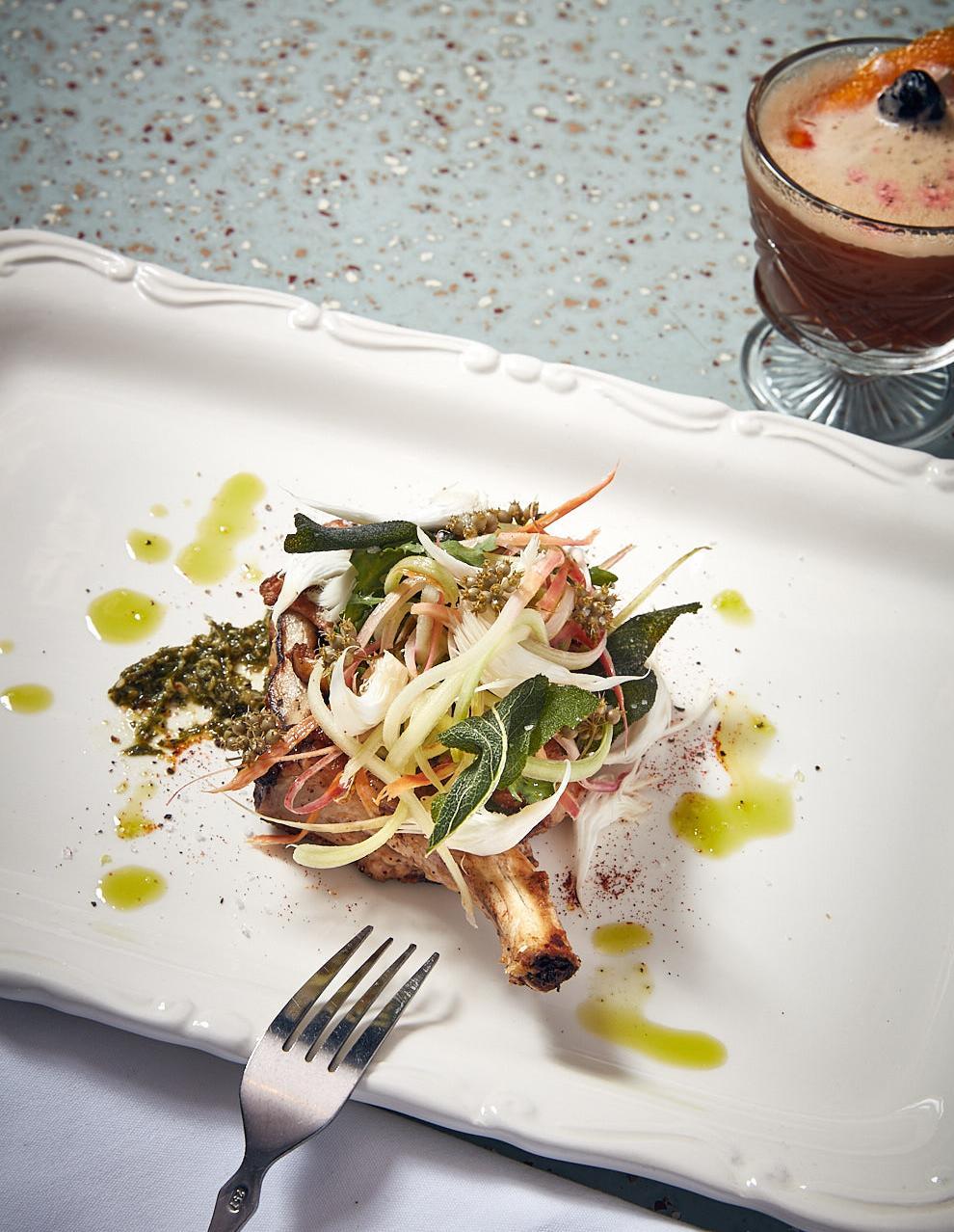 ---
A die-hard risotto fan, I ordered Florea's truffle and Gorgonzola version with mild trepidation. Paired with the delicate harbingers of spring—asparagus and fiddlehead ferns—I worried that the fragile vegetal notes would be brutally overpowered by the brawnier cheese and truffle. No worries—all the flavors came together in perfect harmony without losing any of their palate-satisfying decadence. Another seasonal showstopper was the 14-ounce Ohio rib eye.
I tend to prefer my steak rare with just a lightly dressed salad or a nest of wilted greens. Maribelle's nails this presentation with a tangle of radish greens and corn shoots tossed with pickled hard-boiled eggs and pearl onions. A single spoonful of tangy ramp tzatziki anchored the dish. It was a flavor assemblage driven solely by the seasonal bounty available from some of the more than two dozen farms that Maribelle's name-checks in small print at the bottom of their menu.
In addition to the daily seasonal menu, Maribelle's maintains a farm-fresh gastropub-oriented lineup of starters and sandwiches. The English pea hummus, like many of the best dishes here, is predicated entirely on freshness and flavor balance. On one visit it was absolutely sublime—balancing light notes of garlic and lemon with pitch perfect salinity—so good that I finished it off with a spoon. On another visit, it was much less fresh and desperately missed the mark. Which only drives home the point that simple, seasonal cooking is deceptively difficult. Once the ingredients are no longer at their pinnacle, or salt, fat, and acid are not properly deployed, there is nowhere for the cook to hide. Maribelle's lamb burger does not suffer from that problem. A strong contender in our 2015 Best Burgers issue (it came in at No. 10 out of 45), it is difficult to resist. Fresh chevre is folded into the ground lamb for a texture that melts with the accompanying tomato-mint jam and fried leeks. Fortunately, it's served on a sturdy brioche bun, keeping burger bedlam at bay.
---
Desserts are limited to a choice of two on weekdays, which means they're both worth trying. A dense and rich yuzu pot de crème was tart yet sweet, and felt especially over-the-top with a toasted meringue, but I could not resist the carrot cake: Spicy and aromatic, studded with plump raisins, and finished with a luxurious cream cheese frosting, I willingly devoured every last exquisite crumb.
My fellow French Existentialist nerds may recall that, inspired by his surroundings, Sartre utilized the example of a Parisian waiter in his "bad faith" explanation. He posited that one's occupational, social, and even economic role need not define one's existence. Nowhere is this more apparent than at an actual restaurant. A distracted diner may be content to see only a waiter, hostess, or bar manager, but after one sip of Maribelle's ethereally smoky and citrusy New Fashioned—Bulleit rye, chicory, and house-made campfire bitters—it's obvious that the individual who created this fantastic riff on a classic cocktail is anything but an automaton.
In fact, every aspect of the service experience supersedes the expected. At Maribelle's, hospitality is more than just an economic transaction. On the surface, they're serving up seasonal eats to families and friends, but Florea and Enderle are also deeply committed to both the culinary and agricultural communities. Yet again, a classic case of existence preceding essence.
---
FYI
Maribelle's Eat + Drink, 3235 Madison Rd. Oakley, (513) 321-9111, maribellestavern.com

Hours: Dinner Tues-Thurs 5-9 pm, Fri-Sat 11 am-10 pm, brunch Sat & Sun 11-2
Prices: $7 (wheat sourdough) – $30 (14 oz. Ohio rib eye)
---
The Takeaway
Deceptively simple farm-to-table fare created by a couple with deep roots in the culinary community. The bartender also makes a mean New Fashioned.
Facebook Comments