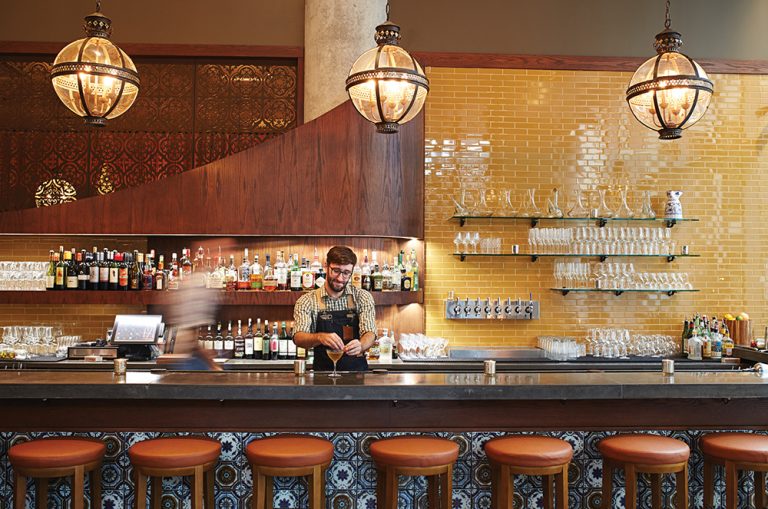 "Tastes like Grandpa," my friend gleefully chortled, twirling his cocktail glass with equal parts delight and amused authority. I'd just mentioned that his margarita was a touch sour for my taste, but my Angeleno dining companion would hear none of it. A hit of lime, he told me, was all that he needed to remember the casual gatherings of his large Mexican family, when older folks used minimal humble ingredients to highlight tequila, not turn it into something else.
At Jose Salazar's newest restaurant, Mita's, chasing this kind of flavor memory is a huge part of the appeal. His sweeping 130-seat restaurant in the newly christened 84.51° building at Fifth and Race pays homage to Spanish and South American cuisine, whose ruddy, bright flavors have always nonchalantly informed the edges of his cooking. The name pays tribute to his own grandmother, Martha Mejia de Toro. (Mita is short for mamita, a term of endearment that literally translates to "little mother" or "mommy.") Salazar spent many summers with his mita in Medellín, Colombia, watching her grind white masa with an aluminum hand crank, turning the meal into the same kind of arepas and empanadas that now grace Mita's menu. "Obviously we take some liberties," he says, "but sometimes there just isn't much room to play—these foods are a big part of me."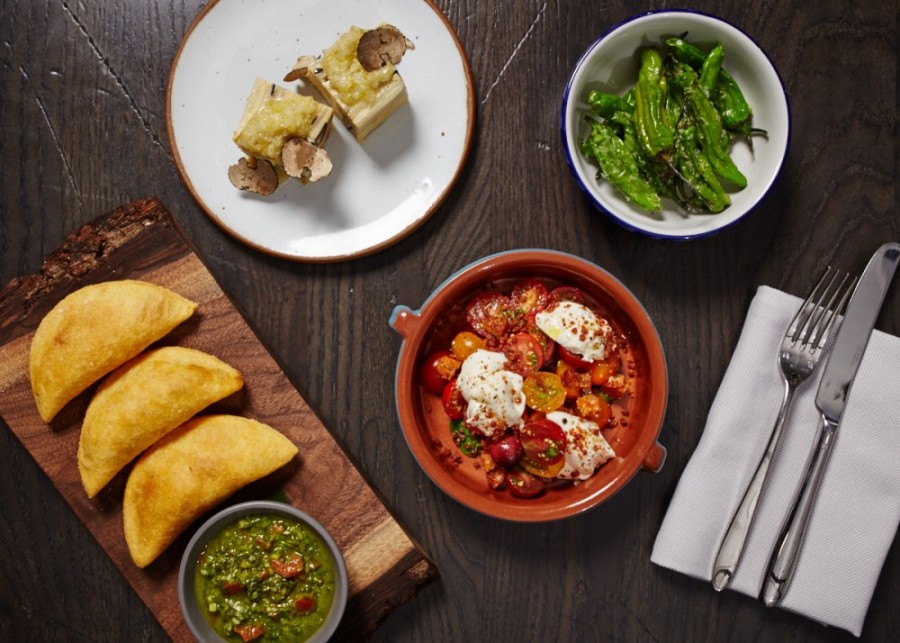 The ground-floor space itself feels formidable, even a bit racy. Darker tones, and Moorish-patterned metal screens imported from Portugal break up the cavernous room into a series of more intimate areas, each curving outward from an open kitchen. Columns along the interior are lined with Spanish tile. Later in the evening, the energy of a nightclub merges with the hushed gravitas of a formal dining room.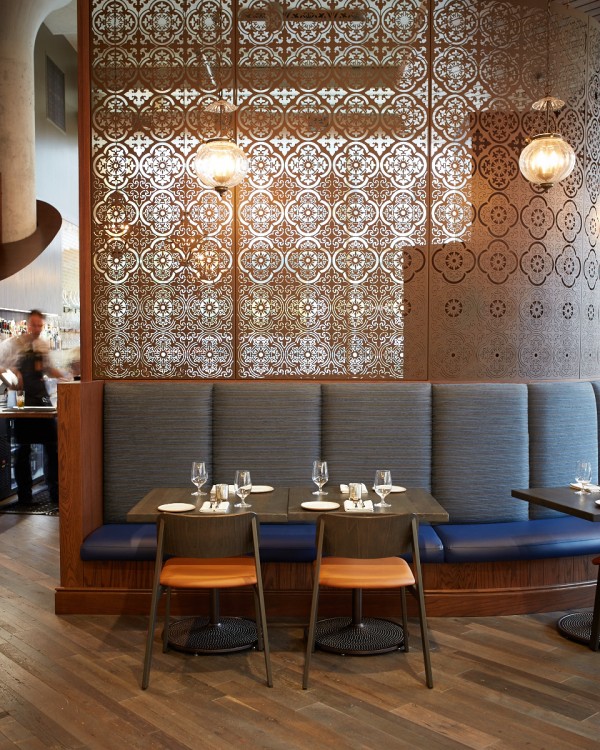 Mita's soul might be Salazar's biological family, but it's his chosen restaurant family that provides its backbone. Jonathan Fox, sous chef at Salazar, designed the tony denim aprons worn by cooks and bar staff, spiffy numbers that offer enough pockets for thermometers, pens, and muddlers. Francisco Alfaro, another long-time sous chef, helms the kitchen, while Andrew Rettig moves downtown from the mothership to steer Mita's ambitious drinks program.
It's a treat to watch Rettig and his bar staff work. Margaritas notwithstanding, the drink menu serves a range of palates—a mezcal Manhattan benefits from a smoked cherry undertone, while the effete yet dazzling Nuevo Frontera has a raspberry and watermelon sweetness, and the marigold petal garnish helped me get in touch with my softer side. A simple glass of 2014 La Cana Albariño may taste like a mouthful of rocks to the uninitiated, but its high minerality and acidity jams superbly with the rich, salty Spanish cheeses on the menu.
Mita's tapas menu is rife with little indulgences. Voluptuous fried plantains maximize their sweet potential and pick up just the right hint of citrus from the wedges of lime that line the bowl. But the short rib empanadas steal the show. These well-constructed pockets of made-to-order corn masa are filled with tender short rib. Take a tip here from Salazar's former partner in crime Dan Wright, whom we saw at the bar cutting in with the sauce spoon and heaping as much cilantro/hot chile pepper aji verde into the pockets as he could. Wright leaned in and smirked, "If you want to have some fun, call this 'chimichurri' in front of Jose." Even friends can spar over semantics.
What I enjoy most about Mita's is how Alfaro and Salazar constantly reach for bold yet balanced flavors. Still, some of the side dishes were inconsistent. A red snapper ceviche had a stirring mango-hot pepper flavor, but the fish was "overcooked." Long-cut fried plantain chips served elegantly—fanning upward and outward from their saucepan—were stunningly crisp on one visit, but drastically salty on another. An awkwardly assembled heart of palm salad came with a heap of saturated greens on top of the Roncal cheese and orange wedges. But these are normal quirks—a sign, if nothing else, that the kitchen needs a few more turns around the dance floor.
Let's be clear—you will pay downtown prices for entrées, which start near $30 and climb higher fast. My advice: Sell your car if you have to. Domino-thick slices of tender lamb loin arrived swimming in a piercing fennel soubise alongside smashed potatoes that pick up a vegetal sweetness from Spanish olive oil, one of four varieties the kitchen uses. A bone-in Duroc pork chop had a snappy salt crust and a soft, lovely chew, perched regally atop a medley of seasonal beans and succulent roasted chanterelles. But true culinary adventurers should opt for the paella for two. Mita's version is built on calasparra rice and finished in the Valencian style with sweet peppers, chorizo, chicken thighs, shrimp, clams, mussels, and octopus. At close to $60, it's pricey, but worth it.
It's a tribute to Mita's professionalism that my friend and I were never pushed toward sweets when we were clearly so fat and happy. As a public service, however, I pressed on. Yes, there is a dessert menu, where you'll find an outstanding chocolate torte served with a housemade dulce de leche ice cream. It adds a welcome salty antidote to the richness of the chocolate. But you'd be better off finishing with a glass of Fino En Rama, a palate-cleansing sherry with a raisin nose and a bone-dry finish.
When I first saw Mita's glamorous space and all the intense flavors on the menu, I felt as if my id had opened a restaurant. Aside from a quibble or two, it never disappointed. It speaks to Salazar's skill as a restaurateur that a place this ambitious can feel complete so quickly after opening. It's clear he's firing on all cylinders. This is a family table where it's an honor to have a seat.
fyi
Mita's
501 Race St., downtown, (513) 421-6482, mitas.co
Prices
$5 (pan con tomate)–$59 (paella for two)
Hours
Mon–Sat 5–10
Credit cards
All major
The Takeaway
Deftly executed comfort food ripe with the flavors of the Spanish diaspora. Service is attentive and friendly, but there's a bit of hovering. Cab it if necessary—the drinks are not to be missed.
Facebook Comments