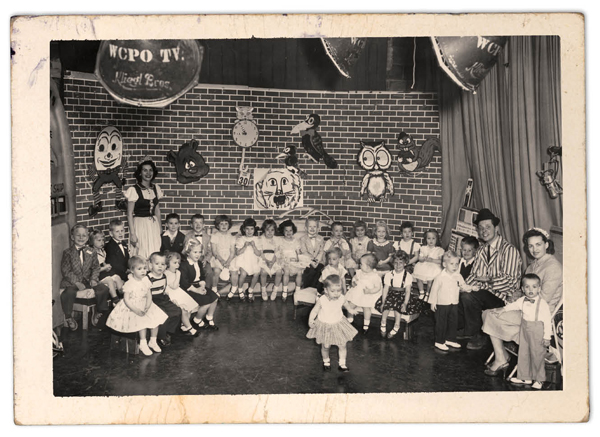 Photograph courtesy Mike Martini, President, Media Heritage, Inc.
On June 4, 1946, a flickering signal beamed from  station W8XCT into televisions in Cincinnati. The landmark event should have galvanized the city—except for the fact that hardly anyone saw it. There were only two TV receivers in Cincinnati at the time. W8XCT was an experimental station developed by Powel Crosley through his WLW radio broadcast company. Crosley had been granted a permit to create a television station in 1937, but progress in the new medium was stalled by America's entry into World War II. After the war, W8XCT broadcast, if only for an hour each day, until February 1948, when it morphed into WLWT. WKRC, owned by Taft Broadcasting, started broadcasting in April 1949, and WCPO, owned by Scripps Howard, hit the airwaves three months later. With three national media companies in town, Cincinnati was suddenly at the forefront of a change that would transform life in the United States.
By 1950, there were TVs in bars and taverns, where people would go to socialize while watching pretty much anything that was on. The typical family didn't own one, so it was common for passersby to cluster on sidewalks outside furniture stores, eager to watch the black-and-white images through plate-glass windows.
The brand new medium needed material fast, and what came across the airwaves in those early days might now seem amateurish to modern eyes. But that burst of creativity produced programs and personalities that became part of the fabric of the city—and went on to influence TV land in forms and formats (the kids' show, the daytime talk show, the late-night comedy show) that live on to this day. It was the golden age of bracingly live, occasionally nutty, unabashedly local television. And if you were part of it, the glow still lingers.
The talent came from the city's radio stations, recording studios, and playhouses. Personable folks were literally recruited right off the streets. Experience was in short supply, since no one had done television before, and missteps and mistakes—broadcast live—were par for the course. 
Len Goorian joined W8XCT as dancer in 1947. He became a producer there and for WCPO, WKRC, and WCET: Nobody really knew what the hell they were doing. Every day you tried to see what would work. If it worked, you were successful; if it didn't, you tried something else. Most of the directors were from the theater. They saw TV as a proscenium arch, and that's how they filmed it. It didn't occur to them you could cut in and get a close-up. I remember one of the directors said, "Never turn your back on the camera," so everybody sidled in like crabs.
Nick Clooney hosted The Nick Clooney Show on WCPO and WKRC and later became the news anchor on WKRC: My sisters Rosemary and Betty were working with WLW radio in 1945, and I was the tag-along kid brother. They left in 1946, but two years later Betty came back and became one of the early television pioneers, doing Boy Meets Girl with Bob Shreve and Bill Nimmo. During those early years they were inventing it. At first it was simply radio with pictures. That was certainly the case with Ruth Lyons. It was her radio show—they just took a picture of it. Ruth thought that what was most important was the studio audience and the performer. The camera was an eavesdropper.
Mike Martini is president of Media Heritage, Inc., at the Voice of America Museum in West Chester: A lot of the great early performers came from radio. The first stars were the ones who could make the transition.
Bob Gordon was the manager at WCPO from 1963 to 1981: Managers would bump into someone who was personable and attractive and articulate and put them on a show. They had no credentials to be there. We did learn something early on—TV was, and still is, a personality-driven industry. The person in front of that camera made it work. Or not.
Len Goorian: It was very simple entertainment, and everything was live until tape came in. My first program was Dance Time. Me and Bill Nimmo and Nancy Wright and an orchestra. I remember my wife-to-be, on New Year's Eve, came to the show. We had a wonderful group of musicians, but the pianist was a tippler. We were live on the air, and he was drunk and fell off the damn piano stool. But we just kept going. One time we had an elephant come into the studio as part of a show. Just before we went to the network the elephant relieves himself. Things like that would happen on the air and that was just part of it.
•••••
One of the first popular shows was WCPO's Paul Dixon's Song Shop, hosted by Dixon, a disc jockey and news reporter on WCPO radio. He and local beauty Dotty Mack pantomimed to records. The show was such a hit in the afternoons that Mack got her own show, Pantomime Hit Parade, in the evenings, cohosted by Colin Male and a young man named Bob Braun.
Len Goorian: Somebody had the idea to put a disc jockey on television. We were on three hours a day—two hours locally and one hour on the network. But Paul Dixon could talk for three hours without stopping. He was a character.
Wanda Lewis, wife of "Uncle" Al Lewis, played Captain Windy on The Uncle Al Show: WCPO was getting ready to go on the air, and they came up to Cleveland where Al was working at the Scripps sister station. They had all the equipment and the cameras, but they didn't know what they were going to take a picture of. Al was hired as art director. We drove down to Cincinnati for a big meeting with Paul Dixon and a few others who were on radio. Dixon said, "I have no trouble talking and playing the records, but what am I going to do while the song is playing—stand there and smile?" Al told him that up in Cleveland we were doing pantomimes. Al said, "I can paint a space and you put a hat on and pretend to be singing and move around." Al got a drawing board and chalk. I was standing quietly against the wall, hiding, when Al said, "Come over here. Draw a picture depicting the record." So I did. Then Paul said, "Do you want a job?" I said, "Sure, why not?"
Mike Martini: By today's standard, we laugh. But back then it was creative.
Mary Jo Schottelkotte, daughter of long-time WCPO news anchor Al Schottelkotte, is making a documentary about local television from the 1950s to the '80s: The networks were coming to shop our talent. People would travel here to see how it was being done. This was before videotape so they would come to town and sit in their hotel and watch. Dixon went to New York; Dotty Mack went to New York. Ruth did a national run. Uncle Al did a national show. Midwestern Hayride [a country music showcase] did quite well. Every market had their favorite people, but what drew the networks here was the remarkable ratings we were getting. That would get them more sponsors.
•••••
Paul Dixon—his friends called him "Paul Baby"—was picked up for a year by the DuMont Network and moved to New York, but he returned to Cincinnati in 1955 and went to WLW to host The Paul Dixon Show. The variety format emphasized his wacky, sometimes ribald, humor.
Bonnie Lou had already made a name for herself as a King Records recording artist when she was tapped to become cohost of the Dixon show: I was doing Midwestern Hayride and I alternated with Marian Spelman and Ruby Wright doing The Paul Dixon Show. One day he came up and said, "I'd like to have you with me every day. We fit one another." And we were together for 20 years. The show was off the top of his head. You had to know how to ad lib. That fellow who's on in New York [David Letterman], he was a set-up boy in Indianapolis. He learned a lot from Paul. [Letterman] gives a ham away, but for Paul Baby it was a salami. He'd shake that salami—oh my gosh. He was a little vulgar, but he got by with it. I don't know how. I think he just really loved his audience.
Dave Letterman has hosted Late Show with David Letterman on CBS since 1993 and before that Late Night with David Letterman on NBC for 11 years: I watched him every day when I was working as a booth announcer at Channel 13 in Indianapolis. It was the only bright spot in the mind-numbing tedium of the job. The show was the same every day. I found that hilarious.
Michael Flannery, comedian and host of WXIX's Club 19 in the 1990s: It was a great show, just this guy being goofy. I found out later that I didn't get any of the jokes.
Colleen Sharp was a featured singer on The Paul Dixon Show and The Bob Braun Show: Paul never understood why he was so popular. I remember we were doing the show at the Ohio State Fair. They'd bring us from the hotel on a bus, and every day as we drove up he'd crane his neck to see if anyone had come. And of course the stands were full. I'm sure he thought every day that this is the day no one would come.
•••••
The Uncle Al Show began on WCPO in 1950 and stayed on the air until 1985—the longest-running live children's program in television history. Though Al Lewis had come to WCPO's Mt. Auburn studio as the art director, he was a talented musician, and because the station needed to fill time he was given a nighttime musical show that moved to an early morning slot. 
Wanda Lewis: I remember Al said, "Who's going to watch television at 8 o'clock in the morning?" One day while they were playing, they left the door of the studio open, and he saw a couple of kids watching. He told them to come in, and he played and they danced. He talked to them on the air. The next day there were seven or eight kids, and he told them to come in and dance. This went on for a few days, and then the switchboard operator said, "People are calling saying they want to get their kids on our children's show, and I told them we don't have a children's show." It started from there. I don't remember what started the Captain Windy business. One day they put me on a counter with a fan blowing in front of me, and I was waving. They filmed that and put in the blue-sky background. Al would look up and say, "Look, kids. It's Captain Windy." The name probably came from Paul Dixon. He called me "The Windy One" because I was so shy and quiet.
Bob Gordon: Al built the sets and painted them and wrote the stories he told on the show. After every show they had a meeting with the staff and talked about how they could make it better tomorrow. People think doing a kids' show was a piece of cake. It's not.
Mary Lynn Tangi is the daughter of Mike Tangi, a director and producer at WCPO from the early '50s to the early '60s who was perhaps best known for performing as "The Kwik Brothers" in commercials for King Kwik convenience stores: My dad directed The Uncle Al Show and he also did 33 character voices. He was cuing the floor and the talent and then he'd have a conversation with Uncle Al as a character. There were two mics—an open mic and a head-set mic. He went back and forth.
Larry Smith, performer and puppeteer on The Uncle Al Show from 1957 to 1962 and Larry Smith and His Puppets from 1968 to 1974: I went to Cincinnati to work in the art department with Al and Wanda. I started doing a show from 8 to 9 called Puppet Time. It had cartoons, and I came in during the breaks. I had to learn to ad lib to fill the time. So I told the kids to send in their pictures [of Teaser the Mouse]. Al couldn't figure out how I was getting all these letters. He said, "How are you getting all that response?" Then I'd be on Uncle Al from 9 to 10. And then we'd do an 11 to 12 show. That's when Hattie the Witch became popular. She would come in and steal Uncle Al's hat and throw Humpty Dumpty off the wall. Going network [the show aired nationally in 1958 on CBS on Saturdays]—that was big time.
•••••
Uncle Al appealed to younger kids, who then "graduated" to The Skipper Ryle Show, which Glenn "Skipper" Ryle helmed at WKRC from 1956 to 1973. A local favorite for adults was Bob Shreve, a comic and singer, whose show The General Store with Bill Thall on WLWT was popular and innovative. Shreve went on to host WCPO's The Schoenling All-Night Theater in the 1960s—a precursor to his 10-year stint on WKRC with The Past Prime Playhouse, which lasted until the mid-1980s. But the biggest star in the local galaxy throughout the Golden Age was Ruth Lyons. The 50-50 Club, her talk show with visiting celebrities and a studio audience, was broadcast live from noon till 1:30 throughout the Avco Network, in Indianapolis, Columbus, and Dayton, as well as in Cincinnati.
Charlie Day was on the production crew at WLWT from 1957 to 1960: The stars would come in there like you were in Hollywood. The first day I was on the job, Jimmy Durante was the guest. Sponsors would drop everything to get on her show because she had a huge audience. People clamored for her, just like they do for Oprah. [Her audience would] all be dressed to the nines—with the hats and the gloves—because she did. Oprah didn't do anything Ruth Lyons hadn't done 40 years before.
Bill Myers was the longtime announcer and weatherman at WLWT: It was quite something to watch her work, because being on the air for 90 minutes five days a week, you couldn't script all that. But her background and experience allowed her to speak extemporaneously. Ruth always had a waiting list for sponsors. The commercials—she did them her own way. She'd grab some copy the ad agency asked her to read and she'd toss it aside. They'd be pulling their hair out. But that's what people loved about her. When she was on the NBC network [in 1951], commercials had to be 60 seconds and follow a script, and that just wasn't her style. It didn't work out.
Dick Murgatroyd worked as a producer in the 1960s and '70s at WLWT: You never had an empty seat in that audience. And when they did a commercial, people bought the product. If Ruth didn't like the product, it didn't get on the air. That's how much control she had. There's a story where she mentioned a perfume she was wearing that wasn't even a sponsor and within three days the stores had sold out.
Mike Martini: Not everybody liked her, but they trusted her. She always stood up for what she believed. There was an African-American vocalist named Arthur Lee Simpkins who she had on the show, and one day she decided to dance with him. All this hate mail came in. So the next day she just ripped into the people who had sent the letters.
Mary Jo Schottelkotte: Ruth Lyons was one of the first local shows in color in the country [beginning in August 1957]. And because of that we were one of the first areas where people started to buy color television sets. In the industry publications, they referred to Cincinnati as "Colortown USA."
Bill Myers: The first color telecast in Cincinnati was January 1, 1954, when we carried the Rose Bowl Parade. Then they started doing an occasional program on the network in color. Ruth Lyons had RCA as a sponsor, and she would say, "You have to see it in color. You have to get a color television." In July or August of '57 we got our color camera. On the weekends they'd go to Crosley Field and televise games in color. Then they put the Hayride on in color. Anytime your talent was on camera they made a point to say, "You should see this in color!" WLWT became the first station ever to televise night baseball games in color. Very beneficial to color-TV-equipped taverns. And, naturally, to color TV receiver sales.
•••••
By the mid-1960s, live local programming was no longer a growth industry. Stations could air network shows at far less expense than producing their own. WLWT, however, continued its weekday lineup even as personal tragedy and illness struck Ruth Lyons, the station's beloved "mother," in rapid succession. In the fall of 1966, Lyons's 21-year-old daughter, Candy, died of breast cancer. Not long after, Lyons had her own health crisis.
Dick Murgatroyd: Ruth came back after Candy's death, but her grief was so deep that it was more than she could handle. She got through Christmas for her [Ruth Lyons Christmas] fund, and then that was it.
Colleen Sharp: They kept it quiet, but she had had a stroke and had difficulty communicating. We'd be there at a quarter to 12 when she'd call in and say, "I can't do the show." And that was pretty tough for [her cohost] Bob Braun, finding out 15 minutes before airtime that he was doing the whole show.
Dick Murgatroyd: She never said good-bye on the air. Walter Bartlett, the GM of Avco, read her [goodbye] letter on the air. There wasn't a dry eye in the audience.
Nick Clooney: On January 27, 1967, she did her last show. We only learned after that program that she had decided to retire. We didn't know who was going to take over. The presumptive heir was Bob Braun, but he had just started his own afternoon show that was doing very well. I recall talking to Bob one night—almost all night—about whether he should take over The 50-50 Club. I tried to talk him into keeping his own show. I told him The 50-50 Club would always be Ruth's show. She had been such a giant. Turns out I was wrong. He made his own name and his own identity.
•••••
The waning years of the Golden Age did include some highlights, none higher—or lower—than the Chicken Wedding, perhaps one of the first instances of "must-see TV." Aired on The Paul Dixon Show on Tuesday, March 11, 1969, it was so highly anticipated that, in those pre-TiVo days, kids cut school and adults skipped work to watch it.
Colleen Sharp: Kroger was one of our sponsors, and Paul would say "Kroger has a sale on chicken" and then throw the rubber chicken over his shoulder. The women would send in clothes for the chicken. Then somebody sent in another chicken with a mustache on it. So we had two chickens. Eventually they said it's about time they got married. That silly chicken wedding was most memorable to me because I was thinking at the time, This is the dumbest thing we've ever done.
Michael Flannery: On the day of the Chicken Wedding, I pretended I was sick so I could stay home and watch it. I felt like I was invited. Rubber chickens were getting married. At 8, who could miss that?
•••••
Like Ruth Lyons, Dixon's program ended not because of changing tastes, but because of personal tragedy and illness. In 1970, his 19-year-old son, Greg, was killed in a car accident. His own ill health followed.
Bonnie Lou: I think Paul really died the night his son was killed. He was never the same after that, he really wasn't.
Colleen Sharp: When he died [in December of 1974], it was so sudden. We all went to work on Monday, and Tuesday there was no Paul Dixon Show. We always said that Paul died of a broken heart.
•••••
As live programming dwindled on the network affiliates in the early '70s, there were newcomers on UHF channels 19 (WXIX) and 48 (WCET). In 1972, Lilias Folan began a 20-year national run on PBS with Lilias! Yoga and You. On WXIX, Larry Smith and His Puppets launched a five-year stint in 1968. They were joined at WXIX in the early 1970s by Dick Von Hoene, whose fright-wigged character The Cool Ghoul hosted Scream-In, an all-night line-up of horror movies. And Nick Clooney hosted a variety show in the late '60s and early '70s, first on WCPO, then on WKRC, before shifting over to the news desk. But the handwriting was on the wall. In 1972, Midwestern Hayride ended its long run. There was no attempt to replace Paul Dixon after his death in 1974. And in the mid-1980s, The Bob Braun Show and The Uncle Al Show, the last remnants of the Golden Age, were cancelled.
Nancy James was a singer on The Bob Braun Show from 1974 to 1983: The weekend I was hired was the weekend Paul Dixon died. I was part of the youngsters—the "Fun Bunch." I saw it gradually change. Bob was very accepting because he wanted the show to adapt to the changing audiences. But it just didn't really work. We changed what made us what we were.
Nick Clooney: Bob told me he was shocked that the show was cancelled. He thought the people who ran the station would preserve the local element. It wasn't losing money when it went off the air, but it wasn't making the margin that the syndicated shows were making.
Bill Myers: There was the perception that more and more women who had been stay-at-home moms were entering the workforce, and it's undeniable that that was the case. The ones who were watching were older and were not perceived as potential customers for the sponsors' products.
Dick Murgatroyd: Another thing that impacted us was that the availability of guests began to dwindle. For years you had had the Beverly Hills Supper Club and the Lookout House and Kenley Players and the Playboy Club, so there was a tremendous source of stars who performed here. And they wanted to be on because we had a huge audience. When those sources dried up, those stars weren't performing here anymore.
Bob Gordon: In the days when I started, management in TV was generally people who loved the medium, who felt like they were broadcasters. They were showmen. They weren't businesspeople. They didn't decide which show would be most cost-efficient; they did a show because it would be the best. There's been a total reversal of that in more recent years.
Michael Flannery: I grew up to be a performer because of the people on those shows. You'd see them out in public. My family went to the Ice Capades and the Clooneys were sitting right in front of us. To see people on TV that you could see in person made it seem attainable. You grew up thinking you could be on TV. Then it ended. I felt like I was a freshman and they closed the school.
Len Goorian: As far as bringing back the old times, you wish you could but you can't. Right now the TV and radio stations are fighting to get their profits in line. The expense would be beyond their means.
Nick Clooney: It wasn't just that TV was different then. We were different. Our expectations were different. Different things made us laugh, different things made us cry. We have changed as people. What we're looking at today is what we wanted it to be. We are much more immersed in a frank TV that wouldn't have worked back in those days. We'd have been put in jail. Right now we are in a fragmented society and a fragmented media landscape. We in America had been striving for consensus. We had been striving as individuals to become an amalgam. TV was doing the same thing. Then in society we started to focus on our individuality. We wanted to be different. We wanted to find our own little niche. But the one thing that I will predict is that we will have to find a consensus medium, something that we all trust to advance us as a nation, as a society—our national town meeting.
Ruth Lyons portrait courtesy WLWT / All other photographs courtesy Mike Martini, Media Heritage, Inc.
Originally published in the October 2011 issue
Facebook Comments