It is a scandal that nowhere at the University of Cincinnati is there any recognition or remembrance for the man almost single-handedly responsible for its creation. That man, who also created two Cincinnati hospitals and the Art Academy, remains unsung and known to but a few Cincinnatians today.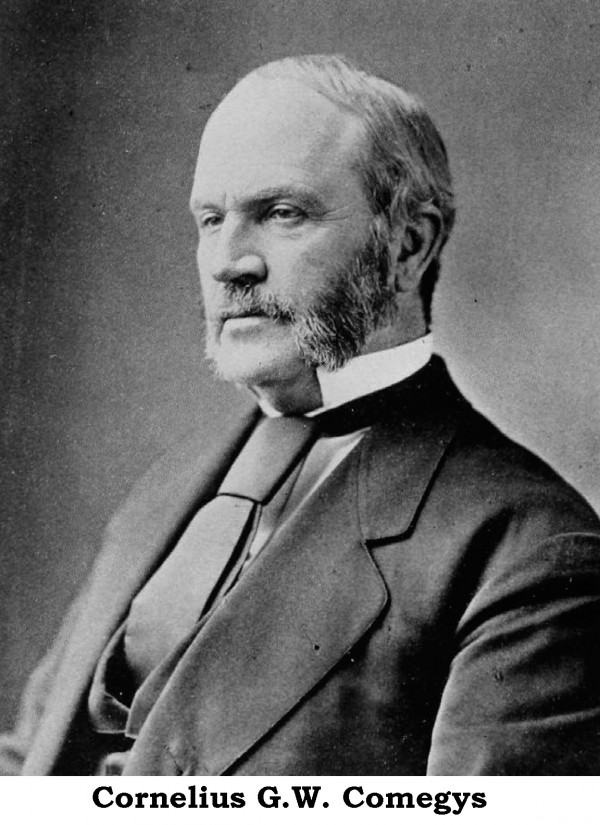 He was named Cornelius George Washington Comegys, and was born in Delaware in 1816. His father, Cornelius P. Comegys, served as governor of Delaware, and at least one of his grandfathers was a soldier of the Revolution. He started his career as a businessman in Indiana, where he married. That business failed and Comegys retreated east to attend medical school. On returning to Cincinnati in 1849, he built a good reputation for his effective care during one of the city's cholera epidemics.
A practicing physician for nearly half a century, Comegys is credited organizing the Miami Medical College and the Cincinnati College of Medicine and Surgery. He was a faculty member and trustee of  the Medical College of Ohio.  According to historian Reginald McGrane, Comegys was also instrumental in creating two Cincinnati hospitals:
"When James N. Gamble decided to found the Deaconess Home and Hospital he naturally consulted his friend, Dr. Comegys. These two men were also responsible for the founding of Christ Hospital. Dr. Comegys was the first President of the medical staff and was always regarded by the members of the staff as the 'Father of Christ Hospital.'"
He also served on Cincinnati's Board of Education and is recognized as among the founders of the Public Library of Cincinnati & Hamilton County.
In 1869, Comegys ran for public office, and he did so to save the University of Cincinnati. He ran for election to Cincinnati City Council with one intention, to introduce a motion to accept Charles McMicken's bequest to create a municipal university.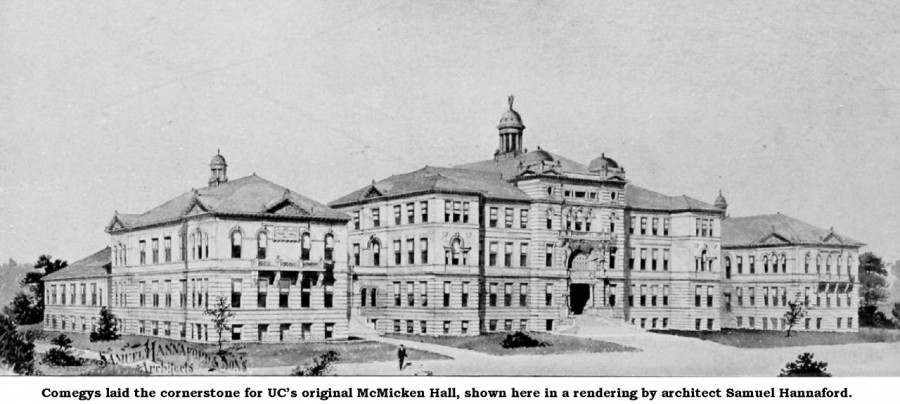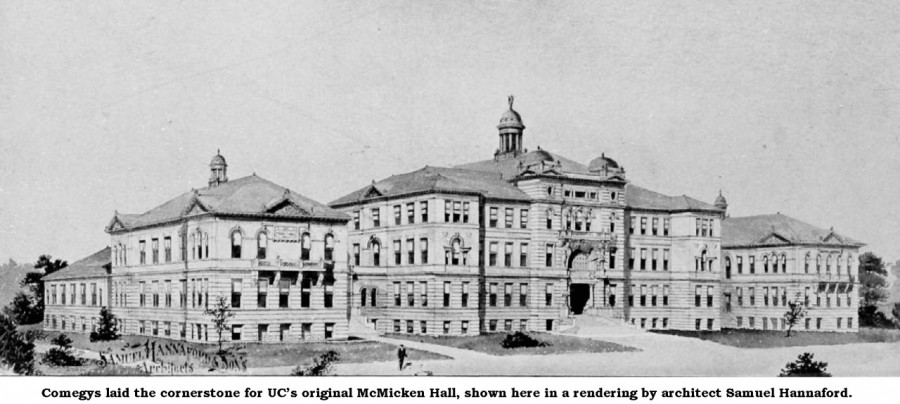 Today, everyone associated with UC eventually learns something about Charles McMicken and how he founded the university. Most hear about his will and how he left the bulk of his estate to the City of Cincinnati to found "two colleges for the education of white boys and girls" using "the Holy Bible of the Protestant version as contained in the Old and New Testament" as books of instruction.
What few people hear about is the legal brouhaha that tied things up for a decade. McMicken's heirs sued. Then the State of Louisiana sued. Then Cincinnati brought in an army of lawyers and aldermen.
McMicken's will finally landed at the United States Supreme Court, which ruled in Cincinnati's favor. But the city fathers—who were not convinced that $500,000 worth of rental property was sufficient—took no action to create McMicken's university.
On McMicken's death, Comegys had been appointed one of the administrators of the McMicken trust. He was mightily frustrated by the city's inaction. Comegys reasoned that, if he could not fight City Council, he would join them. He was elected and, after a month or so, made his motion.
Frank McFarlan, later to become the first graduate of the University of Cincinnati, was in the audience when Comegys introduced his landmark City Council resolution.
"When he was ready to present the subject of the University to the City Council, several high school boys, including the speaker, were present. With a strong appeal to the President of Council, he demanded the attention of its members, saying among other things, he had sought election to Council for the purpose of securing aid for the University of Cincinnati, he had not bothered them before with ordinances nor with speeches, and he claimed he had a right to demand their attention. His speech was effective and the measure carried."
On Comegys' recommendation, the city approved a series of classes in drawing and design. In April 1870, Cincinnati's University was finally created by act of the Ohio General Assembly. For the first quarter century of the university's existence, Cornelius Comegys served on the university board. He died in office as chairman of the board in 1896.
He was a hands-on director. For example, it was Comegys who prevailed upon the University to offer classes in Spanish, and he was instrumental in creating UC's College of Medicine. Without Comegys, the city fathers might still be waiting to create their university.
As noted, Comegys was responsible for the first classes offered through the University of Cincinnati in drawing and design. For 15 years, an uneasy partnership locked the design school to the university, until the generosity of Nicholas Longworth enabled the art faculty to fly away to Mt. Adams. There the former UC Design Department took up residence with the new Art Museum as the Art Academy of Cincinnati. So Comegys may also claim responsibility for founding that fine institution as well.
On his death, the UC Board of Directors passed a resolution reading, in part:
"His life was active and progressive, not only in his professional career as an eminent and successful physician for almost a half century in this community, but also as a well informed, broad-minded, and public spirited citizen, who willingly assumed his share of the responsibility in a movement made in this city for public improvement ; his labors in the cause of humanity, his deeds of charity and benevolence, his conscientious and effective work as a Christian and active member of his church, his laudable record as an earnest and cordial friend of our Public Schools, and as an ardent advocate of higher education, have endeared him to the hearts of his fellow-citizens, and his influence for good will be enduring and justly appreciated in this community for all time to come."
Yet, not a monument anywhere.
This article was reposted with permission from Greg Hand, editor of Cincinnati Curiosities
Facebook Comments