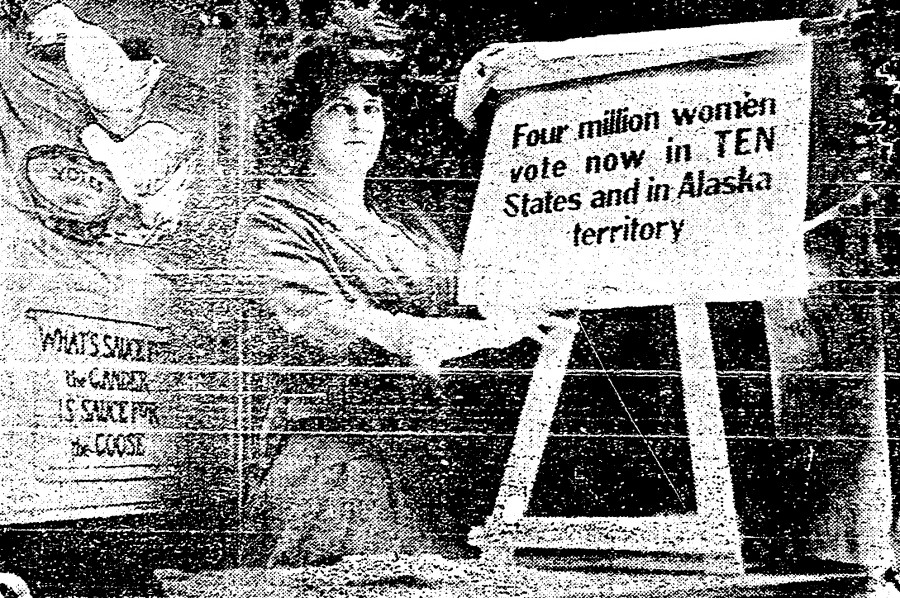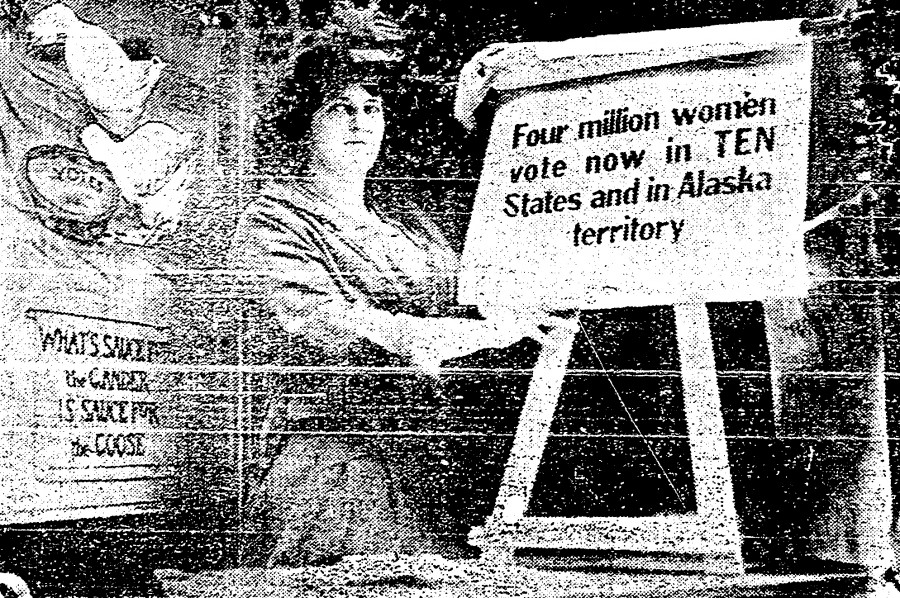 Cincinnati's suffragettes never had the fire of their British counterparts, but they sure scared Cincinnati men.
Many of Cincinnati's suffragettes (or "suffragists;" the terms were interchangeable for awhile) would have proudly called themselves "Lucy Stoners." Many of them may have actually met the famous feminist Lucy Stone, who organized one of the first National Women's Rights conventions in Cincinnati in 1855. Ms. Stone was married to Henry Blackwell, a Cincinnati businessman who strongly supported her feminist activities, and was regularly in residence in Cincinnati when not traveling the lecture circuit.
If you have seen the 2015 film, Suffragette, you know that British advocates for women's rights employed a range of violent tactics in pursuit of their political goals. The Cincinnati suffragettes almost uniformly renounced such tactics, despite some of the British leaders lecturing in the Queen City. British visitors to Cincinnati included Emmeline Pankhurst and her daughter Sylvia and also Bettina Borrman Wells. The president of Cincinnati's Central Suffrage Committee, Edna Ohnstein, expressed her disapproval to the Cincinnati Post [10 September 1913]:
"We certainly are not bringing Mrs. Pankhurst to Cincinnati. We oppose her methods. I shall vote against giving her meeting any support, and shall do all I can to discourage her coming. We do not wish to give Cincinnatians the impression that we believe in violent English methods."
Cincinnati's suffragettes never unified. There were at least three local organizations fighting for women's suffrage. In addition to the Central Suffrage Committee, the Twentieth Century Club and the Susan B. Anthony Club were also very active in the movement. Some of Cincinnati's very active suffragettes included Dora Easton, Helen Wise Mallony, Alma Kephart Wilson, Sarah Siewers, Margaret Bigelow, Marguerite Molliter, Nellie Robinson, Mary Yeager, Laura Procter, Mary Sherwood, Maude Gillespie, Ida Ricketts Snell, and Mary Douglas.
Much of the work in Cincinnati involved public speaking because change required a vote and only men could vote. At one open-air rally featuring Bettina Borrman Wells, according to the Cincinnati Post [18 April 1908], women invited men to listen, but those who did felt like they were under attack:
"And the men who accepted the invitation heard their sex get terrific jolts and stings from the women, who, from the seat of a dilapidated express wagon, expounded 'The Burning Question.' There were 500 men present and less than a handful of women, barring the suffragettes who promoted the meeting."
Jolted or not, few men were willing to go on record with their opinion, whether for or against women voting. A week after the rally, the Cincinnati Post [25 April 1908] observed:
"Cincinnati businessmen are certainly the shy young things. In business matters they sustain their reputation for being practical, level-headed and out in the open for what they think. But ask them, 'What do you think of the woman suffrage question?' or, "Will allowing women to vote purify the ballot and improve civic conditions?' and they stand on one foot for a moment and bashfully plead to be excused."
Typical was John L. Shuff of the Union Central Life Insurance Company:
"You've got me. I don't know. That's not in my line."
Justice of the Peace John Marshall Smedes was an exception, and made it clear that he was against the proposition:
"It would be the greatest calamity that could happen to allow the women to vote."
That inspired one Cincinnati suffragette, Laura C. Haeckl, to fire off a letter to Justice Smedes, noting that non-voting women had long been required to implement plans concocted by elected men, such as the school board:
"Women are fit to teach schools. Why should the curriculum of the schools be left to men?"
The first major showdown on the issue came in 1912, when Ohio's (male) voters were asked to decide a proposed amendment to the state's constitution. Amendment 23 would have given women the right to vote. The initiative was defeated 58 percent to 42 percent. A similar issue went down to even bigger defeat in in 1914. It took a national Constitutional Amendment giving women the vote in national elections to convince Ohio voters to extend the vote to women for state and local contests.
The Cincinnati Times-Star, which opposed woman suffrage, harrumphed [24 February 1920] that presidential campaigns were no longer Old Boys' Clubs:
"We can remember the good old days when political knighthood was in flower; when trips to rallies, conventions, and inaugurations were eventful; when poker not bridge, was played, when tea was not served. Think of what the next inauguration is going to be like, with toques and turbans and tea, instead of white two-gallon hats covering ten-gallon thirsts."
When women finally showed up to vote in the 1920 election, the Cincinnati Post, in a front-page headline [2 November 1920], expressed some amazement that few women were confused by the voting process, but acknowledged:
"Contrary to fears formerly expressed by anxious politicians, woman suffrage did not ruin one home Tuesday, or even spoil a meal."
This article was reposted with permission from Greg Hand, editor of Cincinnati Curiosities
Facebook Comments