Photograph by Greg Hand
Cincinnati's iconic institutions all have unique origin stories, passed down through the generations. These myths and legends are entertaining, and some are even kind of true. Take Arnold's Bar & Grill, for example.
There is no place quite like Arnold's in all of Cincinnati. It fairly reeks of history and offers comfort, good service and meals worth coming back for, flavored by the assured poise of tradition. Arnold's is a treasure. Over decades of repetition, Arnold's origin story has remained remarkably consistent:
Simon Arnold first opened his saloon in 1861.
The Arnold family ran the bar for 98 years until it was sold by third-generation Elmer Arnold in 1959.
Arnold's is the oldest continually operating tavern in Cincinnati.
That was the tale summarized by the Cincinnati Post [11 April 1959] when Ernst Wiedemann bought the famed pub from Elmer Arnold, grandson of founder Simon Arnold:
"For 98 years, the famed eatery at 210 E. Eighth street has been operated by one generation or another of the Arnold family. Elmer Arnold, 65, who bathed as a kid in the bathtub that occupies one of the upstairs dining rooms, finally has decided 'with deepest regret' to dispose of the property."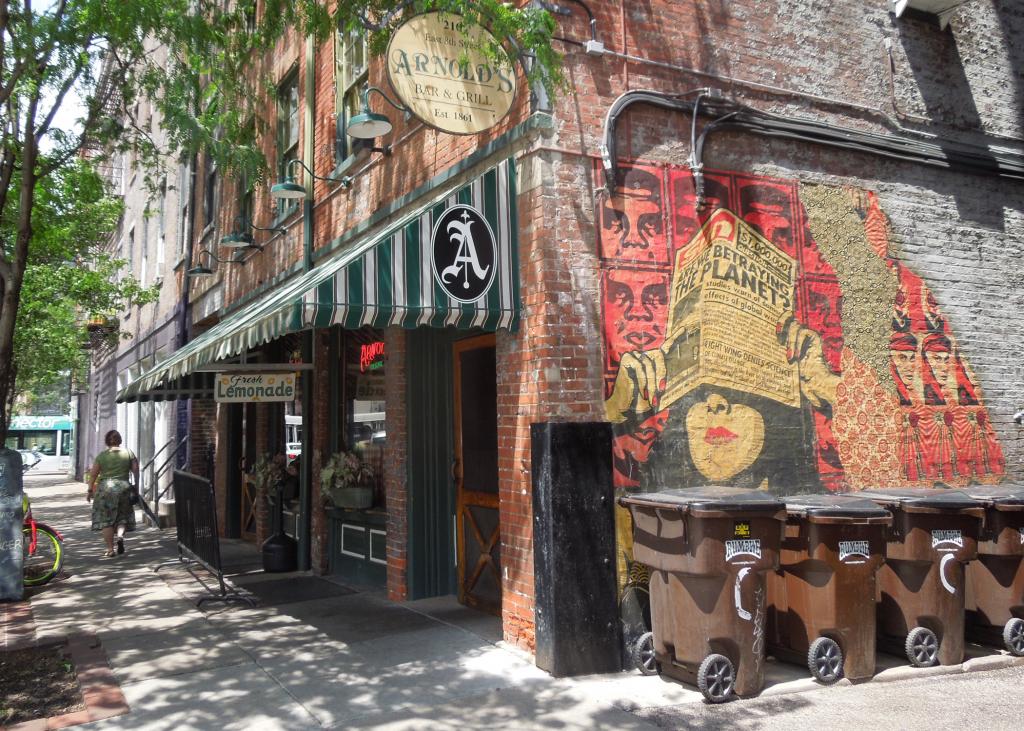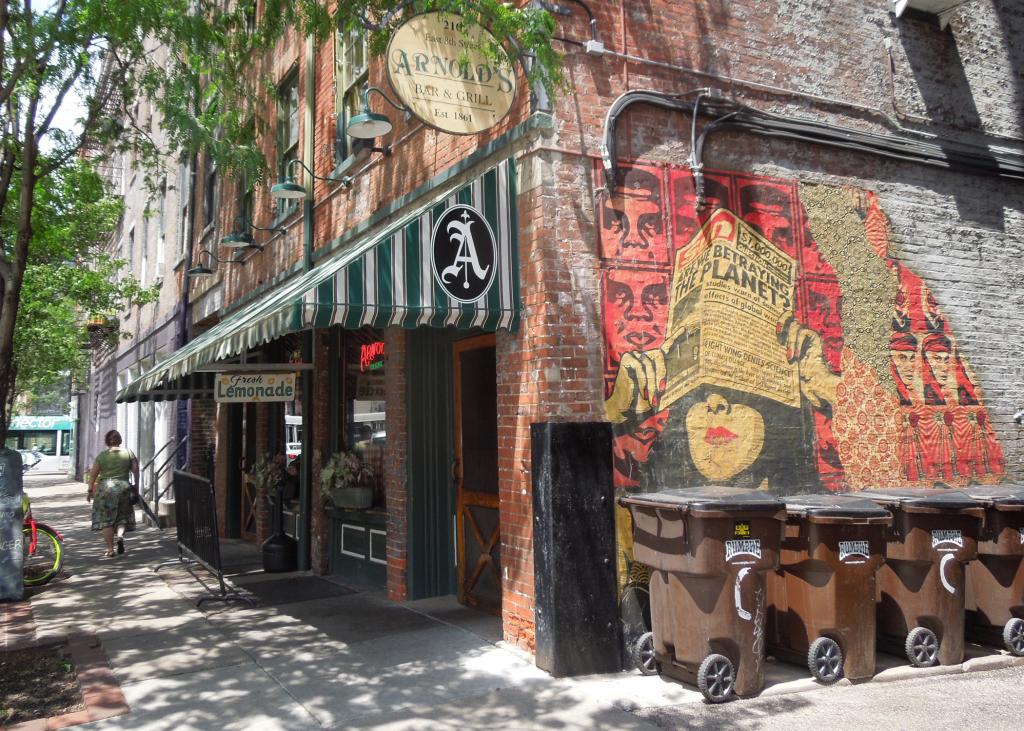 ---
Just a few months later, Wiedemann sold Arnold's to the Christos brothers and that legend continued, according to Si Cornell [25 May 1961] in the Post. The Christos brothers marked the alleged 1961 centennial with a truly Cincinnati commemoration: They struck a medal.
"The pair had a problem on how to celebrate their establishment's 100th birthday. They wrestled with it and came up with a golden medallion, which explains both Cincinnati progress and the changing times. The medallion says: 'Arnold's: 1861, Saloon; 1890, Café; 1933, Grill.'"
All of this would have been rather curious to George Weber and his wife, Wilhelmina, who operated a saloon in the very building now occupied by Arnold's from at least 1866 to 1877. Given the weirdness of historic Cincinnati addresses, it is even possible that George and Wilhelmina first opened a saloon in that very building as early as 1864.
The city directory for 1864 lists George Weber's saloon at 14 East Eighth. Two years later, it's at 10 East Eighth. This might suggest he moved a couple doors toward Main. However, 1866 happens to be one of those years that Cincinnati street addresses were totally renumbered, so it is possible 14 East Eighth and 10 East Eighth were the same building.
Cincinnati totally renumbered street addresses again in 1895, so 10 East Eighth became 210 East Eighth, which is Arnold's address today. To complicate matters, Arnold's occupies two addresses – 208 East Eighth and 210 East Eighth, formerly 8 East Eighth and 10 East Eighth. (Confused yet?)
According to the city directories, George and Wilhelmina opened their first saloon on that stretch of East Eighth Street in 1856, so Arnold's can claim a founding date five years earlier than they do.
---
If George and Wilhelmina Weber were running a bar in what is now 210 East Eighth in 1866, where the heck was Simon Arnold? The city directories track Mr. Arnold, progenitor of the Arnold's dynasty, from 1860 until his death in 1885. From 1860 to 1877, he is variously a carpenter, cabinet maker, laborer and billiard table maker. It is only in the last years of his life, from 1878 to 1884, that Simon Arnold is a saloonist.
It is true that Simon Arnold appears at 8 East Eighth Street in 1861, but he was not running a saloon. He was building billiard tables at that address for only one year, apparently in partnership with two other German immigrants.
From 1856 until 1877, it was the Webers who ran a saloon on the north side of Eighth Street, east of Main. George called his establishment the Elm Tree House. The city directory records this "coffee house" at 20 East Eighth. For a single year in 1863, George moved his saloon out to the northeast corner of Elm and Green streets in Over-the-Rhine. He moved back to East Eighth again in 1864. George died in 1871 and his widow, Wilhelmina Heschong Weber, took over running the saloon.
The Arnold family eventually became proprietors, but not before 1877, when Wilhelmina retired to the West End. After getting the keys to 10 East Eighth Street, Simon operated the saloon until he died in 1885. His son, Hugo, then became saloonkeeper.
The Arnold family did not own the property until 1905. All those years under George and Wilhelmina Weber and Simon Arnold, the building was owned by a wealthy Cincinnatian named Joseph Darr, who died in 1882. His estate collected rents until, according to the Cincinnati Enquirer [23 February 1905]:
"Edward Stark, administer of the Jos. Darr estate, has sold to Hugo Arnold a piece of property on the north side of Eighth street, at the corner of Pancoast alley, east of Main street, for $12,000. The property is 29½ feet front by 60 deep. The improvement upon the property is a three-story building."
In other words, the Arnold family purchased 208 and 210 East Eighth Street. The rest is legendary. Literally.
Hugo Arnold lost interest in the business when prohibition landed with a thud in 1920. He struggled for two years as a selling soft drink vendor but retired by 1922. An arrest on 20 September 1922 for possession (not sale) of bonded whiskey probably helped his decision. The next generation of Arnolds had almost nothing to do with the East Eighth Street building for the subsequent 11 years.
Throughout the 1920s, 210 East Eighth Street was occupied by a window-cleaning company. Next door at 208 East Eighth Street, the Fogel-Miller company opened a commissary, which later became the commissary for the B/G Sandwich Shops chain. Throughout Prohibition, the only Arnold family business housed on Eighth Street was Walter Arnold's jazz band.
When Hugo died in 1926, the entire Arnold family moved out of the Eighth Street buildings altogether. Hugo's widow, Pauline, and sons Bert, Elmer, Clifford and Walter (and Walter's jazz band) relocated to a big four-bedroom house at 1303 Delta. Elmer didn't sell this Mount Lookout house until 1959 – the same year he sold Arnold's Grill to Ernst Wiedemann.
---
Elmer quite openly disliked the saloon and restaurant business. He clearly preferred his successful career as a horseshoe nail salesman. Consequently, he didn't reopen Arnold's as Arnold's until 1933, when the market for horseshoe nails had pretty much dried up. In other words, there was no "Arnold's" at either 208 or 210 East Eighth Street from 1922 until 1933. Every decent bar gets time off for Prohibition, right?
Arnold's neon sign still claims an 1861 founding date. The "Yo Mamma" burger is so good you may be forgiven for quibbling, but Arnold's could easily tack another 5 years onto its history. (And maybe name a dish for Wilhelmina.)
This article was reposted with permission from Greg Hand, editor of Cincinnati Curiosities.
Facebook Comments