September 30, 2017
The day Lucia Pupparo met Skot Garrett, it was his first day at the Los Angeles marketing firm where she worked, and he tripped and fell down the stairs at the sight of her. "I should have taken it as a sign then," she says wryly.
The pair became good friends, and though they didn't start dating until some months later, they quickly recognized their mutual devotion to their profession—eventually starting an experiential marketing agency together in 2014 and moving, along with it, to Denver a year later.
They also bonded over a deep-seated love for sustainable food and farming practices. After getting engaged in 2016, Lucia and Skot decided to pursue their dream of owning an organic farm, purchasing 80 acres of cropland in Hamersville, Ohio, relocating to the Midwest a year later. It was here, at the newly dubbed Seven Seven Acres, that they got married this past September: a beautiful pond-side ceremony replete with rustic details, a naked cake, hay-bale couches, an RV photo booth, yard games, a fireworks display, and a massive bonfire as tall as a house.

Because they both had friends from all over the country and the world—Lucia's family is Argentinian but she was raised in Mexico—they had out-of-town guests shuttled in from the airport in a big yellow school bus, which stayed on property for the nuptials.
"We had friends who I didn't think we'd be able to ever have meet each other, and to have them all in one location was really neat, and was one of my favorite parts of the day," Lucia says.
Lucia's mother put together the whole sweets table—"brownies, key lime pie, Argentinian desserts," Lucia says. Her father and one of Skot's good friends, who is from Madrid, made dinner, a savory paella with rice, vegetables, spices, and meat served in a wide, flat pan.
The best part about their venue? "The farm came with three houses; we took one, his parents took another, and his brother and his family are moving into the other one," Lucia says. "We'll all live here and everyone is going to help with the land. It's very important to us to contribute in our own way to the [sustainable farming movement]."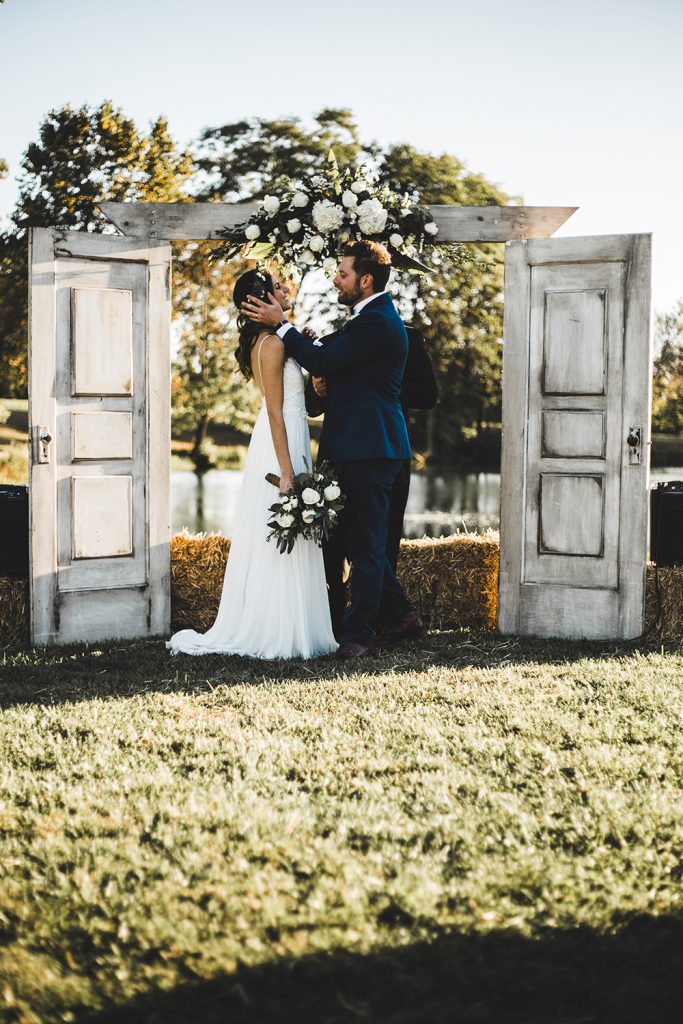 Photography: LE Photography | Venue: Seven Seven Acres, Hamersville, Ohio | Wedding Coordinator: Mary Barkocy, Turning Point Events | Flowers: Lutz Flowers | Cake: Happy Chicks Bakery | Groom's Attire: Express | Gown: Grace Loves Lace | Invitations/Favors: Wow! Diseño Gráfico | Makeup: Simply Makeup & Hair | Hair: Megan Morgan Hair Salon | Photo Booth RV: Signature Photo | Booth Band: Saffire Express | Catering (for appetizers): Jeannette's Delicacies Catering
Facebook Comments