November 17, 2017
Most wedding stories do not start with the ominous line, "It was a dark and stormy night." But for Jamie Dawn and Andrew Schlanser, that was what they got—and exactly what they had hoped for.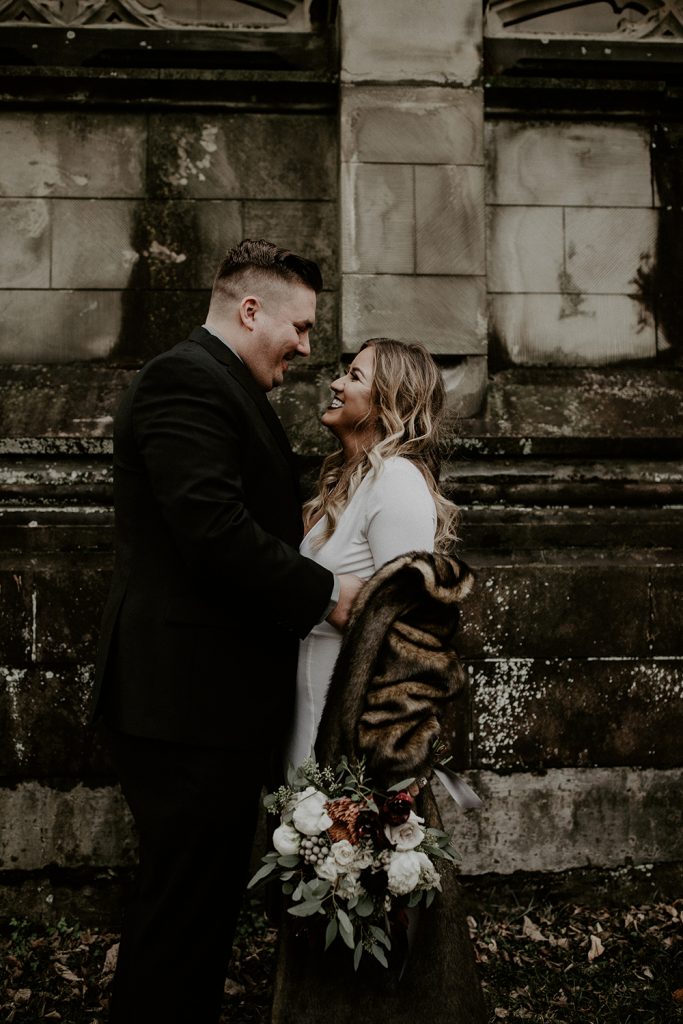 Their fall wedding at Urban Artifact, a historic church-turned-brewery, was planned around the dark and mysterious. "When I saw the space, I just died," Jamie Dawn says. "It was so beautiful. The ceilings are cracking, and that totally matched the aesthetic we were going for." She complemented the space with thrifted and found objects, like mismatched brass candlesticks, trinkets from her house, and branches she found in her mom's yard. "I even started gathering animal skulls I found in the woods," she says. "We wanted things that were thrown together, but strategically."
In fact, the reception had DIY touches galore, and unexpected ones. Beautiful slate cheeseboards at every table were assembled by Jamie Dawn and some girlfriends, using tile she bought at a home supply store. "People kept asking where they came from," she says with a laugh. "I told them to just take them home! They were tiles you'd put on your bathroom floor."

The dessert table was laden with treats, also courtesy of Jamie Dawn and her friends. Cinnamon rolls and chocolate bark flanked their three mini wedding cakes from Marina's Cake Box. The homemade desserts were the perfect snack after Andrew's chosen hors d'oeuvres of stuffed mushrooms and spring rolls, catered by Village Pantry Catering. "He got the food he wanted, and I got the photography I really wanted," Jamie Dawn says.
And Jamie Dawn knew Spring Grove Cemetery was the perfect location for that photography session. "I've never been the kind of person who really wanted photos of myself in my house, but after getting the photos of this shoot, I'm like, 'I want to get these blown up and framed!'" she says. Among the crumbling, gothic architecture at the cemetery, Jamie Dawn's dress dragged through some mud and Andrew's hair was whipped by the wind. And from the photo shoot to the reception, under a cloudy, gray sky, the Schlansers got the perfectly imperfect day they had dreamed of.
Photography: Hannah Breidinger, Hearts & Color Co. | Venue: Urban Artifact | Flowers: Gia and the Blooms | Cake: Marina's Cake Box | Groom's Suit: Men's Wearhouse | Gown: Lurelly | Seamstress: Karla Weisenberger | Makeup: Jessicalyn Denhart, Reign Beauty | Studio Hair: Ashley Zeuch, Life Spa | Catering: Village Pantry Catering | DJ: Brian Benton | Rentals: Queen City Vignette
Facebook Comments