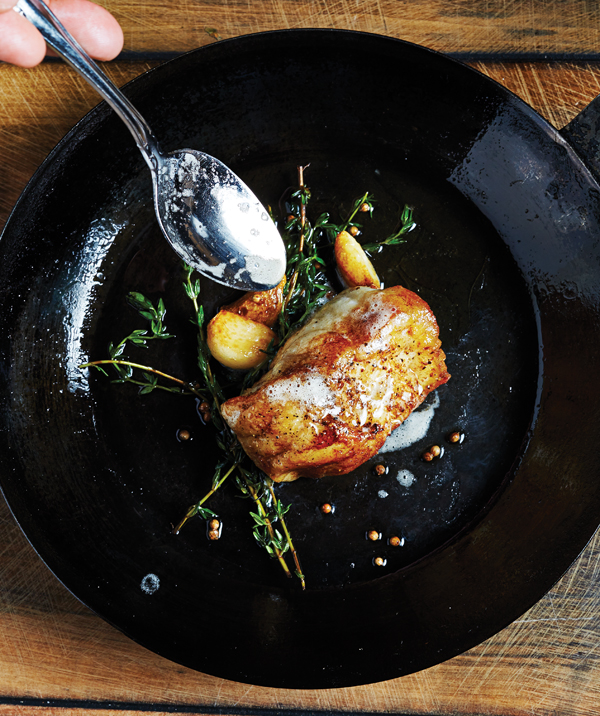 Photograph by Anna Knott
Where its sibling and next-door neighbor Senate runs a little hotter, Abigail Street downshifts to a slower flow with an inspired original menu featuring small-ish plates of a Mediterranean disposition. Meant for sharing, the 20 or so dishes work as a sort of mission statement to Dan and Lana Wright's belief in the fraternity of the table. With vibrant flavors that lean on Middle Eastern and North African spices and ingredients—harissa, merguez, ras el hanout, maftoul, and za'atar among them—Wright gives us exceptional seasonal dishes that create the impression of effortless everyday pleasure. A tagine of roasted vegetables and couscous evokes the comfort of Sunday suppers, while ricotta gnocchi sheathed in browned butter with melted leeks, asparagus, and mushrooms vies with the hanger steak (with Brussels sprouts, cauliflower, and romesco) for best in show, a dilemma easily solved by ordering both. It seems unlikely that a pale redhead with the pink cheeks of a newborn would make the best baklava in town, but Wright does—a warm, thin, less cloyingly sweet version with just the right amount of reverence for tradition. With two sugar-dusted triangles and a copper pot of cardamom-scented Turkish coffee between you, it's the beginning of an affair to remember.
1214 Vine St., Over-the-Rhine, (513) 421-4040, abigailstreet.com
Originally published in the March 2013 issue.
Facebook Comments