"And when the wind blows hard and the sky is black…"

On multiple occasions this season, references from D2: The Mighty Ducks have cropped up on the Bengals Blog. The main reason for this is that the movie—film, really—is easily one of the most culturally significant and influential of my generation. Another reason is because there were a couple of Bengals players that were eerily similar to a Mighty Ducks counterpart, starting with Carlos Dunlap and Michael Johnson as the "Bash Brothers" and extending to Giovani Bernard as Kenny Wu. After a little thought (ok, A LOT of thought), I did the only sensible thing one would do in my position: craft a list of comparisons for every member of the D2 roster.
Bengals fans, this is my masterpiece.

Carlos Dunlap and Michael Johnson as Fulton Reed and Dean Portman—AKA the Bash Brothers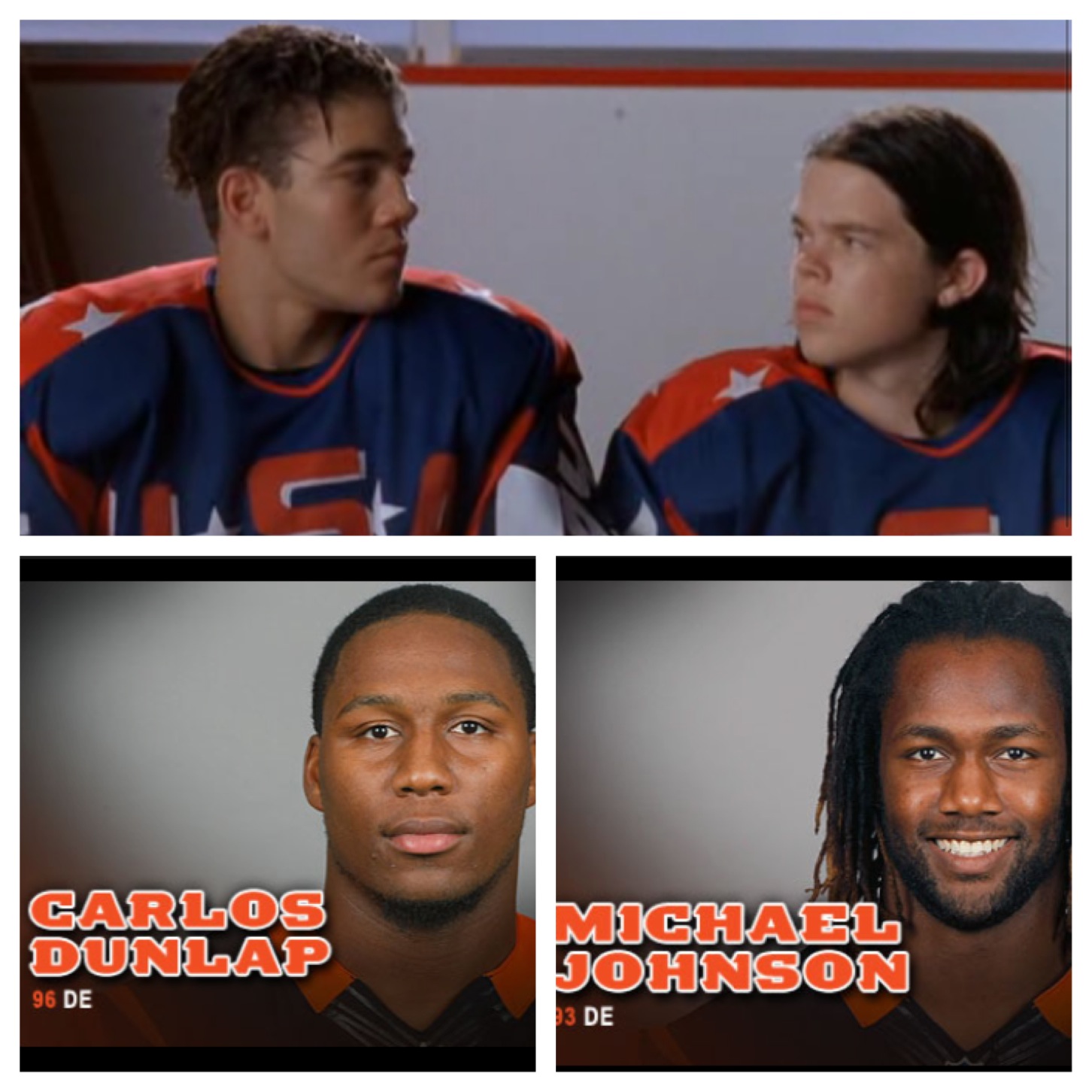 As previously mentioned, it was the Carlos Dunlap and Michael Johnson "Bash Brothers" comparison that got this Pulitzer Prize-worthy ball rolling. (Can you win Pulitzer's for blog posts?) The defensive end duo has played a big role in establishing the identity for this defense over the past few seasons, not only by getting after the opposing QB, but in the way they carry themselves. Both play with an unbridled, reckless abandon, not to mention constantly inciting the home crowd on big third downs or after huge defensive efforts. Plus, I imagine this is exactly what Carlos Dunlap was like his first day of high school gym class.
Fortunately, Dunlap and Johnson have displayed more maturity and leadership than Fulton Reed and Dean Portman (though sadly, less clotheslines), but we have seen their performance slip just a bit in the absence of a calm-yet-powerful and steadying presence. Still, the success of the Bengals defense starts with the frontline attack, an attack anchored by these two bashing behemoths.

Giovani Bernard as Kenny Wu
The Bash Brothers got this whole thing started, but the Gio Bernard-Kenny Wu comp was the obvious tipping point.
                  (via The Big Lead)

Pacman Jones as Dwayne Robertson

Both are ridiculously talented, both have reputations for being a bit flashy, both grew up in the south, and while I don't think Dwayne was ever involved in a strip-club shooting, he was part of the group that fooled the store on Rodeo Drive into believing they were related to Aaron Spelling (gosh, this movie has EVERYTHING), so close enough.
But more importantly, the two always have their teammates' backs.
I'm not entirely sure what the NFL equivalent is to lassoing an Icelandic goon in an effort to protect a teammate, but I have no doubt that Pacman would do it in a heartbeat, no questions asked.

George Iloka and Reggie Nelson as Connie Moreau and Guy Germaine
Just as Connie and Guy were arguably the two most unheralded members of the Junior Goodwill Games' Team USA, Iloka and Nelson have been arguably the two most quietly consistent Bengal defenders (just think back to how quickly Iloka made us all forget the preseason angst of who would start opposite Nelson at safety). They don't rack up the jersey sales or highlights or Pro Bowl noms or autograph requests that a few of their defensive brethren do, but they have been invaluable contributors to the AFC's top ranked D. (Also, who is Connie and who is Guy will be left completely up to George and Reggie.)
 
Jermaine Gresham as Jesse Hall

Aside from both The Jerm and Jesse being prone to a boneheaded play from time to time—remember when Jess botched the Flying V in D2?—both are also notorious and talented trash talkers…
…and Jermaine has a reputation among his teammates for having the best one-liners in the Bengals locker room, much like Jesse.

Kevin Huber as Lester Averman

Aside from the physical resemblence (sorry, Kevin), something like this would only happen to Averman:
                                 (via The Big Lead)
Domata Peko as Greg Goldberg

There are clear similarities here—run-stuffing and block-absorbing defensive tackle vs puck-blocking goalie—but if I'm being honest, this is really more of a funny, gregarious, outspoken, portly type comparison.

Anthony Collins as Julie "The Cat" Gaffney

So Anthony Collins bides his time on the bench—accepting his role and doing what's best for the team—until he's finally given his shot to come in and prove himself, but must do so by protecting his team (Andy Dalton) against the most opponents' most formidable players (Julie Peppers, Terrell Suggs, Robert Mathis, Jared Allen), and if he fails, his team will in turn crumble.
Umm…
A few of these comparisons were a little TOO perfect.

Vontaze Burfict as Luis Mendoza

Soooooo Vontaze, amirite?
 
AJ Green as Russ Tyler

It's a virtually unstoppable, almost inconceivable, breathtakingly remarkable, a deep threat that must be accounted for at all times.

AJ Green is the human embodiment of the knucklepuck.
 
James Harrison as Russ Tyler's street-hockey playing older brother

I like to imagine this is what practices were like once Harrison joined the team this offseason:

Andre Smith as Adam Banks

At first, this one was difficult. Banks was an incredibly skilled and highly touted talent on the ice, but a bit of an outsider—his rich upbringing in Edina, Minnesota earned him the nickname "cake eater," via Jesse Hall (of course), which is definitely one of the greatest nickname/insults ever. He struggled with injuries and team chemistry, but when he was healthy, he dominated on the ice.
Then it hit me.
Skilled…highly touted…struggled with chemistry and injuries…dominant when healthy…LOVES EATING CAKE.

Andy Dalton as Charlie Conway

Team leader. Great character. Hard worker. Talented, sure, but with limited physical abilities. A little too easy to hate. Yeah…
 
Marvin Lewis as Coach Gordon Bombay

Probably the easiest of all, for obvious reasons. (I suppose this also means Zimmer is Jan, Gruden is Coach MacKay, and Mike Brown is Mr. Tibbles.)
Bengals fans can only hope that comp holds up and Marvin proves himself to be the Cincinnati Miracle Man. Unlikely, sure, but when everyone says it can't be done…
#LuisMendozaFace
What comparisons did I miss on? Feel free to let me know at @Williams_Justin.
All Bengals photos courtesy Bengals.com.
Facebook Comments