You could throw a rock off of any rooftop in Cincinnati and it would probably land next to a restaurant with really good pasta. But Wildweed Pasta—the weekends-only pop-up near Findlay Market—is the city's best-kept secret. With a massive growth in popularity over the last few months and recently announced plans for a full restaurant at 13th and Walnut, this secret pasta spot from David and Lydia Jackman is a secret no longer.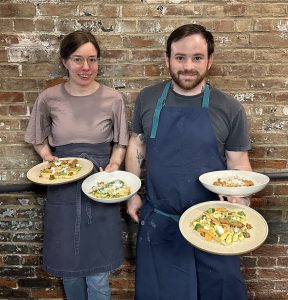 Born in Winnipeg, David started traveling to cook at a very young age, and ended up working in several Michelin one-, two-, and three-star restaurants in Toronto, Vancouver, New York City, Chicago, Nashville, and more. While exploring an opportunity to open a Nashville restaurant that would later become the famously esoteric Locust, David met his future wife, Lydia. David was only in town for a week, and Lydia was soon to depart the Music City after getting a job at Ryan Santos's Over-the-Rhine restaurant Please. Still, they spent the whole week together. After some time in Nashville, David came to visit Cincinnati, fell in love with the place ("I was already in love with her"), and decided to make the Queen City his permanent home.
He eventually started working at Please with his wife, and they later started a pasta pop-up on Sundays called Sunday Sauce inside Oakley Wines, where Lydia had taken over as chef. Sunday Sauce operated almost every Sunday for a year before the pandemic forced them to shut it down. During the pandemic, the couple moved back to Nashville for David to take an interim role leading the Beard-nominated Nashville restaurant The Catbird Seat. Once things picked back up post-pandemic and David started working as head chef at Locust, they mourned their departure from the Queen City.
"We kept talking about 'Oh, man, we really loved it there' and 'we love this and that about Cincinnati,'" he says. "We kept doing trips up here for just a day or two to visit friends, have dinner at someone's house. We missed it."
After finding out they'd be having a daughter, the couple decided to move back. "I said, 'This is the community we want to surround ourselves with,'" David recalls. "I've lived a lot of places, so I know when I see something special."
Their initial game plan for returning involved trying to purchase their own restaurant, but when that fell through, David took on the role of PearlStar's opening executive chef. Due to creative differences with owner Terry Raley, he left shortly before the oyster bar's sister restaurant, Royce, opened. That's when Jackmans decided to reopen Sunday Sauce as Wildweed Pasta.
---
Wildweed's short menu usually only consists of one or two appetizers, a few entrées, and a dessert. You might think you know what you're getting, only for the Jackmans to laugh in your face as one of them steps out from the kitchen to serve your table with something wholly unexpected and extremely delicious. One item simply reads "gnocchi," but one week that gnocchi was served with barbecue pork belly, quail eggs, celery salad, brown butter and mustard. The next, that gnocchi had nduja, chopped clams, saffron aioli, fresh celery, and manchego cheese.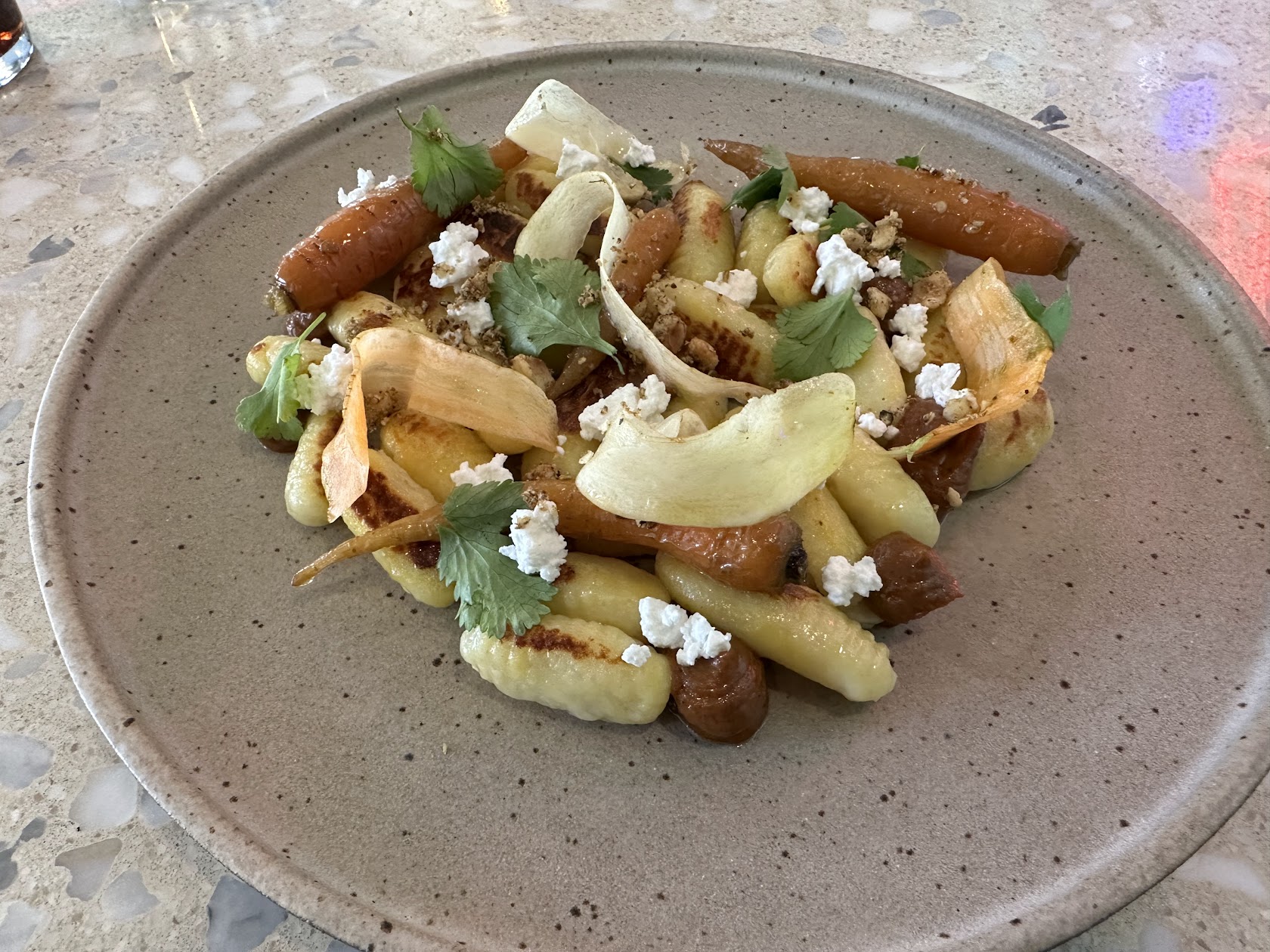 "[Our food] is kind of like going down the rabbit hole in Alice in Wonderland," David says.
"The thing I like most about cooking pasta is that it feels like you're being a kid playing with Play-Doh."
And they do a lot of playing—almost every dish at Wildweed is made entirely by hand, and the ones that aren't are still crafted with their own dough using an extruder (more commonly known as a pasta machine, which turns dough into pasta shapes like spaghetti or macaroni.)
He takes the time to break down the process for several pastas: mafaldine, sopressini, rigatoni formed on a garganelli paddle, culurgiones, tortelli, gnocchi, and more. Usually, each pasta starts with mixing a dough of flour and egg yolks, water, vegetable puree, or all three, depending on if the pasta is vegan. It's a dizzying amount of information to process just how much work goes into preparing just one day's worth of pasta, which usually takes David, Lydia, and their crew several nights before each pop-up.
So will the menu at Wildweed the restaurant—a full-service 60 seater scheduled to open this fall with an 11 seat "chef's counter" looking directly into the kitchen—change every week like Wildweed the pop-up? It depends on where you sit.
Dishes not served at the chef's counter will be on a separate menu that will update on a semi-regular basis, instead of weekly. That menu will still focus heavily on hand-made pastas, though. David makes sure to stress that Wildweed is not an Italian restaurant, but still "deracinated from tradition," meaning they take "wheat and gluten and noodles as a blank canvas that allows us to paint with local ingredients and other special things that we're able to source." Indeed, most of the ingredients at Wildweed are sourced close by—the eggs used in their pastas are purchased just across the street at Findlay Market's ETC Produce & Provisions and some of the ingredients (strawberries, raspberries, apricots, various apples and chili peppers) even come from the couple's own personal garden.
With the permanent locations, both chefs are looking forward to not having to move equipment and food back and forth for several hours each week with the upcoming restaurant. "Having everything in one place, and being able to build a team around us," David says. "That's the most exciting part. At the moment, we have really passionate people who help us with everything."
Moving into this new space means being able to pay those passionate workers higher wages because of the chef's counter concept. All service charges for those seats get put right back into kitchen labor, ensuring that the staff receives higher pay. "We're creating a hospitable environment, not just for our guests, but for our staff, too," David says. "They're gonna get an equitable wage, no matter what position they hold, and they're all going to be a part of building something special."
Facebook Comments