Maybe it's all those empty bread shelves in the stores, or maybe we're just looking for new ways to spend the stuck-at-home hours. Whatever the reason, it seems the world has considerably more home bakers than it did at the start of 2020.
Whether you've been baking for years or have just tried your floured hand at a single loaf of homemade bread, we've got some tips to help, courtesy of Mark Frommeyer, owner of Williamsburg's Blue Oven Bakery, whose baked goods are sold at a number of Cincinnati grocers and farmers markets.
Mise en place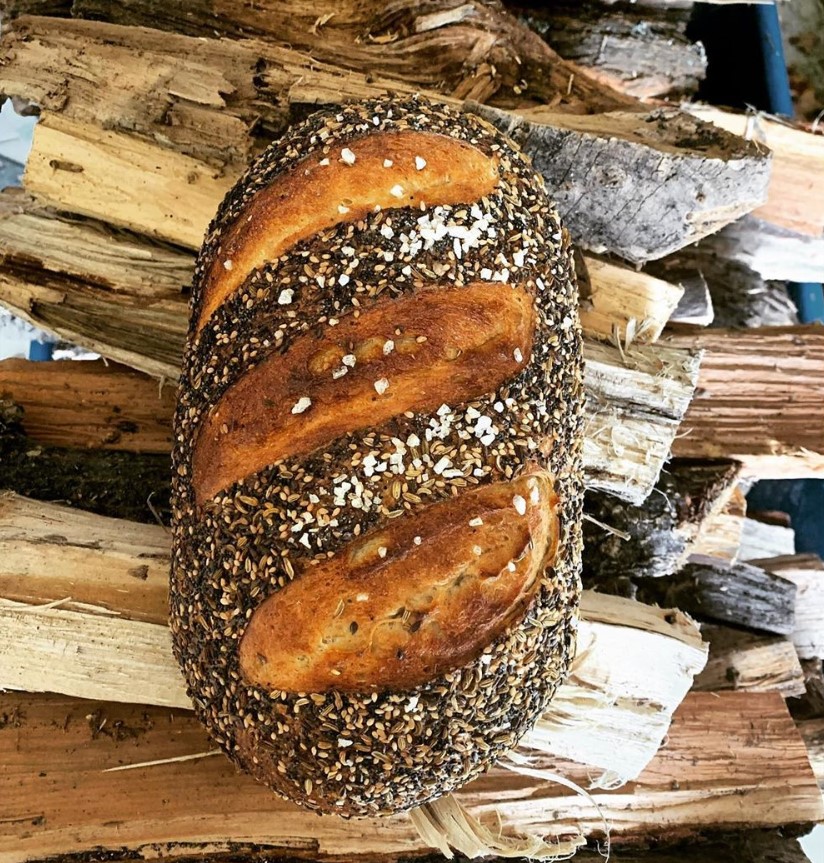 Set out enough bowls and equipment before you even start and premeasure your wet and dry ingredients. It'll help you be precise. "A lot of bakers get frustrated because baking is a science," Frommeyer says. "If (the recipe) calls for 150 grams of something, you need 150 grams, not 155."
Be patient
With so many recipes out there, it can be tricky to find the right one. One step to look for, Frommeyer says, is overnight fermentation. "A lot of recipes say, 'If you're willing to stick it in fridge overnight, it's even better,' and most people don't want to do that," he says.
Yes, there are some 50- or 60-minute breads out there, but keep in mind that a higher quality finished product is due to the time you're willing to put into the prep. Don't rush it.
Avoid recipes with additional preservatives
Gluten-free recipes will usually include ingredients like xanthan gum or guar gum, which act as a binder in place of gluten. However, Frommeyer points out, those ingredients are manufactured and add additional sugar and preservatives to your bread.
Instead, he suggests finding recipes that use natural binders, such as psyllium, which is plant-based. "I'd hate to see people at home baking their own stuff with all these extra additives and sugar, because at the end of the day, it's not healthy," he says. "Stick to the basics."
It's OK not to knead
Kneading dough properly takes a lot of back and shoulder muscles. It's cumbersome, Frommeyer says, and not always a necessary step in baking bread.
"There are a lot of great no-kneed recipes for breads out there," he says, which are simple and don't require a bread machine. "Just mix it up, [and] let it sit in a Crock-Pot or a covered pan or bowl with a towel."
---
Frommeyer shared one of his own recipes for multigrain bread to get you started:
Ingredients
1 c. rolled oats
1 c.7-grain mix
2 c. water, boiling
1 c. water
1 c. whole wheat flour
¼ c. medium-grind rye flour
¼ c. cornmeal
3 Tbsp honey
1 ½ tsp instant yeast
3 c bread flour, plus additional for dusting
1 Tbsp salt
Vegetable oil, as needed for oiling
Directions
In a mixing bowl, add the first three ingredients. Stir to combine. Set aside to cool.
Once the mixture has cooled, add water, whole-wheat flour, rye flour, cornmeal, honey, and yeast. Stir until the ingredients are well-combined.
Add 3 cups of bread flour and salt and mix until the dough is a shaggy mass. Turn the dough out of the bowl onto the work surface and scrape out any remaining bits of dough.
Knead dough by hand for four to six minutes. The dough will be sticky during this process. Use your scraper, as necessary, to keep the dough together in a ball.
Place the dough in a lightly oiled container, and cover with plastic. Ferment the dough for one hour at room temperature.
After one hour, preheat your often to 400 degrees.
Dust the surface of a table with flour. Uncover dough and turn it onto floured surface. Fold the dough top to bottom, bottom to top, right to left, and left to right. Brush any excess flour from each fold. Turn the dough over and return it to the oiled container. Allow the dough to rest for 20 to 30 minutes at room temperature.
On a lightly floured surface, turn the dough out of the container, and divide it into two pieces. Shape each piece into a ball and place each seam side up on a lightly floured surface. Cover the dough with plastic and rest for 15 minutes.
After resting, lightly flatten the balls and shape them into loaves. Place dough on a cornmeal board, seam side down, for the final fermentation. Ferment for 30 to 45 minutes at room temperature. Checking the proofing of the loaves by using the touch test: The dough should spring back and leave only a small indentation.
Score the loaves with a razor or sharp knife. Bake for approximately 35 to 40 minutes. Remove from oven and cool on a cooling rack completely before cutting.
Facebook Comments