The trailhead at the end of a rural drive near Milton, Kentucky, doesn't look like much. But this spot, about 50 miles southwest of Cincinnati, is where Anna and Harlan Hubbard would have hiked in and out of the woods while living at their beloved Payne Hollow homestead.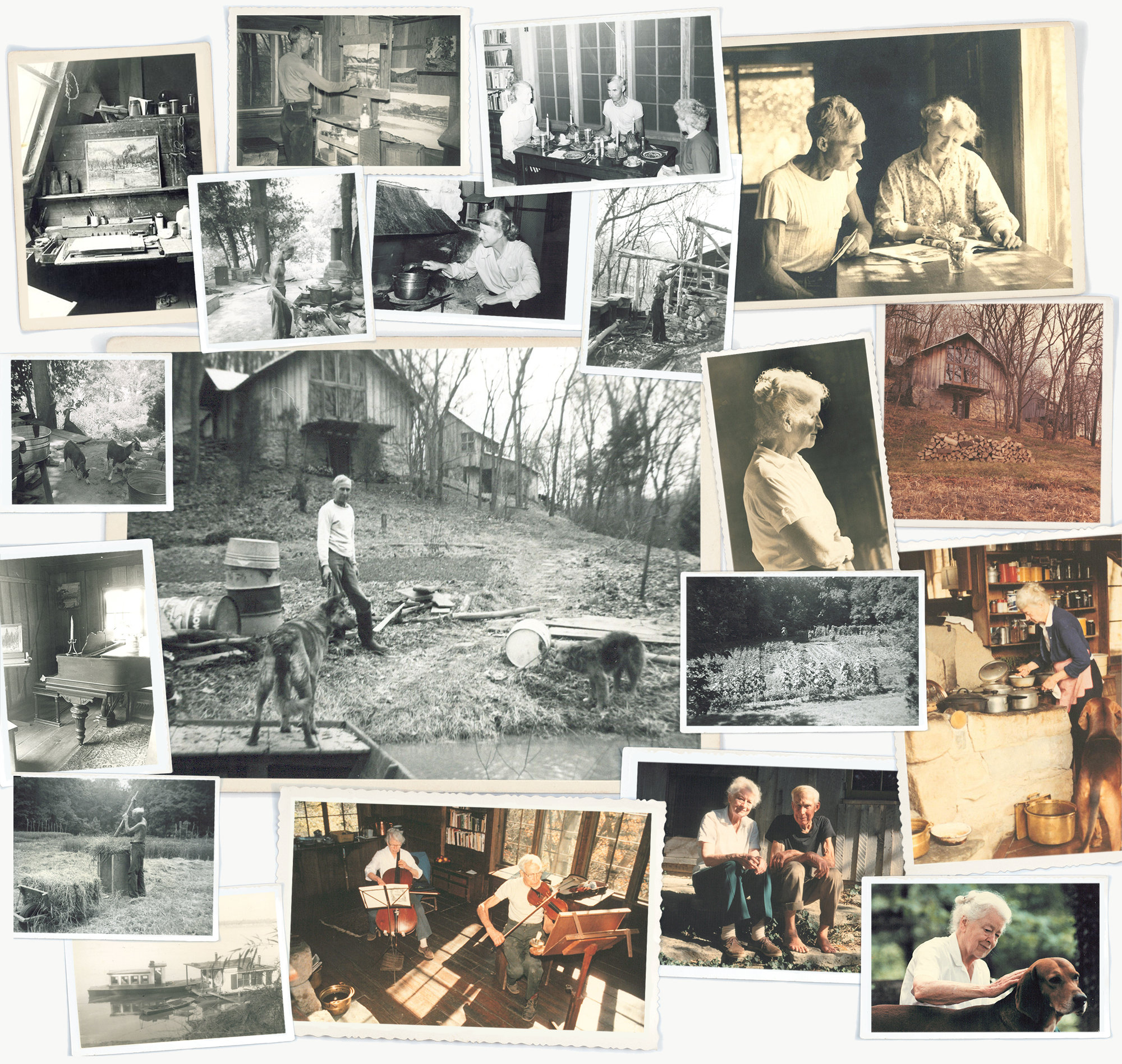 Hundreds of people made the trek down the mile-long trail by foot or came up from boats on the Ohio River, the only two ways into Payne Hollow. Friends and strangers alike came to see the world created by the unconventional couple who, as Harlan put it, lived on the "fringe of society."
"I don't know exactly how to describe it," says Bob Canida, who was a young man when he first visited the Hubbards in 1972. "You left feeling there was something inherently good and different here." The hike became a time of meditation, where Canida could clear his head of the outside world and spend time with two people living unlike anyone he'd ever known.
The Hubbards met in Cincinnati. Anna Wonder Eikenhout hailed from Grand Rapids, Michigan, born into a Dutch family. She graduated with honors from Ohio State University and taught German and French before taking a job at the Cincinnati & Hamilton County Public Library.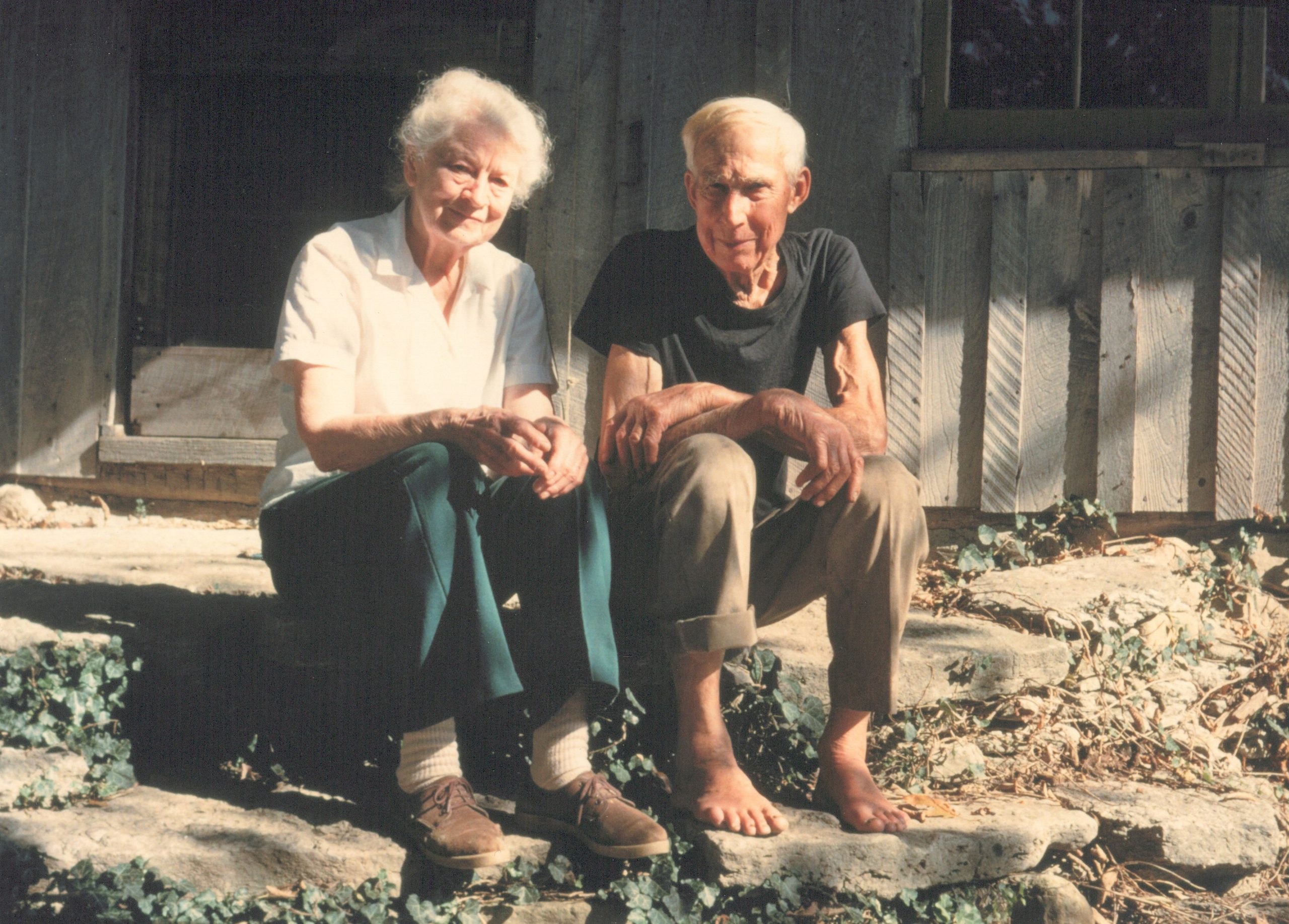 Harlan Hubbard was born in 1900 in Bellevue. His father died when Harlan was 7 years old, and he and his mother moved to New York City to live with his two older brothers, who were working there. He grew up in the Bronx and studied art for a bit at the National Academy of Design before moving back to Kentucky with his mother.
Harlan resumed his studies at the Art Academy of Cincinnati but didn't complete a degree, giving up on traditional art instruction and instead just making his way on his own, says Kentucky historian Jessica Whitehead, who's currently working on a complete biography of Hubbard. "Their story, along with Harlan's art and writing, have enjoyed sustained regional devotion," says Whitehead, who thinks "there are whole new generations of people primed for their particular strain of the American experience."
The Hubbards met at the downtown library, where Harlan was a regular patron. Both were musicians, and after several years they started dating and got married in 1943. Straight away, the couple chose an uncommon path, spending their first two years together living in a shack on the banks of the Ohio River down the hill from their home in Ft. Thomas. They built a shantyboat that they'd eventually live on for about six years as they floated down the Ohio to the Mississippi River and all the way to New Orleans.
"Thus they came to the beginning of the great adventure that they made possible for one another," Wendell Berry writes in his 1990 biography, Harlan Hubbard: Life and Work. Harlan's attraction to the river went back as far as he could remember, Berry writes, while Anna's began only after she met him. "Her enthusiasm for it gave a legitimacy to his that it had not had before. She gave a necessary permission."
Years later, Payne Hollow was their shantyboat life come ashore, as Berry puts it. Without electricity or modern conveniences, they built an existence in tune with nature and enriched by art and the satisfaction of hard work.
"Creativity, self-reliance, beauty, industry, and quietness are the kinds of values that resonate with those who love the Hubbards," says Whitehead, who serves as board secretary of a new nonprofit organization, Payne Hollow on the Ohio, that recently purchased the property with plans to make it accessible to the public. "It would be impossible for all of us to chuck everything and build our own Payne Hollow. But these kinds of principles can apply to whomever we are and wherever we are in the world."
---
On December 22, 1946, after two years of construction, Anna and Harlan Hubbard drifted away from Cincinnati on their shantyboat and began their downstream journey. "The boat was loaded with canned goods stowed away during months of gardening and foraging, clothes for all weather, musical instruments, books, painting supplies, fiddle strings, rope, anchor, foghorn, their little dog Skipper, and a hive of bees," writes Berry.
There were times of free drifting, when the Hubbards could simply let the boat go in the hold of the current while they cooked, made music, or read inside. The boat often required guiding, and Harlan would redirect it with a small johnboat powered with oars. When river currents were particularly troublesome, Anna would help with long oars on the shantyboat's deck while Harlan guided the johnboat.
In the warmer months, they set anchor and tied up somewhere for the growing season in places like Bizzle's Bluff on the mouth of the Cumberland River in Western Kentucky and Bisland Bayou near Natchez, Mississippi. They would grow a garden, fish, forage, restock supplies, and prepare the rig to drift again. They lived on what they could barter for and on a bit of money Harlan made selling his paintings. He journaled constantly, leaving us with a lot of life insights and daily details.
The trip included some close calls. One day early on, the Ohio River froze solid around the boat, threatening to crush it. All could have been lost had it not been for kind people on shore who helped the Hubbards pull their home up on land with ropes.
Once the couple reached New Orleans in 1950, they bought an outboard motor for the shantyboat in order to explore the Louisiana bayous for another year. It would be one of the few motorized tools they ever owned. In 1951, they sold their boats for $679 and bought an old Dodge with a rebuilt motor and pulled a handmade trailer with all of their possessions back to Kentucky.
While away on their adventure, the couple had been collecting rent at their Ft. Thomas home, and after a short trip to California they decided to put down roots. Payne Hollow had been their first long stop on the river voyage, and they had a good feeling about the place; they bought seven acres there for $300. The homestead they built came from a culmination of skills tested on the water and mastered on land—what Harlan called "a free and hardy life."
Catherine Turcotte was 12 when her parents told her they'd be visiting people who built a house on the river without electricity and running water. "I thought it would be a shack, but it was not," she says. "Anna and Harlan's home was beautiful, welcoming, well designed, and refined. They had candles on their table, a grand piano in their living room, a cistern system for water, and a bed that folded into the wall."
The way they lived was clever and comforting, says Turcotte, remembering a firewood bin built into the house without letting in cold air and "a big, lovely window overlooking the Ohio and studio and music space for creativity."
She loved to watch Anna cook. One meal described by Berry, shared with friends on the shantyboat, was described as "small catfish, dressed just before frying, mashed potatoes, kale just brought in, salad and choice tomatoes, cottage cheese and bean sprouts, hot biscuits made of our own grind of wheat flour, and containing toasted sunflower seeds, with maple syrup, [and] wild strawberry jam." Only the milk for the cottage cheese hadn't been grown, caught, or produced by the Hubbards.
Turcotte, now 64, grew up in Carmel, Indiana, a typical suburban neighborhood where "everyone I knew was like us, except the Hubbards." The connection came through her parents' friends from Madison, Indiana, who introduced them to Anna and Harlan. The Hubbards visited Madison regularly, paddling upstream for supplies at the hardware store and sometimes art supplies. They made frequent visits to the public library in town.
Turcotte's family stopped at Payne Hollow on summer trips, when they would trailer their boat for long weekends to cruise the Ohio River. They'd write the Hubbards to announce their arrival. "I loved that they were happy with their lives and that they designed them rather than just living like everyone else," says Turcotte. "They were thankful for little things, like the roll of paper that washed up on the shore and became their stationery and the fruits of their garden and the goats' milk. They did not need a car, or even much money. But I never once had the idea that they were poor."
---
According to written and oral accounts, the Hubbards welcomed all of their guests graciously to Payne Hollow, whether they were the news media, a gaggle of college students, or curious neighbors. When Turcotte arrived with her family, Anna and Harlan were usually tending the garden, hand-washing laundry or dishes, cooking, or cleaning—but they'd stop what they were doing to show people around and have a proper visit.
Harlan hung large metal bells for visitors to ring upon approach, one on the trail a little ways from the house and another across the river on the Indiana shoreline. When visitors rang from Indiana, he would paddle over, collect them, and provide a return trip. Each guest was asked to sign the Hubbards' guest book.
Ted Steinbock, another Payne Hollow on the Ohio board member, spent a weekend with the Hubbards as a teenager in the 1960s, and their elegant lifestyle and closeness to nature never left him. "I was simply in awe of Harlan," he says. "I spent more time talking with Anna on the stone steps outside their simple home on a beautiful fall day with leaves falling and the last of their garden being harvested."
Steinbock spent much of his childhood and teenaged years outdoors with his family, tent camping and visiting places like Yellowstone National Park and the Canadian Rocky Mountains in a converted school bus his father outfitted with bunk beds. Harlan's writings and way of life resonated with his own belief that spending time in the outdoors is not about the destination but the personal experience that can be had in the journey.
The Hubbards accepted many visitors but truly valued their solitude and time together, where they tried to blend in with their surroundings and relax in the joy of nature and quiet. "Today a fresh wind was blowing up the river but I felt none of it as I hoed and chopped," Harlan writes in Payne Hollow: Life on the Fringe of Society (1974), one of several books he published about his and Anna's unique lives. "What greater joy is there than to refresh oneself after labor? To get hot, dusty, thirsty, hungry and weary, then, at the call of a sweet voice, to lay down my tools, go to the river to bathe and swim, enter a clean cool house, put on dry, light clothing and eat the good food we gathered together."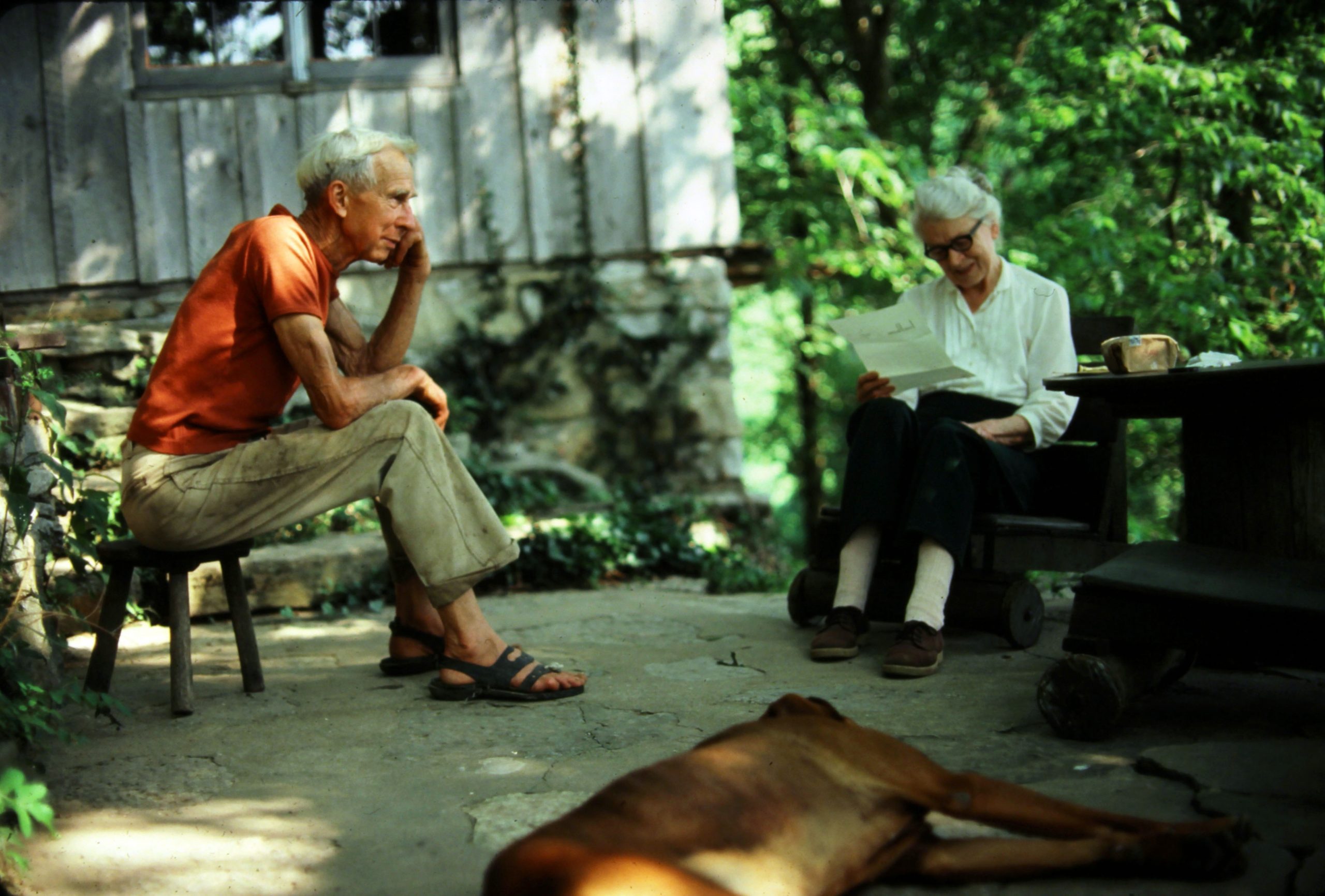 The Hubbards' love for wilderness and for the river resonated with David Wicks, who was working as an outdoor educator for Louisville's Jefferson County Public Schools and Outward Bound when he first became aware of them. Before he moved to Kentucky, Wicks had fallen in love with exploring the waterways of New Jersey and New York, where he grew up.
Wicks led youth groups to explore nature and directed environmental education camps at Blackacre State Nature Preserve in Louisville, where he lived with his young family. "I have spent my life drifting, now over 60 years, in a canoe," he says, "but I only became aware of Mr. Hubbard's art and writing when I moved to Kentucky. His words and drawings called to me then as they still do today."
Wicks is an adjunct professor in the Honors Program at the University of Louisville and will teach a seminar this fall on Payne Hollow. He's board chair of Payne Hollow on the Ohio and is glad that the Hubbards' industrious home will be preserved.
By the end of their lives, Harlan and Anna had grown Payne Hollow to about 60 acres. They became expert foragers, planted several gardens, raised goats, and kept bees and dogs. The two main buildings—the house and Harlan's studio—were constructed entirely by hand with only hand tools. Even as they got older, Harlan could not be convinced to buy anything electric or gas-powered. He found such tools unnatural and writes of them being noisy, smelly, and unreliable—destroying everything he loved, actually.
Most construction materials were scavenged for, such as river rock that became part of the buildings' foundations and tree trunks that became thick ceiling beams. Materials they couldn't find on their land were bartered for with things like honey or homemade jam or purchased with money Harlan made from his art.
The Hubbards built stone terraces into the hillside at various levels where they could sit outside, read, play music, or simply watch their beloved river. Anna was a passionate homemaker and kept their living spaces, inside and out, impeccably clean and orderly. Harlan wrote that imagining life without Anna was "a waste of time."
The Hubbards were often alone, but they weren't recluses. They had friends in Milton and Madison, were patrons of the arts, and attended various cultural events around the area, including at Hanover College, just west of Madison. Harlan painted murals for local churches in Milton and held art exhibitions. Later in life he began reaching out to area institutions and museums to see if they wanted a donation of his art, including the Behringer-Crawford Museum in Covington. The director at the time quickly said yes and found his way to Payne Hollow, where the artist donated many pieces, says Jason French, Behringer-Crawford's current curator. The museum's collection has grown to include Hubbard treasures from other collectors, all of which are on permanent display.
"The Hubbards have shown people that a simpler life can be rewarding even with all its hardships," says French. "It takes very dedicated and highly skilled individuals to be successful in a world of their own making. Harlan and Anna were dedicated to living deliberately. Though they may have spent years floating down a river, they didn't float through life as so many of us do."
Harlan's studio in Ft. Thomas is also open to visitors, maintained by the Ft. Thomas Forest Conservancy. "If you go, just keep looking around, because there are always little artsy touches to his buildings," says Bob Canida. "It's just fun to look around and see where the artist has been."
---
Anna died of kidney cancer in 1986 at age 83. Harlan died two years later at age 88 of colon cancer, discovered after he was hospitalized for a copperhead snake bite. They left the property to a longtime friend, Paul Hassfurder. Payne Hollow on the Ohio was able to acquire it in October 2022. After the nonprofit stabilizes the property, it plans to create an artist-in-residency program there and find other ways to preserve the Hubbards' legacy.
"We are now actively in the process of carefully cleaning up the property," says Steinbock. The home and studio, he says, will be restored with input from experts in historic preservation to maintain the integrity of the property "while using it to inspire artists, writers, biologists, nature lovers, and the general public about the beauty of simple living in close connection with our surroundings."
Turcotte is glad the property is being preserved, saying the Hubbards' way of life can inspire others as it did for her. That less is more, and there is peace in simplicity. "If you had asked them, they would have told you they weren't trying to prove anything to anyone else," she says. "They never sought attention or accolades. They were just living the way they wanted to, the way that felt true to them. They were partners, bringing out the best in each other. Their love was sweet and productive and harmonious. They valued their life on the river enough to write about it, welcome guests, and paint and sketch it."
Turcotte says she and her husband don't live without electricity, running water, or automobiles, but they do challenge one another when they see themselves tending toward excess or complications. After 32 years of marriage, she still lights candles every evening at dinner, no matter the meal.
It wasn't until Harlan was almost 80 that he allowed Canida and some younger men to help him chop firewood. After Anna died and Harlan could no longer live at Payne Hollow, he moved into the Canidas' house overlooking the Ohio River. For the last six weeks of his life, he painted, accepted visitors, and read with the family. They didn't own a television because of the Hubbards' influence, and Canida thinks Harlan liked the place for its quietness.
Harlan once wrote, "No accomplishment can offset bad living." His and Anna's lives offered plenty of examples, says Canida. "Part of the process is just evaluating every choice that we make. Do we need this thing or that thing? He wanted us to look at the world through the eyes of an artist who saw beauty everywhere around him."
Facebook Comments