Opening up any bar or restaurant during a global pandemic is a bit of a gamble, but if you had to put your money behind one concept it would probably be Covington Yard, the new outdoor bar-slash-food court featuring shipping containers and artificial turf at Fourth and Greenup streets.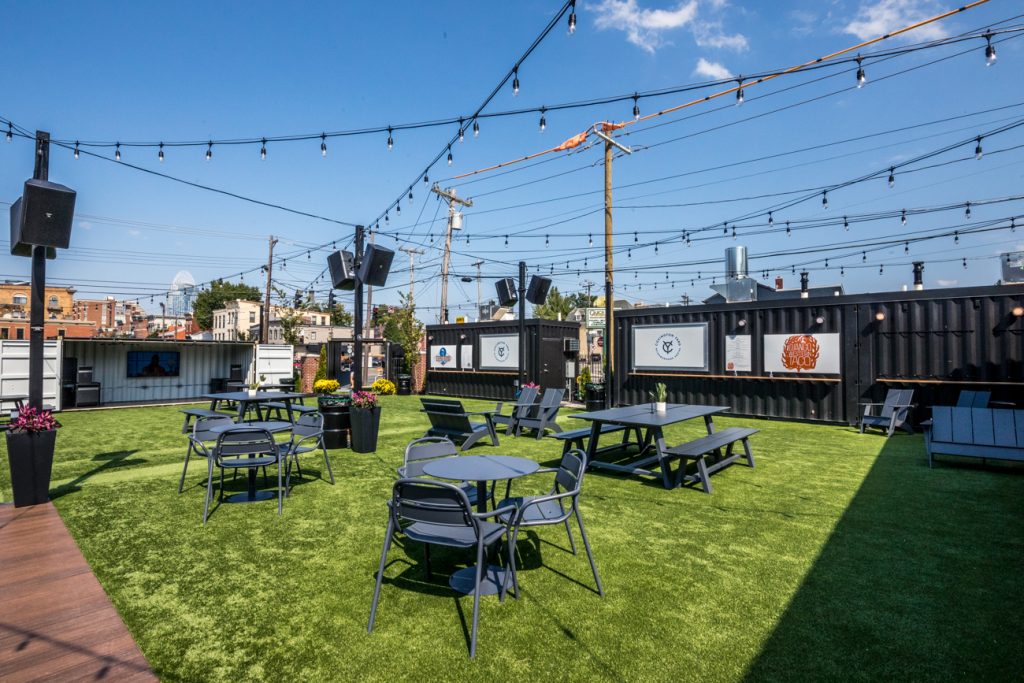 Owners wanted the casual, backyard barbecue–like space to become the go-to community gathering spot for Northern Kentucky's largest river city. "In Covington, you often don't have much of a yard," says Alecia Ricker, director of digital at Covington Yard. "A lot of the space is limited. The idea for Covington Yard is to be a designated physical front yard space for everybody."
Though the owners originally planned to open in spring, they held off until Labor Day weekend to make necessary changes to the Yard's rules and setup in order to create as safe of an environment possible with the ongoing coronavirus pandemic. "We reformulated," Ricker says, "with safety in mind first and foremost."
The large, open air outdoor space provides a natural layer of safety that has been supplemented by rules such as limited capacity, required seating, and mandatory masking when out of that seat. But the space still feels warm and inviting.
The lot that once called the location home has been completely transformed into a sea of green turf styled with wooden picnic tables and adirondack chairs encircled by a ring of decommissioned shipping containers, which house a mix of seating areas, big screen televisions for watching the game, and restaurant concepts selling their takes on street food.
String lights keep the space aglow at night and speakers play lively music. The plan is to eventually feature yard games such as cornhole once the pandemic is over. For now, the only toys you'll find are for four-legged friends, who are welcome, on-leash and on their best behavior.
One of the best perks of Covington Yard is access to a variety of local food vendors while having a casual drink with friends. Get your fried chicken fix with some tenders or a sandwich at Yard Bird, taste your way through a lineup of tacos at Django Wester Taco, or indulge in some Korean barbecue at Mr. Bulgogi's (run by the same owner as Riverside Korean just a few blocks away). Two more restaurant spots will open in the future, with another up for rotation. For now, service is limited to dinner on weeknights or brunch and dinner on the weekends.
You can grab a drink from one of two bars: the main indoor bar sits at the back with big windows and garage doors that open on warmer days, and the outdoor bar serves up drinks directly from a shipping container. The cocktail menu is named after local sites and figures. Try the Roebling Mule, a riff on the classic Moscow Mule with peach and orange blossom vodka, or the Riverside Sunset, a delicious mix of gin, Aperol, pineapple juice, and Angostura bitters. Or take your pick from a large menu of boozy slushies, wines, mocktails, and draft and canned beer.
To facilitate the community aspect of Covington Yard, owners hope to serve as an event space in the future, and are looking to eventually host movie nights, DJs, fundraisers, neighborhood parades, and more.
And although chillier days mean heading indoors for most drinkeries, Covington Yard plans to remain open through winter with heaters and tents to allow people to gather as safely as possible, year-round.
Covington Yard opens at 11 a.m. Tuesday through Sunday with last call at 11 p.m.
Covington Yard, 401 Greenup St., Covington, (859) 993-9273
Facebook Comments