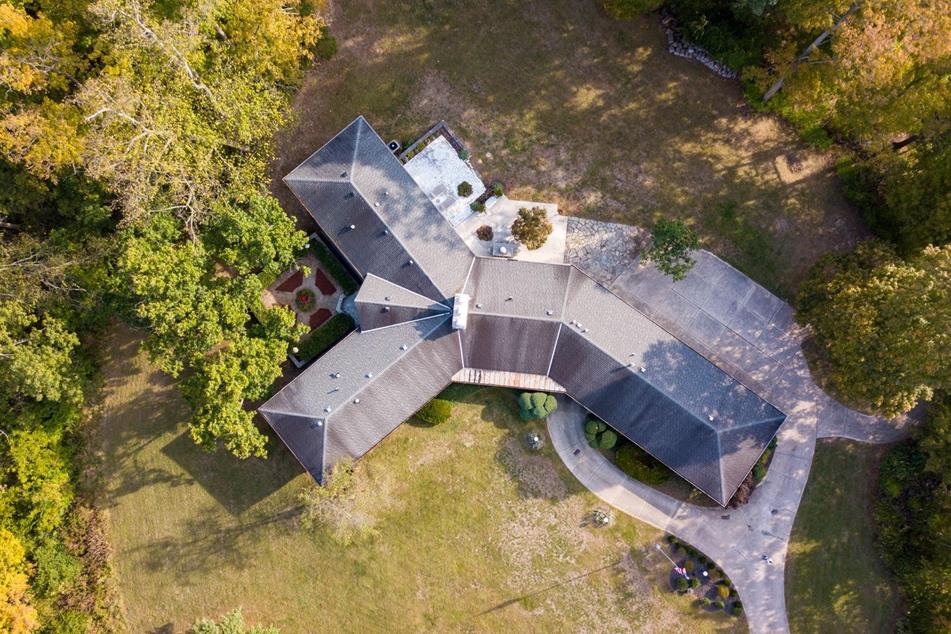 This west side Mid-Century Modern gem stands out from its neighbors, thanks to its atypical structural design. Situated on five acres in Green Township, the ranch is shaped like a lowercase "y" and consists of three separate wings. Inside, the home features a mix of wood, stone, concrete, tile, and metal materials. "We retained most of the house's original details, besides upgrading the main level's bathrooms and kitchen," says the home's current (and only second) owner Trisha Reperowitz. "It was truly built like a commercial building with concrete and steel construction and is a well-known landmark in the area."
Built from 1964 to 1967, the home features four oversized bedrooms, two renovated bathrooms, and a third original bath. The main level's floorplan is wide open, with the living, dining, and kitchen spaces connected by oversized passageways. These three areas were designed for entertaining, Reperowitz says. The entryway connecting the living room and kitchen, for example, features a wet bar. Original slate floors and a cool tile wall in the kitchen complement the space's sleek wood cabinets, and stainless steel appliances add a modern touch. Other standout features include the tray ceilings, wine cooler, and eat-in bar in the kitchen and dining area, plus exposed beams and brick, sloped ceiling, and functional fireplace in the living room.
The master suite features two walk-in closets located behind sliding doors on both sides of the bed, hardwood floors, and a renovated bathroom with a double vanity, tile floors, and dreamy walk-in shower. The other bedrooms are similar in layout and all provide access to a balcony that wraps around one side of the house and overlooks a formal garden with groomed hedges. "It is a great home for entertaining," Reperowitz says. "We've had numerous family reunions and even a wedding in the back garden."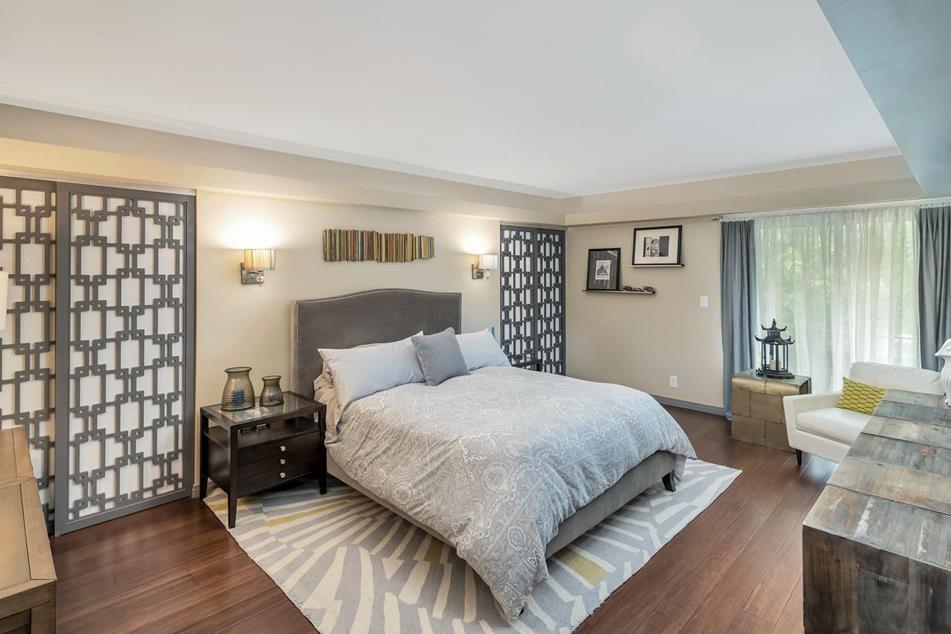 The stairway just off the kitchen leads to the lower level. Often an afterthought, basements usually don't garner much attention. But here, you'll find intentional design elements, like reclaimed bowling alley flooring on the stairwell landing, as well as other notable features like a fireplace, bar, and tiled indoor swimming pool.
Full-panel sliding doors in the kitchen and living room take the entertainment outdoors to one of two outdoor patios. (Sliding glass doors in the basement walk-out to another patio located underneath the balcony that overlooks the garden.) Thanks to the abundance of sliding glass doors, floor-to-ceiling windows, and skylights, "natural sunlight pours into every room," Reperowitz says. "And the views of nature are very relaxing. We typically have a run of deer in the yard every evening." What more could a homeowner possibly want?
Click through our gallery to view more photos of this home:
Facebook Comments