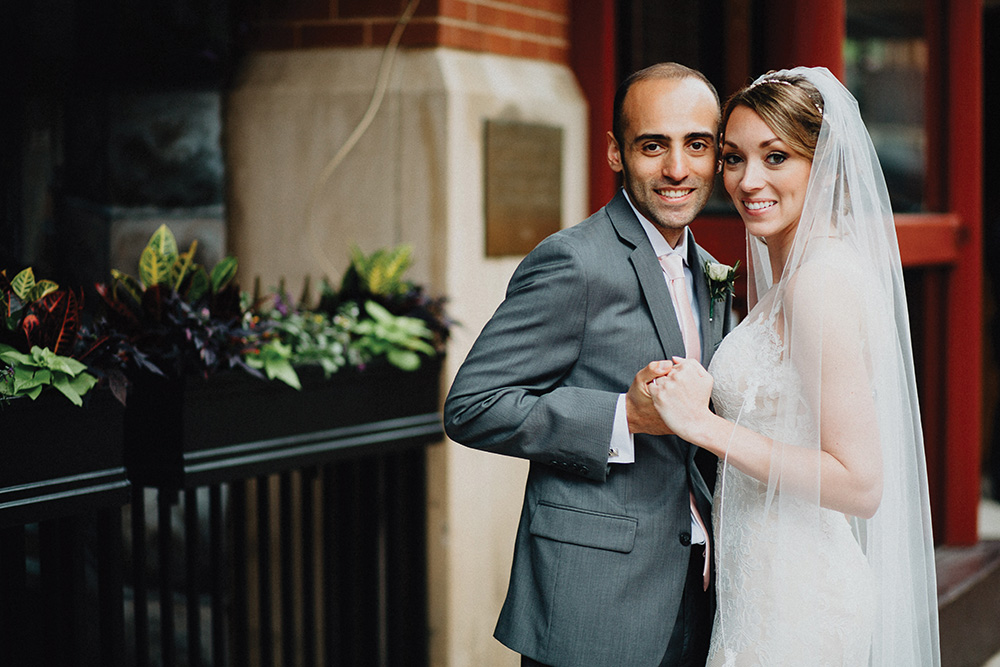 Featuring the stunning backdrop of downtown Cincinnati's Art Deco past, Emily Locey and Samer Alsidawi's wedding on May 21, 2017 was a night of splendor for their guests—even the ones who couldn't make it. Because Samer's parents live in Syria, the couple made sure The Backstage Event Center had sufficient WiFi capabilities to stream video to them so they didn't miss their son's big day.
The two met when Samer was a resident at the hospital where Emily worked as a registered nurse. He had a rotation in Emily's unit when he noticed her. Eventually they were set up by a coworker, but they kept their relationship secret until Sam's graduation from residency.
The bride continues to work as a registered nurse, and the groom is a physician. The newlyweds currently live in Cincinnati.
Click through our gallery more to see more images from Emily and Samer's wedding:
---
Photography: The Brauns | Venue: The Backstage Event Center | Wedding Planner: Kelly Schneider, The Backstage Event Center | Flowers: English Rose Designs Ltd. | Cake: Desserts by Sandy, LLC | Bride's Makeup: Dena Kessler, 513 Makeup | Bride's Hair: Tara Barber, Trendz Salon | Doughnuts: Holtman's Donuts | Alterations: Lisa Rumple, And Sew On
Facebook Comments