It's not an exaggeration to say Roger Grein is always doing something for someone else. Even as he shuffles into Magnified Giving's Evendale offices on a sunny summer morning—Grein has been living with cerebral palsy for all of his 78 years—he's carrying a large cardboard box and a stack of mail.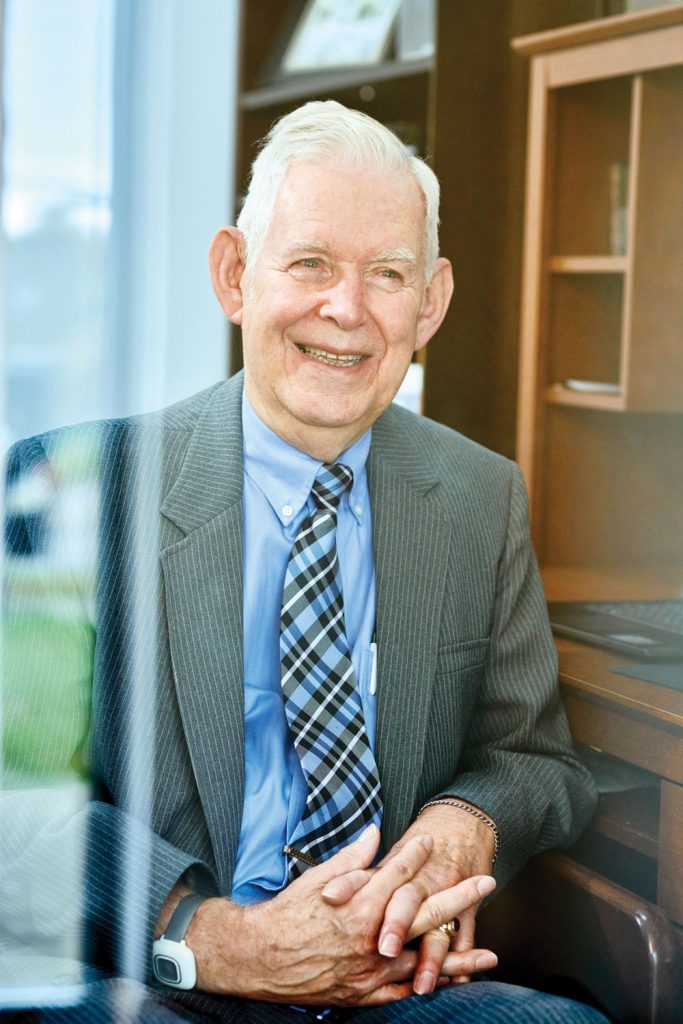 As he talks about the nonprofit headquartered here, his life's major work, he makes his way through the halls, pointing out a series of thoughtful drawings from former campers here, dropping off the package and letters there. Sometimes he stops, pointing out photos of kids presenting checks to local nonprofits or packing sack lunches in tie-dye T-shirts. Once, he's overcome with emotion after hearing from two staffers that, even despite the pandemic, Magnified Giving is still going strong, with 100 schools signed up for the organization's programs this year, basically on par with last year.
Just days before, Grein was the guest of honor at a 300-plus-person virtual event premiering a documentary film about his life, Roger Grein: An Empowering Philanthro­pist, made by Magnified Giving board member and KPG Creative President / Executive Producer Bob Kelly. Turns out, Grein—a miraculous man who began life as a highly focused and determined boy in working class Lockland—grew up to become a Reading-based tax accountant and secret multimillionaire who quietly gave away much of his fortune as he earned it. The kind of guy who once bought every shoe from a store that was going out of business and gave them all away to people in need.
But nobody—not even Grein—could have known the turns his story would take or the adversity he would face: At the pinnacle of his career, Grein's entire fortune disintegrated virtually overnight. For anyone else, that would have been catastrophic. For Grein, a man whose Catholic "faith is my rock," it became the spark to transform a deeply personal project into a 501(c)(3) that has brought together thousands of children, schoolteachers, donors, nonprofits, and people in need throughout the Midwest.
---
Roger Grein's personal story is nothing short of awe-inspiring. Before birth, his mother considered aborting him; instead, he ended up in an orphanage, adopted at six months by Frank and Thelma Grein. While Frank was fighting in World War II, Thelma discovered Roger—their only child—wasn't developing like other kids his age. When he was diagnosed with cerebral palsy, doctors told Thelma he'd never walk or talk. Friends and neighbors told her to "give him back." But Thelma ignored them all and began teaching her son to do both. "Heel, toe; heel, toe," became something of a mantra at the Grein house. One step at a time.
While mastering that, a grade-school Grein began collecting glass bottles, turning them in for cash. He earned enough money to buy a wagon, which he loaded up with newspapers to recycle, another money-maker. By age 10, the boy who was never supposed to walk or talk saved up enough to buy a lawn mower. He cut lawns all through high school and began investing in local stocks, making occasional daytime trading calls from the principal's office.
When a doctor told his mother Grein should never drive because of the cerebral palsy, she thanked him for the advice and promptly handed Grein the car keys. When he tried out for every sports team possible and never made it onto one, he took a job as team manager instead and soon held the position for every sports team at Lockland High School (experience that would serve him well later; as an adult, he'd wind up coaching women's softball for more than three decades, winning world championships and being named a hall-of-fame coach).
After high school, Grein earned a finance degree in three years from UC, followed by an MBA and CPA. His first job was doing taxes at a local bank. But he was eventually fired, "because his writing wasn't that good," says Grein in the film. "He was visibly upset," family friends said, but he fell back on lawn-mowing, and did taxes for his yard-work clients at night; Thelma typed up the returns in the basement of his family home.
Soon, he'd built up a booming tax accounting business (losing that first job, he'd later say, "was a blessing") and eventually served as tax commissioner for multiple municipalities. Unmarried and living in the same modest home almost his entire adult life, Grein quietly amassed a significant fortune. Almost as quietly, he began giving hundreds of thousands of dollars of it away each year to nonprofits globally. "It was a prayerful thing," he says.
In 2001, Grein, who'd endowed a 1999 Northern Kentucky University scholarship for physically challenged students, learned from the University's then-president, James Votruba, about an NKU class that let students invest money from the Mayerson Foundation in local nonprofits. Grein loved the idea of teaching philanthropy and floated it past former Xavier University president Father Jim Hough during a spiritual retreat. Hough connected him to Xavier's then- (and current) president Father Michael Graham, who "was willing to take a chance," says Grein. The pair initiated a pilot program at Xavier, called the Philanthropy Project; Grein donated $4,000 for students to give away.
Together, the teacher and students worked to identify meaningful causes, researched and vetted nonprofits, and chose one to receive the money (the predecessor to Magnified Giving's current six-step process). At the program's closing ceremony, when students presented the money to the winning philanthropy, Grein saw how strongly the project had impacted them both. "Hey!" he recalls thinking. "This works!"
Soon, he connected with a community-service-driven coalition of colleges called Ohio Campus Compact (part of a national program). They adopted the Philanthropy Project, too, and, using hundreds of thousands of Grein's dollars, began offering it at colleges throughout Ohio, Kentucky, and Michigan. But Grein didn't stop there.
"I thought this could work at a high school level," he says. In 2008, assisted by Mt. Notre Dame Community Service Director Todd Forman, he began recruiting area high schools to participate, too. The name for that project, Magnified Giving, came to him through prayer.
---
Roger Grein's story would have been stellar if it had held there—a man who consistently defied the odds amassing a multimillion-dollar fortune and empowering young adults to help him give it away to nonprofits. But something devastating happened that put it all in jeopardy. On September 29, 2008, the stock market crashed, and Grein lost all but $65,000 of his entire $7 million fortune.
Grein wasn't worried for himself—he'd overcome adversity before and would continue supporting himself as an accountant. His overwhelming concern was for all the nonprofits, as well as the college and newly-forming high school philanthropy programs. Without his backing money, he knew, they would end.
A distressed and grieving Grein immediately went on retreat at Milford's Jesuit Spiritual Center. While there, he says he thought a lot about "what's important. Is it your faith? You have your health and friendships." In the end, he realized: "You didn't lose nothing."
Grein spent the next weeks apologizing in person to the nonprofits and schools he'd promised money. At Ohio's Mercy College, the president suggested Grein "reach out for help" by asking other people to fund Magnified Giving and the college projects, too. Instantly, he says, "that inspired me to make Magnified Giving a 501(c)(3)."
Right around the same time, he got a call from Ohio Campus Compact. The organization had just landed a $2.7 million grant from the National Corporation for Service Learning and would be able to carry on the college programs without Grein's money. "I cried like a baby," says Grein. "That was a miracle."
It also enabled him to turn his full attention to Magnified Giving. In December, he sent out 3,000 letters to "all my tax clients, all my softball [contacts], all my Christmas card list, any doctor I went to—anybody that ever gave me a business card," asking for money to fund the new 501(c)(3). "I didn't tell anybody anything about losing [my] money," says Grein. "I didn't want people to feel sorry for me. I just told them what a good program this is."
Sure enough, the donations started coming in, and the name Magnified Giving suddenly seemed prescient. That first year, Grein had hoped to give away $1,000 apiece to eight different schools, but he beat his goal and raised $13,000. Every year thereafter, the number of participating schools steadily grew and the amount of money Grein raised always increased by "enough to cover the growth," he says.
Magnified Giving has grown beyond belief, pulling in roughly $500,000 each year from about 500 donors, including corporations, foundations, and individuals.
Fast forward to 2020. Magnified Giving has grown beyond belief, pulling in roughly $500,000 each year from about 500 donors, including corporations, foundations, and individuals. The organization now has a full-time staff of six and a fully endowed building. In the 2019–2020 school year alone, it gave 180 grants totaling $170,985 to 135 nonprofits, from CancerFree KIDS to La Soupe to Pets for Patients. Despite the pandemic and remote learning, more than 6,000 students at 97 schools, from Taft to Summit Country Day to Butler Tech, completed the program (60 percent of participating schools were public and 40 percent were private; junior highs are also now in the mix). Add in weekly summer camps and a new, online version of the program called "Giving Circles," and even though the pandemic has slowed donations, this year they gave away "the most money in the history of Magnified Giving," says Grein.
Pre-COVID, Grein estimates he gave roughly 80 in-person talks each year to schoolkids about his personal story and the history of Magnified Giving (a process now done via Zoom). He used to tell them his biggest regret was losing his fortune in 2008 and "the ability to help" all those nonprofits; now, he sees the bigger picture. He was able to give even more—to the hundreds of other people, businesses, and foundations who now have the opportunity to help fund Magnified Giving—by losing it all.
The organization is his legacy, says Grein. But he also hopes, years from now, when Magnified Giving is still thriving but he is long gone, schoolkids will watch the documentary about his life and ask: "What is Roger about?" And the answer, he hopes, will be that he's about loving and helping other people, engaging other people. Being kind, being generous.
"And what is Magnified Giving?" he hopes they'll ask after that. And the answer, he knows, is this: "Well, that's the same thing. It's planting the heart and seed in these younger generations so that hopefully some of the focus will be taken off 'I' and, instead, it will be 'we.' "
Facebook Comments