The Cheesecakery, Madisonville's newest café and bakery, opened its doors on July 30, National Cheesecake Day. Owner Liz Field decided to follow in her family's footsteps and open her bakery across the street from where her great-grandfather's grocery store, Mannino's Supermarket, served the community for 85 years.
"He settled here in the late 1800s. That's actually his picture up there and the original [store] sign," Field says, pointing to the sentimental decor that lines the bakery's walls. "I always wanted to take over the store, like be the first woman [to run it], and then they sold it. So when I saw this place, I was like, it's perfect!"
In 2009, Field started a baked goods business named Cincy Sweets. After receiving praise for her cheesecakes, she eventually rebranded as The Cheesecakery and launched her food truck, which took home second place in this year's Taste of Cincinnati Best of Taste dessert category. The store offers cheesecake cupcakes, cookies, and cake pops in three flavor categories: signatures, like the Bengal Tiger Turtle; candies, like the Madisonville Mint Chocolate Chip; and marbles, like the Reading Raspberry. Customer requests and Field's latest experiments are interspersed throughout, creating an ever-changing variety that boasts more than 75 flavors. "Every time you come, you'll see some different flavors, different options," Field says. "People request crazy stuff. I've been asked for Root Beer and Pink Lemonade [cheesecakes]!"
In addition to cheesecakes, the bakery also offers Del Gardo's cannoli, Five One Three bagels, Cryss Macaron & Cakes macarons, and a sizeable coffee menu, with seasonal additions and cheesecake pairings to come, including themes around lattes and cheesecakes.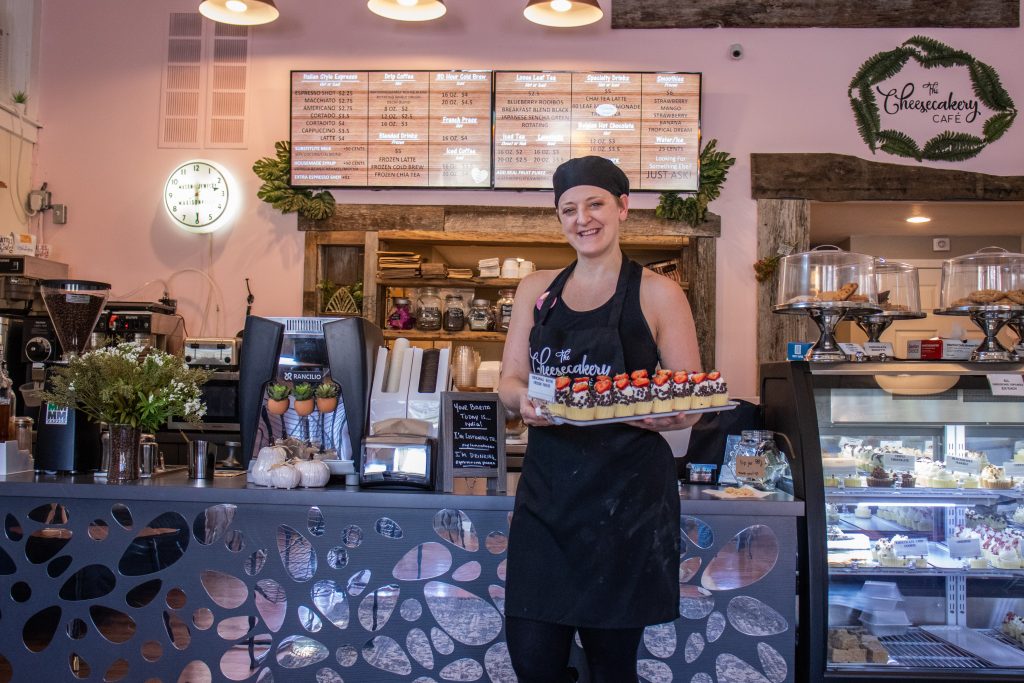 The Cheesecakery recently celebrated a "Fall Day" and launched autumn flavors, like Caramel Apple Spiced Cider, and extended store hours to include Saturdays. Closer to December, the menu will change to incorporate winter holiday favorites and Field will possibly extend store hours to Sundays as well. Looking ahead, Field says she would also like to acquire a liquor license so The Cheesecakery can serve wine.
The Cheesecakery will be present at this fall's Cincinnati Coffee Festival, Blink Cincinnati, and King's Island's Halloween Haunt. The bakery is open Mon–Fri 6:30 a.m.–6:30 p.m., Sat 7 a.m.–2 p.m.
The Cheesecakery, 4901 Whetsel Ave., Madisonville, (513) 272-0400
Click through our gallery to view more photos of The Cheesecakery:
Facebook Comments