The haunting and dreamy chant "O Magnum Mysterium" is ethereal, soaring then subsiding into stillness as the centerpiece of the Young Professionals Choral Collective's summer concert in East Price Hill. The sold-out affair is worthy of the city's preeminent classical performance venue, Music Hall; instead it's held at a renovated Masonic lodge that had languished vacant for more than three decades.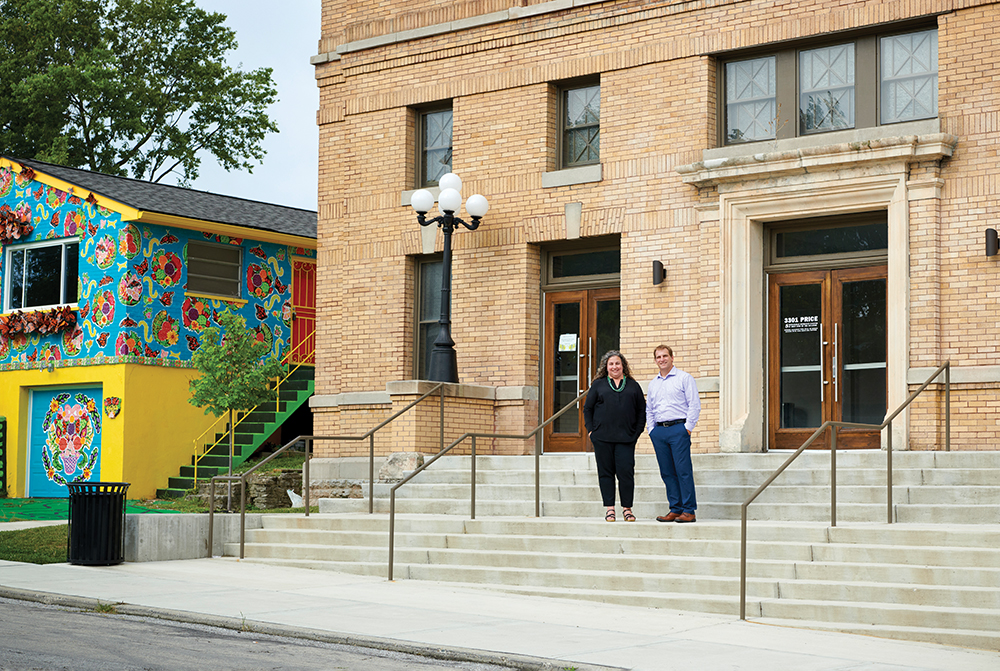 The 110-year-old lodge at Price and Purcell avenues is now ARCO, a portmanteau of arts and community, and it's the focal point of a budding effort to revive the spirit of Cincinnati's most diverse neighborhood. East Price Hill (population 11,000 in 2019) and West Price Hill (population 23,000), collectively known by most as Price Hill, would be, if they were one official Cincinnati neighborhood, the city's largest—bigger than Westwood, and twice the size of Newport.
The community once epitomized the popular conception of west side Cincinnati: German, Catholic, working class. It's always been a place where people moved to realize their dreams, raise their families, and build their lives. And it's always been changing.
Evan Price, an immigrant from Wales, planted his stake on the hillside west of the Mill Creek, building a home there in 1807. His son, Rees Price, started a brickyard and sawmill business, serving the growing number of immigrants moving to the hill.
As Germans and Irish poured into the bustling 19th century river town of Cincinnati, they eventually aspired to homes on the hill, with a bit of a yard, removed from the crowded confines of riverfront tenements. "The German and Irish in the basin saved their money and then bought houses," says Michael Maloney, a social scientist who has tracked demographic changes in Cincinnati's neighborhoods for decades. "Moving to Price Hill was a big deal for people living in the East End and Over-the-Rhine."
A couple of generations later, white Appalachians moved in, followed by Black families seeking affordable homes and apartments. Today, families from Guatemala and other Central American nations are finding Price Hill a neighborhood where they can launch a new beginning and make a dream come true.
"Price Hill is Cincinnati's most racially, ethnically, and socioeconomically diverse neighborhood," says Rachel Hastings, executive director of Price Hill Will (PHW), a nonprofit community development organization working to reinvest in housing, businesses, and community spaces. Her organization is hoping to make up for decades of disinvestment, population loss, and neglect. PHW also serves the river basin neighborhood of Lower Price Hill, but physically, demographically, and culturally, Lower Price Hill has its own identity and its own story to tell.
"We're trying to make sure we serve the folks who are here in Price Hill and work with them to create an equitable community future," says Hastings. "Which is a challenge."
---
There are lots of challenges in Price Hill, to be sure. The neighborhood has suffered from years of steady population loss and disinvestment. In a generation, since 1990, East Price Hill lost more than a quarter of its population, while West Price Hill lost 16 percent. Those who stay are often poorer. Almost half of East Price Hill residents live below the federal poverty level; in West Price Hill, a quarter do.
Those who left, predominantly, were white. In 1990, 89 percent of East Price Hill's population was white; by 2018, that number had dropped to less than half, a decline of more than 11,000 people. The Latinx population grew from 1 percent to 11 percent during that time. West Price Hill's white population decreased by 8,700 during those years, according to U.S. Census American Community Survey estimates.
Nancy Laird stayed. She and her husband, Steve, pursued their dreams 53 years ago by buying a house in West Price Hill for $14,900 on the aptly named Prosperity Place. She grew up in East Price Hill and was baptized, confirmed, and married at Holy Family Church. Steve also grew up in East Price Hill, but, being nearly four years older than Nancy, they didn't know each other until meeting one weekend at the old Sunset Lounge on West Eighth Street.
They were the youngest people on Prosperity Place when they moved in. "People stayed until they died," says Nancy. Looking out her window, she describes a changing neighborhood. A grandmother who owns the house next door lives with her children. At another house, a grandmother, son, daughter-in-law, and grandkids live downstairs, while the upstairs is rented out. Four men share a rental property across the street.
Staying active at age 78, Steve cuts the grass for neighbors. They reciprocate by hauling the Lairds' garbage cans out to the curb. The neighborhood is a mix of white and Black renters and homeowners. "Nobody's driving a Mercedes or anything," Nancy says. "You've got mixed cultures all over the place. That hasn't been an issue. We've had mixed cultures here for a long time."
But Price Hill's steady evolution from a predominantly middle-class community to one with significant populations of lower economic status has at times created racial tension, distrust, and a fear of crime. Crimes against the Latinx population a couple of years ago grew to a point where community members formed a group called BASTA, which held a protest rally on Warsaw Avenue.
Price Hill has a proud history. More than half a dozen Cincinnati mayors have had connections there, including the most recent former mayor, John Cranley, who grew up in the neighborhood and now lives in Hyde Park.
Its churches, especially those built by the German Catholic congregations of the late 19th and early 20th centuries, have been core to the neighborhood's identity and stability. Catholic families identified their neighborhoods not by the streets they lived on but by what parish they lived in: St. Lawrence, St. William, Holy Family, St. Teresa. The St. Lawrence congregation built the first Catholic church in Price Hill, dating its founding to 1870. By 1894, the congregation had enough money to build the magnificent Gothic-style edifice that still towers above Warsaw Avenue.
Price Hill's main thoroughfares, Glenway and Warsaw avenues, are lined with mom-and-pop businesses. Cincinnati chili was incubated there when the first Skyline opened on the hill in 1949, its name prompted by the sweeping view of downtown below.
The businesses have changed dramatically over the years. Joe Huber's family opened a dry goods store on Warsaw in 1908 and sold school uniforms to Catholic families around the west side. The site is now the Warsaw Avenue Kroger store, and today Huber helps revitalize Price Hill through strategic investments from Cincinnati Development Fund, where he's president and CEO.
Across the street from Kroger is a tienda, a small grocery store, as well as Latinos Barber Shop, Rae Jayz Hair and Nailz, Valle Verde Restaurante, and the Price Hill Historical Society. Down the street, a Price Hill mainstay for 120 years, St. Lawrence Bakery, closed in 2021. It shared that block with three thrift stores and another tienda, Guatemex Supermercado No. 1.
---
The spirit of entrepreneurship and the dream of owning a business is still alive in Price Hill. "There was white flight, there was disinvestment, but then people—a critical mass—said that diversity is a good thing and makes the neighborhood better and stronger," says Jeff Cramerding.
He's a rarity these days: a Cincinnati City Councilmember elected from the west side. Cramerding grew up in the burbs of Delhi Township and moved to Price Hill while in law school, staying there for 25 years, until a recent divorce resulted in a move to Westwood.
He stayed because of the neighborhood's old houses filled with character, as well as the community's history and traditions. He believes its housing stock, its proximity to downtown, and its parks and greenspaces are assets that make Price Hill attractive to a new generation of urban dwellers. "There's a trend of people moving back to urban neighborhoods," says Cramerding. "People are getting priced out of Over-the-Rhine and are looking for other options."
They're finding them in a Price Hill neighborhood known as the Incline District. With the Warsaw Federal Incline Theater as its centerpiece, the surrounding neighborhood has seen investment in houses on Mt. Hope and nearby streets, where a five-bedroom rehabbed Victorian sold for $254,000 in December, practically a bargain in today's overheated housing market.
The Incline Theater is a $6 million facility that opened in 2015, presenting a series of locally produced plays. It survived the pandemic shutdown of performing arts venues and returned to presenting a full slate of musical theater in April. Cincinnati Landmark Productions owns the theater as well as the Covedale Center for the Performing Arts in West Price Hill and the Madcap Education Center in Westwood.
Incline Public House actually came first, opening across the street in 2013, capitalizing on the expansive view of the city from what was the peak of the old Price Hill Incline, a now-demolished cable railway that opened in the 19th century to transport people and freight from the basin up the hill. A stone's throw away is Primavista, a Price Hill institution, where patrons have been enjoying the tastefully prepared Italian cuisine and the spectacular view for more than 30 years.
Somm Wine Bar opened in the Incline District in 2016 with a sophisticated wine list and gourmet food. Across Price Avenue is Veracruz Mexican Grill, which has expanded its space and its menu of authentic Mexican fare. BLOC Coffee serves high-quality coffee and has become a community gathering space while supporting the work of BLOC Ministries, which provides a variety of outreach programs for underserved and at-risk people.
The Incline District is a prime example of the impact of public and private investments spurring a cycle of new businesses and new neighbors. But Price Hill is wildly diverse, racially as well as economically. Some blocks in West Price Hill feel more like the suburb of neighboring Green Township, while some streets in East Price Hill are mired in poverty.
Two miles from the burgeoning Incline District is a maze of low-slung apartment buildings that are home to a population of immigrants, many of whom have fled their native Guatemala. Along Westmont Drive and its side streets are more than a dozen apartment buildings, some of them subsidized low-income properties.
Nancy Sullivan runs a nanoscale charity called Transformations CDC that serves immigrants in Price Hill and elsewhere. She and a handful of volunteers organize a food pantry at the Westmont apartments on Saturdays, bringing eggs, rice, sweet potatoes, soap, and detergent to a tiny greenspace off the apartments' cratered parking lot.
On a recent Saturday, a young man accepts a box overflowing with pantry staples, as Sullivan translates his story. He says he only just arrived, having spent 20 days making his way through the Southwestern desert after the coyote who was smuggling him and others deserted them. He found his way to Price Hill because of a friend's family connections there.
A middle-aged woman is asked about her story. With Sullivan translating, she says her three children recently arrived to join her in the U.S. after 14 years apart. Her children are now in their 20s.
Sullivan's group runs several programs, all serving immigrants, including an after-school program and three soccer teams with kids from Mexico, Guatemala, and Honduras and a coach from Senegal. Beyond the programming, Sullivan responds to whatever individual needs she hears about. When we speak, her van is full of donated furniture for a Nicaraguan family who's just arrived.
She's lived in Price Hill for 13 years, moving there to pursue the shared dream of an urban eco-village. Sullivan bought a house on Enright Avenue, gutted it, and did a green remodel with solar-powered hot water, a rainwater harvesting rig, and permaculture garden. She joined dozens of others on the street living a vision of an ecologically responsible community practicing urban faming, cultivating native plants, and serving others.
The godfather of that dream is Jim Schenk, who's lived on Enright for 48 years in a house he and his wife, Eileen, purchased for $17,500. Eileen, who passed away in 2020, was a fourth-generation Price Hillian, a graduate of Seton High School. "When we got married, I wanted to live in Covington," says Jim, who hails from Indiana. "She wanted to live in Price Hill. So we compromised." That may have been the secret to a 51-year marriage.
In 1978, Jim and Eileen founded Imago, an ecological education organization rooted in the dream of living in harmony with the natural world, right in the middle of the city. In 2004, the Schenks gathered a group of like-minded people together to brainstorm the eco-village concept. "I believe we've got to stay in our cities, because if we spread out we destroy the Earth's ability to sustain us," says Schenk. "An eco-village is basically a community of people who support each other to live sustainably, and that's what we've created here."
---
Price Hill Will grew out of the Schenks' community building and fund-raising efforts. Today, the organization pursues a strategy of preserving affordable housing, improving the neighborhood's built assets, and engaging residents and others largely through the arts. It's achieved some visible and noteworthy successes.
The ARCO space is a Samuel Hannaford–designed Masonic lodge built in 1912 in a neoclassical style and owned and operated by the Price Hill Freemasons for 77 years. When the Masons merged with another lodge in the 1970s, they sold the building, which eventually became a boarded-up hulk looming over the rest of the neighborhood. Price Hill Will purchased the property in 2014 and obtained financing for a $10 million renovation that restored two theater and event spaces as well as offices and off-street parking.
Renamed ARCO, the space now hosts concerts, special events, banquets, and weddings and is the performance home of MYCincinnati, an orchestral program PHW launched in 2011. It follows a method called El Sistema, started in Venezuela, which sees music education not as a way to train professional musicians but as a means to build children's confidence and help them reach their potential.
El Sistema's motto is "Music for Social Change," and that could serve as MYCincinnati's rallying cry too. About 120 Price Hill kids meet every day after school in an old firehouse on Warsaw Avenue to learn brass, strings, woodwinds, and percussion, and prep for performances. They've collaborated with the Cincinnati Symphony Orchestra, the Cincinnati Chamber Orchestra, and other groups and individual artists. After a pandemic pause, MYCincinnati resumed in-person classes earlier this year and held its first concert in more than two years in May, spreading good vibes throughout the neighborhood from the ARCO parking lot.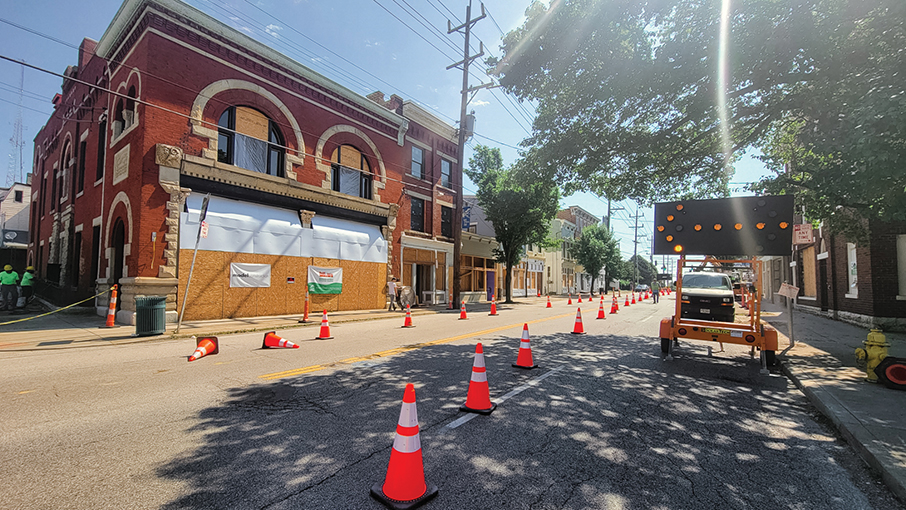 Price Hill Will bought the old firehouse a few years ago, but the seller drove a hard bargain: PHW could buy the firehouse, but only if it also bought the eight 100-year-old buildings next door. It was essentially a gritty block of Warsaw Avenue with historic architecture that over the years had been neglected, covered up, and forgotten. Perfect!
Price Hill Will bought them all and got the block designated a historic district, qualifying it for tax credits and enabling a transformation of the destitute stretch into the Warsaw Avenue Creative Campus. Renovation of eight buildings is now under way; storefronts will be restored to house arts-related businesses, while the upper floors will be converted to 13 affordable apartments.
Affordable housing is another arm of PHW's mission, through a homesteading program that makes homeownership affordable for low-income families. The organization buys a vacant house, gets it up to code, and fixes the furnace, the roof, and whatever else it needs, then sells it through a land contract to a low-income family, who makes payments for five years with no interest. The family commits to continued maintenance and upgrades, and PHW staffers stay in touch, do regular inspections, and monitor the finances to make sure they can keep making payments. After five years, ownership is transferred outright to the family, who can stay or sell the house. Out of 16 such projects so far, every family has stayed.
"We're providing families opportunities to buy a house, work on it themselves, and build equity," says PHW's Hastings. "If we're going to have a healthy community, we need people of different income levels living together and supporting our local businesses."
Five years ago, Juana and Ausel Perez found a home on East Price Hill's Woodlawn Avenue for themselves and their four children. Originally from Guatemala, they'd moved to Price Hill from Atlanta. Through Santa Maria Community Services—another neighborhood anchor institution that's served the less fortunate for 125 years—the Perezes were connected to Price Hill Will and its housing program.
As his young boys romp in the front yard, Ausel—through his 13-year-old daughter, who translates—says it was hard to find a place big enough to be comfortable for his wife and their children and affordable on the income he earns working in landscaping. His kids are ages 5, 9, 11, and 13, and they now have a yard to run around in, with a fenced-in backyard for their dog, Polo.
Joe Huber grew up in the St. William parish with ex-Mayor Cranley and has fond memories of playing wiffleball at the end of his street, Century Lane. "When I think of Price Hill, I think of family and friends," says Huber. "I remember block parties and that kind of community spirit. It always was and continues to be a gritty, working-class neighborhood with a focus on community."
While he's been with the Cincinnati Development Fund, the nonprofit organization has helped finance the Incline Theater, ARCO, and the Warsaw Creative Campus. "Diversity has been a big part of the area's resurgence," says Huber. "The sense of community has evolved, but it's been a through line. It definitely continues today."
---
Perhaps the true through line in Price Hill is change. Its Catholic churches are magnificent symbols of constancy, but they too are evolving.
Holy Family Church dates its founding to 1884, after a series of floods in the valley below led to an exodus of Catholic families to safer elevations in Price Hill. St. Lawrence was getting too crowded to handle all these new-to-Price-Hill families. They needed a new space, and Archbishop William Henry Elder bestowed his approval. By 1916, the congregation had raised enough money to complete its current Romanesque Revival church.
The church and its school next door have adapted to the changing community. Today, more than half of the people affiliated with Holy Family are Spanish speakers, says Father Len Wenke, who served the congregation for the last 10 years. The church holds a regular bilingual Mass in Spanish and English, at least "as best as you can do it," Wenke says.
"The younger folks growing up here in the U.S. appreciate English," he says. "It's an effort on our part not to have two separate communities, but one faith community."
Holy Family "is one of the most integrated and diverse schools that you're going to find," he says. More than third of its students are Latinx, about a quarter are Black, and about a quarter are white, according to greatschools.org.
More change is coming. The Archdiocese of Cincinnati's restructuring program, which it calls Beacons of Light, has meant a reassignment for Wenke to a family of parishes in Dayton, Ohio. A new priest has been assigned to Holy Family, who will also minister to other congregations in its new parish family: St. Joseph in the West End, St. Leo in North Fairmount, San Antonio in South Fairmount, St. Therese Little Flower in Mt. Airy, and St. Boniface in Northside.
"The church communities will continue to be core institutions," says Wenke. "But a priest being present in the neighborhood, that will be a challenge."
Asked to look ahead to the future of Price Hill, Wenke turns to the Gospel of Luke. "The Lord said if it's a peaceful village, stay there. If folks can remain peaceful with each other, there's all kinds of potential there." Amen.
Facebook Comments