My husband and I had a relatively small wedding—just over 100 guests—and a fantastically helpful wedding coordinator, but nevertheless spent the weeks leading up to our May nuptials ironing out details and drowning in e-mails. Needless to say, we were both ready for the planning to end and the wedding to begin.
Our big day finally came, and it was even more wonderful than we had imagined. After it was over, we felt grateful, lucky, and very, very tired. Thankfully, we had anticipated this: We knew we would need to get away to recharge, but we both had to return to work relatively quickly. Since we didn't have time for some far-flung adventure, we booked a few days at an Airbnb in Red River Gorge. The Gorge is a little less than two-and-a-half hours from Cincinnati, and neither of us had ever been, despite basically everyone we know raving about it for years.
Fireside Chalet, our Airbnb host, promised a "cozy couple's getaway," and it delivered. We're not campers, we're "campers," so the rental we chose was fully loaded, complete with a hot tub. Real campers will be happy to know that RRG is a destination for all sorts of outdoorsy folks—especially climbers—and the culture is strong. Seemingly everything around is a restaurant or a grocery store combined with lodging or campgrounds.
We didn't schedule any activities, but our days fell into a natural rhythm. We'd hike in the mornings and reflect on the wedding, reminiscing about our favorite moments together and our separate experiences with friends and family. Our favorite hike was the moderately difficult, five-mile Auxier Ridge Loop in Daniel Boone National Forest, which took us from stunning ridge vistas all the way down to creek-crossing on the forest floor and back up again. We saw Courthouse Rock and Haystack Rock from the exposed part of the ridge, and the spring blooms were abundant.
We rarely encountered other hikers on the trails; at times it felt like we were the only two people in the world. After a few miles, we'd eat a late lunch at a local establishment. We especially enjoyed the legendary Miguels Pizza (also a climbing gear shop and campgrounds) and Sky Bridge Station (which also has lodging) for cold pints and fancy hot dogs.
Then we headed back to the house, soaked in the hot tub or settled into a novel, and opened a bottle of wine. For dinner, we dug into our leftover wedding catering. A brilliant friend suggested that we have all our leftovers boxed up after our reception, which is something we hadn't even considered. It was fun to repurpose our wedding meal for our honeymoon dinners. We spent nights snuggling in front of ancient Frasier episodes and watching movies. After all the fresh air and exercise, we slept well. As we had anticipated, it was a truly restful, relaxing experience.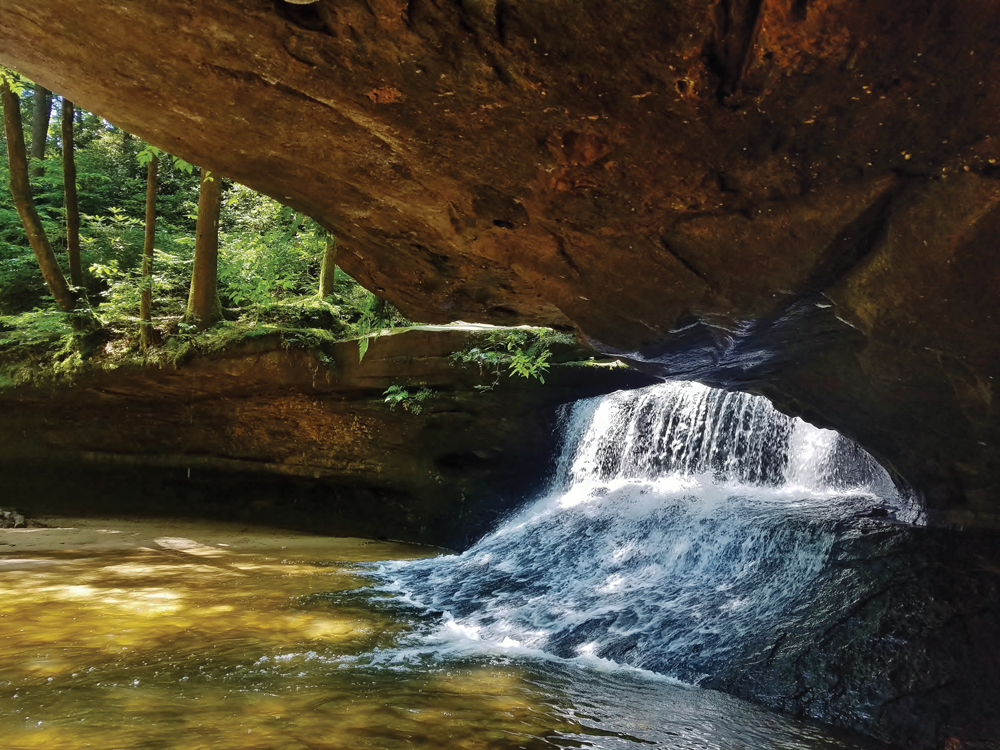 There's a lot of problem solving and strategizing that happens during wedding planning. You're asked to make decisions about things you don't care about and things you thought you would never care about but somehow do. It is a beautiful and exciting kind of stress, and parts of it are so fun (the tastings!), but even good stress can wear a couple out. It was nice to breathe, reflect, and just be together.
Facebook Comments