See a dazzling musical at the Aronoff, awe at the classical music of the May Festival, root for the Reds against the Yankees, experience the Hell is Real Derby at TQL, celebrate friendship with the Cincinnati Men's Chorus, and drink fantastic cocktails at these events in Greater Cincinnati.
MOULIN ROUGE! at the Aronoff Center
Baz Luhrmann's epic musical film comes to life on the Procter & Gamble Hall stage this weekend, presenting "a world of splendor and romance, of eye-popping excess, of glitz, grandeur, and glory!"
May 17 – June 4, Aronoff Center, 650 Walnut St., downtown
The May Festival returns to Music Hall for a sesquicentennial celebration of classical music. It all starts Friday with Principal Conductor Juanjo Meno leading Bach's Magnificat—which made its American premiere at the first May Festival in 1875—plus world premieres by American composer James Lee III and former Festival Creative Partner James MacMillan. On Saturday, maestra Marin Alsop makes her May Festival debut with a program of works by Samuel Barber, Aaron Copland, and Robert Nathaniel Dett's The Ordering of Moses, which premiered at the Festival in 1937. See the full musical lineup here.
May 19–27, Music Hall, 1241 Elm St., Over-the-Rhine
Cincinnati Reds vs. New York Yankees
The Reds, for now in the middle of the NL Central standings, host the Yankees at GABP this weekend. This week, CM columnist Chad Dotson heralded the dawn of the Matt McLain Era, so the Reds shortstop will be one to watch against the Yanks.
May 19–21, Great American Ball Park, 100 Joe Nuxhall Way, downtown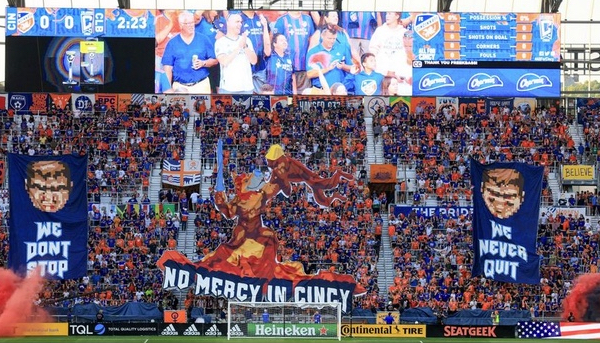 FC Cincinnati vs. Columbus Crew: Hell Is Real Derby
TQL Stadium is heating up this Saturday. The Orange and Blue are hot after their first 13 matches, and FCC and the Crew tied 2-2 last time they met in August. Columnist Grant Freking predicts this FCC team is already primed for postseason success—and after Wednesday night's match, the club is first in the East—but can they take down Columbus to stay undefeated at home?
May 20, 7:30 pm, TQL Stadium, 1501 Central Pkwy., West End
Cincinnati Men's Chorus: Friends
As the great Nicole Richie once said, "true friends are like diamonds—bright, beautiful, valuable, and always in style." The Cincinnati Men's Chorus joins friends and special guests, the Dayton Gay Men's Chorus, to sing and celebrate these timeless bonds.
May 20 & 21, 2 pm, Memorial Hall, 1231 Elm St., Over-the-Rhine
Empowering Her Women's Health Expo
This free and interactive women's health event features healthy food and drink samplings, workout demos, mini makeovers and photos, screenings, a kid's play zone, prizes, shopping, fashion shows, and "brunch 'n' learns" at The Summit.
May 21, 10 am – 2 pm, The Summit Hotel, 5345 Medpace Way, Madisonville
This cocktail competition and arts and music festival arrives at Smoke Justis for a celebration of expertly-mixed drinks. For the first three rounds of competition, audience members will get tickets to vote for the best cocktails. The two bartenders that win off your votes will head to the finals, judged by renowned mixologist Molly Wellmann, 2022 Alchemy Fest winner and Smoke Justis bar manager Jade Colwell, and Boars Room General Manager Dan Altom. See the full list of competing bartenders here, and check out our interview with Alchemy Fest founder Jeff Hendrickson about why this year's fest is better than ever.
May 21, 2–8 pm, Smoke Justis, 302 Court St., Covington
Facebook Comments