Ben Arington bakes for the people. Ever since he entered the culinary industry at 16, the best part of working in food, for him, has been all the people he's met and formed relationships with. It's the people that keep Fat Ben's Bakery going, and it's those relationships that Arington has missed the most since the pandemic began.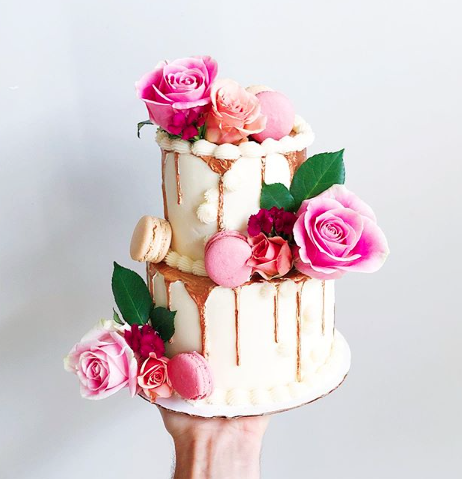 Arington launched Fat Ben's Bakery in 2016, after years spent in various restaurants and bakeries in Ohio and New York City where he honed his skills. Fat Ben's has a mostly digital model, with Arington accepting orders via email and posting his custom cakes and pastries on his social media pages. Without a website or a storefront, Arington says his Instagram remains the best menu of the goods he offers.
Arington accepts orders for all kinds of custom baked goods, but his favorite projects are the challenging ones that require him to get creative. When coming up with new ideas, Arington sources inspiration from chefs and bakers he knows in New York City and Los Angeles. His Instagram is full of colorful and crazy desserts: an Animal Crossing cake, a Cheeto sugar cookie, a Fruity Pebbles doughnut, and a panna cotta that resembles an ashtray littered with cigarette butts—and these are just a sampling of Arington's crazy creations.
"I get more excited when someone asks me for something that is just so bizarre," he says. "I had a request the other day for a dumpster fire birthday cake…[the customer] was like, I just think it's the best way to describe my birthday in the year 2020, and I was like, I am so here for that."
Although Fat Ben's is already a largely virtual business, Arington still had to adapt quickly when the pandemic hit. The business he typically gets from wedding cake orders, for example, took a hard hit. To supplement that, Arington started a series of "quarantine boxes," which are themed boxes featuring a variety of baked goods that people can order online and then pick up from Arington's house without contact.
Arington's quarantine boxes each follow a specific theme like the 90s, the TV show Friends, and famous celebrities and songs. Examples of his specialty sweet treats include a Flinstone's push-pop made from orange cake with vanilla icing, a "The One Where Ross is Fine" margarita cake with tequila-infused buttercream, and a Britney Spears "Toxic" edible slime made from Toxic Waste sour candy.
"During this time right now, I think people need a little bit of hope because everything is so dark," Arington says. "I feel like these boxes I'm creating are bringing a little bit of happiness and hope to each one of my clients."
The boxes have attracted a lot of attention, almost always selling out within minutes of Arington posting them online. And while they've certainly helped his business thrive, Arington still wishes he had more opportunities to connect with clients. "I am just eternally grateful for everything that I get from people in Cincinnati," he says. "I get very, very emotional…I have to thank Cincinnati for making me who I am today."
Fat Ben's cakes start at about $45 depending on customizations, with three-tier wedding cakes starting around $225. His pastry boxes typically range from $25–$45. You can place an order with Arington by emailing him at Ben@fatbensbakery.com.
Facebook Comments