When Nick Senzel arrived at Great American Ball Park last spring, he was one of the top-ranked prospects in baseball, more highly-touted than all but one Reds farmhand in the last 30 years. At every level of the minor leagues, he had blown scouts away with his preternatural talent and maturity, both at the plate and in the field. Before that, he'd been a college star, rising to the top of his draft class after three standout seasons at the University of Tennessee.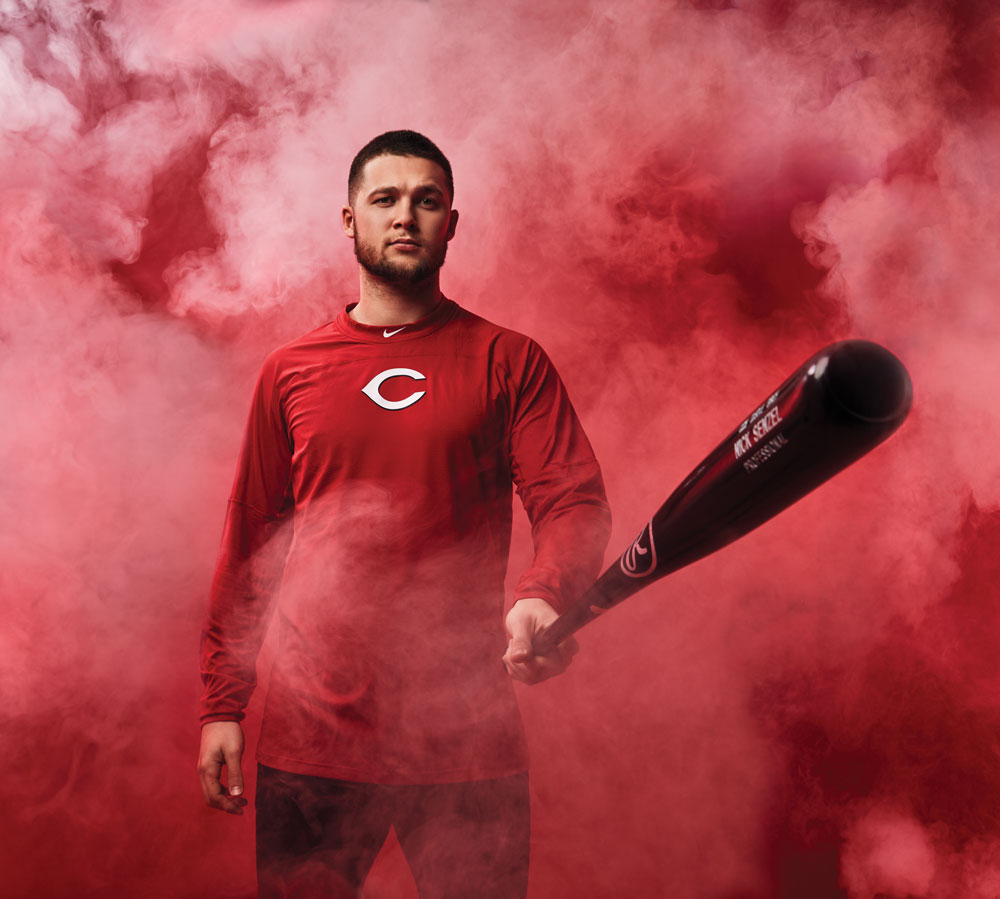 It's easy to draw the conclusion that Senzel was born to be a star, lifted to the bright lights of baseball's big stage by natural talent and athleticism. He was the No. 2 overall pick in Major League Baseball's 2016 draft, after all, and the Reds' starting center fielder at age 23. As it turns out, nothing could be further from the truth. "Growing up, I was a late bloomer," he says. "Always small, and especially smaller than a lot of my teammates."
More than a decade ago, as Senzel entered Farragut High School, near Knoxville, Tennessee, he encountered the first instance of being told he wasn't quite talented enough. He loved baseball and was eager to try out for Farragut's nationally-ranked powerhouse team, which has won nine state championships since 2003. Seven Farragut grads are currently playing professional baseball, including Patrick Raby, a right-handed pitcher the Reds drafted last summer out of Vanderbilt University.
Young Nick had just returned from two years away from the game. His father, Jeff, was an engineer for an international firm, and his job required him to relocate to Kesgrave, England, a couple of hours northeast of London. His family, including Nick and younger sister Madison, followed.
"It was a little bump in the road there, because when my family moved to England, obviously there was no baseball there, so I didn't play during my sixth and seventh grade years," says Senzel. "A couple of important years leading up to high school ball, knowing the type of program Farragut had."
Later, he would come to see his time in England as a blessing in disguise because he got to try new sports, including rugby, and experience a different culture. But when he returned to the U.S., it was clear he'd lost time in terms of developing skills that would help him catch the attention of the high school baseball coaches.
And so, in the fall of 2009, Senzel—all of 5-foot-5 and maybe 120 pounds—walked timidly to the gym door, where Farragut's coach had just posted the list of players who'd made the cut. Jeff watched his son scan the list, then turn slowly back to him. "Dad, what are we going to do?" he remembers Nick asking. "My name isn't there."
---
My dad always told me I'd get bigger and I'd get taller and stronger," Senzel says, remembering his father's advice. "Just keep your head down and keep working. That it would all kinda work itself out."
Jeff had reason to believe that this freshman year setback was just a temporary hiccup. He remembers signing up 5-year-old Nick for tee-ball when the family lived in California. At the tryout, the coach approached Jeff. "I actually thought [the coach] was going to tell me that he needed more practice," he says, "and that Nick could try again at the next tryouts." Instead, the coach told him that his son was already too advanced for tee-ball.
Young Nick had always been a competitor, too, demanding to race his father everywhere, when they stepped out of a car or walked out of the house. Jeff, a former all-conference basketball player at Knox College in Illinois, was happy to oblige. "And I never let him win," he says. "That's why I won't race him today. I'd get a whipping I'd never hear the end of."
After getting cut from the high school team and staring at the prospect of yet another year without baseball, Nick resolved to work harder than anyone else. He also got a bit of good luck when a new coach, Matt Buckner, took over the Farragut baseball program. Buckner allowed Senzel to work out with the team throughout the following summer and fall, and by the time February rolled around he'd earned the opportunity to play with the junior varsity.
Senzel ended up starting at shortstop for the JV, and a year later he was the second baseman and leadoff hitter for the varsity. He batted .360 as Farragut won yet another state title. Still, scouts weren't beating down his door to see him, and he wasn't drafted. "I wasn't good enough," he says.
Though Senzel wasn't aware of it at the time, the Cincinnati Reds had noticed him. Chris Buckley was the team's scouting director then, and in an interview with The Athletic he recalled going with Joe Katuska, currently the Reds' assistant scouting director, to see another player at Farragut. "For us, I remember walking into a high school game, [and] Joe says, 'Chris, that third baseman's going to be a heck of a player, but he needs to go to college.' " They didn't speak with Senzel that day but placed him on their scouting radar, planning to follow his college career.
Senzel wasn't overrun with college scholarship offers either. "It really wasn't as if they were coming to look at me," he says. "I had to contact them and get them interested. It was never the opposite way around."
His best friend in high school was the son of Dave Serrano, the University of Tennessee's head coach at the time. Serrano was interested in Senzel but didn't offer much in the way of scholarship money. Nick was born in Atlanta, so he reached out to the University of Georgia, which ultimately made a partial scholarship offer that he accepted.
Before he could enroll at Georgia, however, the Bulldogs fired their coach. Senzel re-opened his recruitment, and not long after he was sitting in Coach Serrano's office at Tennessee. Serrano was still interested, and Senzel decided to commit to the Vols even though he'd have to walk on to the team and pay tuition for the first year. It wasn't entirely a baseball-related decision.
"At the time, there was some stuff going on that I felt like it was the right decision for myself and my family if I stayed close to home," he says. "Especially being close to my sister, who is younger. My parents were going through a divorce. I just really didn't have my head on straight and didn't really know how far I wanted this to go and how far I wanted baseball to take me. So it wasn't really a baseball decision."
Once he arrived on campus, Senzel found himself struggling with the divorce and other personal issues. "I saw a counselor and a therapist, and they really changed my views of how I should view my life and the people in it," he says. "The disadvantages of doing not-so-good stuff off the field, whether it be alcohol, other things like that."
In retrospect, Senzel recognizes that he had come to a crossroads, not just in baseball but in his life. "I really had to choose whether to take baseball seriously or whether I needed to go a different way. I chose to be very disciplined and do the things right off the field to become successful on the field."
His work ethic had gotten him to a Division I program, but Senzel then kicked things into another gear. He became consumed with nutrition and increased his work in the weight room and in the batting cage. "I felt like I was on a freight train and it couldn't be stopped," he says. "It was almost like an obsession to me to be the best person I could be, which ultimately helped me be the best I could be on the field."
Senzel hit .315 in his freshman year at UT, and followed that up with another strong season. Once again, however, he flew under the radar. Professional baseball didn't seem to be a real option. "I would see a lot of my other teammates getting draft looks and having agents and all of this, and I never really had any of that," he says. "At least, I didn't hear about any of it." Then came his summer on Cape Cod.
After his sophomore year, Senzel played for the Brewster White Caps in the prestigious Cape Cod summer league, where he forced himself into the conversation. In no time at all, he had won over his coach, Jamie Shevchik. "He had unbelievable work ethic," Shevchik told The Knoxville News-Sentinel. "He understood where he was, and he obviously wasn't going to take that opportunity for granted. He was in the weight room every morning. He took early work every day at the field. He constantly wanted to take ground balls. He was a workout machine." And he blossomed physically to 6-foot-1 and 205 pounds.
Senzel was named Cape Cod MVP, the league's best professional prospect, and Summer Collegiate Baseball Player of the Year. For the first time, he was being taken seriously as a potential major leaguer. "I probably would have gotten drafted just alone off my three years at Tennessee, but obviously not where I was picked [by the Reds]," he says. "That summer kinda changed the outlook on where I realistically could go and play baseball as a profession."
---
Back at Tennessee for his junior year, Senzel was a semifinalist for the 2016 Golden Spikes Award, given annually to the country's best amateur baseball player, and cemented himself as perhaps the best hitter available in the draft. Still, he was surprised when the Reds selected him with the No. 2 overall pick, the club's highest selection since taking shortstop Kurt Stillwell in that same slot all the way back in 1983.
Senzel made his professional debut in rookie ball on June 17, 2016, and went 2-for-3 with a run scored, two RBI, and a stolen base. It was the beginning of a remarkable ascent. Later that year, he was promoted to Class-A Dayton, where he promptly set franchise records for slugging percentage and ratio of extra-base hits per game.
The following season, Senzel was named the Reds' Minor League Player of the Year, the Florida State League's best batting prospect, and the league's best defensive third baseman. He also participated in the All-Star Futures Game during MLB festivities in Miami.
In 2018, the Reds asked Senzel to shift over to second base. He willingly complied, and by the end of that season he was named the International League's best defensive second baseman. "Wherever they told me to play, I feel like I tried to learn every day," he says. "I know I did everything they asked of me during that time. I never complained, I never pouted. Wherever they asked me to be, I was going to do it, because my ultimate goal was to make the big leagues and help the Cincinnati Reds win games."
There was little question that Senzel was ready for the major leagues. In fact, he had demonstrated no weaknesses in his game, other than a nagging inability to stay healthy. Senzel suffered a scary bout with vertigo, and then sustained a fluke injury to his right index finger that required surgery.
Last spring, the Reds sent Senzel back to the minors after spring training, a move that most observers credited to the franchise's desire to manipulate his service time (giving the Reds a full extra year of team control before he could become a free agent). His agent at the time called the decision to leave Senzel off the Reds' Opening Day roster "a simply egregious case of service time manipulation."
For his part, Senzel never once demonstrated public frustration over his delayed debut in the big leagues. "I can only control what I can control, and that's going out and playing the game hard every single day," he says. "I had no control over whether they thought I was ready or whether they thought this time was the right time. I only knew that, when I was in Louisville [in AAA], I was helping the Louisville Bats win games. When I got called up to Cincinnati, I was helping the Cincinnati Reds win games."
The big moment finally came last May. By this time, the Reds had asked him to move to yet another position, center field, the fourth spot he'd played since turning pro, if you include his work at shortstop during spring training in 2018. From day one, Senzel felt like his Reds teammates accepted him not as a rookie but as a player who could help the team win games. "It had been a long time coming," he says. "Obviously, there are some injuries that had kinda derailed me, but I already had some relationships with these guys. I felt like they knew how I played the game and knew what I'd be able to bring. I felt like when I came up, we needed to start winning games."
"[Reds fans] have been the best," Nick Senzel says. "I think the people who actually care and are true fans see the effort I give on a nightly basis, and they really respect that and enjoy watching it. I don't do that for people to like me or for people to cheer for me. I just don't know any other way to play."
For three months, Senzel was almost exactly as advertised. By early August, he was hitting .285 with a .345 on-base percentage, good numbers for a rookie getting his first taste of the big leagues. But he had just eight homers to that point, and the Reds approached him with a plan to tweak his stance in hopes of finding more power. As with everything else in his professional career, he was open to whatever the club wanted. It didn't work.
"I was open to trying," he says. "I really was confident, and it was something that I experimented with." From that point forward, though, he hit just .181 before his season ended prematurely with a shoulder injury that would ultimately require surgery. By that time, he'd decided to abandon the swing changes. "It came to a point where I was tired of not helping my team. So I said, Screw it, I can't do it anymore. [But] there was a lot I learned."
Much of what he learned came from Reds legend Joey Votto. "Ever since I got drafted," Senzel says, "he was kind of a mainstay when it came to someone I could talk to and communicate with. Always positive. Even when I was rehabbing the injuries in Arizona, he always reached out."
Senzel and Votto bonded over one shared trait: Both want to be the hardest working player in the room. "[Votto is] a Hall of Famer in my book. He's the epitome of never seeing a guy work as hard as he works. The things that he's accomplished, I want to accomplish or be better than him at. That's out of pure respect."
---
After an active off-season, the Reds have raised expectations for the 2020 season. Among the new acquisitions are two outfielders, Nick Castellanos and Shogo Akiyama, prompting questions about where Senzel fits into the Reds' lineup equation. After rehabbing his shoulder over the winter in Arizona, Senzel has resumed all baseball activities and says he's good to go health-wise.
Reds President of Baseball Operations Dick Williams is quick to reassure fans that Senzel is in Cincinnati's long-term plans. "We saw a really good performance from him last year," Williams told MLB Network. "We think he's a really exciting young player. He plays with an edge, he runs, he does the intangible things well, good baseball instincts. Our preference is to keep guys like that in the organization." Still, Senzel's name continues to be mentioned as a possible trade chip with the Reds looking to contend for a playoff spot this season.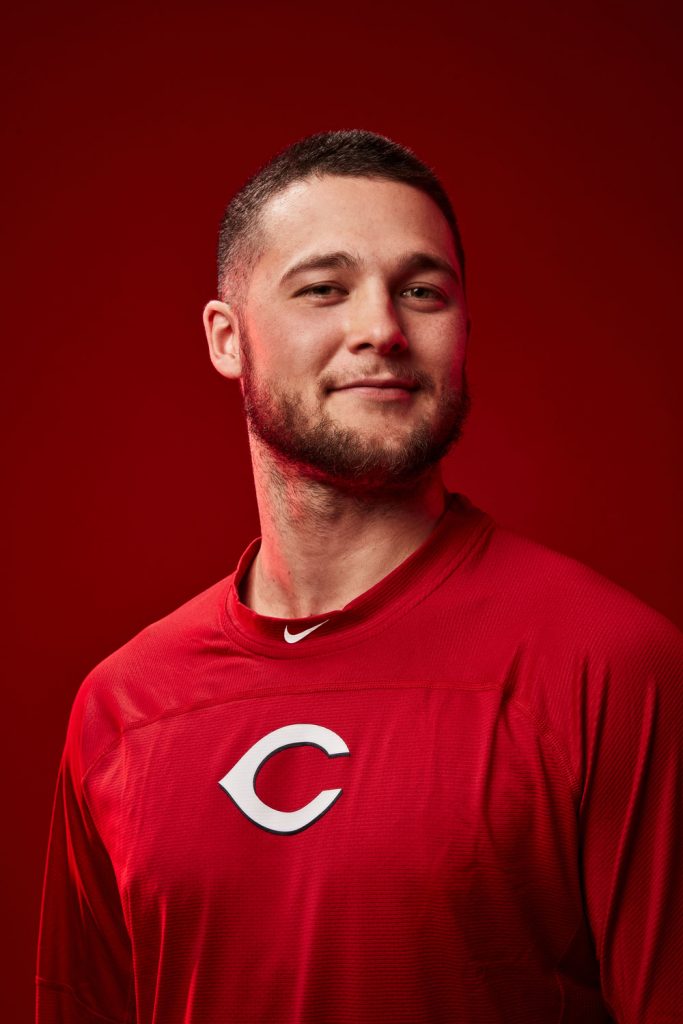 For his part, Senzel is trying to tune out everything he can't control. "Obviously, the people that make the decisions on who to add, the front office adding players, trying to put the best team out on the field, I think they've done a good job with that," he says.
Cincinnati has long demonstrated an affection for hard-working baseball players. Pete Rose, who would know something about the topic, once said, "When you play hard every day, don't mind getting dirty, and don't walk around like a big shot, this blue-collar town will like you." That description fits Senzel. He goes all-out on every play, and fans have noticed the way he hustles down the line on ground balls or sprints into the gap to track down fly balls.
"[Reds fans] have been the best," says Senzel. "I think the people who actually care and are true fans see the effort I give on a nightly basis, and they really respect that and enjoy watching it. I don't do that for people to like me or for people to cheer for me. I just don't know any other way to play."
After a rookie campaign featuring yet another injury and a performance that didn't live up to his high expectations, people are doubting Nick Senzel once again—possibly including his Reds bosses. That's a place where he's always thrived, and he has a long history of proving doubters wrong.
Facebook Comments