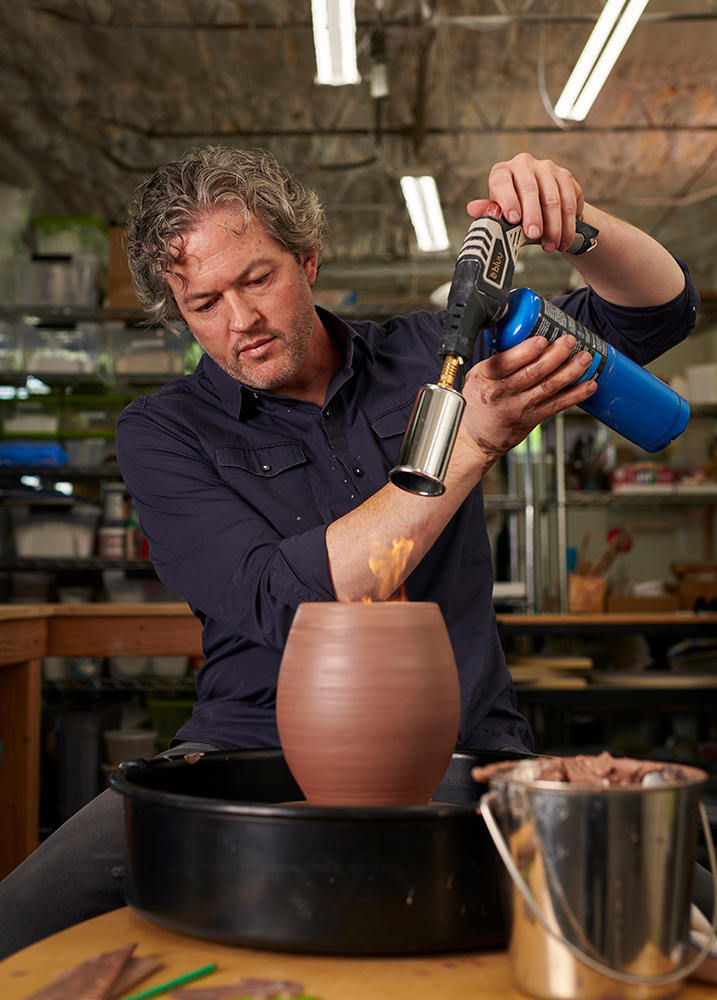 Mathew Arnold is living proof that it's never too late to try something new. Just after he turned 40, a friend suggested he stop by Queen City Clay. He had always wanted to try his hand at pottery but had never gotten around to it. "She sat me down and put some clay in front of me and [I realized] I found my thing," says Arnold, who goes by @mathewplayswithfire on Instagram. "It was instantaneous. It was one of those magical moments where you're like, This is it."
Pottery wasn't Arnold's first artistic endeavor—as a musician, he's spent a lot of time in recording studios—but the connection to clay felt different. "[Music] was fun and I loved it," he says. "But it just wasn't the same."
Arnold was soon taking vacation time just to head to the studio and throw clay. When the COVID-19 pandemic hit and he found himself without a job and plenty of free time, he dedicated himself to clay, documenting his work on social media. Five years later, Arnold's mesmerizing videos have helped launch his work to new heights. His Instagram has nearly 100,000 followers and his pieces, which he releases only a few times each year, sell within minutes. But for Arnold, it's not work. He's just doing what he loves.
The method Arnold uses is known as tape resist. While he didn't invent it, his meticulousness and time spent researching the best kind of tape made him stand out. "What I was doing seemed to be different enough that people started to take notice," Arnold says. "I thought anybody could do this, but I must have a knack for some of that spacing and line work."
Using detailing tape, often used for airbrushing cars and motorcycles, Arnold creates pieces with intricate designs inspired by Mid-Century Modern influences and, of all things, circuit boards.
"If you've ever looked at a circuit board, there is something kind of beautiful about them," says Arnold, who studied electrical engineering at the University of Cincinnati. "They follow rules, but they also look like chaos at the same time."
This concept of trying to control chaos is how Arnold describes his own methods of creation. He loves to make rules for himself—and then he figures out new ways to break them. "If you don't push things too far," he says, "you'll never know how far you can push things."
Facebook Comments