Chef-owner Anthony Sitek has been busy since the beginning of the year (and the last few, for that matter). Between running the kitchens at his Over-the-Rhine and downtown restaurants Losanti and Crown Republic with his wife and co-owner Haley Sitek, he is always on the move without much time to relax—but he does manage to carve out some time behind the grill at home to unwind with his family. We caught up with him to share his top grilling tips and one of his favorite recipes just in time for Labor Day weekend.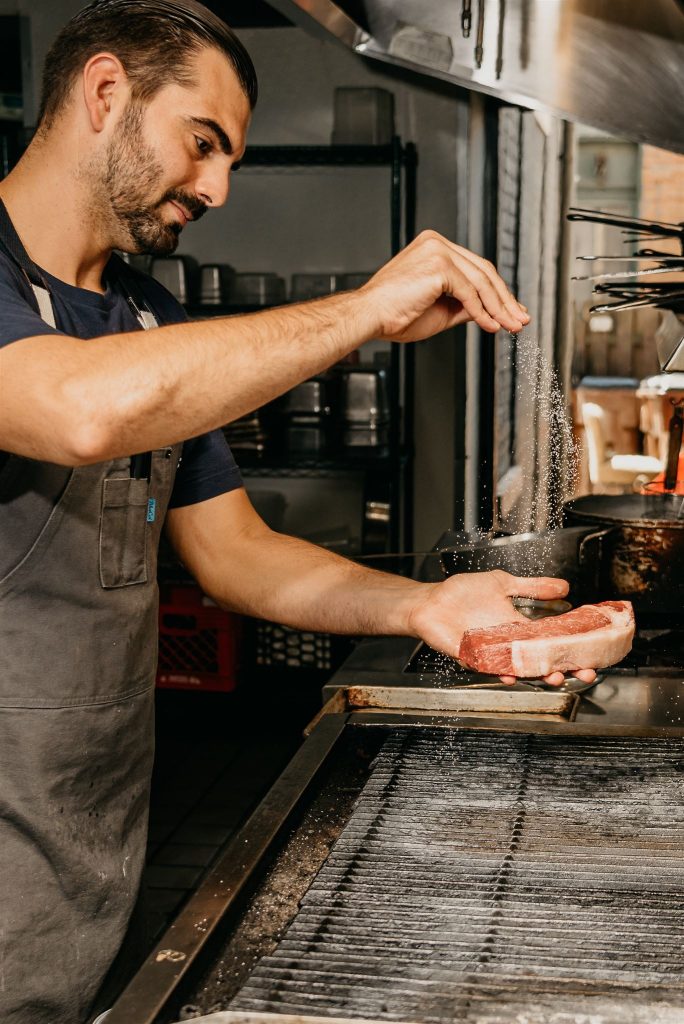 Give us a crash course on fool-proof grilling.
"(1) Heavy seasoning: lots of salt and pepper. You don't need any fancy rubs—99.9 percent of the time salt and pepper will do the trick. (2) Don't move the meat too much. Rotating or flipping too frequently will make the meat lose flavor and moisture. (3) Always undercook the meat, because the heat will move through, even off the grill. (4) Do not put the meat on ripping-high heat. Medium-high will do the trick. (5) Keep it simple." 
What about sides?
"Any sides should also be made on the grill. I like to make a grilled Caesar salad with grilled romaine and Vidalia onion. If I'm making ribs, I make a coleslaw with Alabama white BBQ, which is a mix of mayo, vinegar, applesauce, and cayenne pepper, and then add fresh bell peppers and Napa cabbage."
Do you have a favorite dish you grill at home, and how is it made?
"It's Rhode Island grilled pizza. I lived in Rhode Island for five years, and this is something we made a lot there. You can make pizza dough (or get a premade crust at the store), roll-it thin, flour it up, put it on the grill, flip it over, and then add whatever toppings you like best. I like chicken and broccoli on mine, but you could do any toppings you want."
Losanti and Crown Republic currently have their dining rooms open with barriers between tables and routine sanitization between guests. The former also has a patio space for 25 people with a view of Washington Park.
---
Rhode Island Grilled Pizza:
Ingredients:
Pizza dough (see homemade recipe below, or use store-bought)
Olive oil
Pizza sauce
Mozzarella
Other toppings to your liking
Directions:
Preheat grill to medium-high heat.
Roll pizza dough thinly on a floured surface (use a rolling pin or a wine bottle).
Have all ingredients ready to go.
Oil the grill grates.
Place dough on pre-heated grill grates.
Check on the dough and make sure it is forming air pockets. After two minutes, check the dough to see if it is browning. Turn the dough 90 degrees and cook for another minute.
Flip the dough, add your toppings. Add your cheese first, then spoon on sauce, to prevent the dough from becoming soggy.
Once toppings are added, put grill lid on and reduce heat to medium. Make sure to check the pizza every 30 seconds and rotate to prevent the bottom from burning. This process should take two to three minutes or once cheese has melted to your liking.
At-Home Pizza Dough Recipe:
Ingredients:
3 ½ c all-purpose or 00 flour
1 Tbsp honey
1 package dry yeast
2 tsp kosher or sea salt
1 ½ cup warm water (110℉)
2 Tbsp olive oil
Directions:
Add water and yeast to mixer and let stand for five minutes until bubbles begin to form.
Add the rest of the ingredients and mix on speed 1 for three minutes then speed 2 for two to three minutes, or until the dough begins to form into a ball and does not stick to the sides.
Remove dough, place on sheet pan and cover with plastic.
Place dough in proof box and let sit for one hour. Press down dough and allow to proof for one more hour.
Portion dough into 4-ounce portions.
Facebook Comments