On a recent crisp Saturday evening, the rich sound of JD Allen's tenor saxophone is floating through the air around Campsite Sculpture Park in Camp Washington. A crowd of 25 or so jazz fans, masked up and social distancing, are out to listen to Allen's tunes, including some from his new album release, Toys/Die Dreaming (High Note/Savant Records).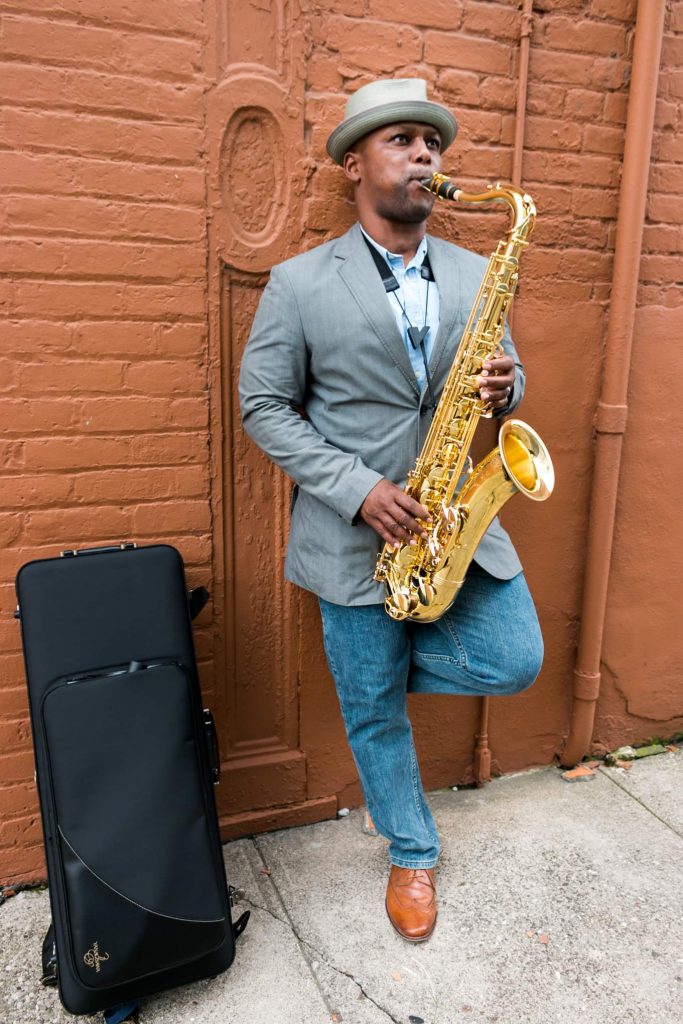 The pop-up show, sponsored by local music nonprofit Jazz Alive and Archive of the Creative Culture, is one of several attempts by area arts organizations to get people out of their houses and supporting the return of live music concerts and other forms of entertainment decimated by the pandemic.
With the health crisis still looming large in everyone's minds, the title of Allen's latest work takes on an irony that isn't lost on the composer. "The title was my attempt at trying not to be so serious with the subject matter concerning the why behind the music," says the Detroit native. "To die dreaming is the English translation of morir sonando, a popular Dominican beverage, and of course, toys, at least in my mind, are associated with joy. I had no idea that the world had other plans."
Toys/Die Dreaming is Allen's 14th album as a bandleader. The goal with this latest recording, he says, was to show range. Toys sets a different tone than Barracoon, his 13th release, but they should both "sound like two different intensities from the same band."
"Leading a band gives me an opportunity to have some say over the narrative of the music," he adds. "For me, there is no difference between playing live and playing in the studio. My number one goal is to play hardcore in both situations."
And it's easy to "play hardcore" with a track record like Allen's. Since 1996, he's played with some of the best in the business, legends (Betty Carter, Lester Bowie, Ron Carter, and Wallace Roney) and contemporaries (Meshell Ndegeocello, Dave Douglas, and Jeremy Pelt) alike. Over the summer, he took the top spot in the "Rising Star: Composer" category of DownBeat's 68th annual Critic's Poll.
This musical resume doesn't mean that the tenor saxophonist is willing to compare Cincinnati to other places where he's lived and worked. "I stopped comparing scenes along time ago. We artists are all vibrating in this world together," he says. But it does mean that he's more in tune with what other musicians are doing to save the music during these dark days.
"The pandemic has put into focus the need and urgency to have a global coalition of creative musicians working together to achieve common goals," Allen says. "Conversations are being had all over the world. The pandemic has taught me that the notes can open the doors. My motivation has never been this high."
You can catch Allen at Caffe Vivace on Sept. 25 at 7:30 p.m. and 9:30 p.m. Learn more details here. Due to COVID-19 guidelines, seating is limited.
Facebook Comments
---