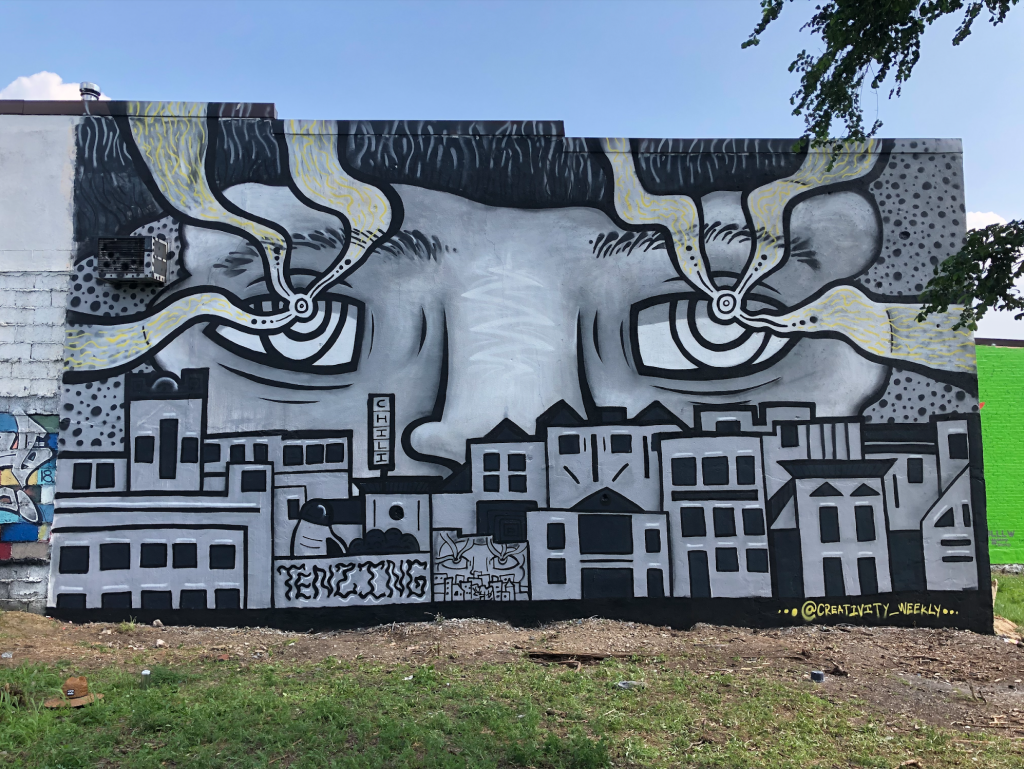 Cincinnati's urban landscape is covered in vibrant murals, each block depicting a different artist's contribution to our city's bustling arts scene. Tenzing, a mural artist who gained widespread attention during 2019's BLINK Art Festival, may be the youngest. By day, he's 18-year-old Owen Gunderman, but as Tenzing, he creates high-contrast works with bold lines, expansive landscapes, and enigmatic characters that seem to come to life off the brick he paints.
Murals have captured the teen's eye since he was a kid exploring the streets of Wynwood, a district of Miami, Florida, known as one of the great street art capitals of the world. The saturated, striking colors drew him back over the years until he was able to contribute murals of his own during Art Basel, a massive art festival that takes place each summer in Miami Beach.
Tenzing pulls influence from skateboard graphics and Pop Art to create his pieces. His style is a result of countless hours spent filling up sketchbooks, a practice he compares to that of a bodybuilder. "You have to work on it every day," he says, "or else you start to lose it pretty quickly."
Leafing through one particularly loaded volume, he adds, "90 percent of what I make I never share." Inside are sketches of abandoned characters, original pieces that are now emblazoned on stickers and graphic T-shirts, and early concept drawings that are fully realized on walls throughout the city. Tenzing's impressive work adorns the ramps of a DIY skatepark in Newport, the walls of a parkour gym he once frequented, and the side of CampSITE Sculpture Park in Camp Washington, where he created a two-story behemoth that was his largest piece yet.
BLINK 2019 is where Tenzing made a big impression. Over a two-week period, he spent more than 100 hours assisting on other well-established mural artists' pieces. "Everyone is really supportive," he says about the close-knit Cincinnati arts scene. "I haven't found a single person who is negative and doesn't want to make the arts scene better." This scrappy young artist's put-yourself-out-there mentality at BLINK increased his opportunities for work, slots in art shows, and connections to other art scenes tenfold. In the spring, he plans to travel to New York City where he will enthusiastically cross another item off of his mural bucket list.
Recently though, Tenzing's life has been consumed by two things: preparing to throw his first ever solo art exhibition—and graduating from high school. His art show, which will be hosted at Over-the-Rhine's AGAR on April 24 and 25, is his most intensive project yet. To prepare, Tenzing is refining old projects, as well as creating 12 new paintings.
Exhibiting work at an art gallery is a big step for the artist, whose work has only appeared in shows alongside other artists' up until this point. This time, the only name blown up in big, bold print will be his own. "The ideas that I've been sketching out from the past year or so are all feeding into this work," he says. In a way, this event is what he has been moving toward since he first picked up a brush.
Facebook Comments