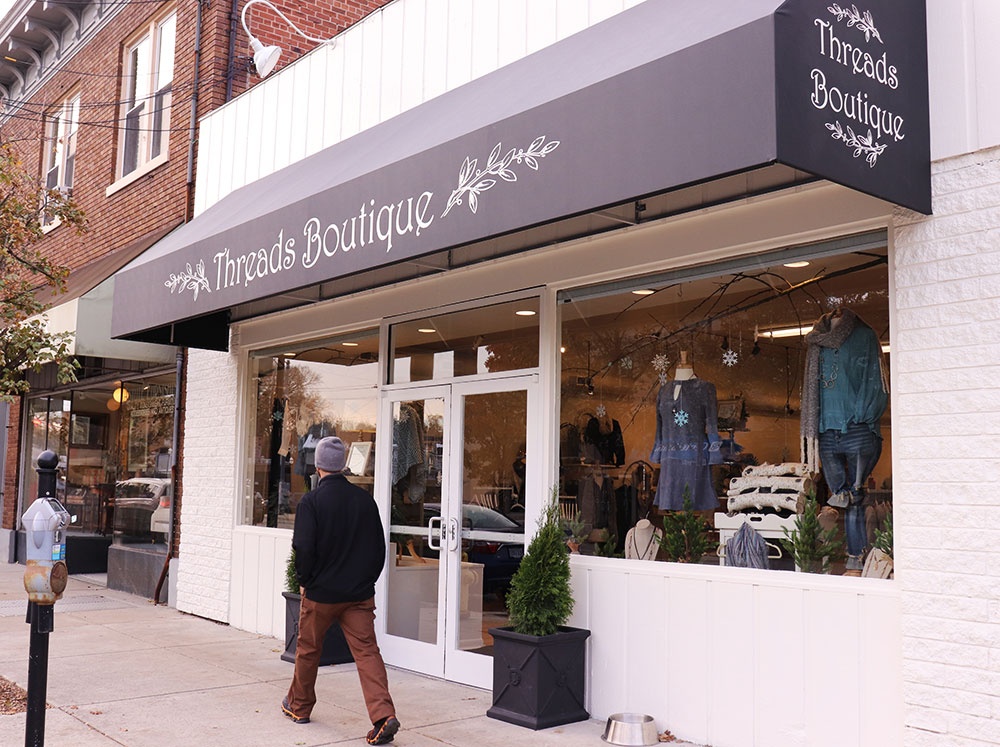 Between Deeper Roots Coffee and Astute Furnishings in Oakley sits Threads Boutique, a new storefront stocked with women's clothing, shoes, jewelry, and gifts. Formerly the Visionarium space and the Blue Manatee Bookstore before that, the storefront is now owned by Nancy Anost and Kelley Sherman, who share a 30-year friendship and extensive retail experience.
Anost and Sherman's friendship grew during their time working at Kenwood Towne Center, where Anost helped open Liz Clairborne and Sherman helped open Casual Corner (both stores are no longer open). Over the years, the pair got to know each other by working with each other at their respective shops, but, eventually, they both stepped away from retail to focus on their families.
In 2015, after becoming empty nesters, Anost and Sherman returned to the retail world and opened Graceful Style, a home and clothing store located in the Fort Thomas Antiques & Design Center in northern Kentucky. About a year ago, they decided they wanted to expand into a freestanding storefront, so when the Visionarium closed its doors in August, the duo jumped on the chance to purchase the 2,000-square-foot Oakley storefront.
The target audience of Threads Boutique is moms, daughters, and grandmothers. This shows in their inventory, featuring classic but trendy pieces at affordable prices. "Price is kind of in our niche," Anost says. The inventory also includes work from local artisan Kelly Jacobs Keller of Vintage Diva Designs, and the owners plan on featuring more local art and jewelry in the future.
Originally, Anost and Sherman planned on opening the boutique in mid-November. But after they printed their logo on the awning and took the paper off the windows two weeks ago, "people just started walking in." So they decided not to fight it and hosted a soft opening before officially celebrating their grand opening on Nov. 16, just in time for the holidays.
Tin ceilings, clean white walls, Christmas decorations, and color-coordinated clothing areas accompany the wonderful customer service provided by Anost and Sherman. Every time a customer walks through the front doors, the pair takes turns jumping up, offering a beverage, and making sure the customer walks out "feeling good," which is their main goal. "We're just having fun with it," Anost says. "And we're going to keep doing it 'til it's not fun anymore."
Threads Boutique, 3054 Madison Rd., Oakley, (513) 351-2301
Click through our gallery to see more images from Threads Boutique:
Facebook Comments