In a valley off of the wide bowl that cradles downtown Cincinnati, a long-buried creek has returned to the daylight. Where blighted buildings stood shoulder to shoulder along Queen City and Westwood avenues, a stream again runs, riffles, falls, and pools. It undulates past a playground, basketball courts, and a community space.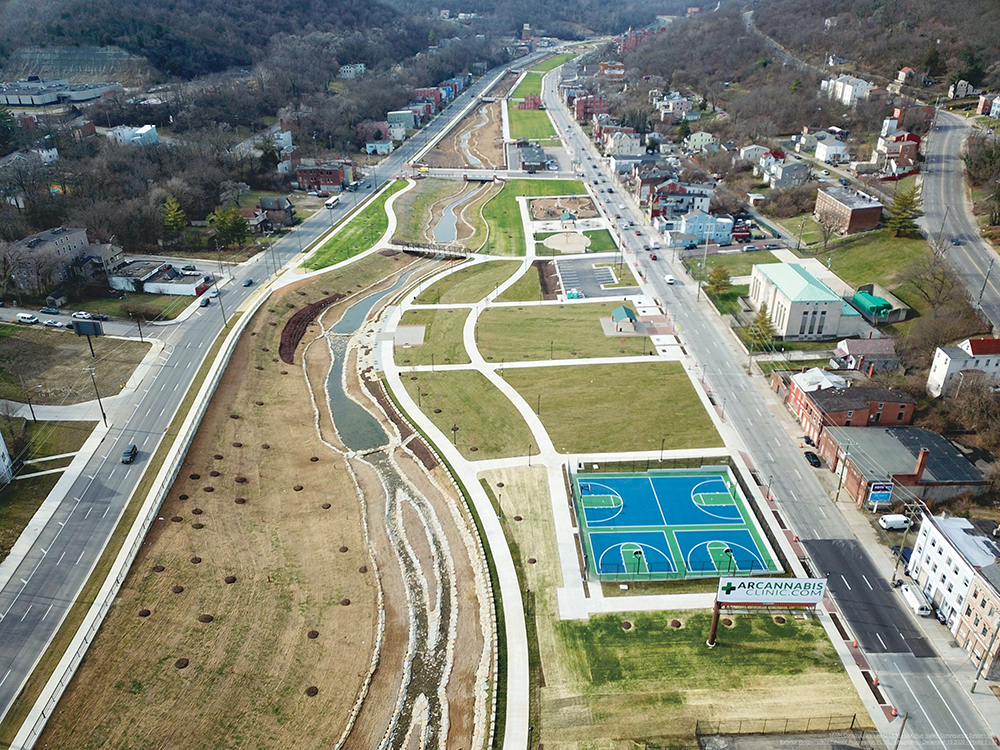 The creek is both ancient and new. And the next chapter in its life could welcome a brighter future for a neglected neighborhood.
Welcome to South Fairmount, home of the Lick Run Greenway. This is the centerpiece of the Metropolitan Sewer District's federally mandated upgrade of Cincinnati's sewer infrastructure, one of the biggest and—at over $2 billion—costliest public works projects the city has ever undertaken.
The 20-foot-wide tunnel into which the creek was diverted more than a century ago is a combined sewer overflow (CSO), meaning it allows sewage and stormwater, usually kept separate, to mix under "high flow" conditions and prevent backups into basements. Global warming and paved surfaces have only increased the heavy rains and runoff that make this high flow more and more common. Annually that adds up to about half a billion gallons of sewage-tainted stormwater escaping downstream into the Ohio River.
The Lick Run sewer is the biggest CSO in our region and one of the nation's worst polluters, an ironic turn given that Cincinnati was an early leader in U.S. water pollution reform.
The Lick Run sewer is the biggest CSO in our region and one of the nation's worst polluters, an ironic turn given that Cincinnati was an early leader in U.S. water pollution reform. Long before Cleveland's Cuyahoga River lit a fire under the environmental cause, business leaders here created the Clean Stream Pollution Committee, aimed at de-funking the Ohio River. Their effort evolved into the Ohio River Valley Water Sanitation Commission (ORSANCO), a multi-state regulatory agency headquartered on the east side, near the city's fresh water intake on the Ohio River. And Cincinnati was the site of one of the first federal programs aimed at curbing water pollution, the Stream Pollution Investigation Station—a direct antecedent to the Environmental Protection Agency's (EPA) Environmental Research Center in Clifton.
ORSANCO and EPA are two regulatory agencies behind the consent decree under which the Metropolitan Sewer District (MSD) operates. EPA also encouraged MSD to apply cutting-edge solutions and green technologies to the Lick Run's historic problems. The Greenway project now keeps sewage completely separate from most of the stormwater, so the latter doesn't need purification at the wastewater treatment plant, which saves MSD (and the public) money and resources. Instead, the stormwater is allowed to flow free, including through this newly "daylit" creek, and eventually empty into the Mill Creek—eliminating some 400 million gallons of combined sewer overflow.
Thinking big, MSD also hopes the project can help beautify South Fairmount, improve residents' health, make the streets safer, and attract neighborhood development. No pressure or anything.
---
I meet MSD Deputy Director Marylynn Lodor beside a new wetland pond where Old Queen City Avenue intersects the straightened and widened Queen City Avenue. This was once Cincinnati's Little Italy, where Buddy LaRosa tossed his first pizzas for festivals at San Antonio Church. There's an Appalachian feel to this valley, with old houses peering out from thickly wooded slopes.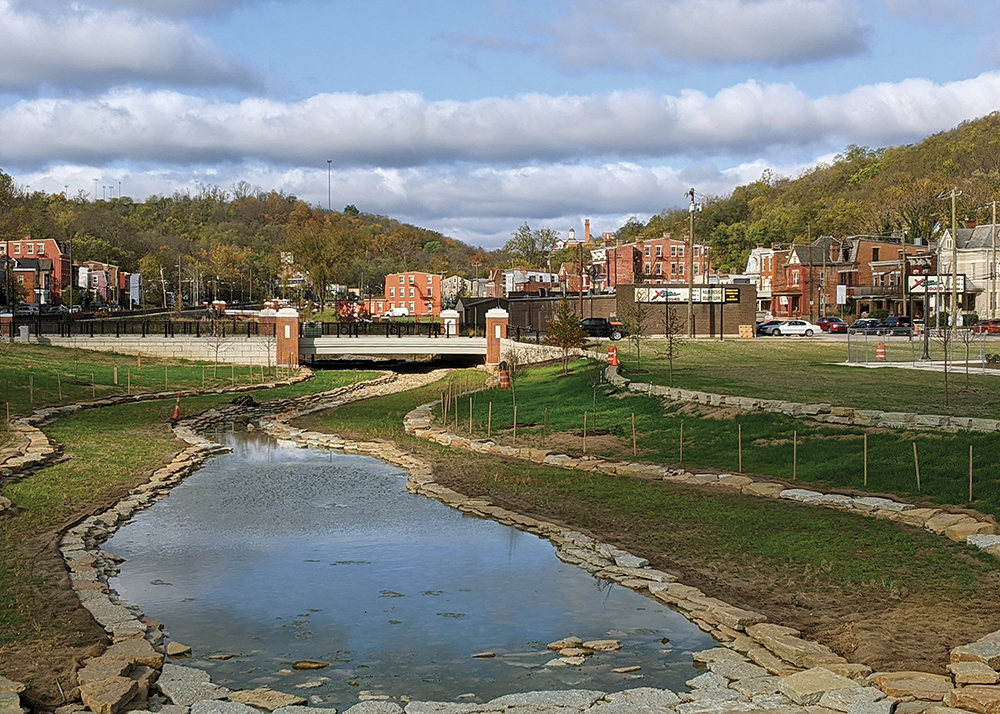 Lodor surveys the wetland pond and the Lick Run Greenway stretching over a mile below us with a mix of wonder and relief. She's been with the project since it began in 2017. "It's amazing to think it's just about done when there was so much uncertainty and disbelief," she says.
City budget cuts led to a late-stage downsized redesign. But you wouldn't know it from the final work. Tons of earth have been moved, a watershed restored, and millions of stones laid by hand, all under budget. "That we were able to get done what we did and in the time we did, it's remarkable," says Lodor.
Just then, a window breaks, showering broken glass from a nearby apartment building. "And that's part of it," she says. "This place could use some help."
Lodor joined MSD in 2003, right around the time the consent decree went into effect. That led to a detailed study and encouragement from the EPA and local governments to look for affordable, elegant solutions rather than the obvious one—replacing the Lick Run sewer with something much bigger. "There wasn't much interest in a deep tunnel," she says, "because it's very costly, very invasive, and does nothing for the community other than reduce bacteria for a number of days."
Meanwhile, studies for the project revealed just how many foreclosures and boarded-up vacancies stood within the corridor, she says. "It was clear there needed to be some massive investment for this place to be ignited again." What was really needed, says Lodor, was "a big bang of green."
This being Cincinnati, so much as think about tearing down a building and you're going to hear about it. Before I met Lodor, I called up people from the neighborhood with whom I once shared a band practice space near Mill Creek. Musician and video producer Sam Wommelsdorf has owned his South Fairmount home for 15 years. His wife, Diana Vakharia, is bass player for the long-running local band The Fairmount Girls, so-called because most of its members lived here in the late 1990s. All but Vakharia have moved on—some, according to drummer and vocalist Dana Hamblin, because the area got pretty rough.
Vakharia and Wommelsdorf have nothing but love, though, for Fairmount's naturalistic beauty in such close proximity to downtown. They're thrilled about the daylighting project, though he says "a couple of years ago I was expressing excitement about the project to a neighbor and she was on the other side of it. She was like, We have so little tax base, and the tiny bit we do have is getting taken out [by the removal of buildings along the creek's path]." He could see her point. "I think Fairmount needs help, but I hope the city won't just stop there. It needs some sort of catalyzing identity."
Lodor sympathizes with the concern, as well as with that of preservationists who opposed removing buildings. That said, "you have to look at the property value increases that come from investments like this," she says.
Other municipalities that have daylighted buried waterways—Kalamazoo, Michigan, and Berkeley, California, for example—have seen local property values rise and even reductions in crime. "We have to respect the fact that this natural infrastructure is important to a community's viability," says Lodor. "You have to consider that the stream was here first."
---
Throughout most of the 1800s, as Cincinnati boomed, South Fairmount's valley and hills remained rural. Farms and dairies eked out livings within easy reach of downtown markets for their goods. Soon the Lick Run fed several breweries, textile mills, and 12 slaughterhouses, until overuse sapped its flow. It soon grew stagnant, breeding disease in drier weather and flooding catastrophically in wet. Neighborhood boosters saw the creek as an impediment and lobbied to bury it.
The 20-foot-wide tunnel into which Lick Run was sent in 1893 was called the biggest public works project ever in the U.S.
Between 75 and 150 workers labored for a year and a half on the tunnel project, except when flooding kept them out. They dynamited, then dug east from Quebec Avenue. The tunnel collapsed, necessitating costly reinforcement. In 1891, one worker murdered another with a pick. But the last brick was laid on October 12, 1893. Barring the occasional incident (50 feet collapsed in the 1930s, and that same decade a cow got lost in there, leading to a perilous rescue), Lick Run flowed forgotten.
Italian and German immigrant families thrived in South Fairmount on wages earned at Adler's Textile Mill, Bullock's Curled Hair Factory, and Cincinnati Brass Works, which became Lunkenheimer Valve, whose empty hulk still dominates the neighborhood's lower end. But as with many urban communities, the suburban sprawl of post-WWII prosperity siphoned businesses and families outward with the promise of more space and green lawns. By 2006, gutted by foreclosures, South Fairmount's population had fallen to 2,000 people, a third of what it was in 1970 and a fraction of earlier decades. Almost 50 percent of its residents lived below the poverty level.
Lodor and I are joined for a tour of the site by MSD Project Manager Leslie Schehl, who will manage this project going forward, and MSD Communications Manager Deb Leonard. Leonard is the only one of us suitably dressed in a high-visibility vest on what's still an active construction site, slated for completion in a few months. She's thrilled by new signage along the path telling the neighborhood's history.
If you really want to get a sense of the scale of how this waterway nestles into the landscape, check out MSD's aerial drone footage at projectgroundwork.org. It's as if they took Serpent Mound, grew and stretched it, turned it inside out, and lined it with rock.
As project manager, Schehl's excitement at near-completion comes with some trepidation. MSD's new "green" stormwater infrastructure branches for miles across Cincinnati's west side, draining a 2,900-acre watershed that includes Westwood and parts of Price Hill. The beginning of the new creek is actually the meeting of many upstream projects by MSD as part of its Lower Mill Creek Solution. Recently rehabbed stormwater infrastructure and restored natural streams work with bioinfiltration basins and bioswales, which use plant growth to remove debris and pollution. The redesign softens and slows the flow of water over the west-side landscape, easing erosion and allowing sediments and unwanted solids to settle out—a boon to downstream water quality.
So there are miles of pipes and channels, restored streams, overflows, inlets, dams, and wetlands to keep tabs on and maintain. This and other projects across Hamilton County represent a rapid scale-up for MSD, Schehl says, "from about two acres of green infrastructure to 44 within about four months. That's just a lot of space to manage."
Maybe it's the pandemic, but as we walk down Queen City Avenue there's a lot of work being done on old houses. We arrive at the "headwaters," where the new Lick Run comes into the light for the first time. It spills from horizontal slots in a concave rough-hewn brick wall. Schehl has me stick my head in one of the slots. The dark chamber echoes with water. If you've ever caved in central Kentucky, you've heard this sound of droplets inexorably carving cathedrals out of limestone over the millennia.
The chamber is what Schehl calls the "decision tree." It contains a weir (or barrier) that determines, based on flow, whether water takes the "local route, above ground," she says, "or the expressway to the Mill Creek," preventing washouts. The expressway is a second tunnel beneath the creek.
We dodge netting meant to keep geese from freshly seeded beds as we climb back to the paved trail from the banks of the creek, along which we've been stepping from stone to stone. Some of this limestone is reclaimed from South Fairmont building foundations. The rest was quarried in the region.
We pass a shiny new playground and basketball courts, where gently sloping banks encourage wading in the creek. We pass native tree and shrub plantings and, behind the Family Dollar store, arrive at a four-acre pond that reflects the Western Hills viaduct, itself slated for a rebuild later this decade. The pond is the water's last stop before it slides under State Avenue and through an outfall into the Mill Creek, where it smells considerably better—I can tell you from experience—than what came out of the original Lick Run tunnel.
The Greenway project is an environmentalist's dream, both practically and as a showpiece for new tech to come. Real science is being done here, evidenced by some 40 monitor sensors throughout the watershed. And it's a perfect lab for future generations. Right before COVID-19 hit, Lodor was in conversation with Cincinnati Public Schools about using the site for sustainability education.
So it's easy to envision a brighter future along this creek. But let's not lose sight of the challenges ahead.
---
Chris Miday is "deconstruction manager" at the Northside-based architectural salvage nonprofit Building Value, contracted to take down and recycle materials from buildings in the Lick Run corridor. Squatters were living in plenty of those structures, he says, some refusing to leave even as the buildings came apart. Tools walked off. Someone joy-rode their Bobcat, ditching it after a police chase in the woods.
But the most dangerous aspect was the traffic, he says. "You were just in constant threat of getting hit by a car going 65 miles an hour," says Miday. I'd been taking my own unguided bike tours of the Lick Run Greenway, and I definitely needed to watch myself.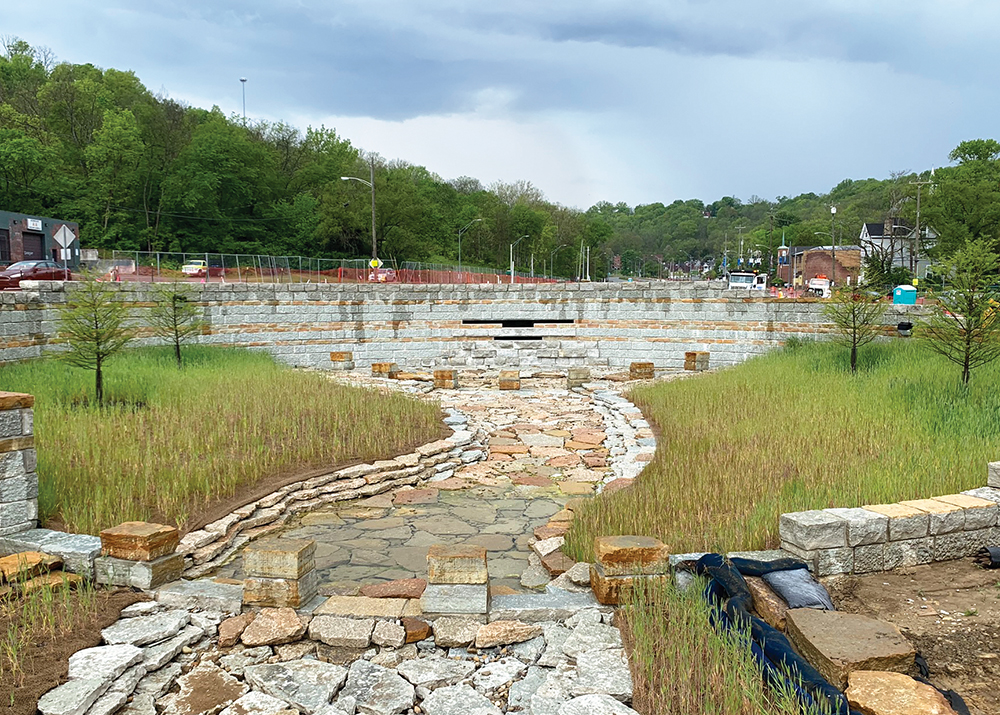 There were other signs that not everyone was in love with the project. Someone had sketched gang signs and giant penis graffiti on the newly poured recreation trail. A week later, the spraypaint has been blotted out by skidmarks laid by a worker doing donuts in a bulldozer.
If the Greenway is going to attract new residents and businesses to South Fairmount, it will take more than development incentives and tax abatements. You need people to believe in a place to make it work. And it helps to have a small army of scrappy do-it-yourselfers willing to contribute sweat equity.
I was biking up the Greenway in late October when I noticed a group of people cleaning up a concrete stairway, one of those long, rambling stairs you find in hillier neighborhoods. Or did before many were intentionally demolished or allowed to fall into decay out of a misguided notion of keeping out "undesirable elements."
The crew of masked beautifiers had been organized by a local nonprofit, Spring in Our Steps, dedicated to "enhancing community connections" by reclaiming public rights-of-way (alleys, sidewalks, and public stairways) for pedestrians. One member of the crew that day, Jacquie Chischille, was born and raised in South Fairmount, and moved back in 2004. She has that hale look you get from not avoiding outdoor activity and, as a long-time observer of the neighborhood where her grandfather and great-grandfather built homes and businesses, is thrilled about the Greenway and its daylit creek.
Even though the project won't be completed until the spring, she's already seen positive change—more people out and about, including seniors from the apartments in the old St. Francis Hospital, and kids riding bikes. She walks her rescue pooches along the waterway every day. Part of it is simply the open space, she says, because the neighborhood needs something healthy like this, given that folks here have some of Cincinnati's lowest life expectancy and highest infant mortality rates. "We finally have a place where there are sidewalks we can walk on," says Chischille. "There's lighting. I'm not afraid to walk in the early mornings or the evening."
She and her husband, Jim Casey, who is president of the South Fairmount Community Council, have advocated for the neighborhood throughout the course of this project, showing up at MSD's community input meetings from day one. They're keenly aware of what's still needed. There's that issue of traffic, what Casey calls "the drag strip effect" of long one-way stretches of road, despite original plans—which the city scrapped over budget concerns—calling for both Queen City and Westwood avenues to become two-way. So Casey, a risk engineer, wants the city to revisit some traffic calming measures from the original design and add on-street parking to provide more of a "neighborhood feel." He'd also like to see the area rezoned to attract more suitable businesses.
Chischille hopes that if redevelopment does take off, likely with tax abatement incentives similar to those that have contributed to the Over-the-Rhine boom, a cap can be put on property taxes paid by existing residents. "It would really be a shame if they got this natural jewel put in their neighborhood only to have their taxes go up so high that they can't afford it anymore," she says.
Spring in Our Steps Executive Director Christian Huelsman, a former Clifton Heights resident who now lives in Minneapolis but comes back to town for cleanups like this, wears a sun-faded ballcap reading "Adopt a storm-sewer." Would his organization be here today, cleaning up these steps, if the Lick Run Greenway hadn't happened? "Probably not," he says.
The group works in other Cincinnati neighborhoods, too, but the Lick Run project has focused their efforts. They see a unique opportunity to re-establish links to the surrounding area by cleaning up every public stairway along Queen City and Westwood avenues. They've needed to literally dig some old stairways out of the clay eroding from the hillsides.
So despite the water-cleansing benefits for which it was designed, the Lick Run daylighting project might be as much about bringing the flow of humanity back to the surface. There's a Field of Dreams aspect to this, a host of intangibles hovering over the project. There's that sense of place that water brings. The focus and shape a stream gives a landscape. The way greenspace absorbs pollutants and sound and helps us relax. The fact that the Greenway is undeniably fun.
None of it's likely to placate the west-sider who's endured years of traffic gridlock on Queen City Avenue only to cringe when he sees his sewer bill (although Lodor and Schehl point out MSD hasn't had a rate hike in six years). But even he stands to benefit. We need green water infrastructure to counteract environmental threats like excess nutrient pollution from our lawns and fields, which contributes to algae blooms that in recent years have rendered sections of the Ohio River, the Great Lakes, and the Gulf of Mexico toxic and untouchable.
Vakharia feels there's tremendous potential lurking in South Fairmount that this project might unleash. "There are some amazing houses here if you can invest in rehabilitating them, amazing deals to be had for artists or young couples," she says. And as the flow of people reverses back toward cities, who's to say the neighborhood isn't ripe for revival, for a return of breweries, cafés, and sidewalk life?
Could South Fairmount become another Northside, a working class hood turned desirable and hip? Hamblin, who recently closed her Northside vintage shop, Chicken Lays an Egg, isn't so sure. Property values are certainly rising in redeveloped urban neighborhoods, she says, but small shops and restaurants struggle even outside of the pandemic.
So while the Lick Run Greenway addresses environmental sustainability, it also poses a larger question about human sustainability. Part of the answer might be that the green development and community development are inextricable. The design of a space, and whether it accommodates organic interactions, has everything to do with coaxing people out of their cars to truly share an environment.
Beside the Lick Run Greenway stands the WPA-era Western Hills Pumping Station. Its sturdy, Art Deco facade bears testament to the endurance of public works past. And in the style of that bygone era, it wears heroic imagery over its door. On it are written words by Lord Byron: Till taught by pain / Men really know not what good water's worth. Point being, sometimes you don't know what you have until it's gone.
Almost 130 years ago, city engineers buried a creek. Now that it's returned to daylight, it has much to teach about how water connects us to a sense of place and to one another.
Facebook Comments