Five years ago this month, Jim Obergefell and Al Gerhardstein stood at the U.S. Supreme Court to hear a 5–4 ruling announced in their favor in Obergefell vs. Hodges, which in essence legalized same-sex marriage across the U.S. Civil rights attorney Gerhardstein had represented Obergefell since 2013, when he sued the state of Ohio to challenge its same-sex marriage ban, which prevented Obergefell from being listed as "spouse" on his late husband's death certificate.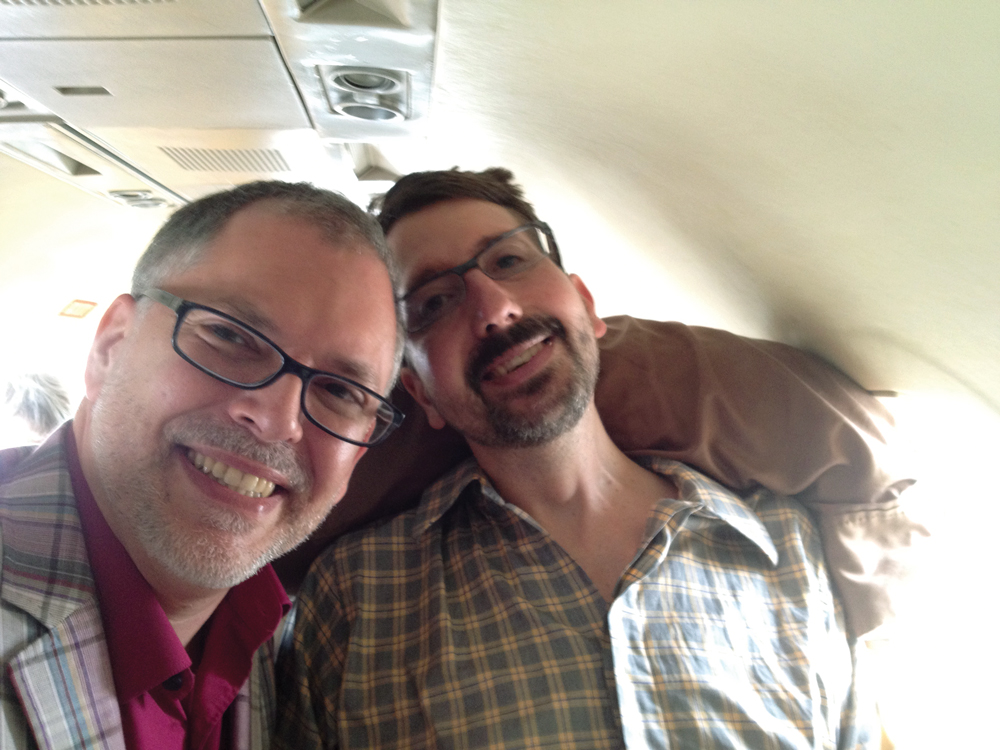 He and John Arthur, who had been together for 20 years, were married on an airport runway in Maryland as Arthur was dying from a long-term illness, because that state allowed same-sex marriages. After the couple returned to their Over-the-Rhine home, Obergefell sued the state of Ohio, asking to be listed as spouse on Arthur's death certificate. A judge granted a temporary restraining order, forcing Ohio to do so, and later issuing a final ruling recognizing the validity of their Maryland marriage certificate. Ohio appealed, the plaintiffs lost in the Sixth District Court of Appeals, and the Supreme Court took up the case, eventually ruling that states must recognize all marriages lawfully performed in other states.
Recently, Cincinnati Magazine organized a roundtable discussion via Zoom to exchange thoughts about how that landmark ruling impacted Cincinnati's LBGTQ community, which legal issues need to be resolved next, and what challenges lie ahead for the next generation of activists. Obergefell (from his home in Columbus) and Gerhardstein were joined by three Cincinnati area high school seniors who are active in their schools' Gay/Straight Alliances (GSAs) and with the local chapter of the Gay, Lesbian & Straight Education Network (GLSEN). Kathy Laufman, a 25-year volunteer with GLSEN, rounded out the conversation.
---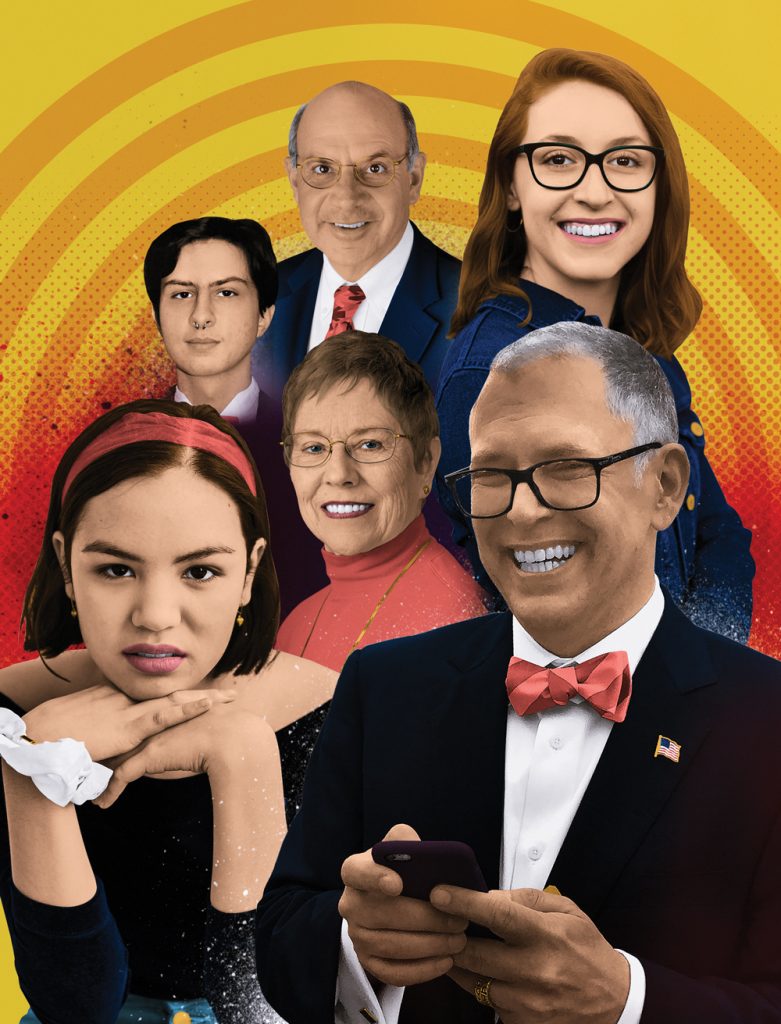 Tell us a little about yourself.
Isabella Guinigundo, 18, Bishop Fenwick High School: I'm president of Young Activists Coalition in Cincinnati, and we do advocacy work around progressive issues, including LGBTQ education and support. I'll be attending Ohio State in the fall to major in women's, gender, and sexuality studies.
Jillian Teeters, 18, Mariemont High School: I serve on the Young Activists Coalition as well and on GLSEN's SHINE student leadership council. I've been a co-president of my high school's GSA, which we call Mariemont Pride+, for four years. I'll be attending the University of North Carolina at Charlotte to study biology on a pre-med track.
Soren Spitzig, 18, Norwood High School: I help run our school's GSA, and I also serve on GLSEN's SHINE leadership council. I'm planning to attend the University of Cincinnati in the fall for fine arts.
Kathy Laufman, 77: I volunteer with GLSEN, which works to ensure that LGBTQ students are able to learn and grow in a school environment free from bullying and harassment. I have a passion for providing youth with safe spaces where they can be themselves and thrive.
Jim Obergefell, 53: I sort of became shorthand for "marriage equality" thanks to Al's amazing legal work and my love for my late husband. I now speak in a lot of higher education, corporate, and conference settings, and I'm on the board of SAGE, which advocates for LGBTQ older Americans.
Al Gerhardstein, 68: I have been working on gay rights issues since the late 1970s. We won very few of those legal cases until Jim's case, but we worked hard. It was pretty lopsided against us for a long time. But we represented the right cause, and we helped change the legal norms. There is still much work to be done, and I'm glad to see young people involved because we haven't cleared the deck of all the challenges by any means.
---
Why did you undertake that journey to the Supreme Court?
Obergefell: People ask me all the time if I was overwhelmed with negative feedback and people coming at me in public during the lawsuit period, but it didn't happen. To me the big challenge was losing John and continuing to fight this legal battle while I was going through a grieving process. But it was simply the right thing to do. I just had to keep fighting for John and our marriage, and Al made that easy.
Gerhardstein: You don't use the law for social change easily. The law is basically geared toward reaffirming the norms that oppressed people for years. I try to seize moments when we can assert our founding values and challenge the powers that be to see where they've gone wrong and use the law to push society in the correct direction. That usually means finding a crisis.
When my friends told me about Jim and John getting married in Maryland just so they could be married, with John dying, I knew Ohio wasn't going to recognize the marriage after they got back home. When I met Jim and John, I told them I could file for a temporary restraining order recognizing the marriage on John's death certificate, so he could have peace of mind from knowing it would say they were married and that Jim was his official husband. We got Ohio's marriage law to match the federal law, and the appeals for that case went on to be combined with some from other states to reach the Supreme Court.
---
How has the Supreme Court ruling resonated with young LBGTQ people today?
Teeters: Five years ago, I was still in a state of denial. I was passionate about the case and knew its importance to the LGBTQ community, but I hadn't recognized myself to be a part of it. Seeing the Supreme Court uphold the rights of LGBTQ people brought me hope and brought me one step closer to coming out to myself and to the world.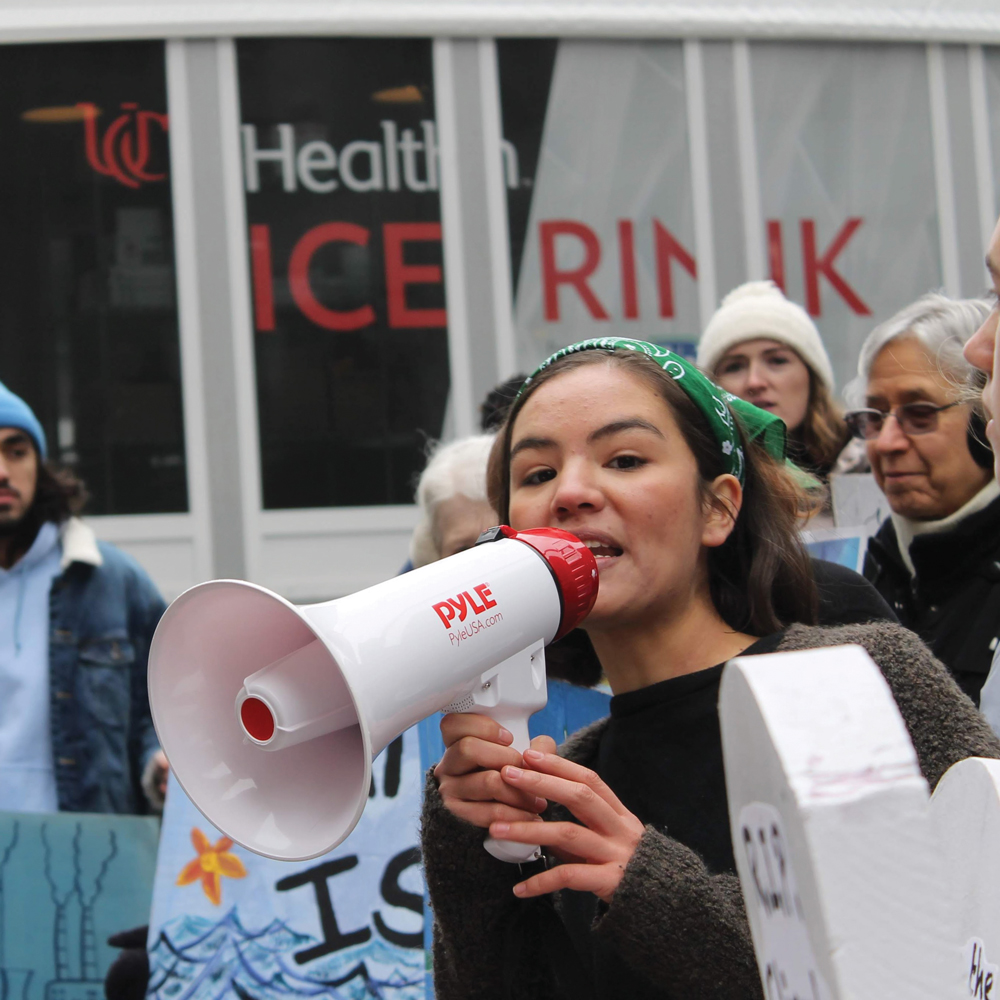 Guinigundo: Five years ago I was in a very different place in my life. I knew I was queer, but I was not out. In fact, I was terrified of it. The weekend of the Supreme Court ruling, I happened to be at a Christian Scouting conference. But that ruling helped drastically change the way I saw myself and the way I imagined my life could end up. It gave me hope that, even with these awful feelings happening around me, I had a path to growing up to become a real person—I didn't have to hide who I was.
Spitzig: In 2015, I had no idea the case was going on until the ruling was announced and everyone was talking about it. Even though I was 13, it was comforting to know that I had the right to get married like anyone else would. As I got older, my focus turned to fighting discrimination against LGBTQ people, especially trans people. It's important to educate about trans people and the struggles we face and how you can treat the trans people you meet in your daily life better.
Laufman: Today's educators often bravely support their LGBTQ students, but I must speak up for parents. Before the Supreme Court ruling, I met some amazing "mama bears" fighting for their children's rights, but they didn't know each other and didn't feel supported. Since then we've had an explosion of highly visible parents advocating for their children. This is particularly true of parents of trans youth, and I attribute a lot of that to the Transgender Health Clinic at Cincinnati Children's Hospital Medical Center, where those parents have found a place to come together and learn from each other. They're especially visible at school board meetings asking for student's rights and safe spaces for their children.
---
What issues are young people focused on today?
Teeters: The importance of civil rights is definitely on the back burner of much of America's mind. But people of color, the disabled community, immigrants and undocumented people, and LGBTQ people are still very much in the throes of fighting for civil rights. When we do talk about LGBTQ struggles in class, we often refer to them as "others" and the teacher will say, LGBTQ are fighting for this and that—but you're talking about me, and I'm in the room.
Guinigundo: I go to a Catholic high school, which comes with challenges. We aren't allowed to have a Gay/Straight Alliance, for instance. I think a lot about how we're protecting people of color, especially trans women of color. There's unfortunately a high rate of murder, suicide, and health issues in that segment of the community, and the greater population doesn't know as much about those issues as they do adoption, marriage, or gender identity. There's no big moment in this struggle like we had with the Supreme Court ruling, so I'm often wondering how to better raise awareness.
If there isn't legal protection, then no matter how progressive your environment is or your school is you're not truly protected.
Spitzig: The legal issues are important to me and my peers because a lot of us feel that if there isn't legal protection, then no matter how progressive your environment is or your school is you're not truly protected. The adults in our lives are supposed to keep us safe, so when they come up short we see where the laws are lacking. We're focused on advocacy and education more than legislation.
Laufman: These young people and others are taking their fight to the schools, too. For transgender youth, the bathroom issue is a tough fight, as is the fight about sports participation.
Teeters: At my public school, we get no LGBTQ history in our history classes, including AP U.S. History. We don't have inclusive sex ed in any way. In my sex ed class I was told that LGBTQ people exist and their sexual experiences are different, but we're not going to talk about it. That's just not a good way to prepare young people for life. Since I want to go into the medical field, it's important to me that people have adequate knowledge about how to take care of their bodies and stay healthy. We need better information in high school, in medical schools, for nurses, and for pediatricians so LGBTQ kids can feel included, supported, and valued.
Obergefell: There's no similarity whatsoever between my high school experience and these three. I was afraid of being gay then, because I had no role models. I didn't know anyone who was gay, so for me being gay was shameful and bad. Then the AIDS crisis hit, which made it even scarier. In college I thought, If I kiss this boy, I'm going to die. I thought it was a death sentence. I'm so thankful and happy that high school kids today are experiencing something vastly different. The fact that there are GSAs and out students of all orientations and teachers are out and proud, it's like an entirely different world.
---
Is there a sense that LBGTQ activists have relaxed since the Supreme Court ruling and that the fight for equal rights is done?
Obergefell: Back in 2015, there was certainly a feeling of victory. A state equality organization in New York closed down because they said, We won, there's nothing else to do. I never really felt it, because my experience in the legal system opened my eyes to the reality that there was still so much risk to people. And right after the Supreme Court decision, you had Kim Davis in Kentucky and the state of Alabama fighting against it. Today Tennessee is trying to prevent same-sex couples from adopting children. I have to admit that that day at the Supreme Court was the first day I felt as an out gay man I was an equal American, but there was an asterisk with that feeling—I still knew that I wasn't fully equal.
The backlash has been terrible. This whole religious refusal argument gives public businesses and healthcare professionals the ability to say, No, I refuse to serve you or help you, even though you're dying, because my vague deeply held religious beliefs are more important than you. We should have a nationwide ban on conversion therapy. We're far from done. There's so much more to do.
When I look at life today for 18-year-olds versus when I was 18, yes, life is vastly different. Marriage was only a step toward full equality. It certainly wasn't the end. People who thought it was were honestly fooling themselves.
Gerhardstein: One of the big issues we were litigating with Jim's case was whether this decision should be in the courts at all. One of the reasons we lost in the Sixth Circuit Court of Appeals is that two of the three judges felt we should leave the marriage equality decision up to the voters. But having to raise money to get a ballot initiative voted on in order to overturn the Ohio Constitution's proclamation that marriage is between a man and a woman is ridiculous. That's not the way to protect people's fundamental rights. So there's still this debate going on about whether we should let these issues be decided by politics, which can be very divisive and don't really protect those on the margins of power, or agree that these are fundamental rights of equality and go ahead and permit courts the ability to finish the work that's been started.
One of the main problems we need to fix in the courts is this religious exception that Jim brought up. Some people are asserting opposition to treating people equally claiming a basis in religion, and that's not what the First Amendment was designed to promote or what our anti-discrimination laws were designed to promote. It's shocking to me that it's been tolerated to the level it's been. We solved those problems back in the 1960s and '70s when people tried to object to interracial marriage on religious grounds. As a society we balanced all of those issues to address that, and now we're bending those laws and that precedent to allow people to use religious grounds to discriminate against LGBTQ people. That's just wrong.
---
Why are you a leader in today's LGBTQ movement?
Spitzig: Having parents who were accepting and who were advocates for LGBTQ issues helped a lot. But one of the main reasons I became outspoken is because I didn't see many other people doing it, especially around trans rights. So I felt that if I was going to see change I was going to have to push for it myself and get other people to show up with me. The experience has been overwhelmingly positive. There will always be people who disagree, but the work that you're doing for other people as an activist is so rewarding that any opposition you face isn't important.
Guinigundo: I was the nerdy middleschooler who read feminist theory and queer theory, so I got involved at the beginning on the academic side. There's a lot of talk in the LGBTQ community about the "chosen family," the people you find who are like you and who feel like home. Well, I had this group of people who I loved and wanted to fight for, so I stepped up. Some days you turn on the news and hear a politician saying that you're not human and you cry, because you have these young people who look up to you and you want to hug them and tell them it's all going to be OK. And there are moments when you have hope, maybe an event put on by GLSEN where you go and be yourself together. It's a mixed bag.
Teeters: My family taught me that there aren't bad people, there are just bad decisions. So I've always thought that when people are being homophobic, racist, sexist, and generally disrespectful, it truly comes from a place of misinformation. And a lot of times that attitude can be altered if you have a one-on-one conversation with them and create a relationship with them. But not everyone is in a position to do that, and maybe they're not in a household where that's safe for them. But I'm lucky to live in a household with parents and a sibling who are amazingly supportive of me, so I take every opportunity I can to create those relationships.
Obergefell: I never wanted to be someone who people recognized or a public person, but I'm OK with it because I think about what the world has gained by me being a public person and taking this fight to the Supreme Court. I've never once regretted it. It actually surprises people when I have speaking engagements, they'll tell me, When you're done you can go, we'll sneak you out a side door, and my response is always, Absolutely not. If someone wants to stand in line to wait to talk with me, I couldn't live with myself if I walked away. The gifts I've gotten by becoming this public person are so amazingly worthwhile. I feel so fortunate to have the life I have now, because it was all based on love.
I really believe that so much of the anger, hatred, and push to deny equal rights to LGBTQ people or any minority group or effort to treat them as "less than human" are doomed. I love that this younger generation doesn't see differences the way that previous generations did and do. A lot of our elected officials are old and stuck in their ways and see things differently, but our country has bright days ahead.
Gerhardstein: I sense in these three young people a real love for community, friends, and family. Of course, with Jim and John they were also working from a strong loving relationship. I only got to know John for a few months, but I am so clear that he's proud of Jim for how Jim carried on after his death. This whole movement is and should be based on love, and that will carry us forward and will help us make everything right.
Facebook Comments