Brittney Braemer and Suzy Hinnefeld opened Handzy Shop + Studio on Covington's West Pike Street in July 2016 as a stationery gift shop and graphic design studio. Eventually, the best friends, who met as UC DAAP students in 2010, realized their inventory was too specific for Covington's demographics. "It's been really hard," Braemer says. "Suzy and I own the business 50/50, and the plan was that this would support us and be our only job, and that has not been the case." Client projects became too time-consuming, so they dissolved the design studio (though both still freelance on the side) and transitioned Handzy into a lifestyle boutique.
That transition really took off in August 2018, when they started selling clothes and accessories, but they still weren't earning enough to support two full-time salaries. So they changed tactics. In November, Braemer and Hinnefeld reopened Handzy in a larger space next door and debuted Gumdrop, a children's clothing, toy, and accessories shop, in the former Handzy space. "We really want it to be like a new first impression," says Braemer. "It's our chance to say, We're back and we're new; come see if it's different from the last time you were here."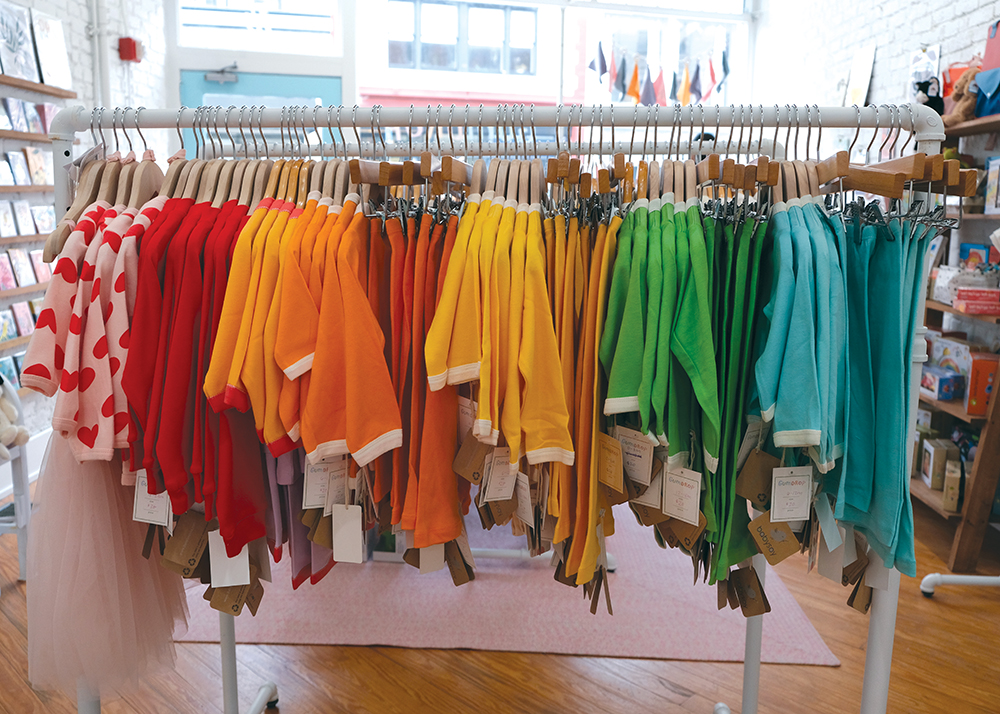 The new Handzy is twice the size, with two floors of brightly colored women's clothing, jewelry (including Braemer's handmade mixed media Lemon Lee earrings), bags, stationery, and gifts, plus prints, notepads, and watercolor greeting cards designed by Braemer and Hinnefeld. Next door, Gumdrop is stocked with binkies and bibs, books, stuffed animals, outfits sized newborn to 5T, more greeting cards, and wooden toys that "aren't your typical light up sing-song kind of stuff," Braemer says.
Both shops stand out from their neighbors on the outside—Handzy's entrance is bright yellow and Gumdrop's is aqua blue—and the inside. It's practically impossible to not smile as soon as you step through either door and enter what can only be described as a rainbow explosion of cuteness. And even though Handzy has experienced a lot of change since 2016, it has always maintained a unique identity. "Handzy is just so lively and energetic. There's a youthfulness to it even though it's for grownups," Braemer says. "People walk in the door and they're like, Oh my gosh, it's so cute! And I'm like, Yes! That's all I've ever wanted to hear."
Handzy Shop + Studio, 17 W. Pike St., Covington, (859) 491-3767
Gumdrop, 15 W. Pike St., Covington, (859) 261-0493
Facebook Comments